Like GearBrain on Facebook
Earbuds are one of those devices we just want to work. We want to pull them from their case, pop them into our ears, have them connect to whatever device we're using, and start playing. That's not always the case. But with the 1More ColorBuds, it (mostly) was. The earbuds aren't flashy in their features, but what they do, they do fairly well. Save for one important issue, I found they worked as designed. The company sent us a pair to review, and here was our experience.
Design
The 1More ColorBuds are similar in design to the 1More Stylish True Wireless Headphones, which GearBrain reviewed in 2019. These are very stripped down earbuds, even in their size. They're small. There isn't anything dripping down, and there isn't anything that covers the ear.
Inside the box, you get a charging USB cord (you need to supply the end), the earbuds and their case, and three extra ear fins to help you find the right fit for your ears. I needed the smallest ones, and to be honest they did feel entirely secure all the time — even while running.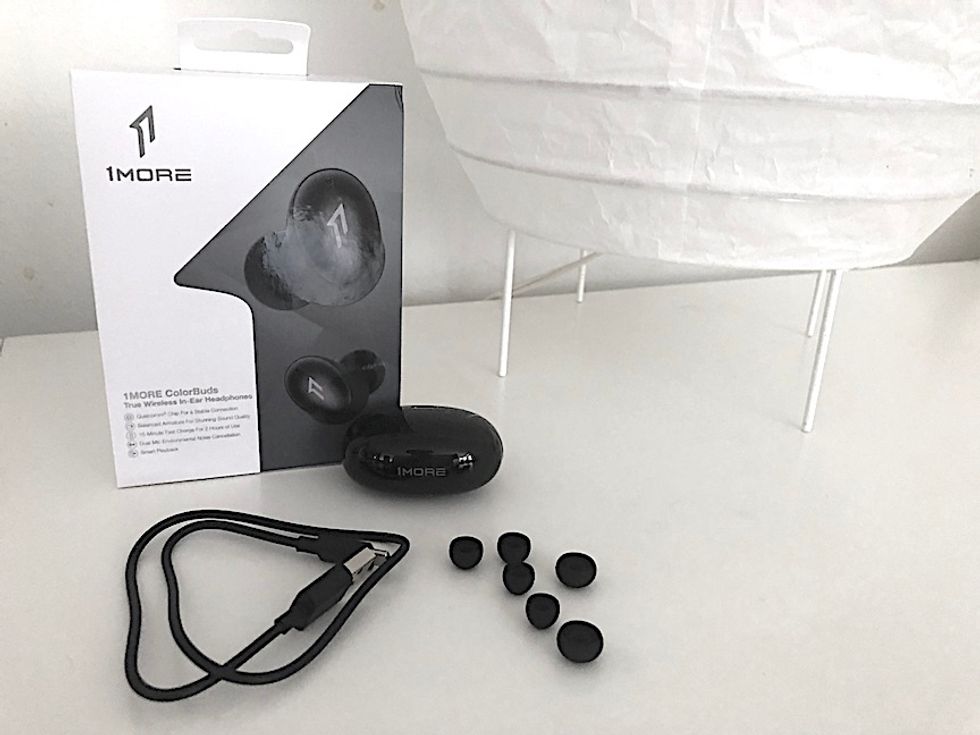 The 1More ColorBuds come with a charging cord, case and also extra ear piecesGearBrain
Sound

The sound is very clean from the 1More ColorBuds, nice full sound, good differentiation between left and right earbuds. Playback was not tinny, whether listening to music or TV. They worked well.
There is some sound lag when watching TV. That's a fairly common experience with wireless earbuds and headphones as well, but it's not too substantial. I also found the earbuds don't have too much sound bleed, in other words while listening through them, someone near you doesn't have to hear too much of what you're listening to as well.
Features
You can use the earbuds to pause and play music and sound, with two taps, and you can also pull up voice assistants with three taps. Plus you can answer and end a call with two taps. I did run into a few glitches with that, finding that the earbuds didn't always register the tapping, in our experience. But there is a firmware update that's supposed to fix that, which I had some problems adding through the app.
I was able to very (very easily) pair the earbuds via Bluetooth to both a MacBook Air and an iPhone. But the earbuds would not pair with the 1More Music app to download the firmware. I tried six times over a period of two hours.
The app, though, is where you want to be to set up some features, including whether you want sound to pause when you remove the earbuds or not. I didn't feel we needed the app, though. And I was able to pick up a call using the earbuds without the firmware update.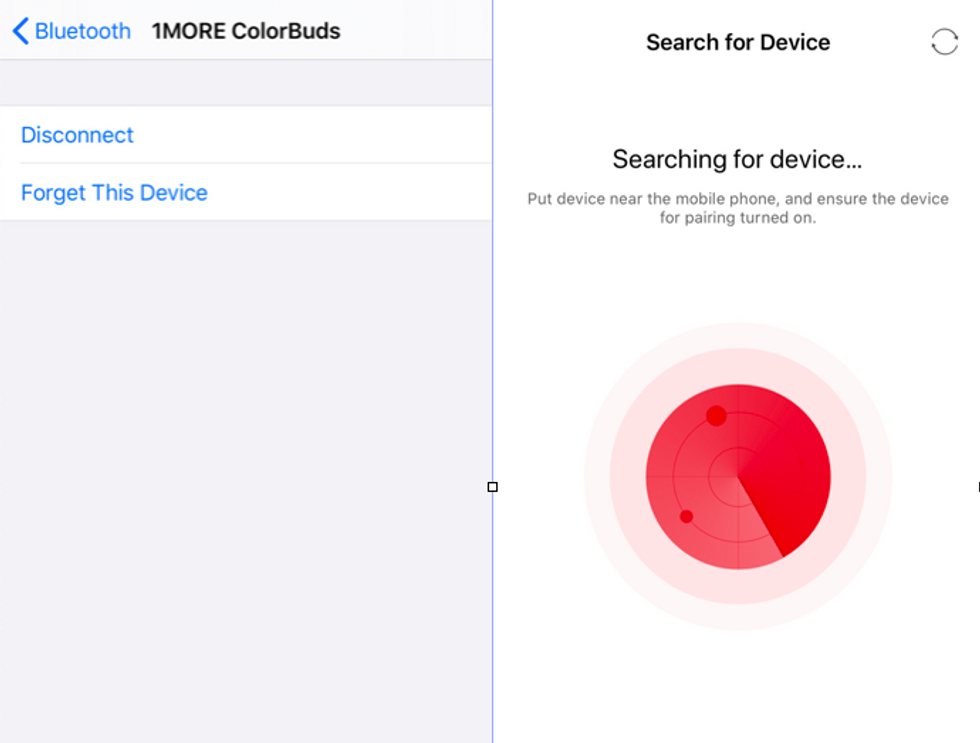 Even though the earbuds connected over Bluetooth and worked with our iPhone and MacBook Air, we couldn't get the 1More Music app to find themGearBrain
Noise cancelling

I found that the 1More ColorBuds worked really well in terms of blocking ambient sound — and finding the right fit to get them securely in the ear helps with that as well. It's also be helped by what 1More calls CVC 8.0 environmental noise cancellation, which reduces the decibels of noise around you, but is mainly designed to make calls sound better to the other person. Still, I found the technology also helped block sound for me as well.
The battery supports 22 hours on one charge of the case, and 1More says the earbuds themselves will work for just six hours. We found the earbuds would lose power a bit faster actually, after about 4.5 hours. After that they needed to be put back into the case for a refill.
App
As I mentioned, I was directed to update the firmware for the 1More earbuds, to fix an issue with how the 1More ColorBuds respond to tapping. And I would have liked to do that, but again, could not. So we can't give much of a recommendation on the 1More Music app. You can see that ratings for the app are fairly poor on both the Google Play Store and Apple's App Store. That shouldn't be you're only deciding point (people who don't like something tend to write reviews more often) but it's a sign that our experience was not unique.
Price
The 1More ColorBuds are $99.99 and available on the company's web site. You can pick these up in four colors: yellow, green, pink (which appears to be sold out) and black. They have a metallic finish, save for the black ones which are a matte color.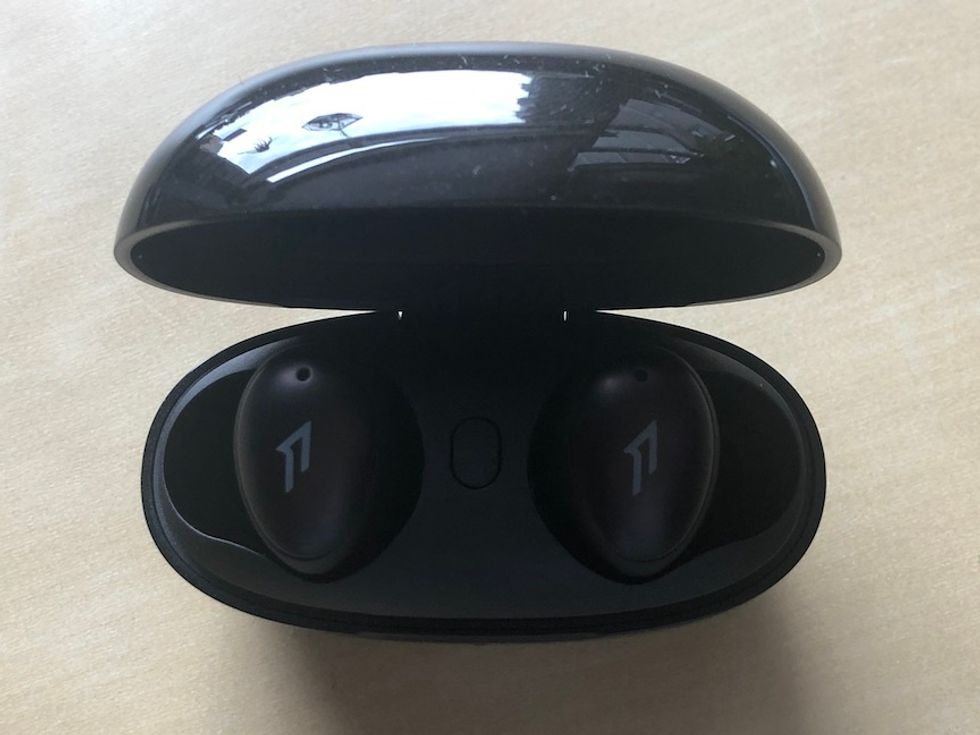 The 1More ColorBuds are small, and come with extra fins to stay in the earGearBrain
Worth buying?

The 1More ColorBuds started off well. A pair of earbuds that have solid sound, pair very easily with a computer and smartphone, and are small in design, almost unobtrusive. Battery life is decent, and while they're not flashy in their features, the basics are good.
We're concerned that we couldn't update the firmware and that we had some issues with the tapping controls — which the firmware should have been able to fix. Not updating the firmware didn't intrude on our ability to use the earbuds. We could still pause music by just taking them out of ear (as we do with our AirPods Pro) and we could connect via Bluetooth and even pull up a voice assistant.
We also don't think an app is a necessity — and may also be a cumbersome add-on — for using earbuds. But priced at $99.99, while still affordable, the earbuds should be able to updated and connect to an app quickly.
We do think, though, that these are decent earbuds, and if you don't need active noise cancelling, want something that's small, and has good sound, they're fine to consider. But be aware they come with a few concerns, and be okay with that.
Pros:
Good sound
Price
Pair easily over Bluetooth
Cons:
Trouble connecting to app
Tapping not always recognized as controls
Battery life not as long as claimed
1MORE Stylish True Wireless Earbuds, Bluetooth 5.0, 24-Hour Playtime, Stereo In-Ear Headphones with Charging Case, Built-in Microphone, Alternate Pairing Mode
From Your Site Articles
Related Articles Around the Web
Like GearBrain on Facebook