A quick glance at 1More's ComfoBuds earbuds, and the design might evoke thoughts of another pair of earbuds. From a big company known for phones, watches and other iconic devices.
Yes, Apple. Its Airpods, which launched in 2016, have a distinctive wireless stem-style design copied by myriad competitors worldwide — including 1More.
But as most already know, Apple AirPods are pricey, starting at $130. So, are there cheaper alternatives? That's where 1More comes in, with its 1More Stylish True Wireless earbuds, or the more recent ComfoBuds, an inexpensive pair of truly wireless earbuds for those on a budget.
We tested the 1MORE's ComfoBuds for comfort, battery and sound to decide if you really can substitute Apple's very good AirPods for these $60 earbuds.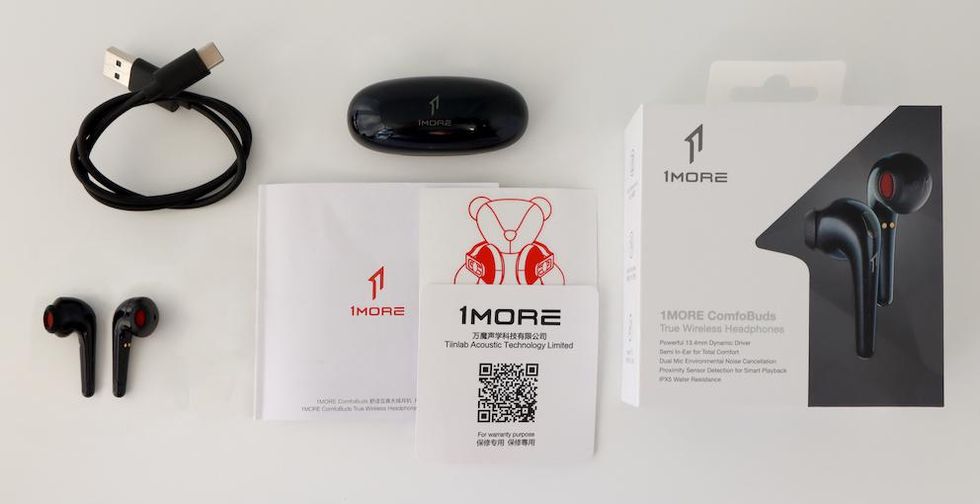 Inside the box, you'll find a pair of 1MORE ComfoBuds, a short charging cord and instruction guide.Terry Sullivan
Inside the box
Right off the bad 1More is giving you something Apple won't: earbuds in black. It's a small thing. But for those who don't want to shout, I'm wearing $130 AirPods on a subway platform, a nice choice to have. Open the packaging, and you'll find a futuristic-looking, oblong spherical charging case. Underneath is a short USB-A-to-USB-C cord and a quick-start guide on charging methods, battery notifications and how the earbuds pair to each other and a device. There are additional details on how to use tap controls and smart features from auto play to resume. Each earbud has an infrared sensor, so the audio will automatically pause when you take the earbuds out of your ears, then start when you put them back in.
Design and fit
The 1More ComfoBuds fit somewhat loosely in your ear with the stem facing downwards, similar to how you would wear a pair of Apple AirPods. There's an important difference though: ComfoBuds have a rubber ring around each speaker, which helps them fit more securely. (I personally prefer earbuds with silicone tips, finding they offer a better fit in the ear canal.)
Overall, I found the ComfoBuds comfortable to wear and use. A very high glossy finish over much of the surface, as well as the interior and exterior of the charging case, did make them a bit slippery to hold.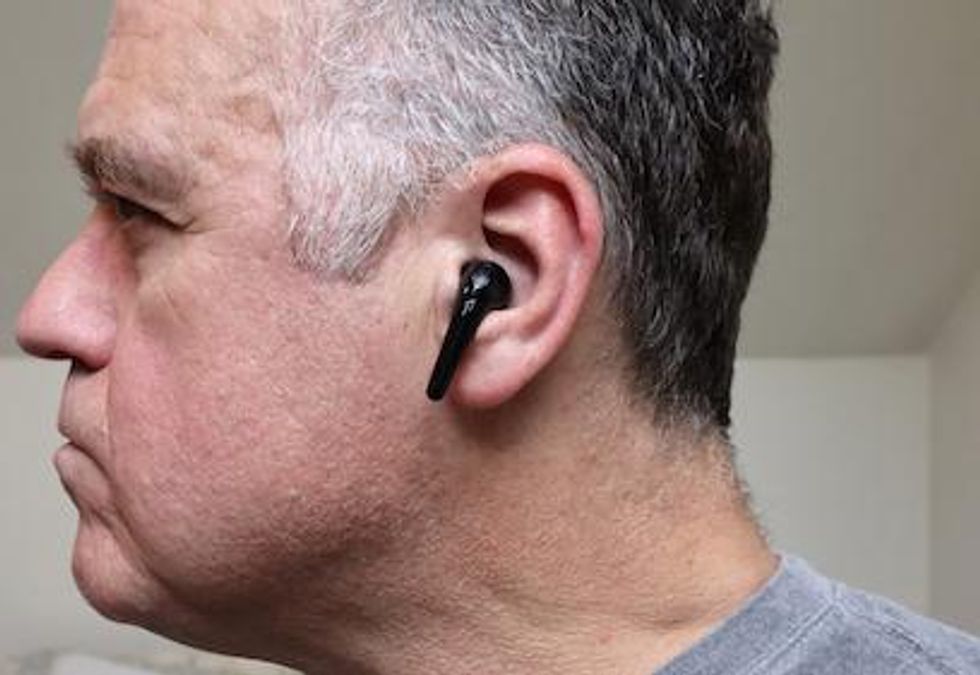 You'll wear the 1More ComfoBuds by placing them somewhat loosely in your ear, with the stem facing down, and maybe angled a little forward. It's very similar to how you would wear a pair of Apple AirPods.Terry Sullivan
How the 1More ComfoBuds worked

Setting up the ComfoBuds was easy as was pairing. Operating them was simple too, as you can tap on the outside of either earpiece to play or pause a particular audio track. True, the smart technology inside each earbud won't take your breath away, but it works. You can also customize some features. Instead of using two taps for the play/pause feature, for example, you can change it so it decreases or increases the volume.
1More claims ComfoBuds can deliver four hours of audio playback when the ear buds are fully charged, or up to 18 hours when recharging with just the case. That's not bad, but there are some earbuds that get five or six hours of battery life on one charge; Apple claims six hours of listening time per charge for AirPods.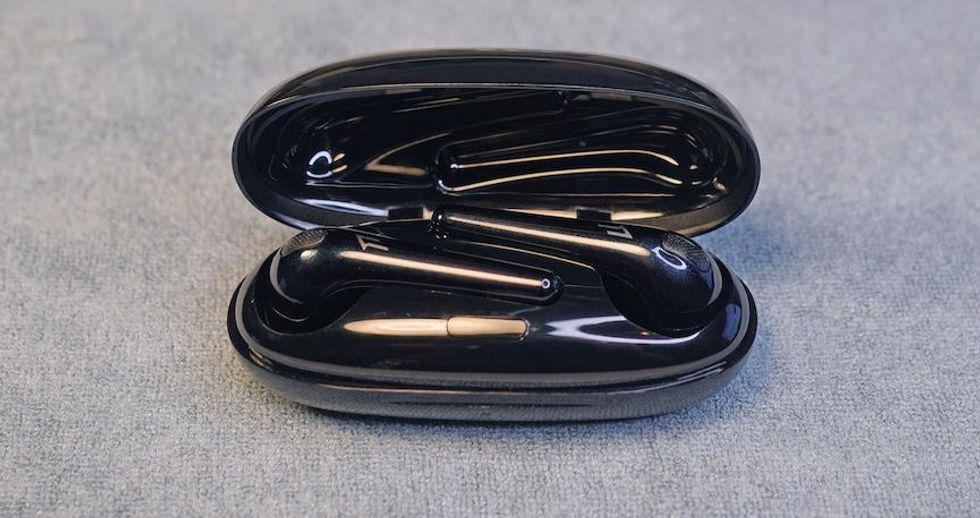 There's a very glossy finish, as least for the black version, which is used over much of the surface of the ComfoBuds as well as the interior and exterior of the charging case.Terry Sullivan
Sound and ENC

Sound quality is definitely a trade off when it comes to earbuds, particularly those that are truly wireless. (Audiophiles will tell you a corded, over-the-ear pair of headphones — with all Wi-Fi or noise-cancellation features disabled — delivers the best quality audio, but then that's not why we wear earbuds.)
Overall, though, I found the sound quality in the ComfoBuds quite good, particularly in the mid-range and treble tones, which each had excellent detail. I could hear very subtle audio sounds, such as as a singer breathing in before singing a note, or the faint scratch of a metal slide on an acoustic guitar.
When it comes to the bass, the ComfoBuds were merely adequate. The 1More product marketing video may promise "extra bass," but my experience was more middling than "extra." Whether I was listening to various techno-instrumental tracks from "Blade Runner 2049" (music by Hans Zimmer and Benjamin Wallfisch) or The Beatles' "A Day in the Life," I missed those moments where the bass or bass tones are very prominent.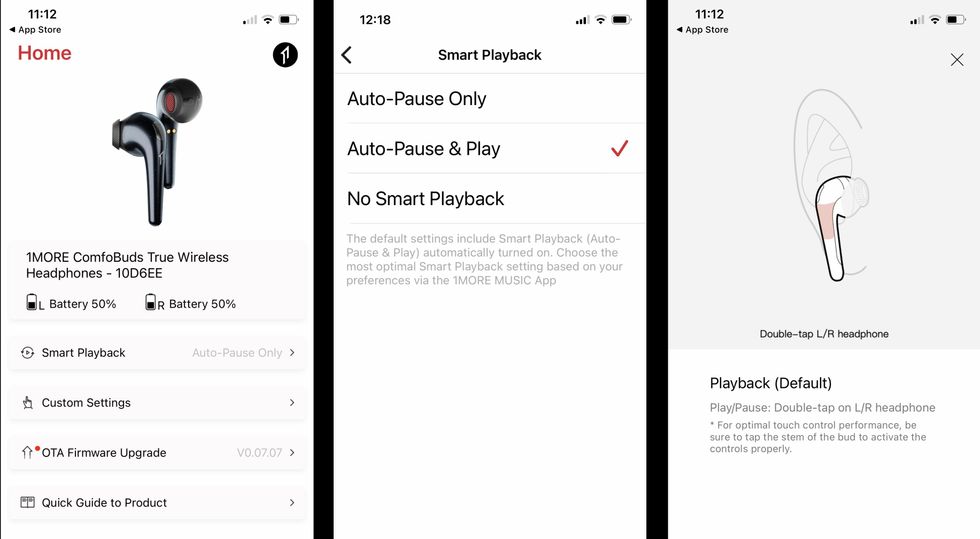 The app for the 1More ComfoBuds is fairly barebones — with a home screen (left), a Smart Playback screen (center) and one of the pages in the App's Quick Guide to Product (right).Terry Sullivan
This is the biggest downside of the earbud design. To really get a true deep bass, they need to be in the ear canal, with a closed seal.

One feature that did work reasonably well was environmental noise canceling, or ENC, which dramatically reduces the noise of a crowd when making a call on your phone. The 1More ComfoBuds use four microphones to actively reduce the noise by producing an opposite signal. Since I use an iPhone, I needed to turn off the built-in ENC to test the feature against 1More's ENC option. When I did, I found that 1More's ENC feature worked just as well as Apple's.
When I used both together — both the iPhone's onboard ENC and the ComfoBuds' — I found they worked together to further reduce noise.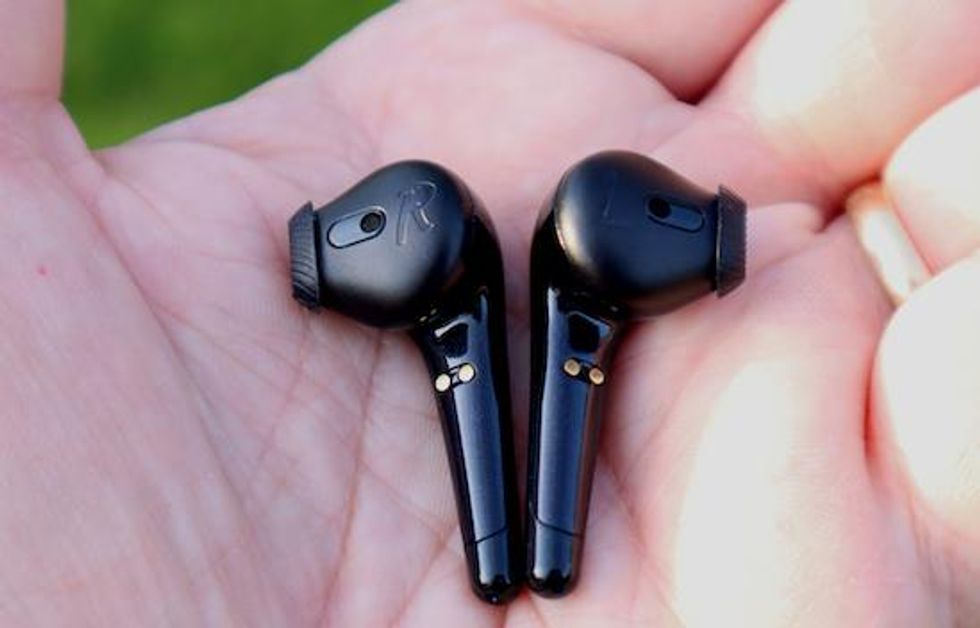 The 1More ComfoBuds earphones have a very slick-looking designTerry Sullivan
Are they worth buying?

The 1More ComfoBuds Wireless Earbuds, which are also water and sweat resistant, first went on the market for $60. However, you can pick them up for just $50 on sites including on Amazon.
At such an inexpensive price, the ComfoBuds are very good value, particularly for someone who wants a decent pair of truly wireless ear buds. Sure you're giving up deep, expansive-sounding bass tones, but the features and battery life of the ComfoBuds are solid, particularly at this price.
Pros:

Easy to set up and use
Mid-tones and treble have fine detail
Includes environmental noise cancelling feature
Water and sweat resistant (with an IPX5 rating)
Cons:
Lacks robust bass
Just four hours of battery life