When you first see 1More's ComfoBuds earbuds, you'll probably think they look like another pair of earbuds. From a big company. That makes phones and other consumer electronics. Yes, Apple and its Apple AirPods, with that distinctive stem-style design, wireless, and were unveiled about four-and-a-half years ago, on September 7, 2016.
But AirPods weren't just wireless. In fact, these earphones would eventually be classified as truly wireless earbuds (or true wireless earbuds), meaning that these types of headphones not only didn't have a wire connecting it to a device, but there also wasn't a wire connecting the right and left earbuds to each other. That trend, of producing what was called truly wireless earbuds, began the year before, in 2015, with the Bragi Dash earbuds. However, since 2016, this entire category has mushroomed. Five years ago, there were a half dozen or so models available. Today, there are at least ten times that number on the market.
Today, Apple dominates this market: In a recent report from Strategy Analytics, Apple has nearly 50 percent of wireless headphones market share. But as most already know, Apple AirPods are pricey, starting at $130. So, are there cheaper alternatives? Yes, and that's where others, including 1More comes in, like with its 1More Stylish True Wireless earbuds, or the more recent ComfoBuds, an inexpensive pair of truly wireless earbuds, for those on a budget.
Let's see how 1MORE's ComfoBuds tested.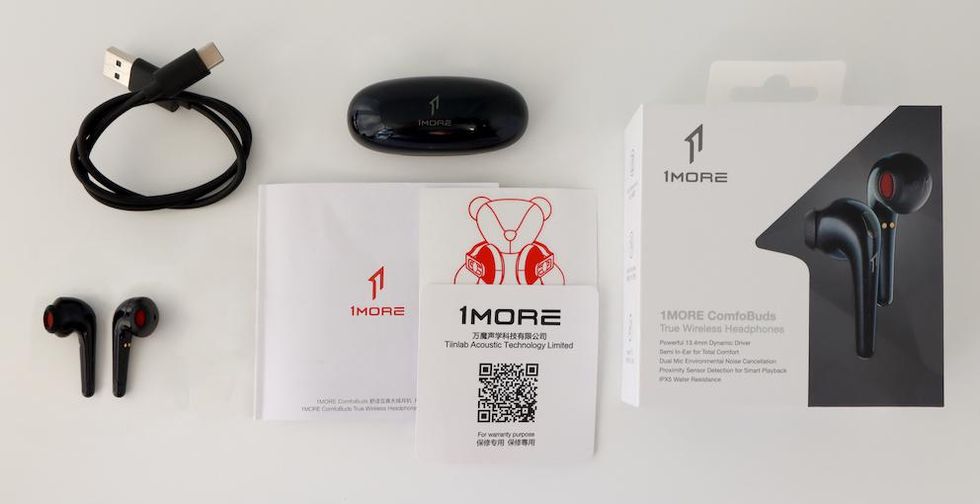 Inside the box, you'll find a pair of 1MORE ComfoBuds, a short charging cord and instruction guide.Terry Sullivan
What You Get

When you open the box, you're presented with a futuristic-looking, black, oblong spherical charging case (which also comes in white). Underneath, you'll find a short USB-A-to-USB-C charging cord and a quick-start guide, which discusses charging methods and battery notifications. It also provides you with information on how the earbuds pair to each other and how they both pair to the device. There are additional details on how to use tap controls and smart features. These include auto play and resume features, as each earbud has an infrared sensor, so the audio will automatically pause when you take the earbuds out of your ears, then resume when you put them back in.
Design and Fit
You'll wear the 1More ComfoBuds by placing them somewhat loosely in your ear, with the stem facing downwards, similar to how you would wear a pair of Apple AirPods. Although they do look like AirPods, there's an important difference: ComfoBuds have a rubber ring around each speaker. When you wear them, each ring allows the earbuds to feel a little more secure in the ear than AirPods. Still, I think earbuds that have silicone tips are more secure in general, since they're pushed into the ear canal.
Overall, I found them comfortable to wear and use. However, there is a very high glossy finish used over much of the surface of the ComfoBuds as well as the interior and exterior of the charging case, which made them a bit slippery to hold.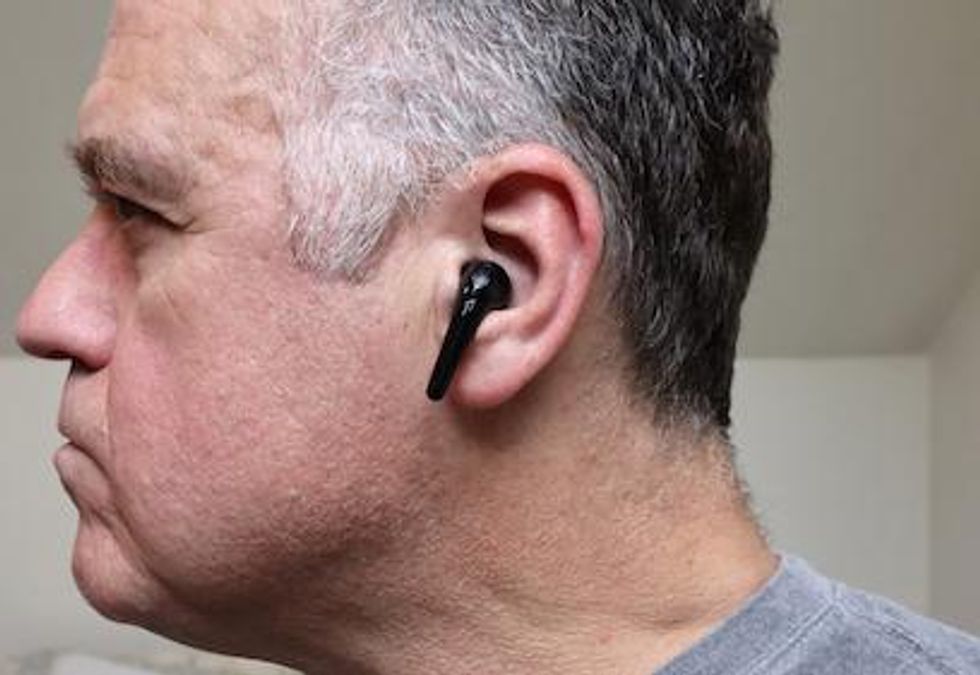 You'll wear the 1More ComfoBuds by placing them somewhat loosely in your ear, with the stem facing down, and maybe angled a little forward. It's very similar to how you would wear a pair of Apple AirPods.Terry Sullivan
How the 1More ComfoBuds Worked

Setting up the ComfoBuds was easy. I had no problems in pairing, and all in all, I had no problem in the operation of the earbuds, which allows you to tap on the outside of either earpiece that's in your ear, letting you play or pause a particular audio track you're listening to at the moment.
The smart technology inside each earbud won't take your breath away, but it works: Play back stops when an earbud is taken out of your ear. Audio resumes when it's put it back in place. You can also customize some features: Instead of using two taps for the play/pause feature, you can change it so it decreases or increases the volume.
I had no issues charging the earphones either. As for battery life, the product is a bit underwhelming: According to the manufacturer, the ComfoBuds deliver four hours of audio playback when the ear buds are fully charged. 1More also notes that the earphones can get 18 hours of playback when the ear buds and case are both fully charged. That's not bad, but there are some truly wireless headphones that get five or six hours of battery life on one charge.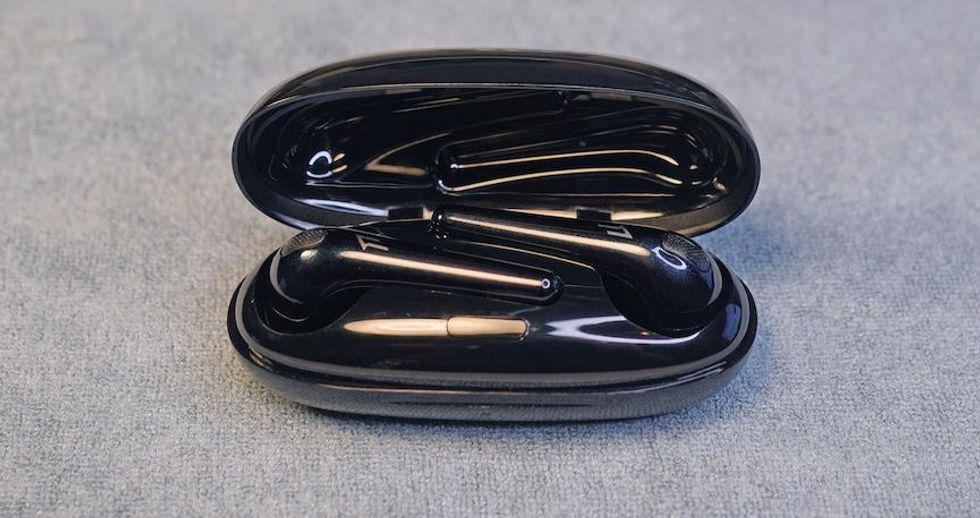 There's a very glossy finish, as least for the black version, which is used over much of the surface of the ComfoBuds as well as the interior and exterior of the charging case.Terry Sullivan
Sound and ENC

Sound quality has always been a trade off when it comes to using portable earphones — and particularly wireless earbuds and those that are truly wireless. (Testers often state that a corded, over-the-ear pair of headphones — with all Wi-Fi or noise-cancellation features disabled — delivers the best quality audio, particularly when listening to music.) Still, convenience has driven, and continues to drive, demand for these truly wireless headphones
Overall, I found the sound quality in these truly wireless ear buds to be very good, particularly in the mid-range and treble tones, which each had excellent detail—meaning it sounded as if I could hear very subtle audio sounds, like the faint breath as a singer breathes in before singing a note, or the faint scratch of a metal slide on an acoustic guitar.
However, when it comes to the bass, this pair was simply adequate. They weren't awful, but they didn't emphasize the bass. I bring this up because about 20 seconds into the 1More product marketing video for the ear buds, the video notes "extra bass," and that's really not my experience in listening to the pair, whether I was listening to various techno-instrumental tracks from "Blade Runner 2049" (music by Hans Zimmer and Benjamin Wallfisch) or The Beatles' "A Day in the Life," or the low key, but brilliant song "Lonestar" by Norah Jones. In each of these three, there are moments where the bass or bass tones are very prominent. But I didn't hear anything distinctive when listening to them with the ComfoBuds.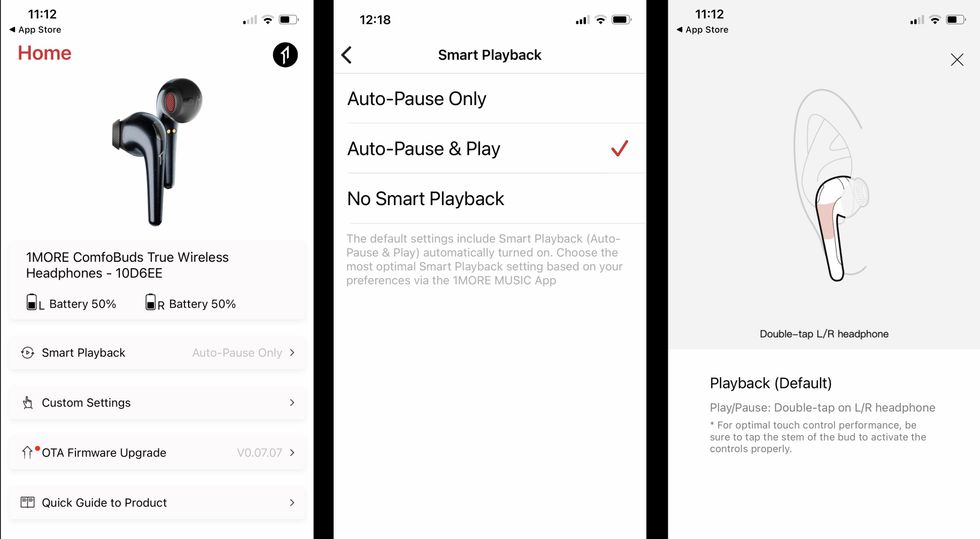 The app for the 1More ComfoBuds is fairly barebones—with a home screen (left), a Smart Playback screen (center) and one of the pages in the App's Quick Guide to Product (right).Terry Sullivan
I'm not surprised. To really get a true deep bass with earbuds, you need them to be placed in the ear canal, forming a closed seal. These earphones are not designed in this way, so the result is you get just middling bass.

Another feature that worked reasonably well was its environmental noise canceling, or ENC, which can dramatically reduce the noise of a crowd when you're making a call on your phone. The 1More ComfoBuds use four mic microphones to actively reduce the noise of the crowd by producing the opposite signal to the one producing the noise. Since I use an iPhone, I needed to turn this feature off to test it against 1More's ENC feature. When I did, I found the two —1More's ENC feature and Apple's ENC —worked about the same. I heard a rather muffled crowd sound, which was suppressed more during the call.
When used both together — after I turned my iPhone's noise-canceling feature back on, but was still using the ComfoBuds — I found the features worked together to further reduce the noise.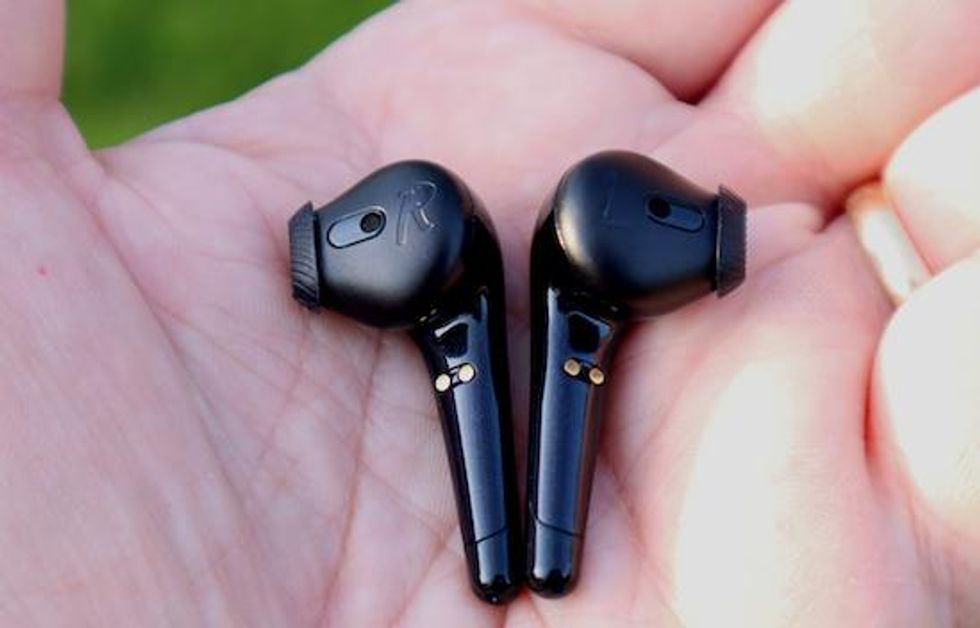 The 1More ComfoBuds earphones have a very slick-looking designTerry Sullivan
Price and Are They Worth Buying?

The 1More ComfoBuds Wireless Earbuds, which are also water and sweat resistant, first went on the market for $60. However, currently they're available for $50, including on Amazon.
At such an inexpensive price, I think the ComfoBuds a very good value, particularly if you're someone who wants a decent pair of truly wireless ear buds. They also might fit the bill if you aren't too concerned with getting really deep and expansive-sounding bass tones when listening to your music, movies or audio tracks.
Pros:
Easy to set up and use
Mid-tones and treble have fine detail
Environmental noise cancelling feature was good, and worked with what's available on the cell phone
Nicely designed
Water and sweat resistant (with an IPX5 rating)
Cons:
Lacks robust bass
Should have a bit more than just four hours of battery life