Like GearBrain on Facebook
It seems like no time at all since the iPhone X arrived towards the end of 2017, but now it's already time to start looking ahead to September and the expected launch of its replacement.
It hasn't been an easy year for the X. The phone was criticized for its $999 price tag, then delayed by Apple and released several weeks after the iPhone 8 and 8 Plus. Whispers of poor sales performance followed, while its accompanying wireless charger, the AirPower, is still not on sale.
Read More:
Now though, it's time to gather up all of the rumors, leaks and gossip to bring you everything we know so far about the 2018 iPhone.
There could be three new iPhones for 2018
This is the claim of renowned (and often accurate) analyst Ming-Chi Kuo, who says Apple will release three iPhones each with a different screen size. They will, according to the below image produced by Kuo for KGI Research and published by MacRumors, all share the same basic design as the iPhone X, with it's edge-to-edge display and notch.
There will be a second-generation iPhone X, Kuo says, with a 5.8-inch OLED display. This will be joined by a larger 6.5-inch version, also with an OLED screen and broadly the same performance as the smaller model. Finally, a third iPhone will have a 6.1-inch screen but use the lesser LCD technology, lowering its price.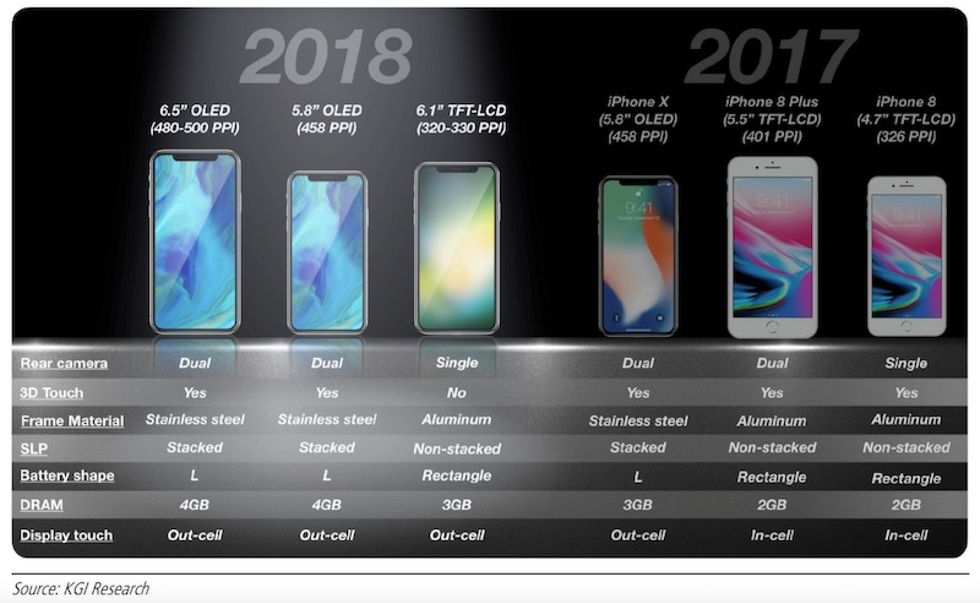 KGI Research
Kuo also believes the 6.1-inch iPhone will miss out on 3D Touch and wireless charging, and it will make do with a single rear camera. These will all further contribute towards its lower price, keeping it broadly in line with the iPhone 8 at around $700 to $800.
What Kuo does not account for is a second-generation iPhone SE, Apple's smallest and cheapest handset which is based on the iPhone 5S. The SE sold well when it launched in early 2016, but has gone unloved for some time now, leaving us to wonder what its fate will be. There ws gossip of a new model launching in June, but this never arrived.
Although we aren't expecting any major upgrades on the iPhone X for Apple's new flagships (beyond the usual improvements to camera and general performance), the idea of a larger iPhone X should mean a bigger battery and improved battery life.
Noted and often accurate smartphone leaker Steve Hemmerstoffer recently shared a video, below, of what the 6.1-inch iPhone might look like. The render shows an edge-to-edge display, a notch for the Face ID True Depth camera, an aluminium frame, and a single rear camera.
What will the 2018 iPhone be called?
This is a trickier question to answer than in previous years, because in 2017 Apple launched the iPhone 8 and iPhone X (pronounced ten), skipping nine. No, we don't know what happened to the iPhone 9 either, and as a result no one is quite sure what this year's handsets will be called.
Will Apple stick with the iPhone X name, since it is reportedly ending production of the original rather than continue to offer it at a lower price? Will the new phone be called the iPhone X 2, or the iPhone XI, pronounced eleven? For now, we'll just have to wait and see.
The 6.5-inch iPhone won't be as big as it sounds
For anyone who is concerned about the prospect of a 6.5-inch iPhone, we urge them to look at the current iPhone 8 and iPhone X. These phones are almost the same overall size, yet the X's screen is 1.1 inches bigger.
This is the result of the display being taller and narrower, but also due to the X's lack of bezels on all four sides. As such, the rumored 6.5-inch 2018 iPhone should only be slightly larger then the current iPhone 8 Plus, but feature a screen which is one inch larger. This assumption is backed up by Japanese Apple website Mac Otakara, which has a good track record for predicting future Apple products.
What color will the new iPhone be?
Apple took a monochrome approach to the iPhone X, offering only a black front with either a space gray or white back. But this could change for the next model, according to Kuo, who stated in early June that the 6.1-inch model will be offered in gray, white, blue, red and orange. In addition to this, Kuo believes the larger model will be sold in black and white (as the X is today), as well as a new shade of gold.
Will the new iPhone get an upgraded camera?
It is safe to assume that Apple will offer an improved camera on the 5.8-inch and 6.5-inch iPhones, and the latter may even get treated to to further enhancement, as Apple does with the iPhone 8 Plus.
A report from the Economic Daily News of Taiwan (translated by MacRumors) claims the 6.5-inch model will get a triple-lens rear camera like that of the Huawei P20 Pro. However, other publications have claimed this feature will be coming to an iPhone in 2019, so the authenticity of this rumor is hard to verify for now.
In theory, a triple lens could give Apple 3x optical zoom (up from 2x on the iPhone X and 8 Plus today), but we feel confident this will be a feature for 2019, not this year's updates.
When will Apple launch the 2018 iPhones?
Kuo believes Apple will reveal the new iPhones at an event in September, which makes perfect sense as this would be one year on from the launch of the iPhone 8 and X.
This article will be updated as more information about the new iPhones comes to light
Like GearBrain on Facebook