Like GearBrain on Facebook
UPDATED SEPTEMBER 10, 2019 With its hands-free selfie capabilities packed into a sleek black case of average smartphone size, the AEE Selfly easily fits in a spare pocket — think iPhone 6 with a case, but not quite this large. This drone is always ready when you need to capture the moment.
AEE sent us the Selfly, which is an updated version of the drone that people invested in through Kickstarter and Indiegogo in 2017. That version had a different SDK, and also had "challenges," and is being slowly replaced with a newer version, including the one GearBrain tested, an AEE spokesperson told us.
As of September 2019, many people have yet to receive these replacements, which GearBrain was alerted to after our review went live. We heard from AEE and asked them when these orders would be filled, since other people have been able to buy the drone. The company told us 80 percent of the original backers had received the drone in the U.S., and 70 percent of all backers.
"SELFLY had gone through a long development period, 3 generations, the last one still going on now," said AEE. "This led to some unanticipated delays from our original plan. (We have offered and delivered free replacements of the 1st generation to our backers) We are working are way through catch up now and feel confident that all backers will receive their Selfly shortly."
Our review is on this updated version of the drone, which is what original backers should be getting soon as per AEE, and consumers can buy now.
What's in the box
The AEE Selfly selfie drone even comes with two 500 mAh LiPo batteries that last about six to minutes each for those times when it takes you a few tries to get the perfect selfie or short video clip. Since the drone does not have any onboard storage, these images and video would need to be stored on an external device.
You should be able to get up to nine minutes of flight time with both batteries. That's plenty for most but you can always recharge them off any available USB port, or purchase a few extra batteries if your are going to be out exploring for a longer period of time.
Setup is as simple as charging the battery through your computer or a USB power supply with the included cable through a smartphone. You'll download the free app available through Apple Store or Android Play, then pair your smartphone to the drone via Wi-Fi. I was ready and itching to fly before the first battery was even charged, really a five minute process.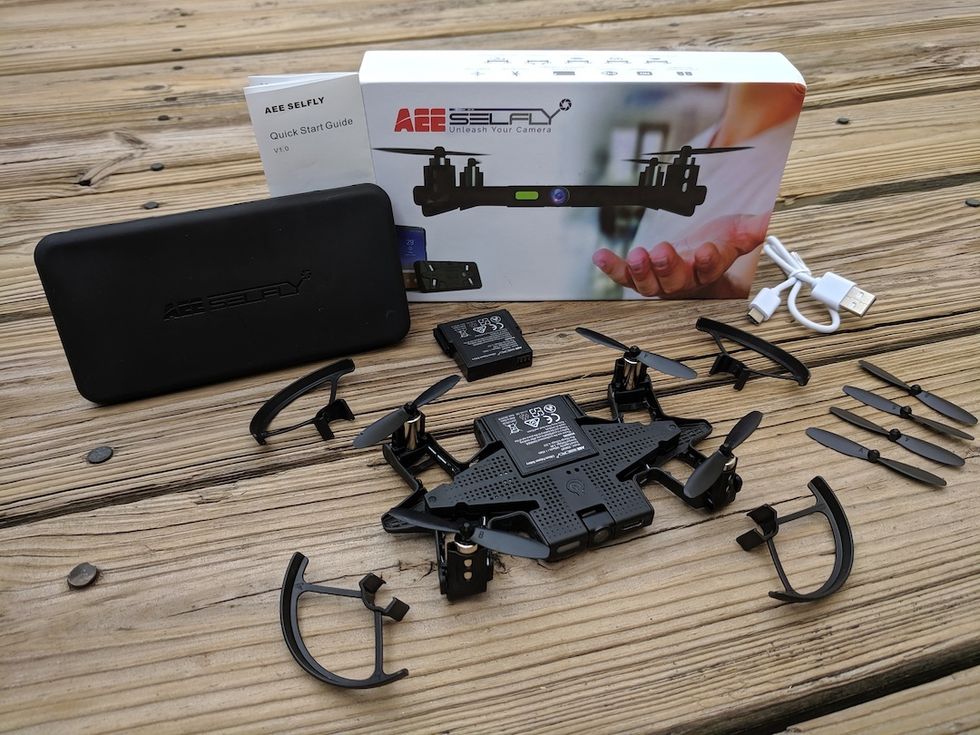 With the AEE Selfly, you'lll get two batteries, eight back up propellers, guards and a charging cableGearBrain
Flying the drone

I was very impressed that after the initial setup and battery charging the drone took-off and flew beautifully without any inherent issues. As an experienced hobbyist I like to take small steps at a time, mainly to make sure I don't destroy things or get hurt. But to me the learning curve was quite minimal and I can see that someone new to drones would also have an easy time getting the Selfly drone in the air and recording pictures and video to their phone as quickly as I did.
Of course, once I was comfortable I stretched its legs, and this is when I found that this drone is best flown in smaller low-wind areas or even indoors. The AEE Selfly is just too small and under-powered to be flown like an acrobatic racer or professional video drone.
The drone could be easily lost of your fly outdoors in any wind, and the motor wires seem like they will break after a few dozen times of folding them in and out to use the drone. That's one reason I preferred using the box to the case, so I didn't have to fold the motors down each time.

While the Selfly is just fine for its intended uses though, just don't expect to take it over Niagara Falls and have it come back (It's highly illegal to fly any drone there anyway). Keep it to backyard BBQs, office parties, or anywhere else where the drone won't be gone with the wind.
The drone has some great flight mode features in addition to the standard two virtual joystick controls on your phone. To fly by joystick, there are two thumbstick overlays that give you the ability to move and position the drone.
To fly by pod, you get a single thumbstick for movement, and touch icons for height and rotation adjustment. To fly by picture, you won't have overlay controls, so you'll position by swiping the image on the screen, and move the drone through a pinch-and-zoom move.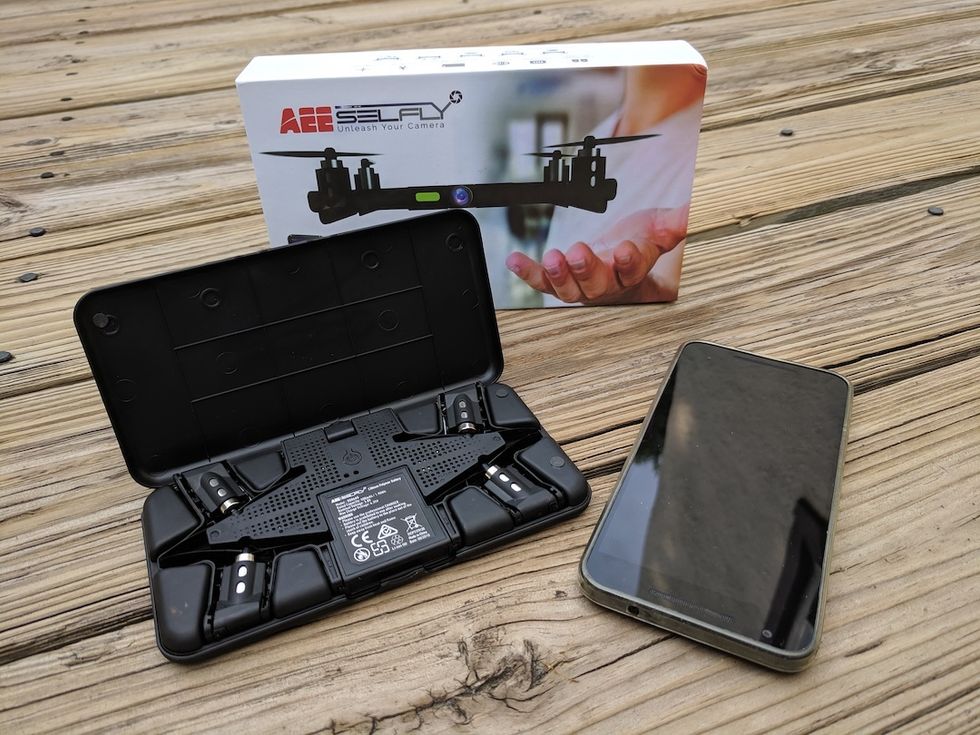 The AEE Selfly folds neatly into a carrying case about the size of a smartphoneGearBrain
Finally, there's also face-tracking. By the second battery I had the drone following my face around my backyard and snapping selfies by making a fist in the shot or just recording video the whole time. The drone has adjustable GPS fencing so you can control how high and far it is able to go which in my experience should not be higher than a two-story building or further than you can see clearly.

The AEE Selfly takes-off and lands with the press of a single button and will auto-land if the battery gets low or if you hit something — which is pretty inevitable.
Should you buy the AEE Selfly?
Overall this a great drone for the selfie fan or anyone looking to spice up their trek to a drone-friendly sight seeing destination. It's also a solid drone for beginner drone pilots.
I certainly wouldn't mind if AEE were to offer an XL version that was a tad less portable but slightly more capable. (We know you, AEE, are listening as your products do seem to improve, especially on the software application side.)
The drone was great fun, with enhanced functionality for selfie lovers. You can buy the AEE Selfly on several sites including Amazon for just $99 with everything you need aside from a fairly recent smart phone with Wi-Fi. You won't get a controller in the box, so don't leave home without your phone.
Specs
In the box you'll get:
Drone
Optional propeller guards
Full set of extra propellers, eight in total
USB-A to USB-C charging cable
Two batteries
Instructions
Pocket-sized case that holds everything
Pros:
Great for selfie fans as it's easy to pull from a pocket and get a good shot
Flies well and is suitable for beginners
Simple set-up
Cons:
Won't handle strong wind conditions well
Not great for acrobatic moves
Doesn't include a controller
From Your Site Articles
Related Articles Around the Web
Like GearBrain on Facebook