At first glance the $299 Mach 1 drone from AEE has a bit of a familiar look. That put me at ease —this type of "x" frame, with aero canopies protecting and reducing drag, has been proven as a solid design time and time again. Really, how unique does a quadcopter need to be if your design flies well? Well done, AEE. The company sent us the quadcopter to test — trust us we had a lot of fun, and we think you will too.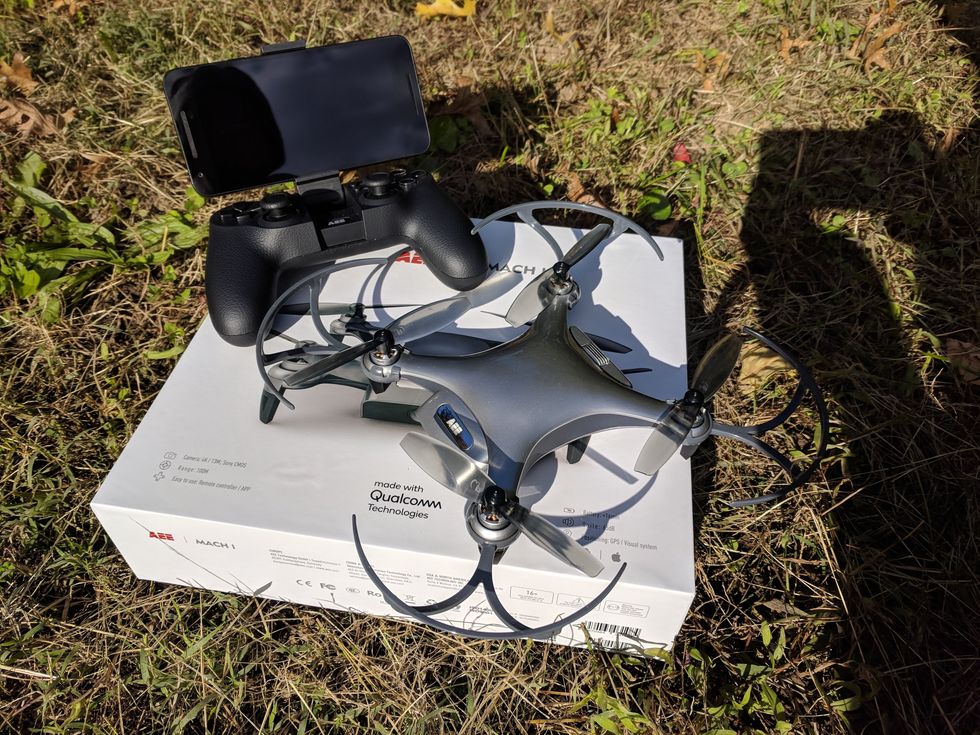 AEE Mach 1 DroneGearBrain
The Mach 1 drone out of the box
Inside the box you'll find the AEE Mach 1 Drone, its controller with a built in rechargeable battery, a drone battery, two full sets of propellers, chargers for the drone and the controller, and a nice carrying case.
Compact, with four rotors, the AEE Mach 1 drone comes in a silver color, a great choice as it made the it slightly visible — but not too visible in any situation. Fit, finish and paint are all of high quality, evident with how nicely the battery slides in and out, making a solid positive connection when inserted.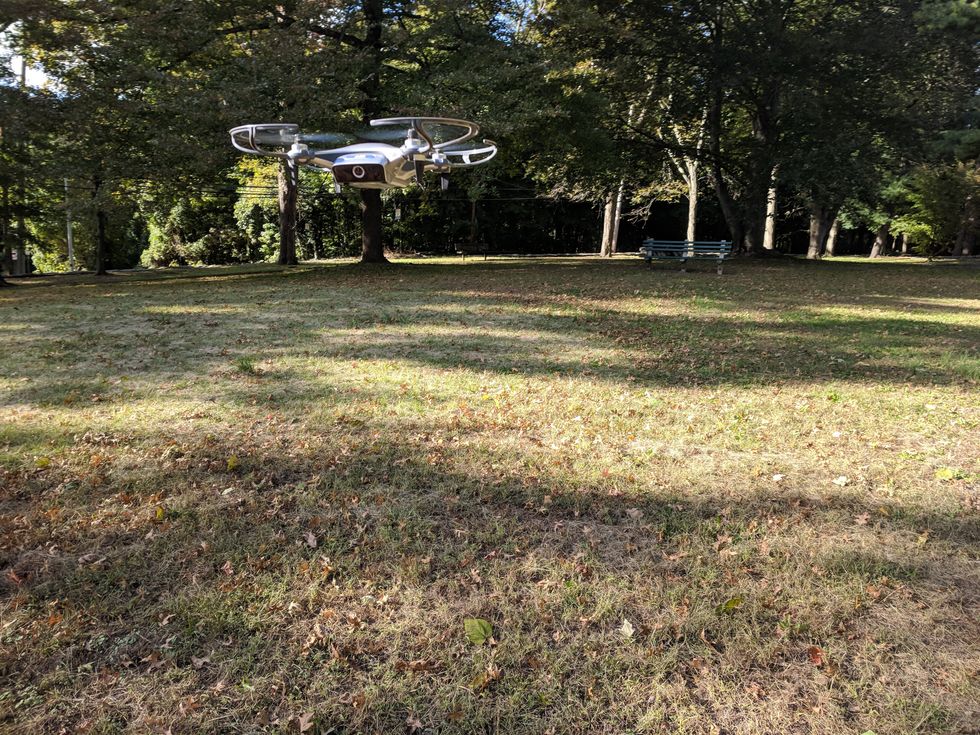 AEE Mach 1 Drone flying.GearBrain
Gearing up to fly
Getting the drone in the air is as simple as launching the Aee Mach 1 iOS or Android app on your iPhone or Android device then preparing for takeoff. (Note that we couldn't run the app on our Google Pixel 1 running Android 9.0, but could on our LG Google Nexus 5X running Android 8.1.) The Mach 1's GPS includes 1-button take-off and landing, return to home and all the other GPS essentials one would want.
Before your first flight be sure to update all software and firmware on the drone — and install the four tool-less propellers (two full sets of four included), and the included — but optional — prop-guards for safety. You can easily set everything up before the battery finishes charging on the included wall charger — which itself takes up to an hour.
For flight control just use your smartphone or tablet through 2.4 GHz or 5.8 gGHz Wi-Fi, or pair to the included Bluetooth transmitter. The latter feels just like your favorite console game controller, and it even vibrates to tell you when it has connected. (Bonus.) The included transmitter has an internal battery which you can charge with a standard micro USB cable, which is also in the box, and my choice of control.
Time for a test drive

After testing the Mach 1 drone first in my small yard — and finding it flew well — I recharged the battery and headed out to my favorite local park. Another welcome surprise? When powering up, the drone's flight controller and ESCs make the same beeping sequences as my racing drones. Why is this so exciting you may ask? This means AEE has put current hardware in the Mach 1 to let it handle modern flight controller firmware — that results in great flight performance.
The drone has an adjustable geofence for maximum height so you can't accidentally launch it into the stratosphere — and never see it again after its first flight. While generally I might prefer to turn this feature off if possible, it was so windy during my test that 60 meters was plenty high as I feared getting blown to the next town in a massive gust of wind.
For my first real test fight I flew the drone as aggressively as possible, repeatedly making it go up as fast as it can "punch out," and also flying it forward and backward at a maximum angle to its test performance. I tried all of the fight modes from beginner to expert, noticing more tilt and power unlocked as I made the adjustments.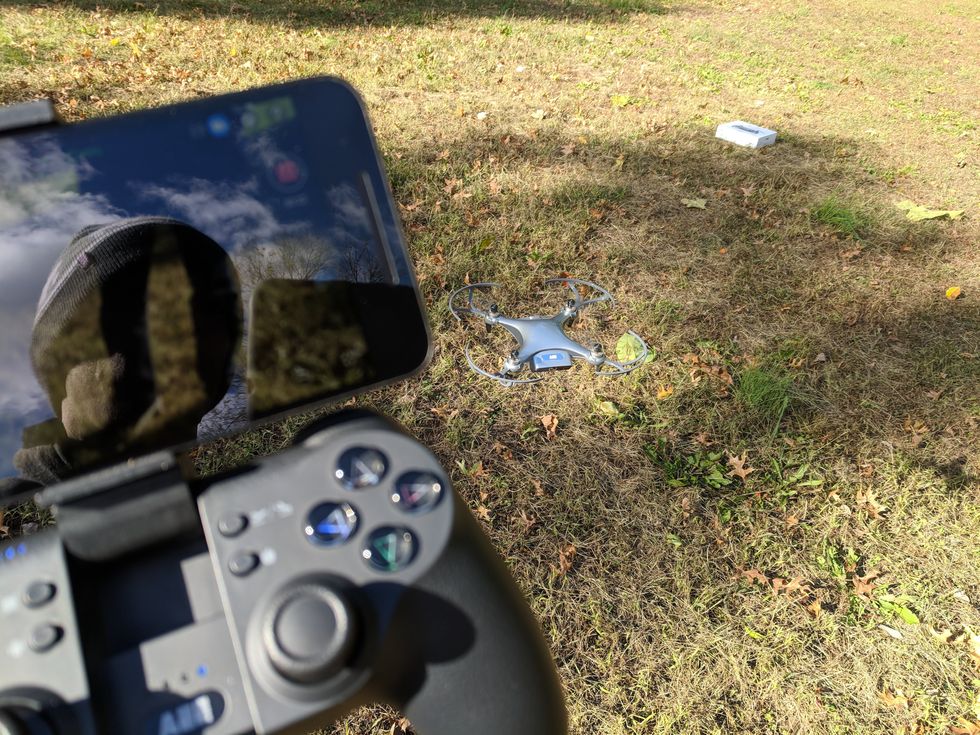 AEE Mach 1 Drone and controller.GearBrain
Time for a recharge
While I had a great time pushing the AEE Mach 1 drone, I felt that at the 10+ minute mark, the 2s 1900mAh battery was clearly not full. I noticed a loss of peppiness when trying to get the drone to climb up and over some trees. I'm sure you can get the claimed up to 16 minute flight time, particularly if the drone is used as an aerial video platform hovering, rather than diving and swooping at full power. That's how I tested it on my next flight later in the afternoon, and got 15 minutes with no noticeable loss of hovering performance.
The items that stand out in this package are the up to task components, build quality, and flight characteristics that do not disappoint. Even with 10 to 16 minute of flight time, though, I would want to purchase another battery —perhaps even two — to make the most use of the drone. And although the Mach 1 belongs outside, it is easy enough to control that it could be flown indoors in, say, a gym or large hall.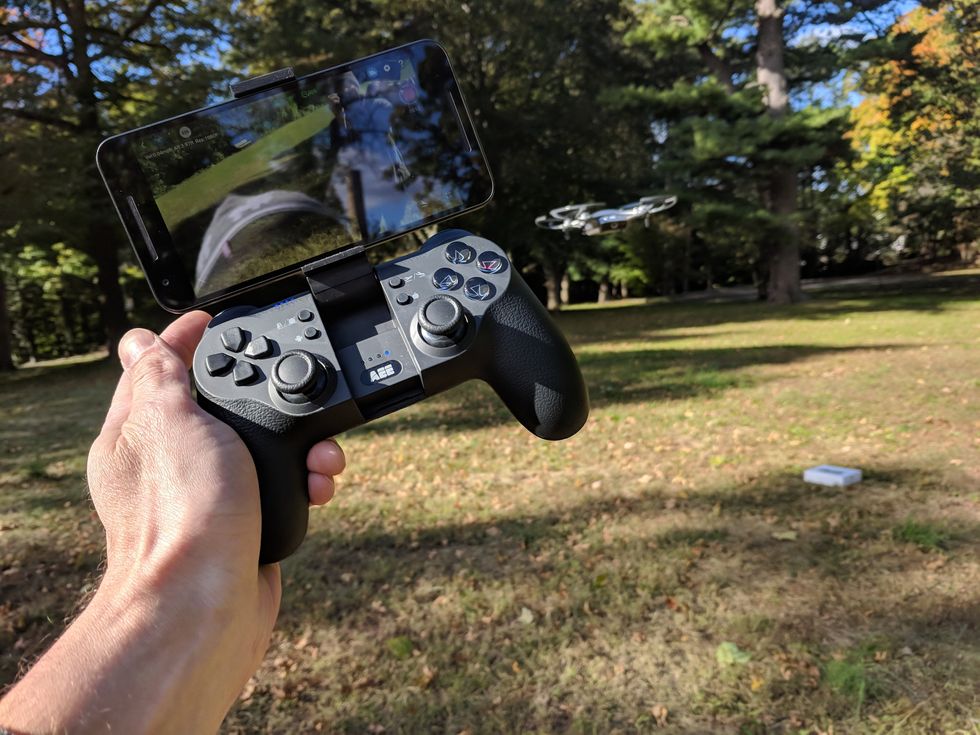 AEE Mach 1 Drone flying and controller with smartphone attached.GearBrain
Video abilities
The 4K video and images from the 13 mp camera are saved to the drone's 16 GB drive. You can grab media through your Wi-Fi connection to the phone, or by connecting the drone to your computer via a USB drive. Video up to 4K 2160P at 30fps, and the Sony sensor and four-axis EIS system do create solid video.
The Mach 1 handles sightseeing, property inspection and fun flights very well, but does not have a gimbal to move the camera independent from the drone. If you're new to flying a drone, practice a bit as keeping an active subject on screen takes a bit more piloting skill. For professional work, or even if you're shooting a wedding, you're likely going to want a more expensive drone, but that shouldn't come as a surprise.
For weekend flyers, the Match 1 is a solid drone.
Pros:
Up to task components
Solid build quality
Flight characteristics
Cons:
Wished for additional batteries
Could use a little more power
An adjustable camera would be useful
What You Need To Know Before You Fly A Drone www.youtube.com