As we recently explained, there are numerous benefits to having more than one Amazon Echo device in your home. After adding the second Echo to your network, you'll want to get yourself familiar with the Smart Home page of the Alexa app.
This is where the real magic begins — and where Alexa shifts gears from a music-playing, all-knowing fact machine, to the hub for controlling every aspect of your home smart.
Read more:
After completing this guide, you will have a system where lights and other smart home devices can all be controlled with a single voice command — even if they are in different rooms, or on different floors of your home.
What is the difference between a Smart Home Group and an Amazon Multi-Room Music Group?
The differences here are subtle, but it is worth us explaining the them now so that the rest of this guide makes sense. A Smart Home Group allows you to control several devices at once via Alexa. Initially, this makes most sense when talking about smart lights, like those from the Philips Hue range.
The Alexa app lets you create a Smart Home Group for each room of your house. These can be named 'Kitchen', 'Lounge', 'Dining Room', 'Bedroom' etc. You can then assign devices located in each room to the Smart Home Group of the same name — for example, you can assign all smart lights in your bedroom to the group called Bedroom.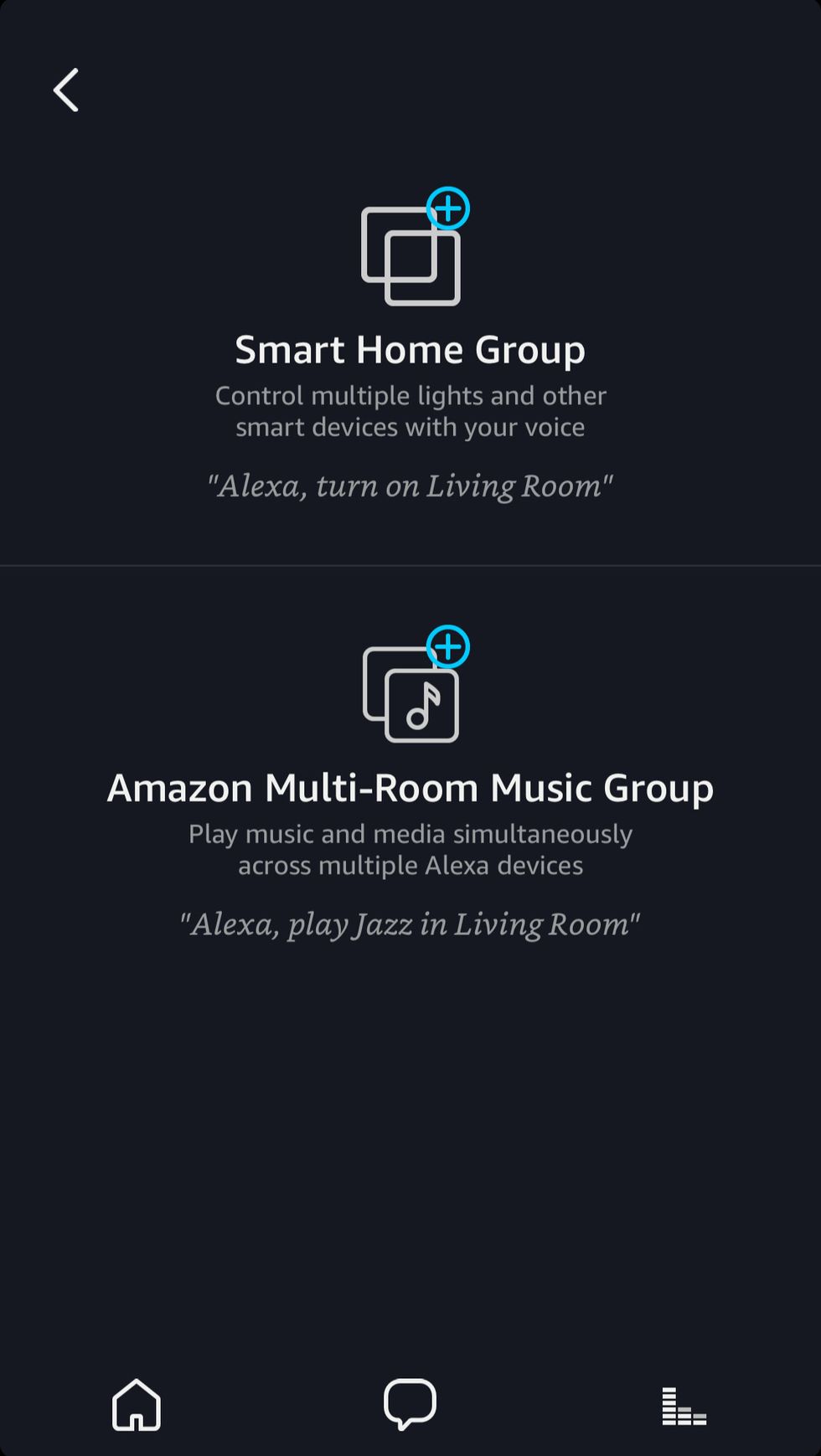 Alexa's home groups and music groups are similar, but it is important to know the differenceGearBrain
As well as lights, you can add devices like air conditioning units, heaters, smart plugs, coffee machines, motorized window blinds and more. Once set up, a phrase like "Alexa, turn on the Lounge" will activate every smart home device in that room. Alternatively, you can tap a big 'On' or 'Off' button in the Alexa app for each group you create.
On the other hand, an Amazon Multi-Room Music Group is basically a network of speakers. This could be a set of Amazon Echos, or a couple of Echo Dots which you have connected to speakers you already own. Once set up, you can ask Alexa to play a track, album, artist, genre or radio station on a specific device, in a single room, across a floor, or across your entire home.
For more on setting on Multi-Room Music, read our guide here.
Name your devices
Before creating a group, you should name your devices. By default, Echo speakers are given names like 'David's Echo Dot' and 'David's 2nd Echo Dot'. This is fine if you only have one, but can become confusing if you move the devices around and forget which Echo is which.
It might seem fun to give each device an amusing name, but this will quickly lose its appeal when you forget which name goes with the Echo in a certain location. We have two Echo Dots and an Alexa-equipped Sonos One in our home, with the Dots each connected to speakers with 3.5mm audio cables.
The Dot in our office is called Office Echo Dot and the one in our lounge is called Lounge Echo Dot. There are no prizes for guessing that our Sonos is called Bedroom Sonos.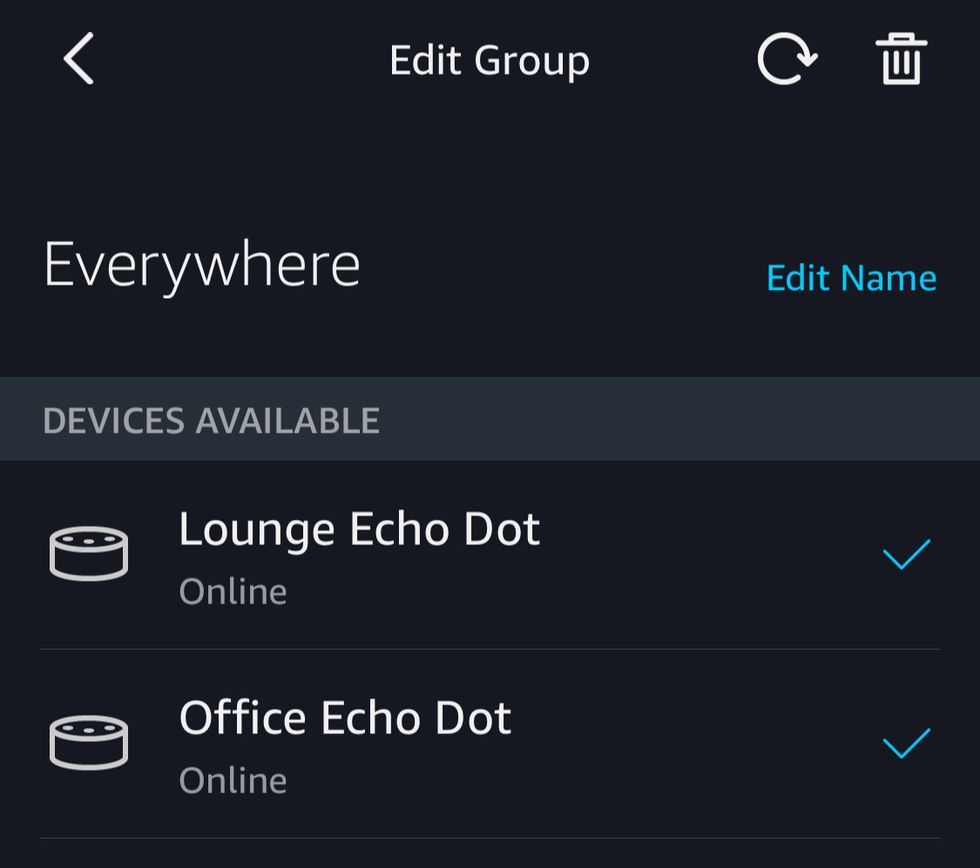 Don't be tempted to give your speakers amusing names - you'll regret later
To rename your Echo devices:
Open the Alexa app or head to alexa.amazon.com
Tap the menu icon in the top-left corner
Tap Settings
Tap the device you want to rename
Scroll down to Device Name and tap Edit
Enter the new name and tap Save
How to create and name a Smart Home Group
In the Settings page of the Alexa app, tap Smart Home, then Groups -> Add Group -> Smart Home Group.
Enter a name for the group or pick one from the list of suggestions
Tap Next
Now you can pick which devices you want to add to this group. You can pick from all of the Echo devices, smart light bulbs and other gadgets connected to the same Wi-Fi network as your smartphone.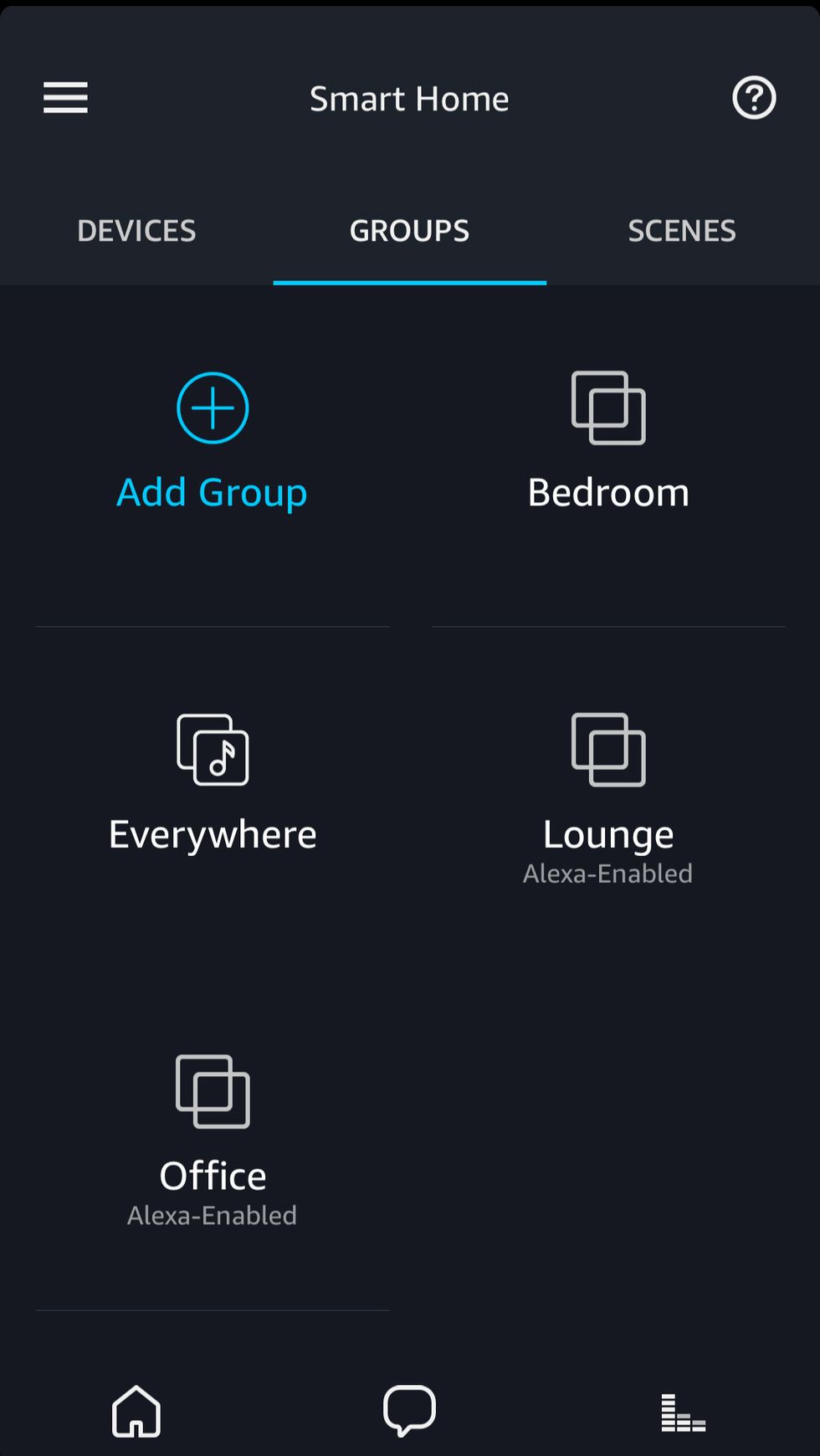 A Group can be created for each room in your homeGearBrain
For example, we added an Echo Dot and Philips Hue bulb in a desk lamp to a group called Office. We also added our Sonos One to a group called Bedroom. A second Echo Dot and a TP-Link smart plug powering a lamp behind our television is part of a group called Lounge.
If you have a house full of smart lights and other web-connected devices, you can say 'Alexa, turn the kitchen on' to switch on the lights in that room, and even power up your coffee machine. It doesn't matter which Echo device you issue the instruction to, so you could ask the kitchen to be switched on while still in bed, then walk downstairs just as your coffee is being poured.
Similarly, 'Alexa, switch off the lounge' could turn all the lights and television off, turn the heating down and close the window blinds. As well as controlling individual rooms, you can assign devices to broader groups called 'Upstairs', 'Downstairs', 'Cellar' and 'Garden'.
To add a new device to any group:
Open the Alexa app
Open the menu and tap Smart Home
Tap the group to which you want to add a device
Tap Edit, then tap on the device you wish to add to the group
Tap Save
Here's where you pick which smart home devices on your network you want in a certain groupGearBrain
This may seem complex, and for the smart home novice it is surprisingly involved for a cheap and popular consumer tech gadget like the
Echo Dot.
The Alexa app isn't the simplest to navigate and Amazon's online support documents often lack detail. Add in the fact that different countries give Echo owners different features (the U.S. often gets new features before the UK, for example), and it can quickly become confusing.
We suggest taking a practical approach. Physically set up each Echo device in the room you want it, then name them all logically. However, do not simply call the Echo in your kitchen, 'Kitchen', because when you come to create a group called Kitchen, this can get confusing for both the app and for you. Call the device 'Kitchen Echo' or 'Kitchen speaker' and call the group Kitchen.
Now all that remains is to buy those smart lights you always promised yourself...
Don't forget to visit GearBrain's What Works with Amazon Alexa to see the connected devices that work with Amazon Echo and Alexa enabled devices.