Like GearBrain on Facebook
Apple AirPods Pro are not considered a waterproof device. While some recent iPhones can presumably handle water impact from a nose dive into a puddle, your AirPodsPro do not come with the same protection.
But should your AirPods Pro land in some water, deep or otherwise, there are two steps you can try, both of which I personally used — and both of which won't set you back more than $10. One involves the extra tips that come with the AirPods Pro when in the box — which are worth saving. The other is the famous mythological step we've all attempted.
My AirPods Pro are older — visible from the marks all along them — and so sending them to Apple for replacement or repair was not covered, nor something I wanted to cover. Here's then what I did, and how these steps may help you as well.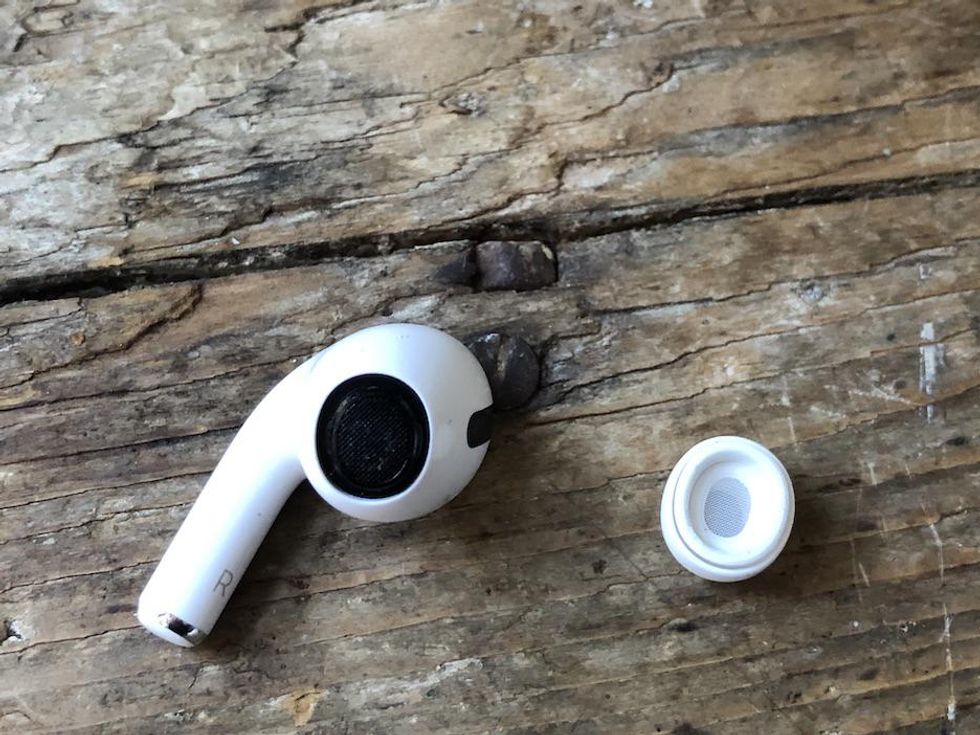 The tips just pop off, and can be replacedGearBrain
AirPods Pro mishap

In the winter, of course, rain puddles are often replaced by snow banks, which when melt can turn into hills of slush. These aren't any less forgiving to your earbuds either.
A recent drop of one of my AirPods Pro's into a slush bank took a bad turn this winter, when several hours later I found the sound level plummeted. The right ear pod fell while trying to navigate a phone call, a slushy sidewalk and a trip to Federal Express to send back a device. They'd only sat in the puddle for a few seconds, but probably because I promptly put it back in my ear without letting it dry out (or, yes, sanitizing it) I created the issue. While I didn't notice any sound problems immediately, a couple of hours later when I pulled them from their holder for a quick run, I immediately heard the issue — the dreaded low tone, which is a sound I've heard before, signaling sound deterioration on my AirPods Pro.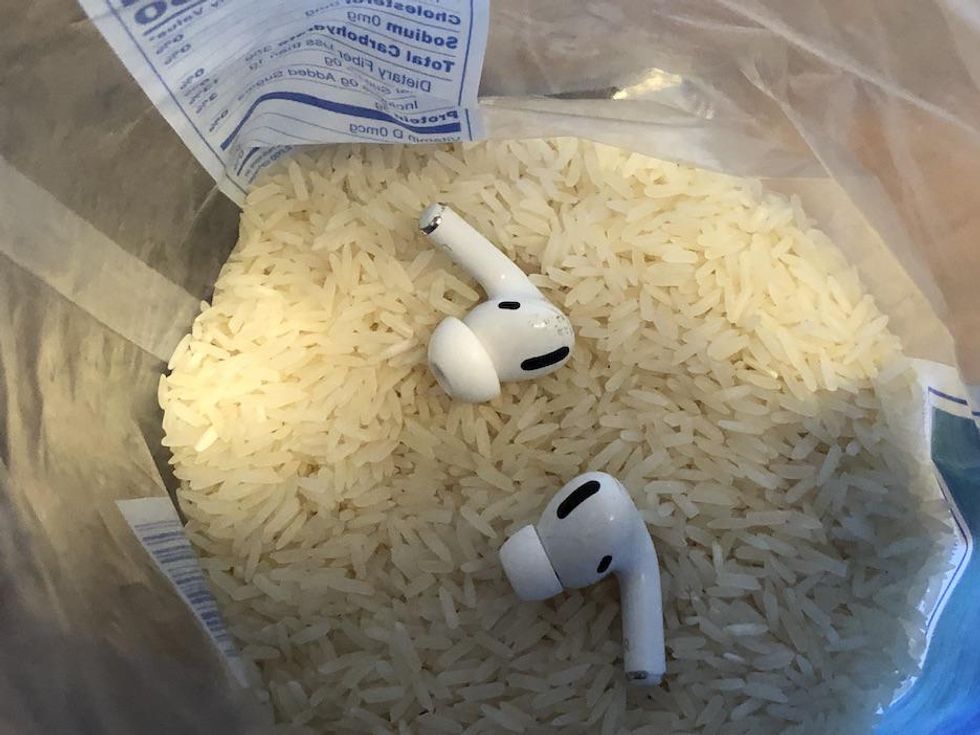 We can't guarantee the rice trick worked, but it didn't hurtGearBrain
Step one: Rice

My first step? The rice trick. I dropped both earbuds into a bag of rice, out of the holder. This did create one additional issue, which is that my iPhone continued to try and pair with the AirPods Pro, even from the bag of rice.
The solution to this, which is an annoyance if you're trying to take a phone call on speaker or just through the phone, is to unpair the AirPods from the Bluetooth connection in Settings. By doing this you'll stop the ear buds from trying to connect, and you'll also save the battery on them as well during this drying process.
After leaving the AirPods Pro in the rice for a full day, I pulled them out. I also then had a small irritation of needing to pull rice grains out of the earbuds themselves. (Which is why we're fairly sure this is not a method Apple will recommend.)
Putting them back in my ear, I found the sound level working better, but there was still a bit of muffled sound in the right ear, although not the pronounced loss as before. But yet a noticeable difference.
Now, the next step I took is why those extra tips that come in the box are super helpful, and worth keeping on hand.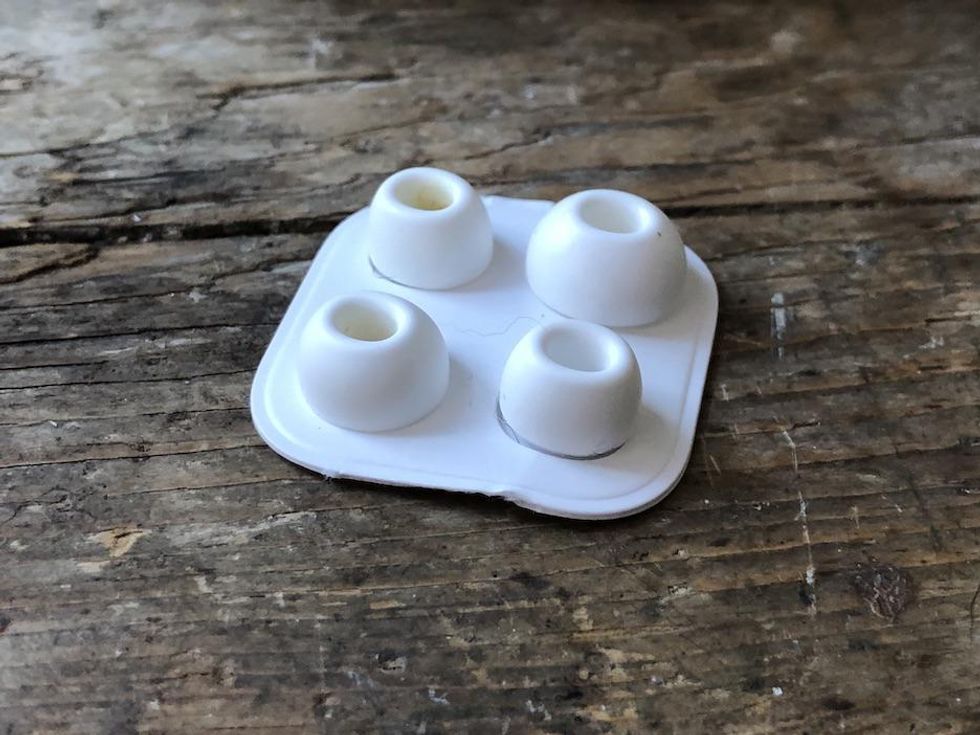 At $7.99 for two pairs, AirPods Pro replacement tips are one of the best bargains in the Apple StoreGearBrain
Step Two: Replace the tips

I popped off the right ear tip, which snaps off very easily. And then I peeled off an extra from the sheet. Ear tips come in three sizes, and I stepped down a size while replacing them which I figured wouldn't cause much of a fit problem.
After putting the new one on the right ear buds, I noticed a significant shift up in sound, with more clarity
At $249 AirPods Pros are not inexpensive, definitely on the higher end of wireless earbuds. But, replacement ear tips are very affordable, and you can pick them up for just $7.99 for two full sets (or four tips) actually. Frankly, that may be the best deal you're ever going to find on Apple's web site.
If you've tossed yours out, it may be worth sending away for a replacement pair just to have, especially as they will ship for free. (Again, a remarkable bargain from Apple.) Also, if you've gone past the warranty on your AirPods Pro, it's great to have these on hand, a very inexpensive fix to try before doubling down and having to replace these not inexpensive options.
Apple AirPods Pro
From Your Site Articles
Related Articles Around the Web
Like GearBrain on Facebook