Like GearBrain on Facebook
Not much has been said about Apple's mysterious car project this year, but now we have a glimmer of renewed hope from Taiwan.
The country's Economic Daily News (via MacRumors) claims Apple will announce its first car in the third quarter of 2021, a full two years ahead of schedule.
Read More:
Believed to have been in development for several years already, the vehicle was expected to arrive between 2023 and 2025, according to the renowned and often accurate analyst Ming-Chi Kuo.
But that timeline has been accelerated considerably, if the latest report is to be believed. Economic Daily News cites unnamed executives at Taiwanese manufacturers, who say the country's supply chain is gearing up to manufacturer components for Apple's vehicle.
Rumors of Apple making its own car, via a secretive division called Project Titan, has circled for years. Apple received a permit to test self-driving cars on public roads in California in 2017, and since then Lexus SUVs belonging to Apple and fitted with Lidar equipment have been spotted.
Initial claims of Apple making its own car, potentially in a bid to rival Tesla, switched to reports of the iPhone making building autonomous car technology instead.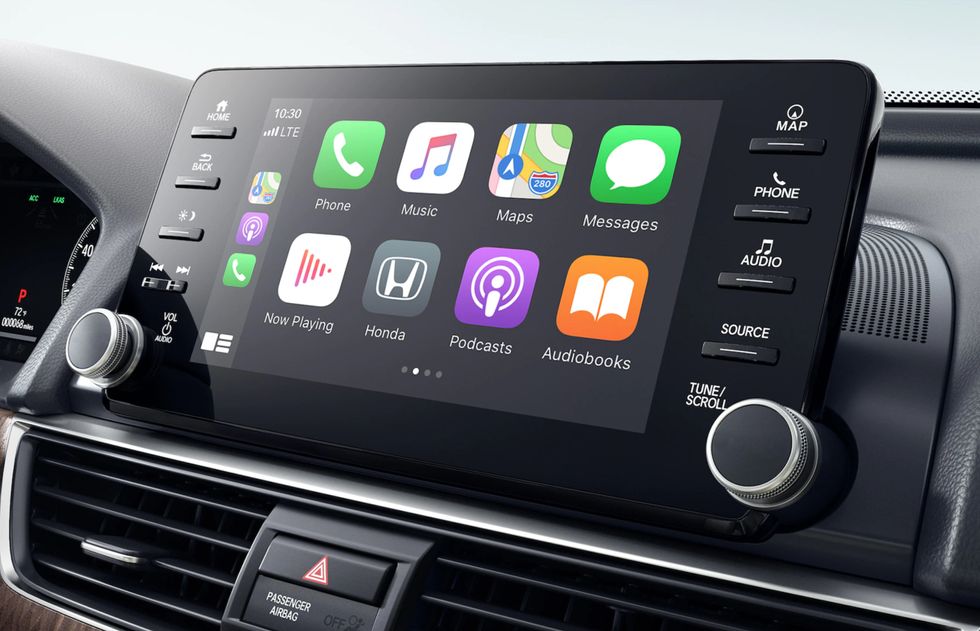 Apple's CarPlay infotainment system Honda
It would be a surprise if Apple has indeed accelerated the reveal of its car by two years, especially given the impact of the coronavirus pandemic through much of 2020. However, it could be a case of Apple announcing its car project in 2021, then continuing to work on the vehicle for a couple more years before putting it on sale.

Prototypes are often shown off by carmakers months or even years before the vehicle arrives on customer driveways. A two or even three-year gap between the first reveal and the first delivery would not be unusual – especially since Apple would be entirely new to the industry.
One possibility is that Apple plans to partner with an existing automaker, or at the very least it could employ a company like Magna, the Austian firm that builds vehicles for others, including BMW, Mercedes, Jaguar and Toyota.
As for the latest report on an Apple car arriving in 2021, we won't be holding our breath just yet. That said, it is interesting to see Apple still seemingly investing and moving forward with Project Titan.
Pioneer MVH1400NEX 6.2 inches B07951J34N
Like GearBrain on Facebook