Like GearBrain on Facebook
If GearBrain readers are planning on buying a new iPad in the next few weeks, then we urge you to wait as new models are rumored to be on the way.
More specifically, it sounds like the iPad Pro will receive notable updates in April, with new displays, improved performance and uprated cameras expected. An update to the smaller iPad Mini is expected later in 2021, followed by changes to the iPad Air in 2022.
Read More:
Bloomberg and Apple analyst Ming-Chi Kuo – both highly reliable sources when it comes to Apple news – say the iPad Pro lineup will be refreshed in April.
The new models will retain today's 11 and 12.9-inch screen sizes, and the square-edged design of the current Pro range, but will receive an updated A14X processor that is reportedly "on par" with the M1 of the current MacBook Air and MacBook Pro. This would mean huge performance for the iPads, as well as excellent battery life.
It is also claimed the larger 12.9-inch iPad Pro will receive a mini-LED display – the first to be fitted to any Apple device. This should bring improved brightness and contrast to the flagship iPad, and correlates with previous reports that Apple will soon begin shifting its products to mini-LED. A later report from Kuo said the cheaper iPad Air will gain an OLED display, but not until 2022.
First seen on high-end televisions, mini-LED technology uses far smaller LEDs in the backlighting system behind the display panel. This gives the device more precise control over which areas of the screen are illuminated and which are left dark. This in turn makes for improved contrast and a better viewing experience, with enhancements to both brightness and darkness. The technology isn't to be confused with micro-LED, which refers to smaller display pixels.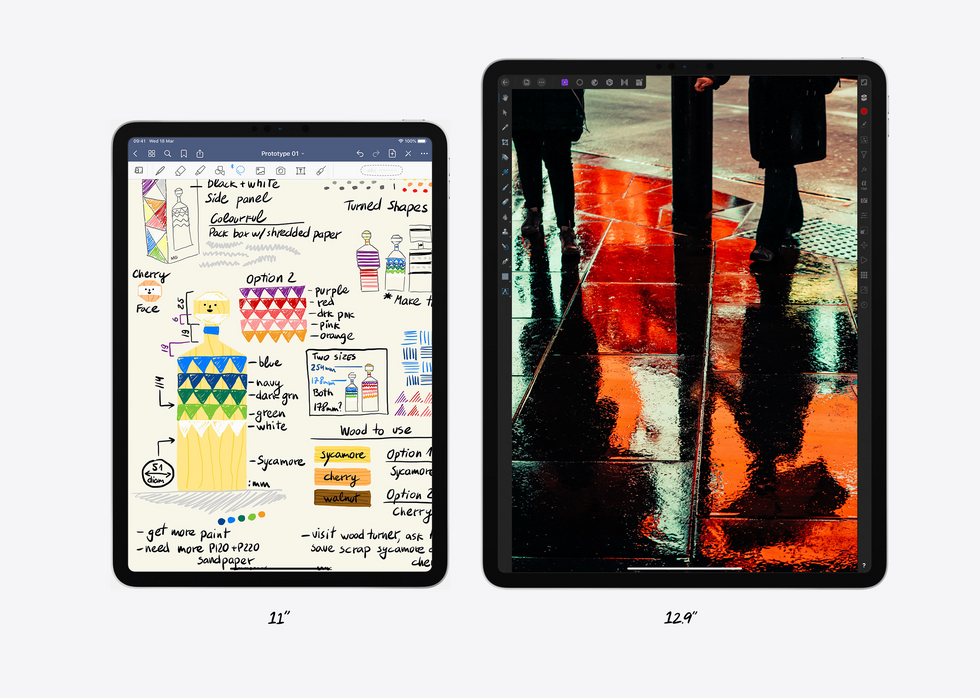 The larger 12.9-inch iPad Pro is said to gain a mini-LED displayApple
Returning to the iPad Pro, and the tablet is said to be getting a Thunderbolt connection for extra compatibility with monitors, hard drives and other accessories, along with faster data transfer speeds. Better cameras are also expected for the 2021 iPad Pro, but little else is known about this for now.

Kuo, who has a very strong track record for accurate Apple news, says the new iPad Pro will enter production in mid to late April, reported MacRumors, while Bloomberg expects the tablet to land in April. It was previously rumored that Apple would hold an online product launch event on March 23, but with no invitations arriving at the time of writing, this now seems unlikely. The current iPad Pro lineup was announced in March 2020.
Looking further ahead, it is claimed Apple is working on a new version of the iPad Mini, to launch later in 2021. The current mode arrived in 2019 but before that Apple's smallest and most affordable tablet went untouched for four years from 2015. The new model is said to have a larger display than the 7.9-inch screen that has appeared on all models of iPad Mini since its debut in 2012.
For 2022, Kuo expects to see the aforementioned iPad Air with OLED display, as well as a new model of MacBook Air, this time with a mini-LED screen. Kuo also predicts that 2022 will see a new design of MacBook Pro with an Apple chip and mini-LED display, plus the return of an HDMI port and SD card reader, a MagSafe power adaptor, and physical function keys replacing Apple's unloved Touch Bar display.
From Your Site Articles
Related Articles Around the Web
Like GearBrain on Facebook