Like GearBrain on Facebook
Apple and Google have shared more details on the technology they are building into their iOS and Android smartphone operating systems to create Covid-19 contact tracing applications.
The companies have also shed light on how the system will work, and what notifications could look like.
Read More:
Although they are not building a first-party app of their own, Apple and Google are creating the foundations for a Bluetooth-based contact tracing system, built into iOS and Android - which between them account for 99 percent of all smartphones in the world.
The system uses Bluetooth to work out if your smartphone has been in close proximity to the smartphone of someone who goes on to be diagnosed with Covid-19. It is up to governments to create the application that sits on top of Apple and Google's foundations, and it is up to them to decide how exactly the app will notify you.
In other words, it is up to government health agencies to decide if, for example, the app notifies you if you've been within six feet of someone with coronavirus for at least 10 minutes. The agencies could adjust this to alert you when you've been near them for less time, and at a shorter distance, if they wanted to.
Images show how the app could lookApple / Google
Apple and Google say just one app should be created per country, to avoid fragmentation issues, but countries who have dealt with the pandemic on a state-by-state basis, like the US, can create multiple apps.

Reference images released by Apple this week show what the app could look like, although it is up to government health agencies to design on the final design of their apps. It is also asked that health agencies write their own user-facing copy to feature in the apps, and that provided in Apple's images is to be treated as an example.
How does the Covid-19 contact tracing app work?
Copy written by Apple, shown in one example image for the app, states how it uses the phone's Bluetooth chip to talk anonymously with other smartphones. Apple explains: "You iPhone can securely collect and share random IDs with nearby devices. The app can use these IDs to notify you if you've been exposed to Covid-19. The date, duration, and signal strength of an exposure will be shared with [name of government-developed app]."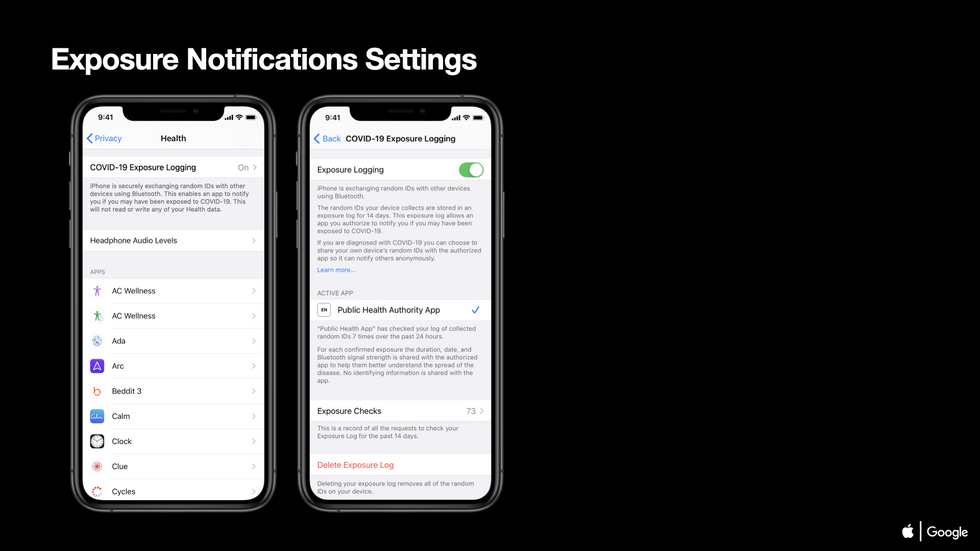 Settings for Covid-19 contact tracing app by Apple and GoogleApple / Google
Apple and Google have also provided images to show how the app could work if you receive a positive diagnosis for Covid-19. App users are asked to enter a unique code that accompanied their diagnosis.

They are then asked to enter the location of their test, then grant the app permission to share the smartphone's identity. This is what's required to then send an alert to every smartphone that is running the app, and has been in close proximity to the Covid-19 patient's phone in the past 14 days.
These people will be notified through their own app, prompting a notification to warn them of potential exposure to Covid-19. They will be told the day of potential exposure, but won't be told where this happened, or any information about who they were in close proximity to. Instead, they'll be told something like: "Someone you were near has tested positive for Covid-19."
They will then, depending on how each app is made, be asked to self-isolate at home, or get tested.
Adjustable Reusable Face Cover (Pack of 3)
Like GearBrain on Facebook