Like GearBrain on Facebook
Switzerland is the first country to begin offering a Covid-19 contact-tracking app to its citizens using software jointly created by Apple and Google.

Called SwissConvid, the app was made available first to hospital workers, civil servants and members of the Swiss army, and will soon be rolled out more widely. Latvia says it is also close to releasing its own contact-tracing app, with it rolling out to the public as early as May 28. More countries are expected to follow, with the hope that people will download the apps to their own devices.
Read More:
Srdjan Čapkun, one of the developers behind the SwissCovid app, has said he doesn't see this as a smartphone app, however, but a tracing system meant to protect people's identities, he told research university ETH Zurich.
"Its main purpose is to notify people of exposure to infected persons," he said. "But it is also designed to preserve user privacy, enable roaming between countries, and work on top of existing smartphone software and hardware."
Čapkun added that being the first to roll out with its own app, SwissCovid will also be "the first to have to deal with the teething troubles of the program." The goal, after receiving feedback from early users, is that the app will be rolled out nationwide in June. And these teething problems are expected to include fine-tuning of how Bluetooth is used to accurately measure distance, something the technology wasn't originally designed to do.
Although it is up to the developers from each government health authority to decide how their application looks and exactly how it works, any app using the Apple/Google framework will operate in a very similar way.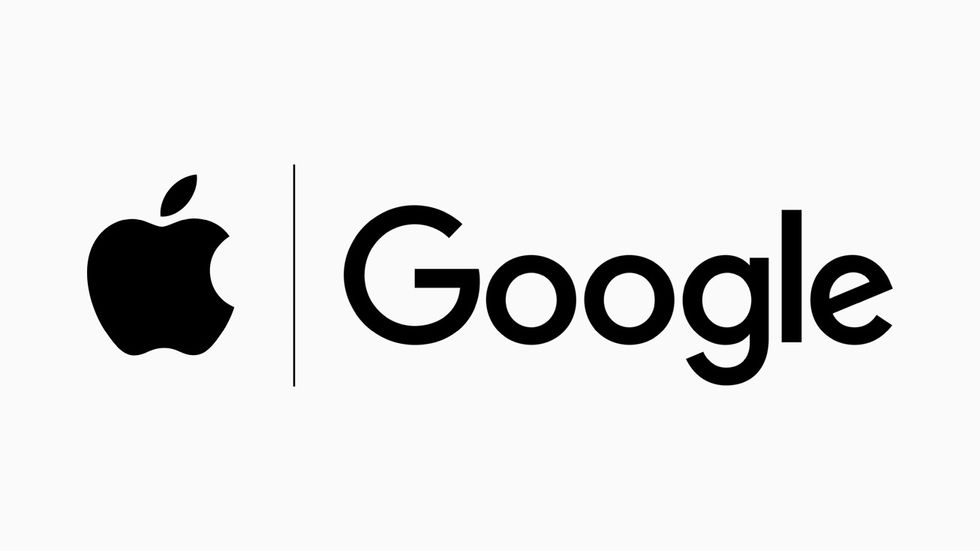 The Apple/Google API takes a decentralized approach to contact-tracingApple/Google
How does the Apple/Google coronavirus contact-tracing app work?

To be clear from the outset, the applications are not being created by Apple or Google. Those companies have made it possible for the apps to work, via recent iOS and Android software updates, through the API (application programming interface). But it is up to the health authorities of each country or state to build, test, distribute and maintain their app.
Using the API created by Apple and Google, the apps use Bluetooth to help alert people if they have come into close contact with someone who later goes on to be diagnosed with Covid-19.
Although not every country and every state in the United States is using the Apple/Google API – with the UK and France being notable early exceptions – the system is expected to be used by apps from many nations. Another set of states in the U.S., North Dakota and South Dakota, also used their own systems to create an app — not the Google/Apple API.
Apple and Google say they would rather just a single app be created per country, from their respective public health authority, to avoid duplication, fragmentation and confusion among users. However, as seen, individual U.S. states are able to create their own apps.
In simple terms, the apps use Bluetooth technology to detect nearby smartphones that are also running the app. These apps don't need to be open, they just need to be running in the background and not force-closed by the user. When two devices running the app are in close proximity (Bluetooth signal strength is used to estimate distance), they exchange private, random keys.
App makers can set parameters on the minimum amount of time between two people (or beacons) that will set off a match that can be later traced. It could be five minutes, it could be 10 up to a maximum of 30 minutes. The closer two mobile devices are that have the apps installed, the higher the signal strength — which will be noted. That information will help public health groups know not only how long someone has been in contact with an infected person, but how close they were as well.
Each health agency will then have the ability to create their own way for people to enter whether they've been exposed or not, such as using a pin code.
It's also important to note that people will be able to turn off this API in the settings of their mobile devices if they choose.
How the SwissCovid app works

With the SwissCovid model if a person who has had the application running later goes on to be diagnosed with Covid-19, they could be given a unique code along with their diagnosis. They could then asked to enter this code into the contact-tracing application. The app will then send a notification to the smartphones of everyone who has the app installed, and spent more than 15 minutes within two meters of the infected person. These parameters have been set by epidemiologists and will be changed if more is learnt about how coronavirus is spread.
Those people who spent 15 minutes within two meters of the infected person might be asked by the app to follow their local health authority's current guidelines on self-isolation and testing. Broadly speaking, this means staying home and not being in contact with anyone for seven days.
You may then carry on as normal, as long as you have no symptoms (a new dry cough, fever or sudden loss of taste and smell) at the end of those seven days. Once wide-spread testing is readily available, they could be asked by the app to book in for a test, as occurs in the SwissCovid app model.
The graphic below, produced by Ecole Polytechnique Fédérale de Lausanne, which was involved in the creation of the Swiss app, explains how a decentralized contact-tracing system works: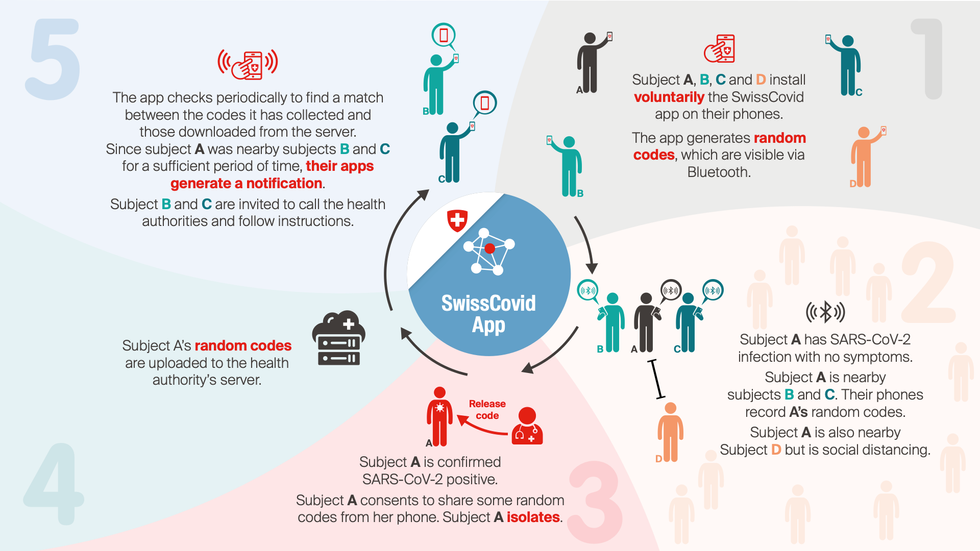 Graphic explaining how the Swiss contact-tracing app worksEPFL
Centralized vs decentralized applications

At this point we need to explain the difference between decentralized and centralized contact-tracing applications. The Apple/Google API takes the former approach, while others, including the UK's NHS, may wish to take the latter.
Using a centralized approach, the infected person's phone provides its unique key code, plus those gathered by other phones it has come close to, in an online database. There, a server performs contact matching and risk analysis, before sending notifications to everyone who came into contact with the infected person.
Using a decentralized approach, as the apps using the Apple/Google API do, is different. Here, the phone only sends its own key to the database. The phone then downloads a database of keys and does the contact matching and risk analysis itself, before telling the server which phones to send the notification to.
Those in favor of a centralized approach say they can gather more useful information, such as locational data, which could help health authorities better understand how coronavirus is spreading, and how well the app is working.
Those opting for the Apple/Google decentralized method say it offers greater privacy from the state and even from potential hackers.
Limitations with the centralized approach
Some governments were able to get their centralized contact-tracing apps running before the Apple/Google API became available. These include the TraceTogether app in Singapore and the CovidSafe app in Australia.
Unfortunately, the developers of these apps soon realized that Apple's iOS platform — without using the new API — does not allow apps to maintain constant Bluetooth communication in the background (ie, when the app isn't on the screen), in the way that was hoped. As such, iPhones running the app would not communicate properly with other phones, even if they were within two meters for more than 15 minutes. The UK's NHS app was also said to suffer from this problem when tested on the Isle of Wight.
Apple says it will let developers fix these apps, but only if they use the decentralized system of the Apple/Google API.
Some nations, including France with its StopCovid app that is due to launch on June 2, are planning to push ahead with the centralized apps they have already made. Norway has gone further still with its Smittestopp app, which also uses GPS (as well as Bluetooth) to provide more accurate contact-tracing.
Countries pledging their allegiance to the decentralized Apple/Google API include Switzerland, as well as Austria, Canada, Estonia, Finland, Ireland and Latvia. These apps are expected to launch in the coming days and weeks, and only after that will we have a clearer idea of whether they work.
Clorox ToiletWand Disinfecting Refills, Disposable Wand Heads - 30 Count
Like GearBrain on Facebook