Apple has fixed and re-released a software update for its HomePod which initially caused the smart speaker to stop working.
The update first arrived on October 29, but HomePod owners quickly reported problems. In multiple cases, the update bricked the speaker, completely stopping it from working. Apple pulled the update, fixed the problem, and re-released it the following day.
Read More:
It was unfortunate timing for an Apple slip-up, as the 13.2.1 update is a significant one for the HomePod, which since it launched back in 2017 has been criticized for lacking the breadth of features offered by cheaper rivals from Google, Amazon and Sonos.
The update will be pushed out and installed automatically on all HomePods, or you can manually start the update from within the Home app on your iPhone.
Voice recognition
The update enables the HomePod to recognize who is speaking to it, so the Siri voice assistant can offer personalized results based on who is asking. Up to six people can add their voices to one HomePod, then when each person asks they will be given their own music playlists. They will also get to access their own to-do lists and send messages to their contacts by speaking to Siri.
Handoff
Another new feature for the HomePod is Handoff, where music, podcasts and phone calls can be transferred from iPhone to HomePod and vice versa by bringing the two devices close together.
We can see this being really useful when listening to a podcast on your commute home, then wanting to transfer it to the HomePod when you get in. Just hold your iPhone near the speaker and the audio will switch from one to the other.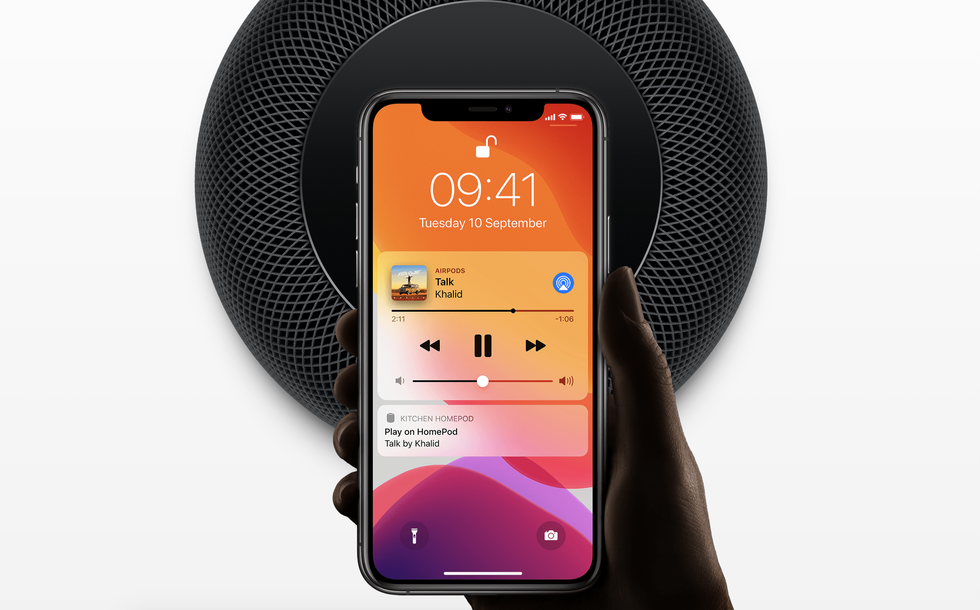 Handoff transfers music from iPhone to HomePod when held nearbyApple
Music with HomeKit scenes

This week's update also means music can now be added to custom HomeKit scenes, letting you play a certain playlist at certain times of day — such as when you wake up, for example, to coincide with the HomeKit platform switching your lights on and adjusting the thermostat.
Ambient Sounds
Smart speakers from Amazon and Google have offered ambient sounds like white noise, rain and distant storms for a long time, and now Apple has caught up on this front.
The new feature, unsurprisingly called Ambient Sounds, currently includes these sounds available:
Fireplace
Ocean
Forest
Rain
Night
Stream
White Noise
To play these, say: "Hey Siri, play [name] sounds." However, you can bring up the white noise option if you just say: "Hey Siri, play white noise."
Sleep timers
If you find music or ambient sounds help you fall asleep, you can now set these with the HomePod as well. Music or a sound from the list above can be played for a user-defined amount of time to help you fall asleep, turning off on its own.