Like GearBrain on Facebook
We have already discussed how 2021 is going to be a very busy year for Apple. And while a whole new range of Mac computers with super-fast chips will be a highlight for many, we're equally excited about the potential return of Touch ID.
The name Apple gives to its fingerprint reader, Touch ID was first used on the iPhone 5S back in 2013 and has since appeared on numerous models of iPhone, iPad and MacBook. It was partially replaced by Face ID in 2017, and currently only appears on MacBooks, as well as the entry-level iPad and iPhone SE.
Read More:
As Apple shifted to Face ID with the iPhone X, then took the technology to the iPad Pro and iPad Air, rivals went in a different direction. Samsung, OnePlus, Huawei and others added facial recognition systems of their own, but also created fingerprint sensors that sit beneath the glass screen.

Completely invisible, the sensors are convenient to reach with a resting thumb, work quickly and aren't defeated by the wearing of a face mask – something we have all experienced in the last 12 months. Meanwhile, all Apple could do to help its users was teach the iPhone to recognize when a mask is being worn, prompting the passcode-entry screen to appear more quickly.
But for 2021, a Touch ID comeback is on the cards. Even before Covid-19 it was assumed that Apple would eventually add an under-display Touch ID sensor, giving users the option of unlocking with their face or thumb. The feature was rumored for the iPhone 12 of 2020, but now it looks more likely to appear on the 2021 iPhone, due out in September.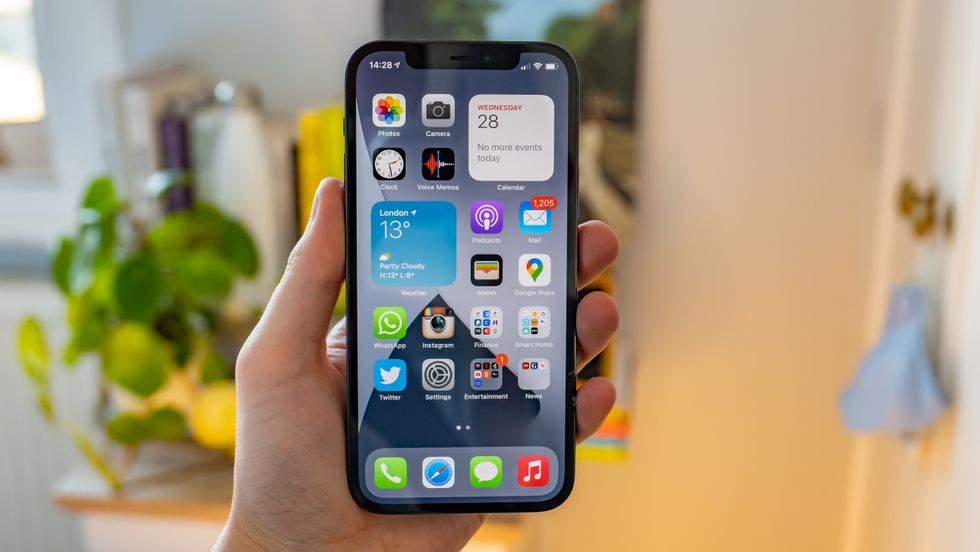 The next iPhone isn't expected until September 2021 GearBrain
According to Bloomberg, Apple isn't planning a major upgrade for this year's iPhone, and will call it the iPhone 12S instead of the iPhone 13. But, while the design is unlikely to change, it is claimed Apple will fit Touch ID beneath the display. The timing of this claim comes in the same month that Qualcomm announced a new, faster in-screen fingerprint sensor. This could potentially make its way into the next family of iPhones.

Also this month, images claiming to be CAD drawings for a new version of the iPad Mini show an in-display Touch ID sensor. Provided by technology leaker David Kowlalski and published by Pigtou, the drawings show a new design for Apple's compact tablet, along with a pinhole-style front camera and so-called "hidden" Touch ID reader.
A reliable technology leaker who goes by the name of L0vetodream suggested in October 2020 that an in-display version of Touch ID would appear under the screen of a new iPhone.
These are just the latest in a long line of rumors and reports of Apple adding an integrated fingerprint reader. Renowned and often accurate Apple analyst Ming-Chi Kuo said back in August 2019 that the iPhone of 2021 will feature both Face ID and Touch ID.
This all makes a lot of sense. In-display fingerprint reading technology has been available for a couple of years now – Samsung's smartphones had it at the start of 2019 – and with the ongoing coronavirus pandemic requiring face masks to be worn in public spaces, there has been no better time for Apple to add the technology to its iPhone and iPads.
New Apple iPhone 12 Pro (128GB, Graphite) [Locked] + Carrier Subscription
From Your Site Articles
Related Articles Around the Web
Like GearBrain on Facebook