Many smartphones, smartwatches and other devices can be charged wirelessly — just by having physical contact with a Qi pad. These stands and bases are great for those who have few outlets, or frankly want to reduce the number of wires in their home.
One designed specifically for Apple products is made by Mophie, and its $79.95 Dual Wireless Charging Pad. It can top up three devices, as long as one can plug into the USB-A port in the back, such as an iPhone, Apple Watch and a pair of wireless AirPods. Apple once planned to create its own wireless charging station, called AirPower, a push that ended in 2019.
We've tested one for the past two month, alternating between an iPhone 11, iPhone X, AirPod Pros and an Apple Watch 5. Should you buy one? Here's our thoughts.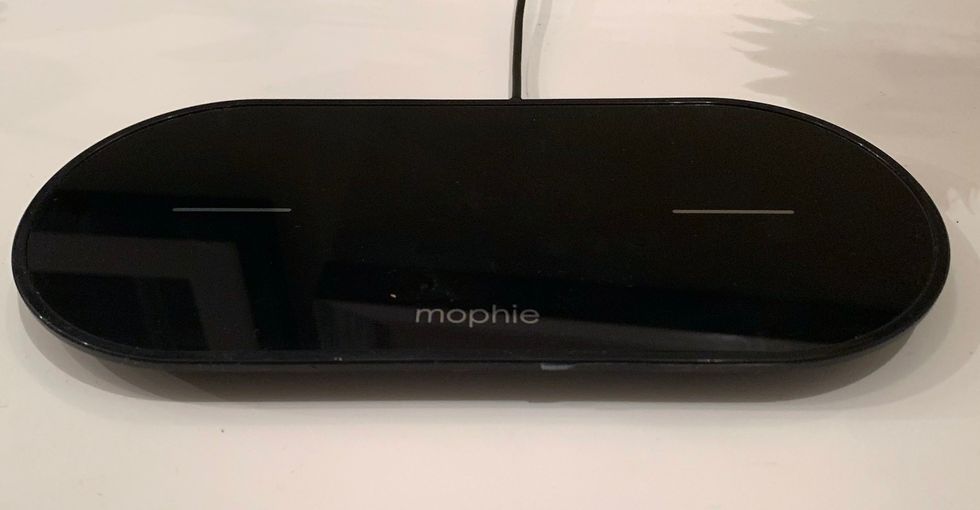 Devices need to be centered on the two horizontal lines, or they won't chargeGearBrain
The Dual charging option

While Mophie does sell single charging pads, we bought the Dual option as we live in a home with a plethora of devices. Being able to lay down two phones and get a charge was a lure. We also liked the fact that putting the phone down, on a charger, meant we knew exactly where we'd left the phone. A missing smartphone is not unheard of in my home.
Apple AirPods and AirPod Pros can also be charged on the pad, making the device even more attractive. Plus the port in the back also leave the option to attach another charger, one that doesn't have to snake to the outlet closer to a floor. We used this for an Apple Watch. It certainly presented a nice looking solution.
mophie Dual Wireless Charging Pad - Made for Apple Airpods, iPhone Xs Max, iPhone Xs, iPhone XR and Other Qi-Enabled Devices - Black
How to charge wirelessly
Initially, as we thought, we found the pad helpful. We could find our devices — they'd be on the charger if not in use — and it was nice that they'd get a nice top up when just laying there.
You do need to be very careful about where you put your devices down on the charger. There are two clean horizontal lines, and if the iPhones are not centered exactly on top of these, they won't charge. If they're slightly off, or put down at an angle, they also won't charge. This mean you need to be focused on putting the smartphone down exactly correct each time.
My iPhone would tell me if, in fact, it was charging. Just as it shows the lightning icon when it's plugged into an outlet, that same image shows up when you've placed an iPhone down correctly. You'll also get a slight haptic buzz. If you haven't, the screen will stay dark.
Your AirPods or AirPods Pro also give off a signal — if they're charging correctly. The small pin light on the front of the case will light up, orange if they're not fully charged, green if they are. If you don't see that light, your AirPod case is not connecting with the Mophie pad.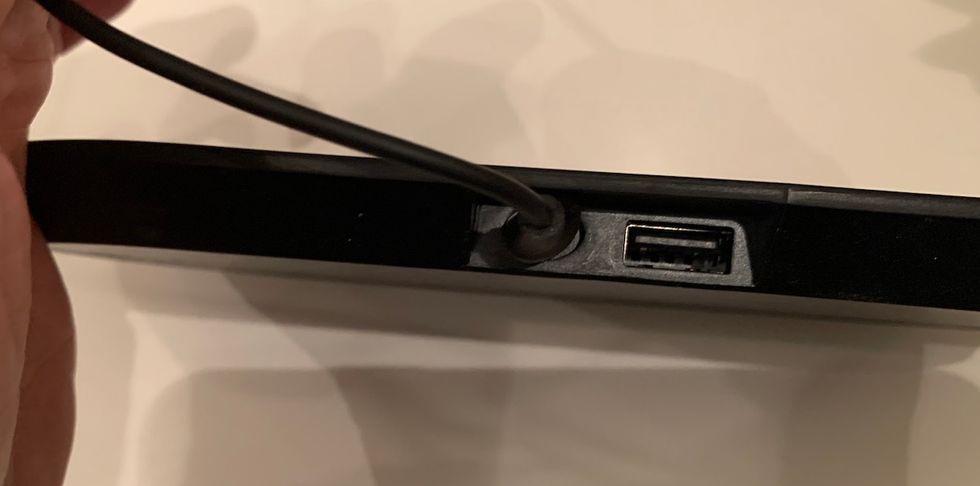 On the back is a USB-A port , which means a third devices can be charged at the same timeGearBrain
Design

The design of the Mophie Dual Wireless Charging Pad is also another plus: There's no question that the Mophie looks good. Sleek, black, with a low profile, it fits on most surfaces, does not stand out, and with the option to add the third cable in the back, does create a solid charging station for someone working from home — which is almost all of us today.
The main cord is also fairly long which means you have a lot of flexibility on where you want to place this: a positive.
Cost
The Mophie Dual Wireless Charging Pad is priced online for $79.95. We have seen some specials where you can pick one up for up to 25 percent off that price.
How well did Mophie work
But. While a fine way to grab a bit of a charge during the day, the Mophie just wasn't as good as a regular cheap Apple charger. Even overnight, we'd find that the iPhones did not get fully juiced, and even more concerning, they'd be notably warm when we picked them up. That was disconcerting.
The Apple AirPods had some issues during charging as well. While they sometimes did connect, they sometimes did not. I also watched, at times, when the case would actually dance across the pad and off the connecting point. The light would turn off after about three seconds, which often left me confused as to whether the case was still, in fact charging. And when I would pick up the case after any extended time, it would be warm — too warm to feel comfortable with them in my hand.
Adding a third device, the charger for the Apple Watch, worked very well. However, this is attached to the Mophie by a cable, which gave it more power just from that connection alone.
Worth buying?
As a secondary base, something to keep in a home near a front door, where you leave keys, Mophie is a solid option. Same for an office. But for a primary charger, we have our reservations — enough in fact, that we've returned to using a dedicated charger for our iPhone and AirPods in the evening.
We like the Mophie design, and we like the options for being able to charge multiple devices at once. We just find it's not powerful enough, and creates an uncomfortable effect of heating up our wearables, that we probably can't say this should replace your cheaper adapters and cables.
Pros:
Great design
Can charge three devices at once
Long cable for optimal placement
Cons:
Devices got very warm while charging
Must place iPhones and AirPods in specific spots or won't work
Charging is slower than using a traditional cable and adapter