Apple held three major product events in the past few months, debuting new iPhones, speakers, iPads, Apple Watches and computers. But two devices — one that the tech company event teased back in April — are still nowhere to be found.
Both the so-called Apple AirTags and an unnamed over-the-ear headphones have yet to get the Apple treatment or even an official nod. And after today's event, likely the last for the remainder of 2020, it's unlikely we'll see either of these before 2021.
AirTags have been an Apple device hinted at for more than a year, expected at Apple's most recent event in October where we saw the new iPhone 12 launch, with Apple even accidentally leaking them in a video back in April. The supposed Bluetooth trackers certainly would land into a very competitive market with other trackers including Orbit and of course Tile, which has small devices that can be stuck on to items, slipped into a wallet and luggage, or attached, via a key ring, to other products. Tile has also been able to partner with other brands, putting its technology into devices such as Skullcandy earbuds and even HP laptops.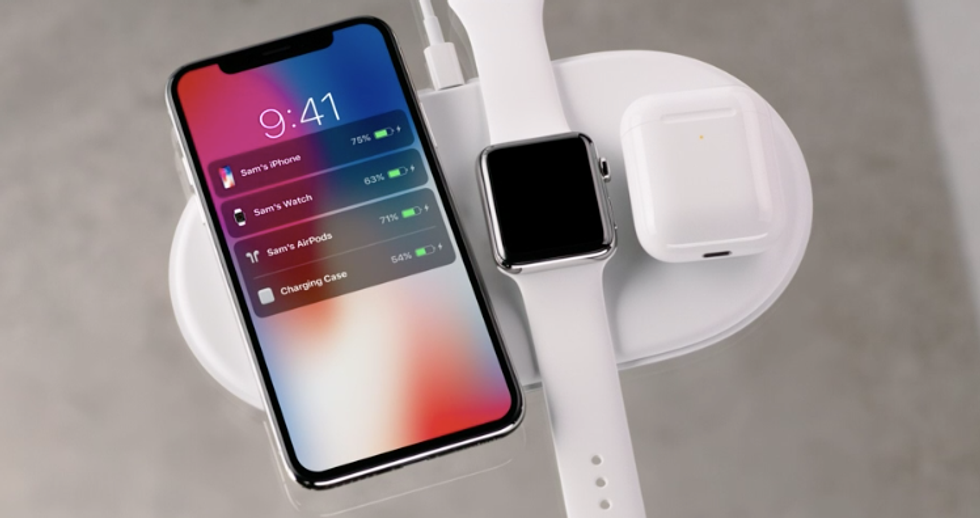 Apple's AirPower charging mat was never released Apple
Plus, Apple has a tracking system that works to help locate many of its devices, from the Apple Watch to iPhones to AirPods Pro earbuds as well. People who link these products into their iCloud account can then do a "Find My…" request to locate the items, or see where they last connected to the internet.

Still, Apple rarely seems to care whether they're entering a crowded market or not. Still, the silence about the AirTags has been noticeable, and reminiscent of the promised AirPower charger in 2017 that never appeared as well.
The second product has been hinted at as well, a pair of over-the-ear headphones, which Apple has yet to produce as a product. There have been rumors of delays due to an uncomfortably tight fit, and Apple has notably kept them out of new product launches as well.
Apple certainly has options for mobile audio devices, including the Apple AirPods Pro. But headphones, which are bigger and fit entirely over the ear, are a product category where Apple has ceded, carrying Beats on the Apple Store. The unnamed headphones would have competed directly with Beats, which are tellingly still for sale on Apple's site despite Beats being temporarily removed earlier this year.
Apple customers will have to wait and see if the two devices — AirTags and the purported headphones — appear in 2021, or will they go the way of the AirPower, which Apple quietly cancelled.
Check out The GearBrain, our smart home compatibility checker to see the other compatible products that work with Apple HomeKit enabled devices.
Introduction of The GearBrain, The First Compatibility Find Engine for Smart Devices www.youtube.com