Like GearBrain on Facebook
Just days after its most expensive iPhone debuted — Apple hit with a new device, one meant to usurp iPhone's place at the top of the company's phone chain. This one? An augmented reality headset, one with a built-in display (no phone needed) and would run on its own (no computer needed either.)
Details are still scarce, but Bloomberg, which broke the news, says everything is up for grabs: the device could run on voice, have touch activation or even move based on the you title your head. One thing, though, is clear: this is a gadget you wear on your face — and not hold in your hands — where information would screen presumably at eye level.
Sound familiar? Of course. Just a few years ago everyone was talking about Google Glass (well, complaining about the gadget) which did primarily the same thing: pushing data on to the lenses of the glasses, but also recording people in secret. (Snap's Spectacles also records anyone its wearer wants' but we all seem to have lost our ire of being snapped in secret and moved to our next fury of the day.)
Google Glass, as a consumer device, did a belly-flop. As did Microsoft's Hololens, even as that product has a second life now in business and even detective work. More important, though, they didn't the Apple allure.
Ever since Steve Jobs debuted his famous Apple "1984" Super Bowl commercial, there's been a cult-like aura around the brand. That's not to say Apple hasn't failed. (The Cube anyone?) But that is to say that the company has a remarkable track record at creating things we never knew we had to have. Think about that: Apple didn't invent the personal computer, nor a small music device or even a handheld phone. And yet people set their expectations for these gadgets against Macs, iPods and iPhones.
So when rumors swirl about Apple developing an augmented reality device — it's worth paying attention. Tim Cook has been an ardent believer in AR for years. He's gone so far to say that AR will be the apps of the future. Remember when downloading an app seemed so exciting? And now they're the breakfast cereal of our lives: we all use them, we use tons of different kinds, and we start our day with them. For most us, we can't run our lives without apps. Cook believes AR will be the same.
We can play with AR today right on our iPhones through apps developed with Apple's ARKit (and of course with other smartphone brands too.) It's fun. We've reviewed a bunch. They're cool: you can put a tiger on your table, you can see what a chair looks like in your living room before you make a purchase online. You can even chase animated creatures down your block. It's entertaining, somewhat. What's it not doing? Changing our lives.
A virtual device worn to the face, however, would. Yes, Google Glass was not a favorite. But it was probably too early to the game. Stick with me here — we weren't ready to put our phones away and use something that did much of what our smartphones could do, but keeping our hands free. But we will. How do I know? Because Apple's training us.
The Apple Watch 3 is the first product that can access apps from our iPhone without our smartphone anywhere near us — and make and take calls. We don't have to have a cigarette box-like piece of technology in our hands all the time.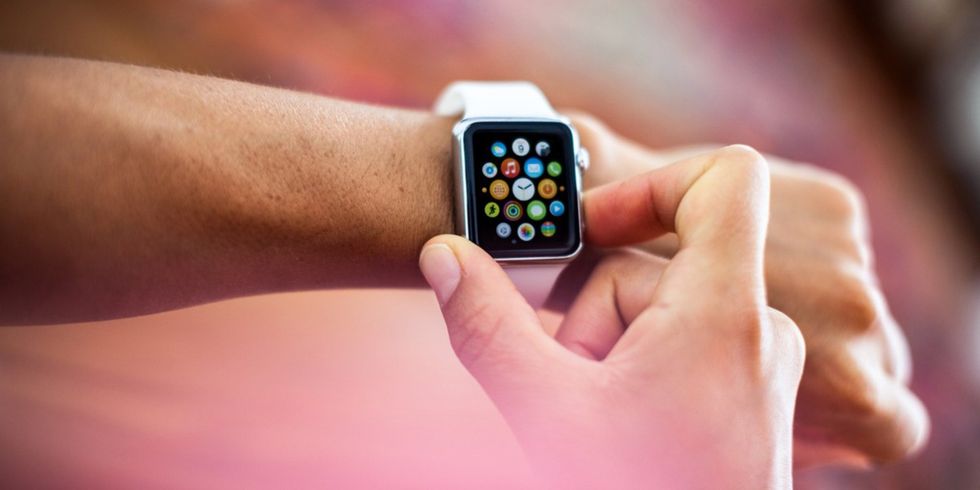 The Apple Watch 3 lets us put down our iPhone — and still run apps and make calls.iStock
Now imagine if that watch also displayed directions, like a hologram in front of us, to a restaurant where we're trying to meet our date. Or imagine a video call ala Princess Leia, with your daughter projected in front of you asking if she can stay out later with friends. That's coming. But instead of on your wrist — which still requires that you look down — it's coming to a spot where you can still look forward and still watch where you're walking: your face.
Bloomberg quoted sources who said the device wouldn't even launch until 2019 nor be released until 2020. And that's still a couple of years away. That's enough time to play with your iPhone X, and get bored, enough time to play with AR toys like Lenovo's new Star Wars headset and get used to have virtual images woven into you're seeing through your own eyes. More importantly, it's enough time to start to ask — what's next?
What's next is going to be people remembering that they have only two hands, and that they might like to have them free again. What's next is people realizing they're tired of talking to the back of someone's head as they're hunched over their phone. And what's next is an opportunity to take data out of a box, and into our space.
Will we ditch our iPhone? Where can I sign up.
Like GearBrain on Facebook