Like GearBrain on Facebook
The Apple Watch, as well as wearables by Fitbit and Garmin, have been found to spot Covid-19 up to seven days before the patient shows symptoms and tests positive.
The discovery comes from a study conducted by Mount Sinai Health System in New York and Stanford University. It found how the smartwatches could spot changes to a person's heart rate variability, which indicates an inflammation in the body.
Read More:
It was even found that the gadgets could spot signs of Covid-19 days before a test showed the person was infected.
Reported by CBS News, the study focused on heart rate variability. This isn't the speed of a person's heart, but the variation in time between each heart beat, which is a measure of how well a person's immune system is working.
High heart rate variability indicates that a person's nervous system is active and more resilient to stress. A low heart rate variability has been discovered in patients infected with Covid-19, where there is little variation in time between their heart beats.
Rob Hirten, assistant professor of medicine at the Icahn School of Medicine at Mount Sinai in New York City, said: "Our goal was to use tools to identify infections at time of infection or before people knew they were sick. We already knew that heart rate variability markers change as inflammation develops in the body, and Covid is an incredibly inflammatory event. It allows us to predict that people are infected before they know it."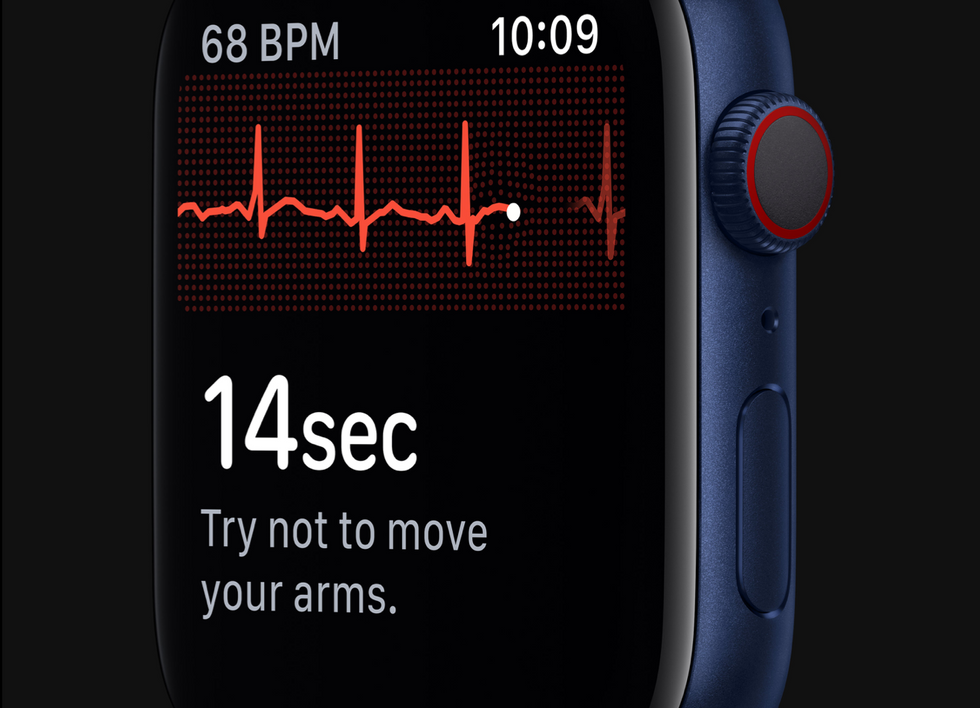 The Apple Watch can already spot potential signs of heart problemsApple
The study saw Apple Watches provided to nearly 300 Mount Sinai health care workers who wore them between April 29 and September 29, 2020. Apple did not provide the smartwatches and did not fund or take part in the study, but CEO Tim Cook mentioned the Watch's role in the study in September.

Discovering a link between changes to heart rate variability and being infected with Covid-19 is particularly useful, given how it is thought up to half of those who carry the illness show no symptoms at all. In future, wearable devices like the Apple Watch could potentially be used to warn the wearer of a change in heart rate variability and urge them to self-isolate.
Similar findings have also come from Fitbit and Oura, makers of a smart ring that records the wearer's heart rate and temperature. These studies found wearable fitness devices can spot signs of a fever before other symptoms associated with Covid-19, like a loss of sense of taste and smell, appear.
From Your Site Articles
Related Articles Around the Web
Like GearBrain on Facebook