Like GearBrain on Facebook
A camera is the center point of any home security system, particularly a network you set up and monitor on your own — you need eyes inside to make sure everything is okay. Arlo Go is one of more expensive wireless security cameras on the market, at $430 the device is one that can be both a monitor inside and outside your space. I put one in my apartment for a week to see what if the camera was worth its price.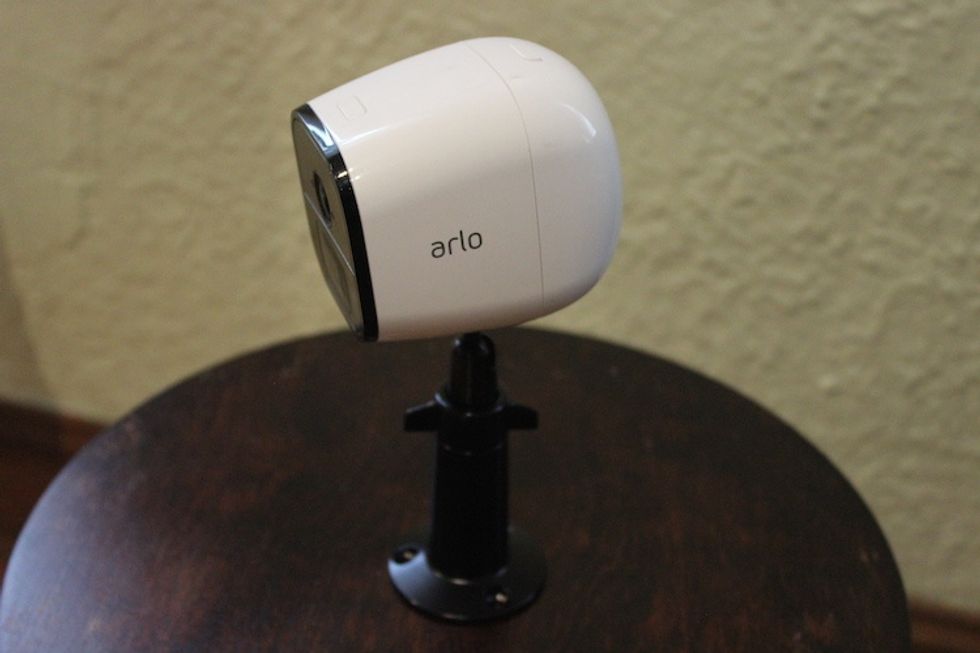 Arlo Go can sit on a desk or table, and also comes with a mount so you can attach it to a wallGearBrain
At work
For those who like a streamlined look, Arlo Go may appeal to you. It's a simple design, basically a white box, with rounded edges and a camera eye in the middle.
With an IP65 weather-resistance rating, users can set Arlo Go models up outdoors, without fear of damaging the device, but I set mine up inside my apartment. While the security camera can be mounted on a wall or in a corner for discretion, I perched Arlo Go on an old grate heater, pointing it in a general direction in my living room. The wireless design means you can almost place the camera anywhere.
After having the Arlo Go security camera working in my home for over a week, I ended up with more than 500 snapshots of me walking around my apartment, and dozens of alerts via email and smartphone notifications that there was activity going on in my home.

The compact camera system is intended to be a simple set up solution for added security to a living space — whether that's an apartment, house, trailer, boat. You can also set the camera up outside if you want to monitor what's happening near a door, or your grounds. Bear in mind though that the camera doesn't pan, tilt or zoom. There is a digital zoom, but you're not going to follow motion with this device. With 130 degrees field of view, though, you're going to get a fairly nice wide window into a room.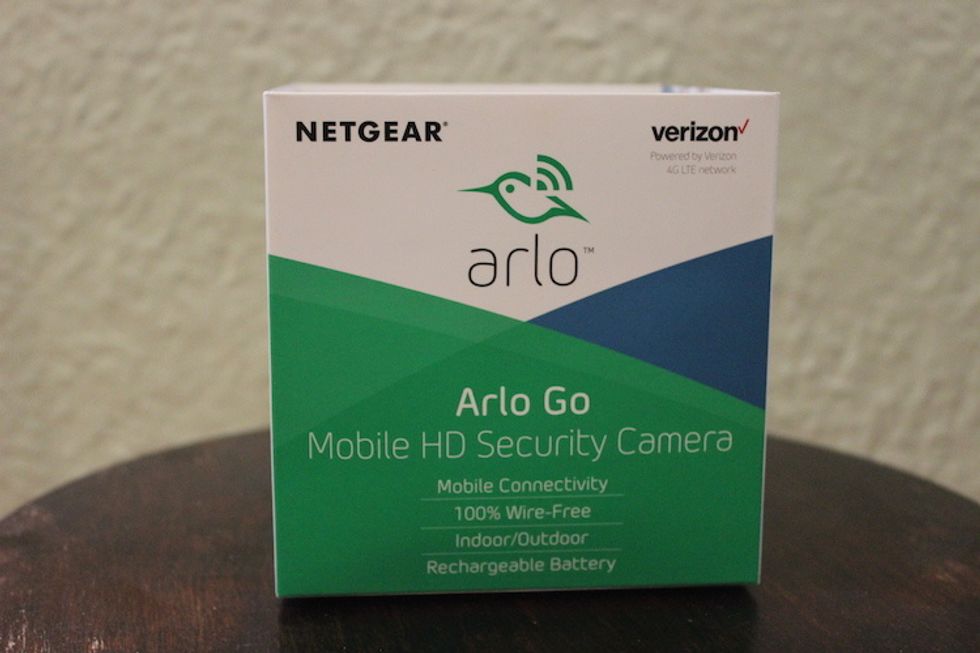 Arlo Go connects wirelessly, so you can place the device anywhere you need, indoors and outdoorsGearBrain
Security
The "Go" part of the equation refers to the camera being accompanied by the Arlo App, which allows users to log in and view the happenings of their home from any location. Users can get a live view of their home or can review 10-second video clips from the Arlo App library, which records in HD and at 720p. Video only records when motion is detected
The Arlo Go can also potentially be a source of communication, as it comes equipped with a microphone and speaker. Presumably, someone can direct a partner in what needs to be done to in a project by viewing its progress live from the app, or just pop in if there's someone at home you want to talk to, or warn to get out.
From a security standpoint, the Arlo App immediately sends users a smartphone notification and email alert once motion is detected. The notification can take users directly to the app, where they can then access the live feed and archived clips, while the email features a photo snapshot of what is going on in the video. There's also infrared night vision for about 25 feet, which is useful inside, less so outside for long views.
Users can favorite, share, download and delete clips directly from the app, making it easy to send evidence to the police, in terms of an emergency, or to friends and family members for other purposes.
Hit and miss

Arlo Go caught extensive footage of me walking to and from my couch and details of my getting ready to leave my house and coming home later. At one point, Arlo Go alerted me of activity in my home after I kicked over a water bottle. It picked up the sound but there was no motion in its field of view. However, when I knocked down some things in a connected room, Arlo go didn't pick up the noise.
While the Arlo Go is constantly recording, users can set the camera for motion detection according to their needs. To set the Arlo Go to a motion detection schedule, users go to Mode, then Schedule and set the time and days from the edit tab. Users can also set the Arlo Go to Armed mode for continuous motion detection or to Disarmed mode to have it just record and not send motion detection notifications.
Geotagging allows users to set Arlo Go to work when they are at certain locations, perhaps while at the office or while on vacation. The Arlo Go also comes with a sign that designates that there is security monitoring in progress.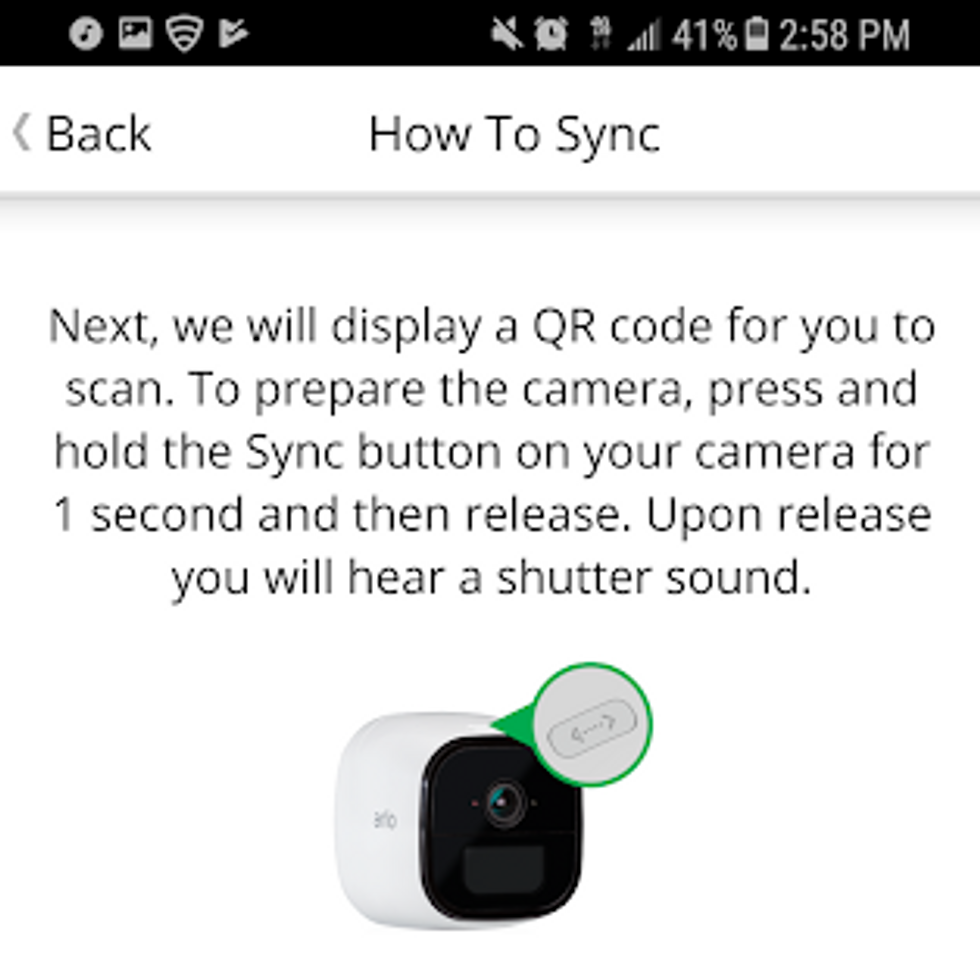 Arlo Go connects from the app to the camera by QR codeGearBrain
Install
Set up for the Arlo Go is fairly plug and play. Users must install the battery and SIM card and a MicroSD card if desired. After downloading the Arlo Go App, users must connect the device to its software by scanning a QR code from the app to the Arlo Go camera. Once set up, I found the Arlo Go did not interfere with my Google Home smart speaker, which is in the same room and is used regularly.
The Arlo Go charges via micro USB, and after about a week of use, the battery on my model was at 70 percent, meaning the camera can potentially go about one month without needing to be charged. Users can monitor battery usage by accessing Settings, then going to My Devices.

The Arlo Go App has several subscription options for consumers. A basic subscription is free and saves up to seven days of recordings to the cloud, supports up to five Arlo cameras and includes three months of customer support — that's a nice deal, but probably fair considering the price tag of the security camera to start.
The premiere subscription is $99 per year and saves up to 30 days of recordings to the cloud, supports up to 10 cameras and includes unlimited support. The elite subscription is $149 per year, saves up to 60 days of recording to the cloud, supports up to 15 cameras and also includes unlimited support.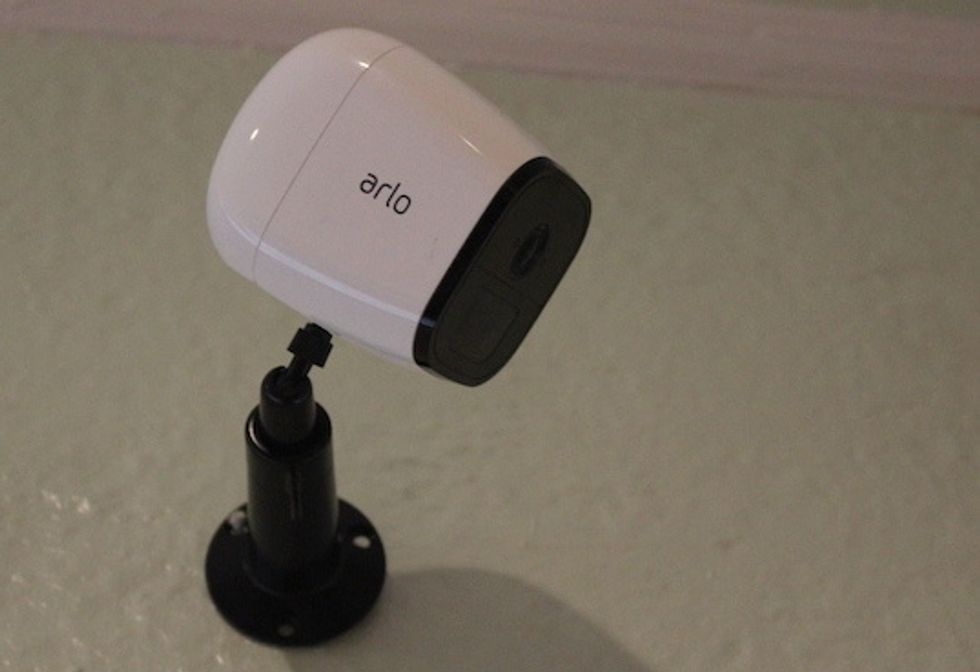 Although it does pan, tilit or zoom, you can angle Arlo Go on its mount to picking up directions you want to watchGearBrain
The Arlo Go sells for $430 and requires an LTE connection for use. You can also connect with Amazon Alexa, Google Home, IFTTT and Stringify. There are models available for the AT&T and Verizon networks as well as a model for Arlo's own mobile data plan. Consumers can purchase the Arlo Go from retailer including Best Buy, Amazon, Staples, Newegg, among others.
Ultimately, Arlo Go works, and works well. It mostly picked up on activity inside my apartment, sent me notifications and at the rate the camera kept its charge over the week, I could see it working for a month without needing a boost. It's wireless design makes it very flexible — you can put this device where you need it in your home or outside. But the price is an issue, and one that any budget conscious buyer looking for a smart home security solution will need to, and want to, consider.
Pros
High quality video and sound.

Access to the live camera feed from anywhere.

Even the lowest tier subscription option allows for several cameras to be monitored on one account.

Cons
The camera does not move so it only captures video within its field of view.

There are limitations on how much sound the camera can pick up.

It's LTE capability is limited to only AT&T and Verizon.
Like GearBrain on Facebook