While it is true that almost all wearables — that's smartwatches, hybrid watches and fitness trackers — do a good job of tracking your running, some are better than others.
You might think that the Apple Watch, which outsells the entire Swiss watch industry on its own, is the best, but the truth is more complicated. While yes, it's an excellent smartwatch — and still appears in this list — it is something of an all-rounder. If you want a wearable that is designed primarily for running, you might want to consider a dedicated device made by a fitness or navigation company.
Read More:
Companies like Garmin and Polar each sell a wide range of smartwatches built for running. They might not have the same flashy features as an Apple Watch or Samsung Galaxy Watch, but they are designed primarily with exercise in mind, and toughness as a priority.
Battery life is often another key advantage of a dedicated running watch. For example, Polar claims its M430 can track outdoor exercise with continuous heart rate and GPS for eight hours, which is two more than the Apple Watch Series 5.
Here are seven smartwatches for runners to consider in 2020.
Garmin Forerunner 245 Music - $300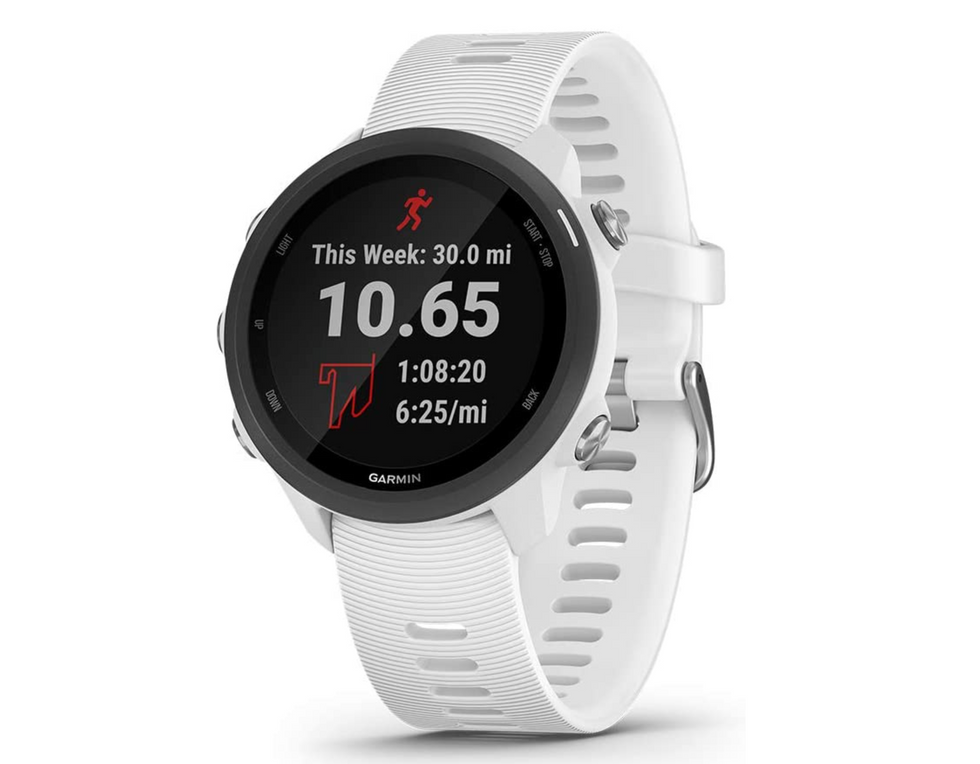 The Garmin Forerunner 245 running watchGarmin
Recently updated to include access to music services like Spotify, the Garmin Forerunner 245 is a running watch with GPS, a heart rate monitor, and a battery that lasts for up to a week.

The watch connects to the Garmin Coach app via Bluetooth, which acts as an adaptive training guide, helping you train for a target distance, such as 5km, 10km or a half-marathon. Once you have set your target, the app adjusts day by day, helping you train based on your running ability and how that improves over time.
The watch is water resistant to 5ATM (which is about 50 meters), is made from durable plastic, has Gorilla Glass 3 to protect its display, and includes basic smartwatch functionality, so it can handle calls and texts. That last point is true of all products mentioned in this article.
Garmin also sells a more accurate chest strap heart rate monitor that syncs to the watch, and the Running Dynamics Pod. Clip this to the back of your waistband and it records your running in extra detail, including cadence, ground contact balance, stride length, vertical oscillation, vertical ratio, and ground contact time. All of this data is sent to the phone app for further analysis.
Polar Ignite - $230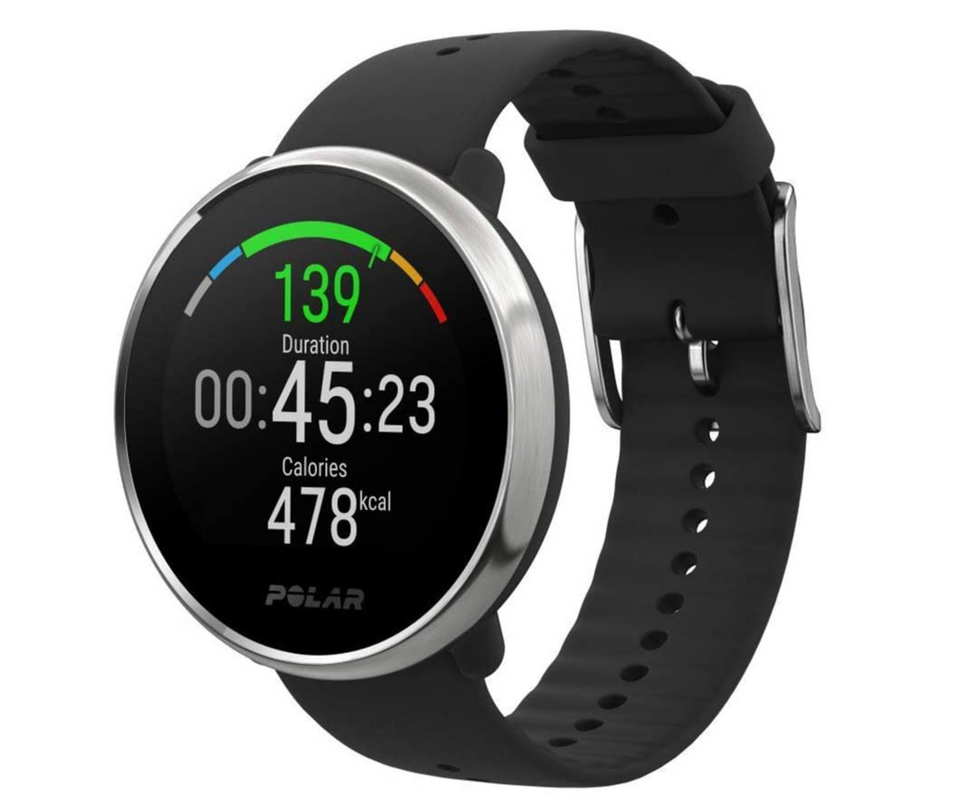 Polar Ignite running smartwatchPolar
Another brand that sticks closely to its fitness roots instead of trying to directly rival Apple, Polar makes a range of highly regarded running watches. The Ignite includes the usual features like high-quality GPS and what Polar claims to be the gold-standard in optical heart rate tracking.

There's also detailed sleep tracking which works with Polar's 'Nightly Recharge' system. This helps educate the wearer on how much their energy levels were recharged after a night's sleep, rather than just giving them a score and a time.
Water resistant to 30 meters, the Polar Ignite has a battery life of up to five days and works alongside the Polar Flow smartphone app. The app has a strong focus on training, with a calendar for planning and logging every exercise session and every night of sleep. We like how the design of this watch means it could be worn most of the time, and doesn't resemble a piece of exercise equipment.
Garmin Forerunner 945 - $550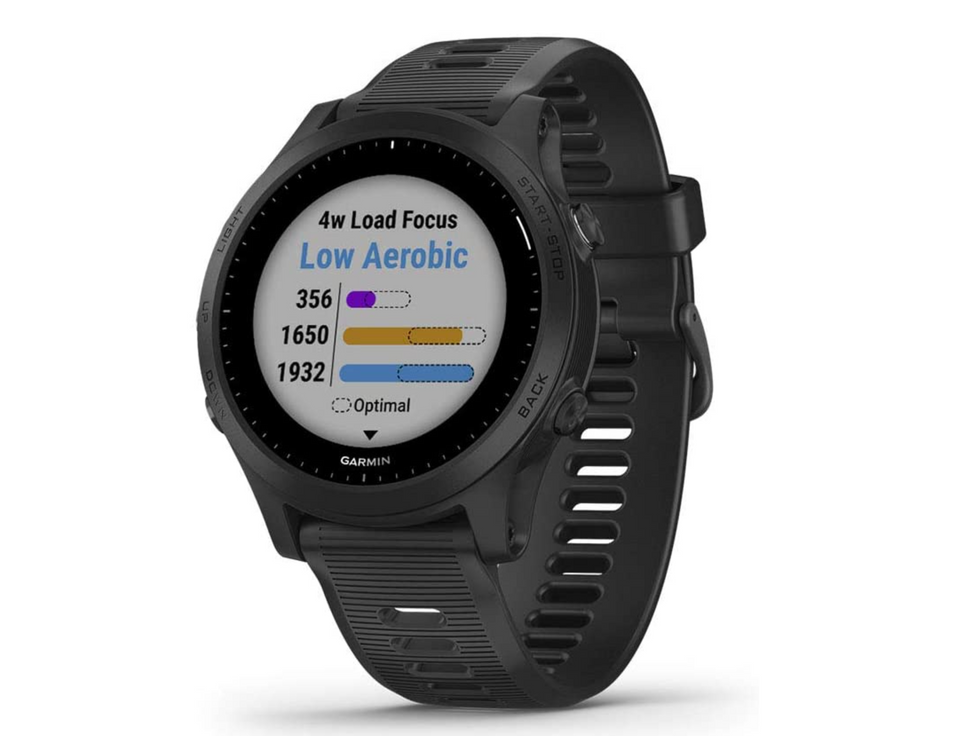 Garmin Forerunner 945 running smartwatchGarmin
A running smartwatch for those on a bigger budget, the Garmin Forerunner 945 includes all of the fitness features of the aforementioned Forerunner 245 Music, but adds NFC for contactless payments, onboard maps, storage for 1,000 songs, and Vo2 Max estimates.

Your overall performance is recorded with variables like heat, altitude and recovery time taken into account, to provide a more complete overview of your fitness level. There is also automatic incident detection, which sends your real time location to emergency contacts if the watch thinks you have had an accident. Battery life is 10 hours with every feature switched on, or up to two weeks when used as a regular smartwatch only.
Fitbit Ionic - $180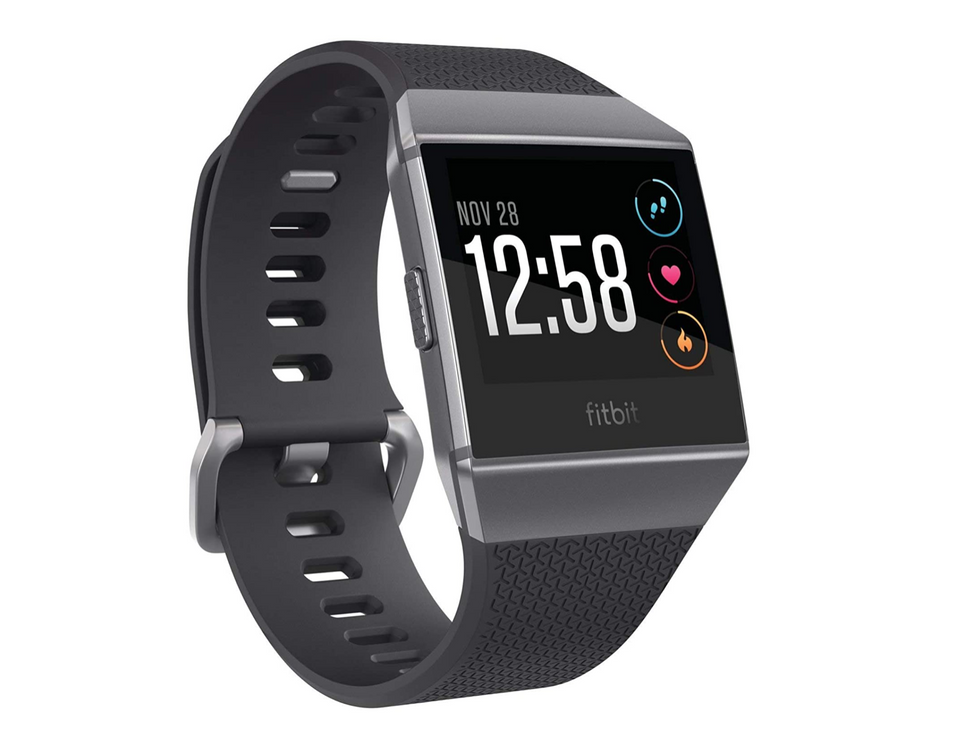 The Ionic is Fitbit's first smartwatchFitbit
At the more affordable end of the scale there is the Fitbit Ionic. The first smartwatch to come from Fitbit, the Ionic takes everything the company has learnt from its fitness trackers, and adds in the extra functionality of a smartwatch.

Although it couldn't be described as a fully-fledged smartwatch, the Ionic is priced well and covers most of the fitness tracking basics. This means integrated GPS and a heart rate tracker, plus internal storage for up to 300 tracks, and a comprehensive fitness-tracking system. There's also a personalized coaching system, like that offered by Garmin, and the watch is water resistant to 50 meters.
Sleep quality is also monitored, along with your nighttime heart rate, movements, and sleep depth.
Polar Vantage V - $470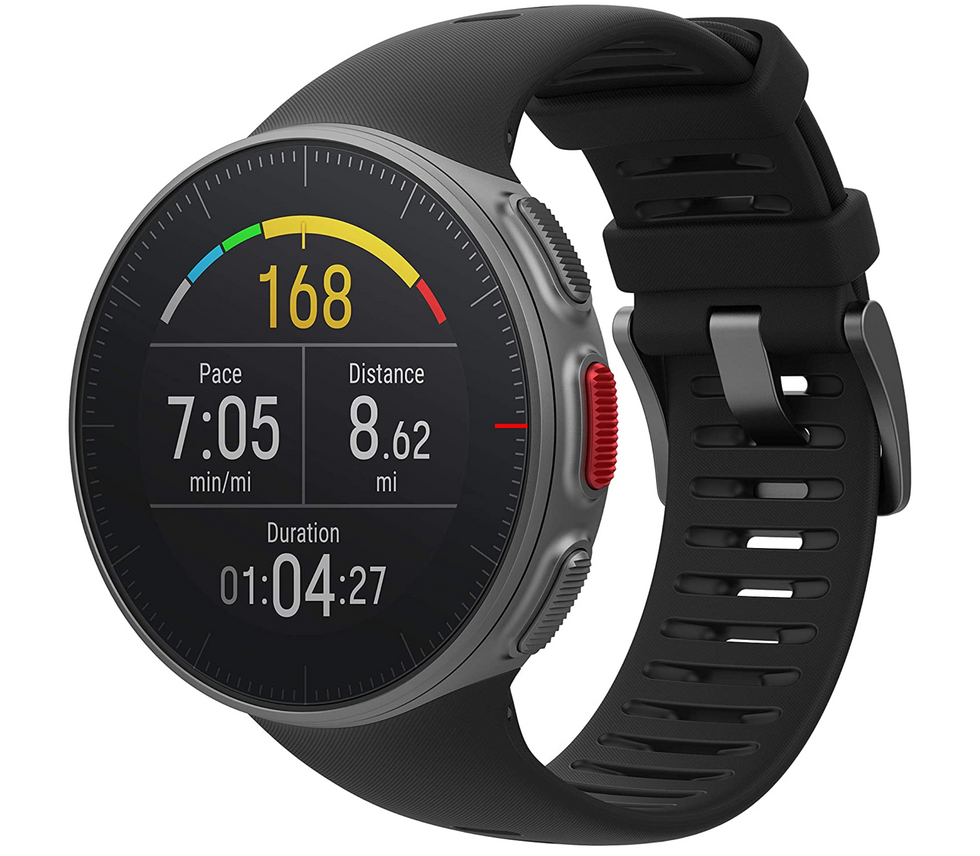 The Polar Vantage V has a triathlon training modePolar
Another high-end running watch, this time from Polar, the Vantage V has a stainless steel case, full-color display and a battery life of up to 40 hours with GPS enabled.

Claimed to be more accurate than many other smartwatches, the Vantage V separates cardio load, muscle load and perceived load to help build a fuller picture of your performance. A feature called Recovery Pro uses sleep analysis to help you understand how your body recovers after each training session.
For power users there's also a triathlon training mode, capable of tracking running, cycling and swimming. Additionally, the watch can be set to log over 130 different sports and exercise types.
Apple Watch - from $199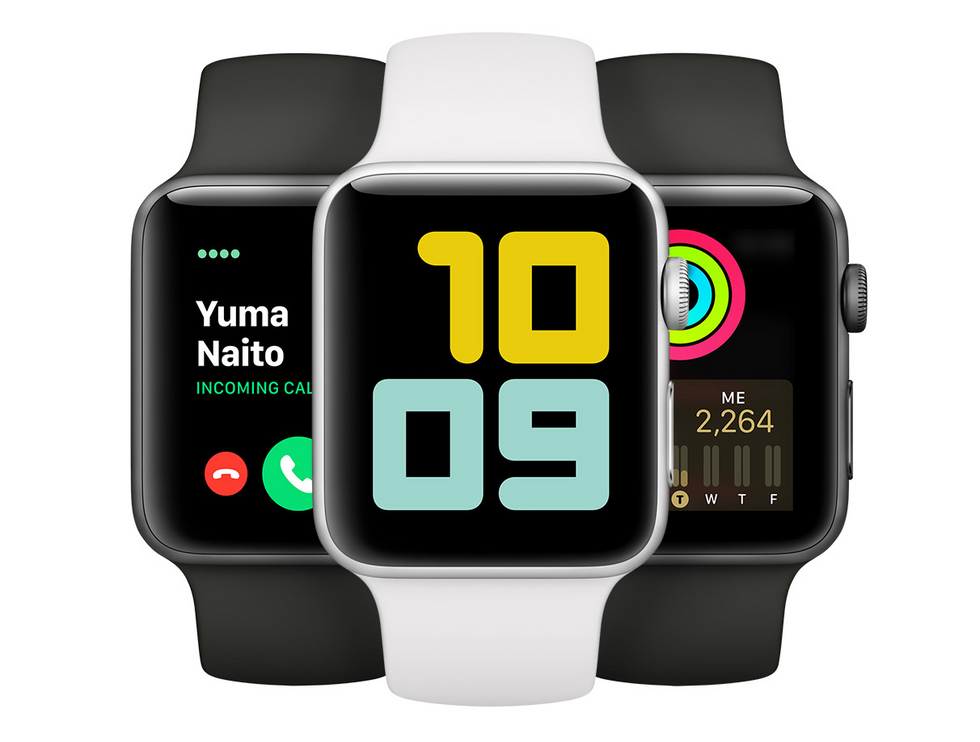 The Watch Series 3 is now priced from $199Apple
We said earlier that the Apple Watch isn't a dedicated running watch. And while that is certainly true, the older Watch Series 3 is still on sale and represents excellent value for money at $199. The aluminum watch has GPS and a heart rate tracker, plus water resistance to 50 meters, detailed running and exercise tracking, and sleep tracking via third-party applications.

If you want a wearable that is primarily a smartwatch, looks great and has interchangeable straps, but still manages to record exercise and general movement through each day, the Apple Watch is a great all-rounder. For those with a larger budget, the latest Watch Series 5 starts at $399.
Read More:
Withings Steel HR Sport - from $140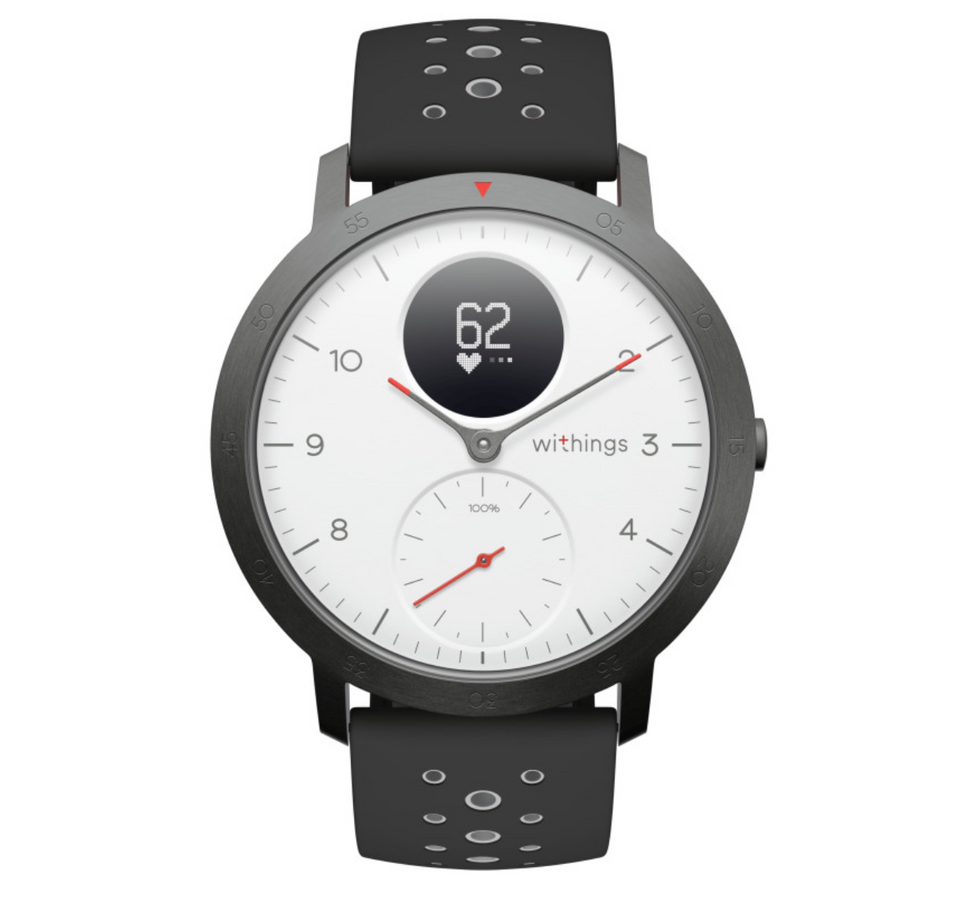 The hybrid Withings Steel HR Sport has a 25-day battery lifeWithings
Finally, one of our favorite hybrid smartwatches. The Withings Steel HR Sport lacks a large digital display, but still records a wide range of fitness metrics. These include your heart rate, step count, distance travelled, active and metabolic calories burned, running, swimming, general exercise, sleep cycle, and a VO2 Max estimation.

The Withings also handles notifications like calls and text messages, and has an alarm system that vibrates the watch to wake you up. Battery life is 25 days of normal use, or five days if always left in workout mode
Available with case diameters of 36mm and 40mm, the watch has interchangeable straps and is water resistant to 50 meters.
Read More:
How to Setup an Apple Watch www.youtube.com