Hybrid smartwatches take the Bluetooth connection, health features and fitness tracking of a regular smartwatch, then hide all of that technology inside the case of a regular looking timepiece.
Some include a small, simple display for showing data like your heart rate or incoming notifications from your phone, while others have an entirely analog design, and then add a second analog dial for displaying more information.
Read More:
These watches vary in price from less than half the price of an Apple Watch, to over $3,000, with the latter coming from some of the finest luxury Swiss watchmakers. There is also a huge range of options in-between, with many from the Fossil Group, its Skagen brand, and also Withings, the French fitness tech and wearable maker.
Here are some highlights which we think deserve your attention:
Fossil Hybrid HR - From $195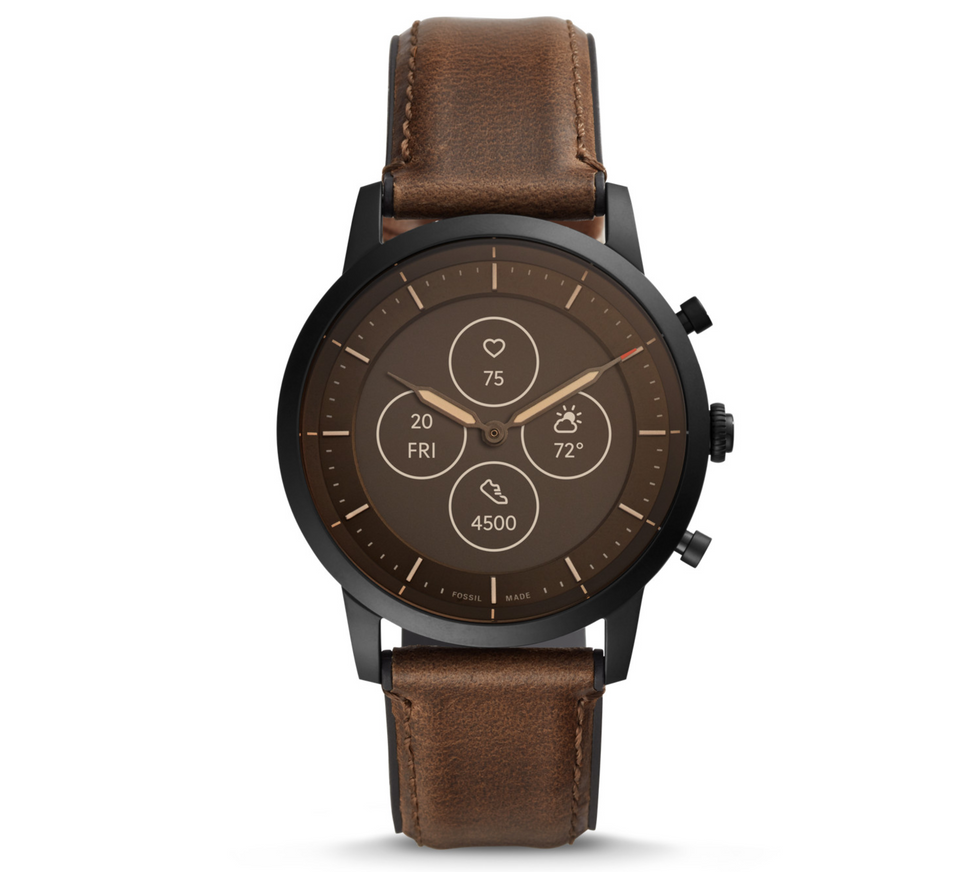 The Hybrid HR includes an always-on display under analog handsFossil
The latest hybrid smartwatch on the scene in the Hybrid HR by Fossil. Announced in November 2019, this watch features a large circular display on its face, which looks similar to the screen of an ebook reader and is used to show notifications, weather reports, fitness data, alarms, a second time zone, and additional details.

In front of this always-on display sits a regular pair of analog hands sweeping around the face to tell the time as normal. The Hybrid HR is priced from just below $200 with four versions, including brown with a leather strap, black with a silicone strap, and silver with a matching stainless steel strap.
The Hybrid HR misses out on integrated GPS and there's no NFC for making contactless Google Pay payments, but otherwise this is a complete hybrid watch, with heart rate sensor, sleep tracking and more. Battery life is a claimed two weeks and the Hybrid HR is water resistant to 30 meters.
Fossil Q Men's Q Machine Hybrid Watch with Stainless-Steel Strap, Black, 24 (Model: FTW1165)
Withings Steel HR Sport - $200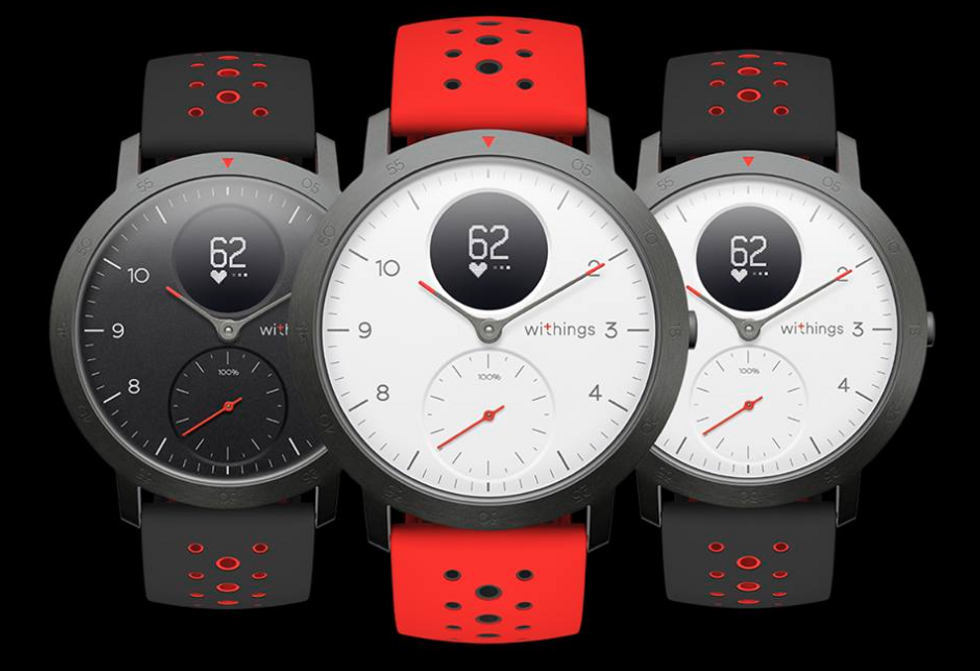 The Steel HR Sport automatically tracks 30 different sports and exercises Withings
With a serious emphasis on sport and fitness, the Steel HR Sport by Withings features a heart rate sensor and a small display on the front to show notifications and data during your workout. There's a second dial for checking your daily steps, and the watch also produces a VO2 Max estimation, which is a good indication of your overall fitness.

The watch is water resistant to 50 meters and can track swimming, as well as a wide range of 30 exercises and sports, plus walking steps and your sleep.
Withings sells several different straps to customize the watch, and its quick-release lug bars are industry-standard, so you can fit any 20mm strap of your own, too. The watch is available with a black or white dial, and both models have a stainless steel case, mineral glass front, and a battery life of around 25 days.
As with all Withings devices, data captured by the Steel HR Sport is sent to the HealthMate app for iOS and Android, which is widely regarded as one of the best all-round fitness apps around.
Withings / Nokia Steel HR Sport Smartwatch (40mm) - Activity Tracker, Heart Rate Monitor, Sleep Monitor, GPS, Water Resistant Smart Watch, Black
Skagen Hagen - from around $100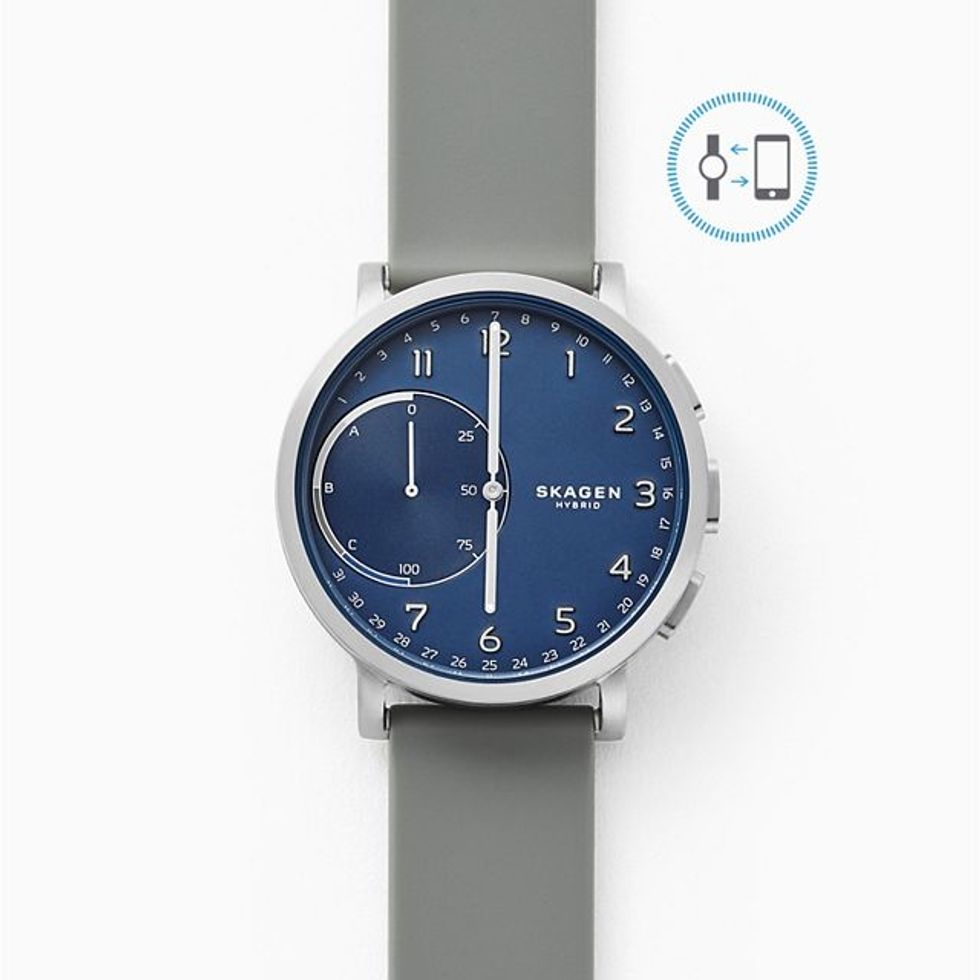 The Hagen hybrid costs from around $100Skagen
Part of the Fossil Group, Skagen offers a broad selection of hybrid smartwatches for men and women. Most feature a second dial for relaying information on your daily steps; this dial also points to indicate notifications arriving on your Bluetooth-connected phone.

Buttons on the side of the watch can be configured to control your smartphone — to take a photo, for example, or to play and pause music.
The Skagen Hagen accepts industry-standard 20mm straps, and is powered by a regular CR2430 watch battery, which the company claims will last around six months before it needs replacing. The watch is water resistant to 30 meters and works with both iOS and Android smartphones.
Skagen Connected Men's Hagen Stainless Steel and Leather Hybrid Smartwatch, Color: Silver-Tone, Dark Brown (Model: SKT1110)
Fossil Hybrid Smartwatch - $155 to $195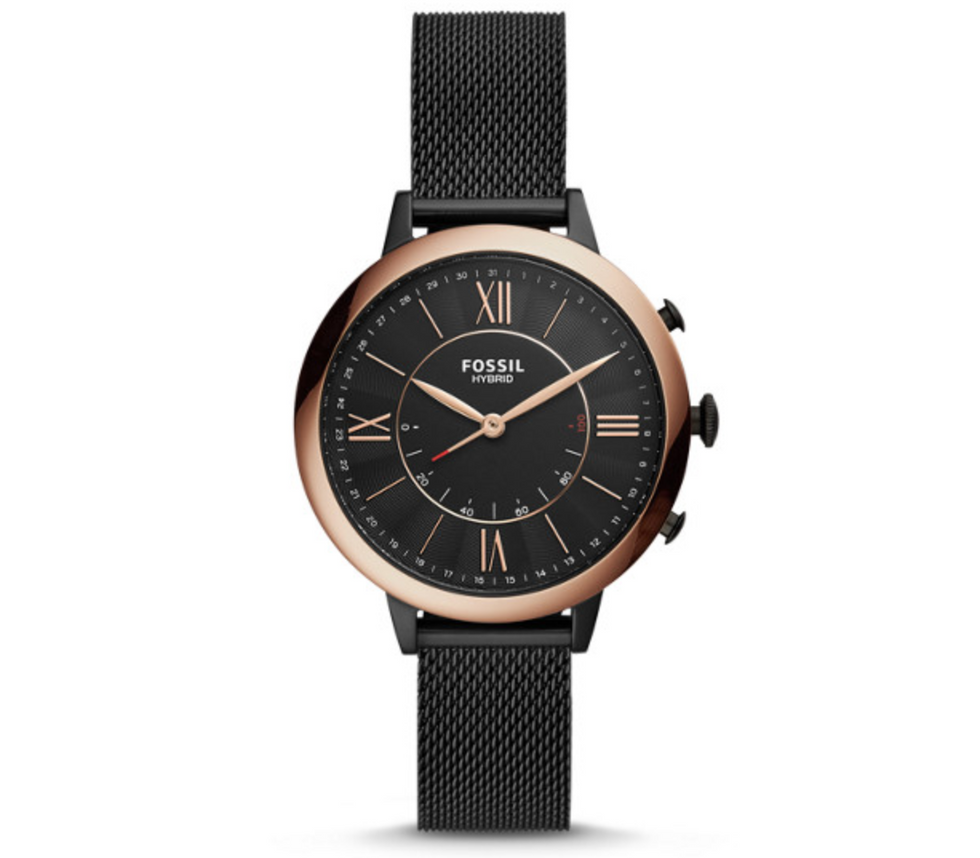 The Fossil Hybrid comes in many different designs, sizes and colorsFossil
Fossil's Hybrid Smartwatch range is huge and includes men's and women's hybrid smartwatches with a number of different colors, straps, sizes and designs. Prices fall in the $150 to $200 bracket, and all models work with the same iOS and Android smartphone app.

These watches all function in a very similar way, with a second dial indicating your daily step count, and three buttons are used to show different pieces of information and control your smartphone music playback. They also all record exercise and track your sleep, and offer between six months and one year of life from a regular cell battery.
Fossil Women's Jacqueline Stainless Steel and Leather Hybrid Smartwatch, Color: Silver, Brown (Model: FTW5012)
Withings Steel HR Sapphire Signature - $300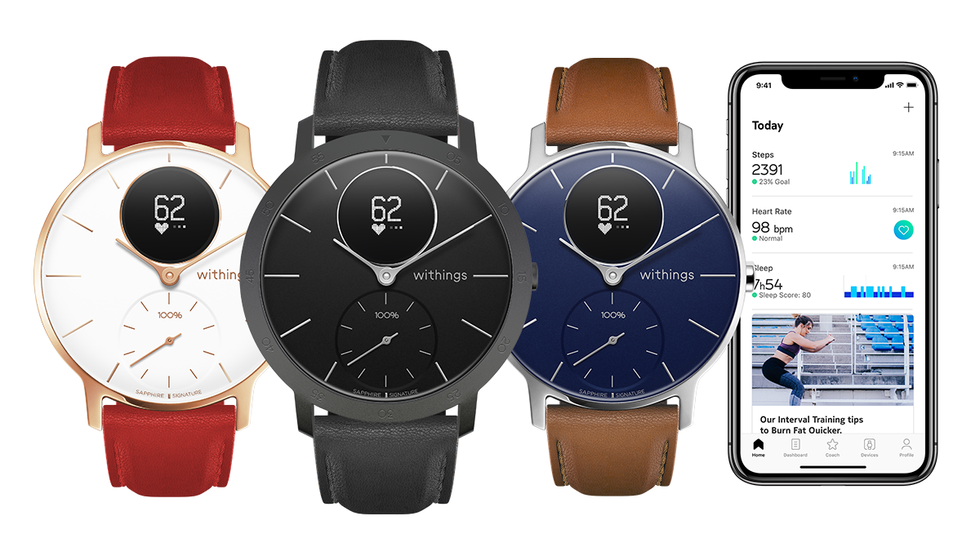 The flagship Sapphire Signature is one classy hybridWithings
Back to Withings, and the Steel HR. This watch starts at $180, but we have opted for the flagship Sapphire Signature model with blue face, silver case and tan leather strap. This costs $300 but, as its name suggests, has a scratch-proof sapphire crystal front, and is intended to look as sophisticated as it is smart.

At 36mm, its diameter is smaller than most smartwatches, and there's also a model with a rose gold case, white dial and red leather strap, as shown above.
As with the regular $180 Steel HR, this watch tracks your heart rate and shows the result on a small display at the 12 o'clock position. This is also used to show notifications, while a second dial keeps track of your daily steps. The watch automatically tracks a number of activities, including walking, running, swimming and sleep, and is waterproof to 50 meters. Battery life is up to 25 days on a charge.
Withings Steel HR Hybrid Smartwatch - Activity, Sleep, Fitness and Heart Rate Tracker with Connected GPS
Frederique Constant Horological Smartwatch - $795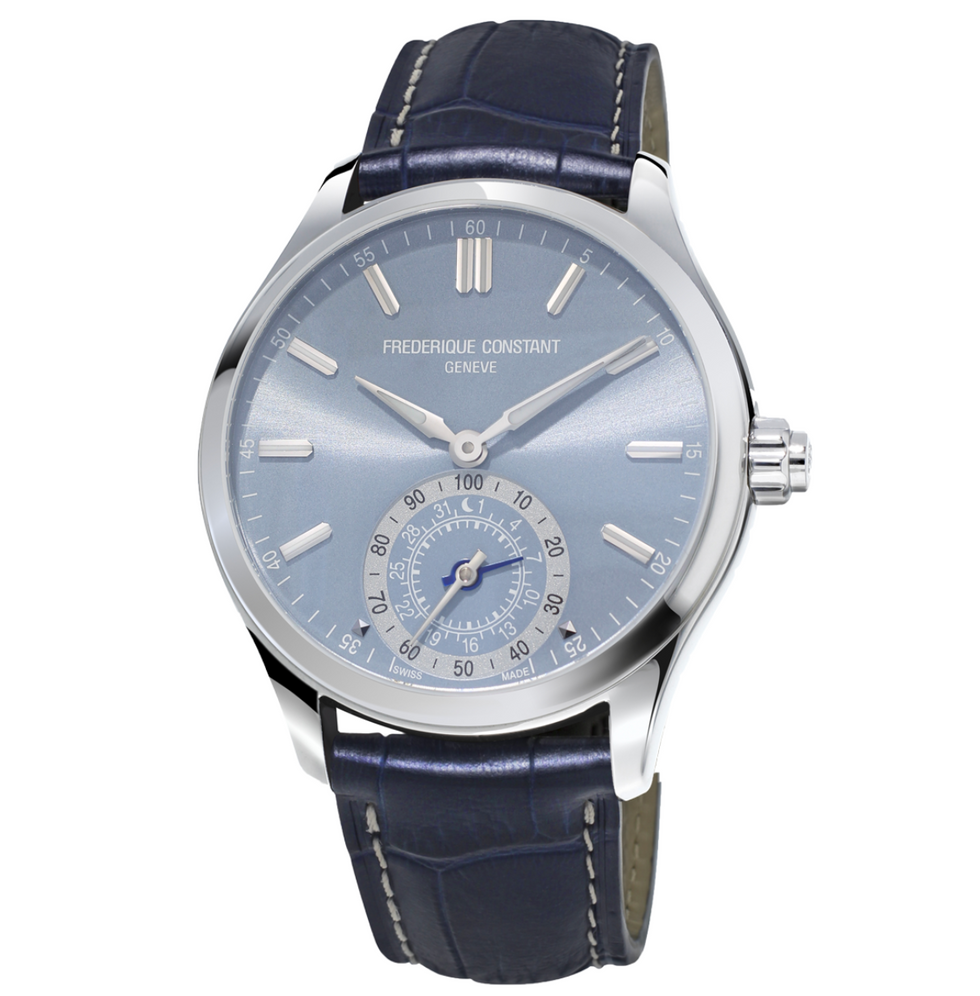 The Horological is a luxury Swiss hybrid smartwatchFrederique Constant
Although most hybrids comfortably undercut so-called proper smartwatches, like those from Apple and Samsung, this isn't universally the case, as the next model proves. The high price is due to the fact that Frederique Constant is a luxury Swiss watch maker which in recent years has dabbled in the hybrid market.

Its first offer, the Hybrid Manufacturer, will set you back $3,500, so $795 shouldn't be sniffed at in terms of price. For that, buyers get a luxury watch with a 42mm case, leather strap, sapphire crystal front, a Swiss quartz movement, and activity and sleep tracking.
Much like other hybrids, the Frederique Constant delivers information on your step count and other variables via a second dial. The watch's smartphone app works with iOS and Android, and the 21mm straps are interchangeable thanks to industry-standard lug bars.
Frederique Constant Horological Smartwatch Mens Fitness Watch - 42mm White Face Swiss Quartz Smart Running Watch - Brown Leather Band Water Resistant Sleep Monitor Activity Tracker Watch FC-285V5B4
Misfit Command - $150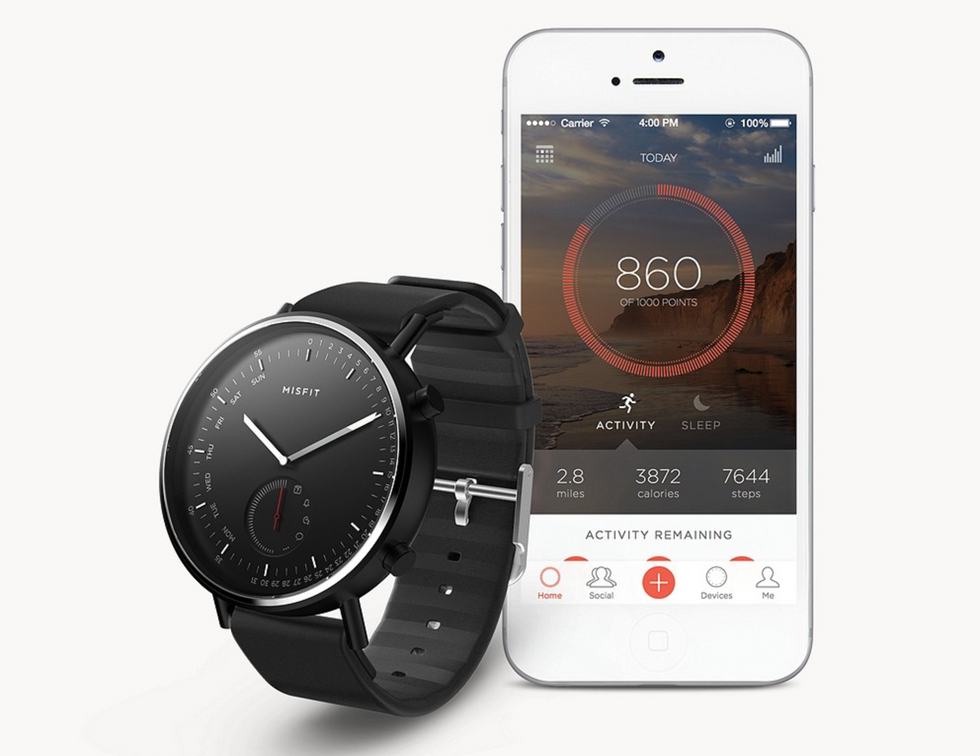 The Command hybrid smartwatchMisfit
Another hybrid offered with a range of colors and finishes, the Misfit Command has a second dial like many others, but can also use its hour and minute hands to point at information when requested, including the day and date.

Meanwhile, the second dial points at icons to identify notifications when they arrive on your phone, Say a text comes in; the watch will vibrate (as most hybrids do) then use its second dial to point at the text message icon. The watch's accelerometer tracks your daily steps, distance, swimming (water resistance is 50 meters) and sleep.
The company says the battery will last one year, and the Misfit's app works with both iOS and Android.
Misfit Command Stainless Steel and Silicone Hybrid Smartwatch; Black; MIS5017
Withings Move ECG - $130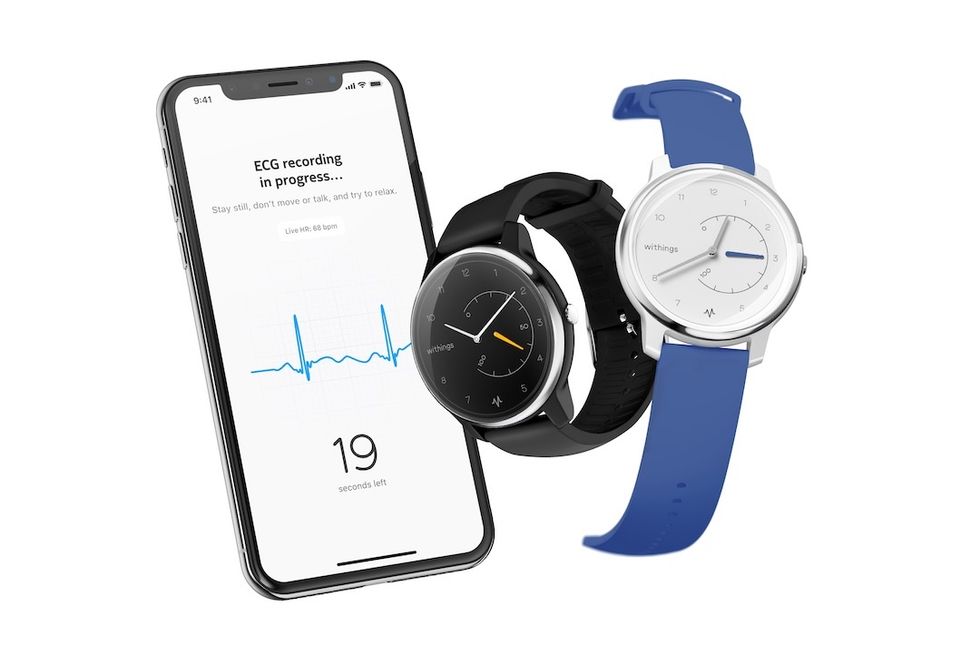 The Move ECG can take an electrocardiogramWithings
Our third and final visit to Withings is for the Move ECG, which is the only hybrid smartwatch to include ECG functionality. Just like on the Apple Watch Series 4 and 5, the Move ECG measures the electrical activity of your heart in the same way a single-lead electrocardiogram does, and alerts you if it spots potential signs of atrial fibrillation, which can lead to stroke and heart disease.

As well as its ECG function, the Move ECG works like the rest of the Withings range. This means it automatically tracks your walking, running, cycling and dozens of other exercises and sports, and your sleep.
Although available to buy now in Europe and the UK, Withings is still waiting for approval from the FDA to sell the Move ECG in the US.
Withings Move - Activity Tracking Watch
Mobvoi TicWatch S2 and E2 review www.youtube.com