Like GearBrain on Facebook
By Vhalerie Lee
If you are entering the virtual reality (VR) realm for the first time, the laundry list to get onboard with VR just keeps getting longer. But while we wait for Lenovo and HTC Vive to release their standalone VR headsets that promises wireless and phone-free contraptions, we have to make do with whatever is available. The reason? A wide spectrum of VR experiences whet your appetite from exploratory Google Earth to highly anticipated titles like Echo Arena go free this summer on the Oculus store. It is definitely hard to avoid feeling a serious case of FOMO, when your friends gather in Facebook Spaces for beer pong.
But what makes sense for you if you are to buy your very first VR headset? Here are three questions to ask yourself before buying your first headset.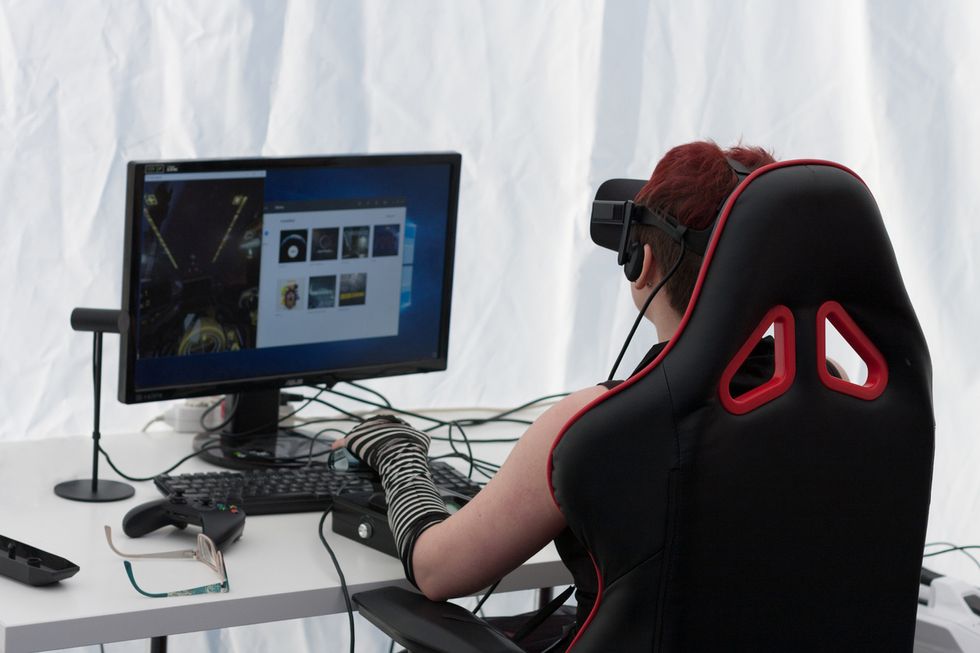 Young girl with VR glasses sits on gaming chair and plays game on PC at Animefest, anime convention on April 30, 2016 Brno, Czech RepublicPhoto via iStock by Getty Images
Am I a hardcore gamer?
Both Oculus Rift and HTC Vive give high fidelity experiences that have truly shaped the games and entertainment industry. Purchasing the Oculus Rift only gives you one controller and a tiny remote which doesn't make sense for you if you want to take advantage of Robo Recall. The touch controller comes at $99 which gives you an extra sensor and two touch controllers needed to play these games. Fortunately, Oculus is having a summer sale where you can get the sweet bundle for only $399.
HTC Vive also has equally rich content to match such as Pavlov, Raw Data and Job Simulator. Keep in mind both headsets require PCs with a minimum of NVIDIA GTX 970 / AMD Radeon R9 290 and a lot of space for installing these games.
Do I have physical space?
Punching the wall is not fun and having cramped spaces will not give your sensors optimal performance. The HTC Vive comes with two base stations that require calculations on Room Scale setup. If you don't have much space, you are left with headsets such as the Samsung Gear VR bundled with a controller. This headset is compatible with smartphones like the Samsung Galaxy S8. Google Daydream is one to consider but only for owners with Pixel phones. Keep in mind that your experiences are limited with the performance of these phones.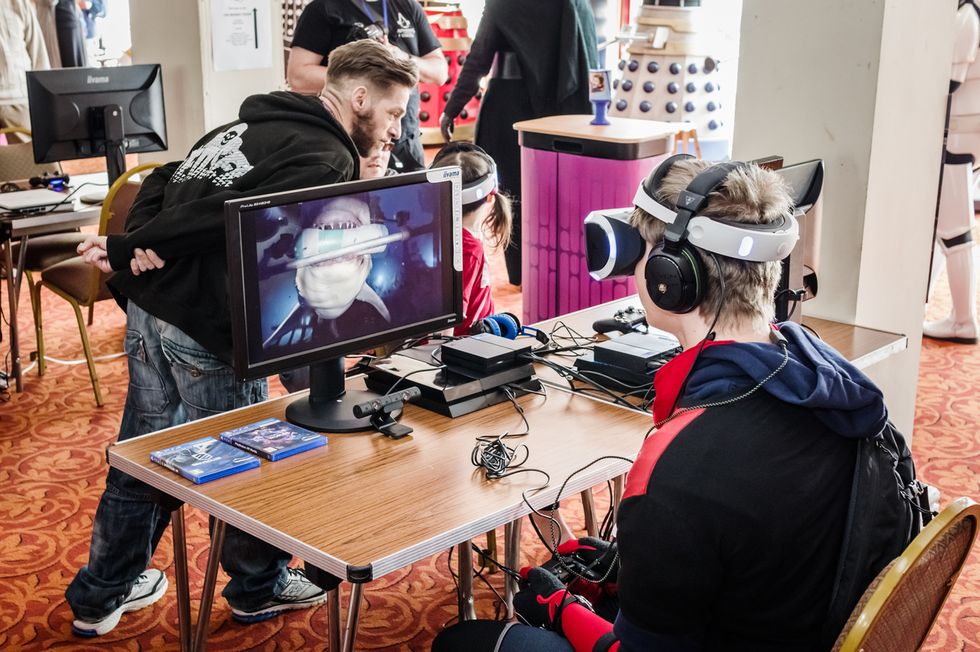 Attendees at Sci-Fi Scarborough trying out Playstation VR virtual reality sets.Photo via iStock by Getty Images
Am I going to use this often?
Google Cardboard might be a good first headset to test the waters and if you are easily contented with exploratory VR experiences found in Google Play or iTunes App Store. VR as a mobile experience is an argument as we won't see people walking down the street wearing a headset. If you don't have the time to spare in roaming virtual realities, IMAX's VR locations might make more sense for you to find out first before buying your personal headset. With one location in IMAX VR Centre in Los Angeles and another at the AMC Theater in Kips Bay, New York, become who or what you want to be in Raw Data, Trials on Tatooine and Eagle Flight for only $10 per experience.
Photo: Berlin, Germany - March 10, 2016: A visitor wearing VR goggles while riding a bicycle displayed in the Radland booth during the ITB Berlin 2016, one of Germany's biggest travel fairs held in Messe Berlin in Berlin, Germany. (Photo via iStock by Getty Images)
-Vhalerie Lee recently wrote about summer VR apps perfect for keeping your kids entertained, and informed.
Like GearBrain on Facebook