Like GearBrain on Facebook
It has been said for several years now that CES in Las Vegas contains its own auto show; that away from the halls of televisions, speakers and smart home devices, there is also an entire car event happening as well.
For 2019 this was no different, as a wide range of car makers — including startups and industry veterans — descended on Vegas to show us a glimpse of the future, and a clearer look at what's just around the corner.
Read More:
Autonomous pods with no conventional controls were as popular as ever, but they sat alongside regular cars which will go on sale in the coming months - a demonstration of how seriously traditional companies like Mercedes and Nissan treat CES, especially when the Detroit Motor Show begins just days later.
Here are some of the automotive highlights of CES 2019:
Byton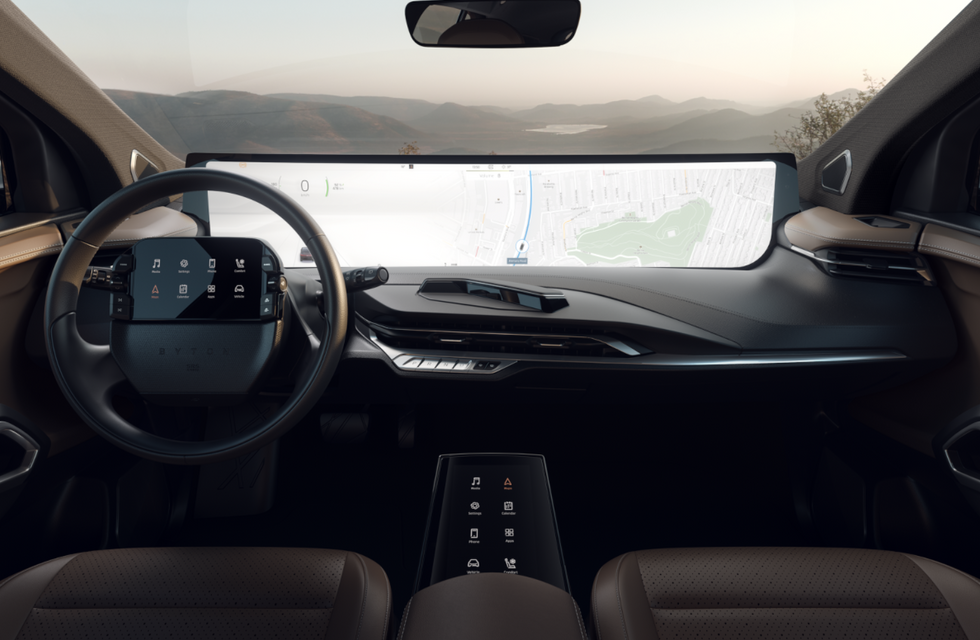 Byton
First to show its hand was Byton, the electric car startup which used CES a year earlier to reveal its first concept, the M-Byte. A year later, and CES 2019 was home to the production version of the M-Byte, which was impressively even more futuristic than the concept.

Where carmakers usually tone things down as a vehicle is prepared for mass production, Byton has gone the other way. The car retains its huge 48-inch display, which spans the entire width of the dashboard, but gains an extra touch screen between the driver and front passenger.
To enter mass production before the end of 2019, the M-Byte will be priced from $45,000 — just above the current price of a Tesla Model 3 — and offer a range of 250 miles. A more expensive model will see this increased to 325 miles, and Level Three autonomy is also on offer, along with 5G connectivity. Alexa is also baked in too, letting the driver control the car's music, temperature and other systems with voice commands.
Tesla should sit up and pay attention to Byton, as the M-Byte's interior has set a new benchmark, which — as unthinkable as this was just a couple of years ago — threatens to make the Tesla Model S and Model X look a little dated.
BMW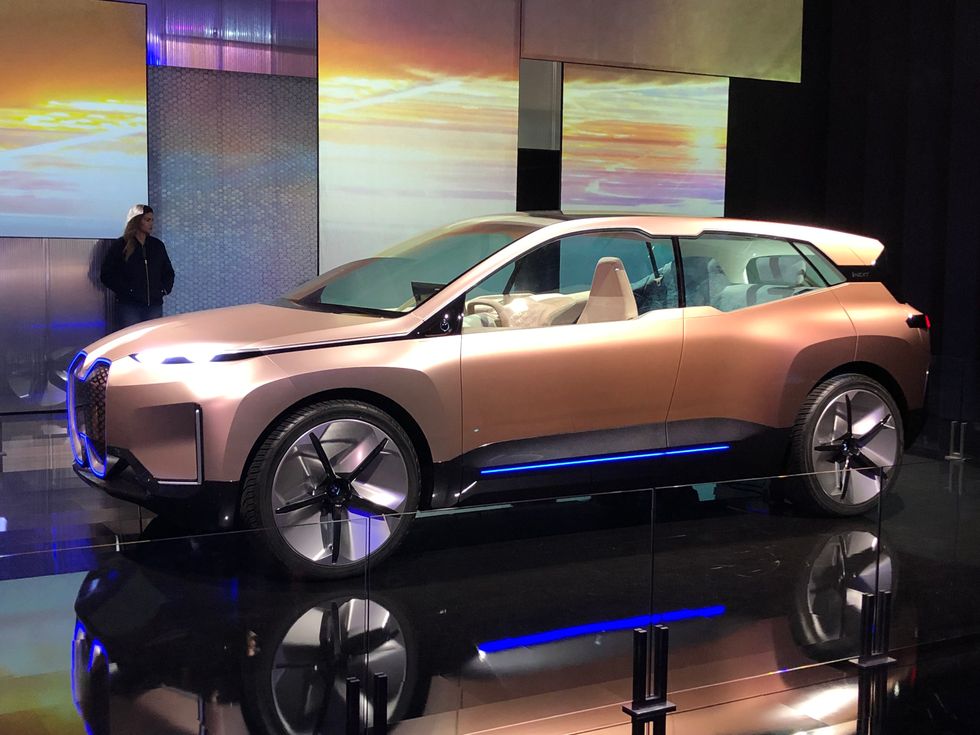 GearBrain
Fresh from its debut at the Los Angeles Auto Show in late 2018, the Vision iNext is a concept car produced by BMW to show what the near-future or motoring could look like. The electric car features a brightly-lit, lounge-like interior with touch-sensitive fabric and an emphasis on simplicity.

Instead of wowing the driver with huge touch screens, BMW has kept technology to a minimum and instead focuses on creating a sense of calm and comfort. Further emphasizing BMW's plans for creating a lounge on wheels, the Vision iNext has a wooden floor, large windows, and very little in the way of traditional vehicle controls.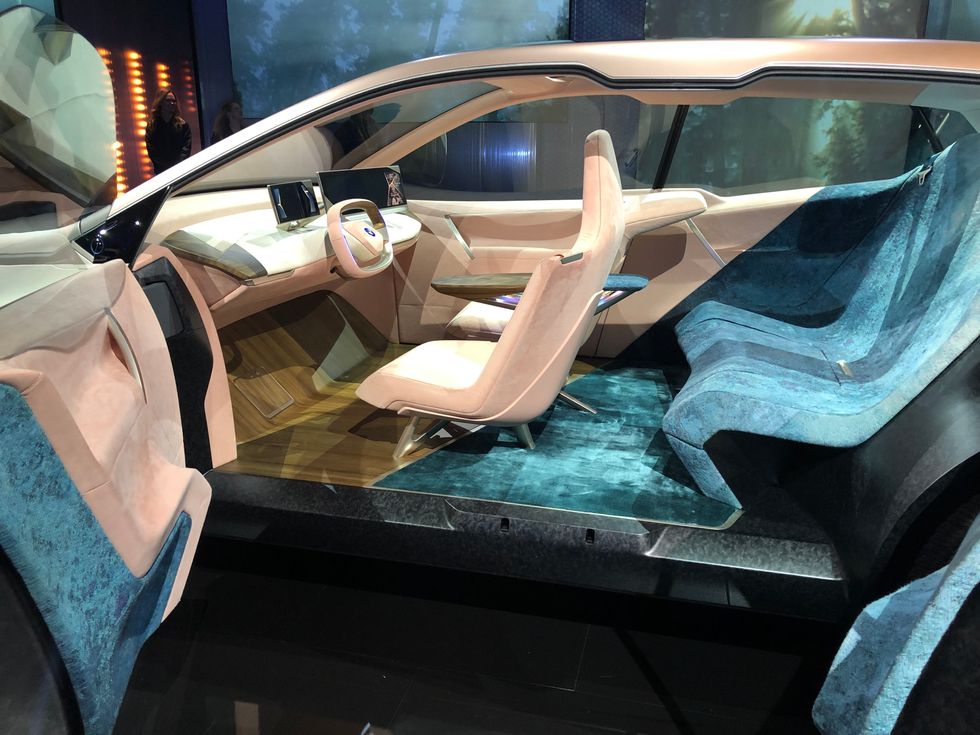 GearBrain
The car's technology is mostly hidden. For example, the central armrest looks like a simple wooden panel, but swiping at it controls the car's main infotainment display, reminding us of how the touch-sensitive iDrive controller works in today's BMWs.

BMW also showed off its autonomous motorbike, which can ride itself without stabilizers or anyone onboard. The bike is used to demonstrate the advances BMW is making in rider assistance systems, rather than pitching the potential for autonomous bikes as an alternative to robotic taxis.
Read More:
Audi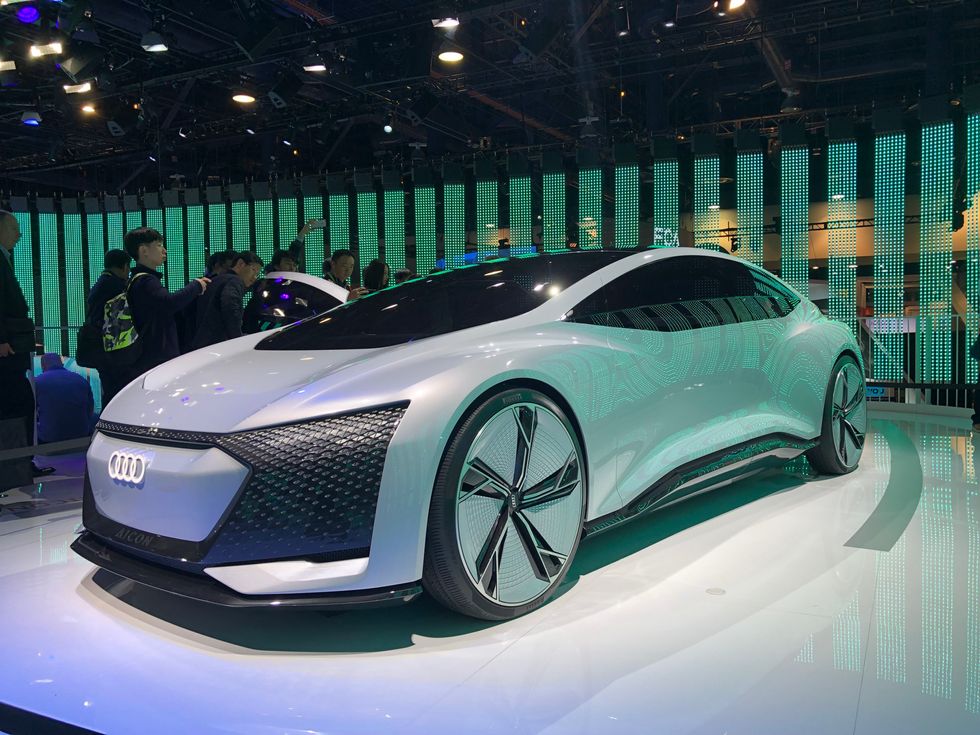 GearBrain
Occupying a large, multi-story booth, Audi used CES to show off a range of vehicles and technologies. The first is a move into the entertainment business, where a partnership with the Marvel movie franchise will see exclusive virtual reality experiences developed for Audi passengers.

Audi claims to have developed a way to deliver VR in a moving vehicle without motion sickness, as the experience moves in sync with the car to keep everything in balance.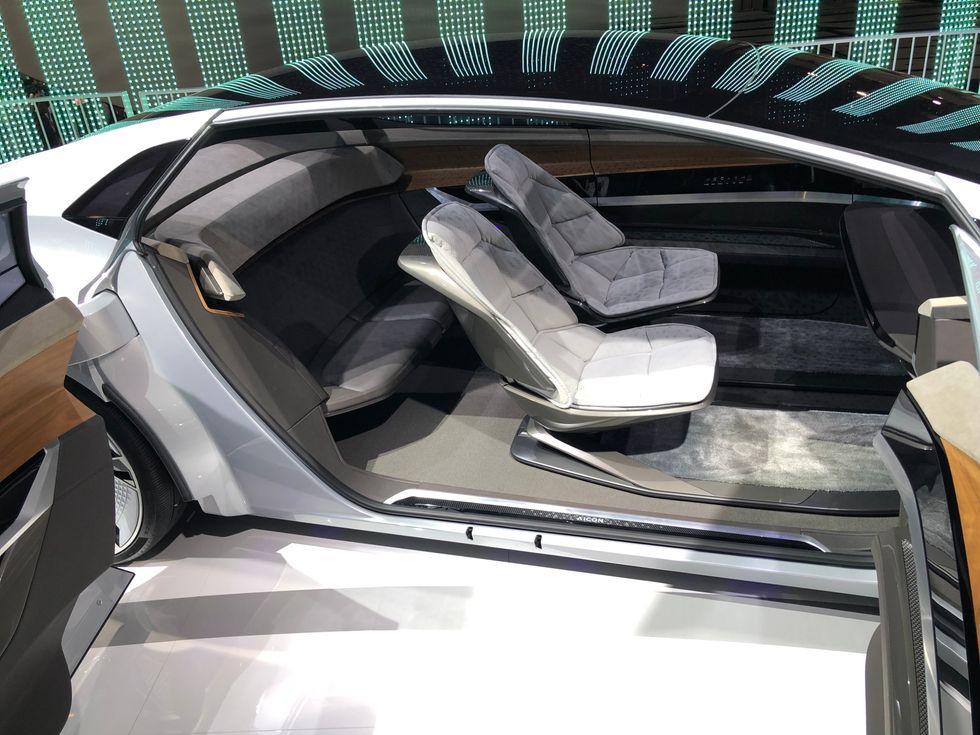 GearBrain
Audi admits that you can't please absolutely everyone when it comes to VR - even when headsets are worn while sitting stationary. But the company claims that, thanks to a system which closely mirrors the car's own movements in the VR experience, wearers can enjoy the system without feeling unwell.

The German car maker also used CES to show off its Aicon concept car, above, which shows what the interior of a driverless car of the future could look like. We've seen this approach from others over the last year, including Aston Martin and its reimagined Lagonda sub-brand.
Read More:
Mercedes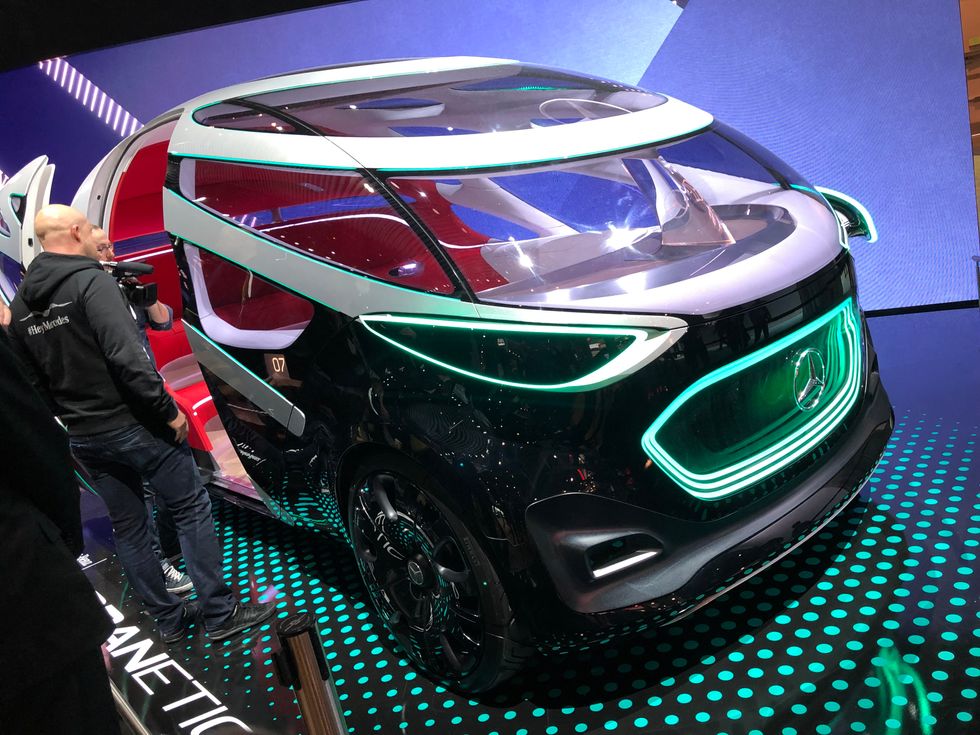 GearBrain
Mercedes also had a large presence at CES 2019, and likely offered a broader range of products than any other automaker. First there was the far-out Urbanetic, an electric, driverless pod concept, above, designed for the next generation of urban mobility.

Using a shared platform, the Urbanetic can act as a passenger vehicle during the daytime, then switch out its body for an empty shell at night, where it becomes a goods transporter.
Next came the striking EQ Silver Arrow, below, a single-seat concept which harks back to land speed-record cars of the 1930s, but with a modern electric drivetrain. Inside, there is a beautiful wood- and leather-lined cabin with ambient lighting, a large dashboard display, and a Formula One-style steering wheel.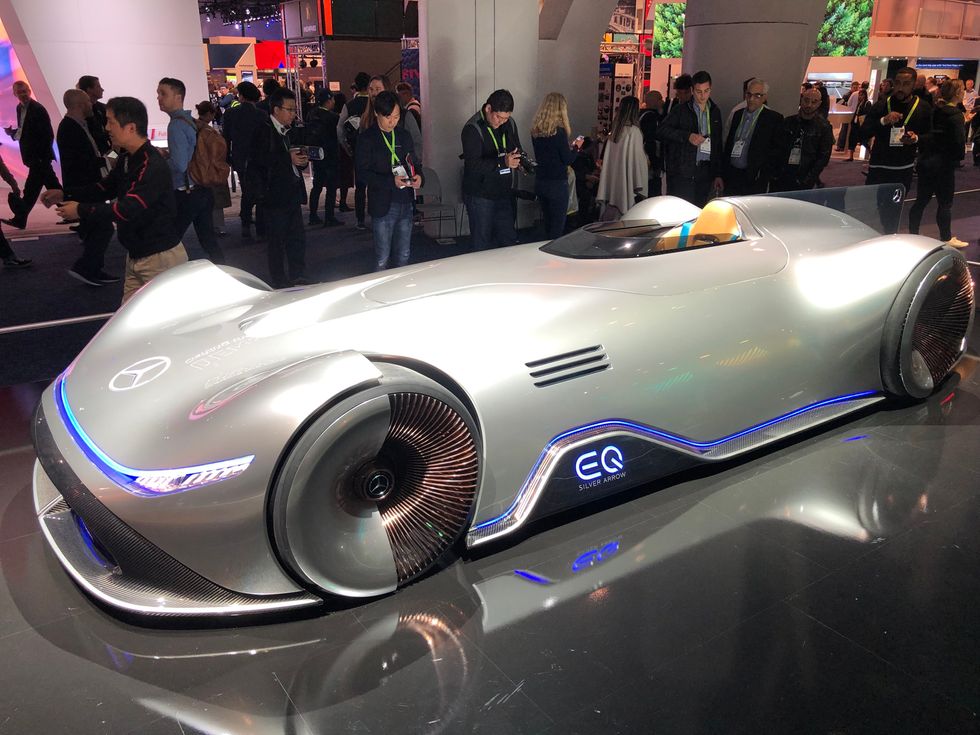 GearBrain
Mercedes claims the car can produce over 700 horsepower and has a theoretical range of up to 249 miles. That said, it's unlikely that such a car will ever reach mass production.

Finally, Mercedes used CES to host the world premiere of the CLA, a regular sports sedan which is ready to go on sale - no concept gimmicks here, and it isn't even electric. The car will, however, feature an autonomous system capable of taking over the driving (and overtaking) on highways, like Tesla's Autopilot.
Aptiv and Lyft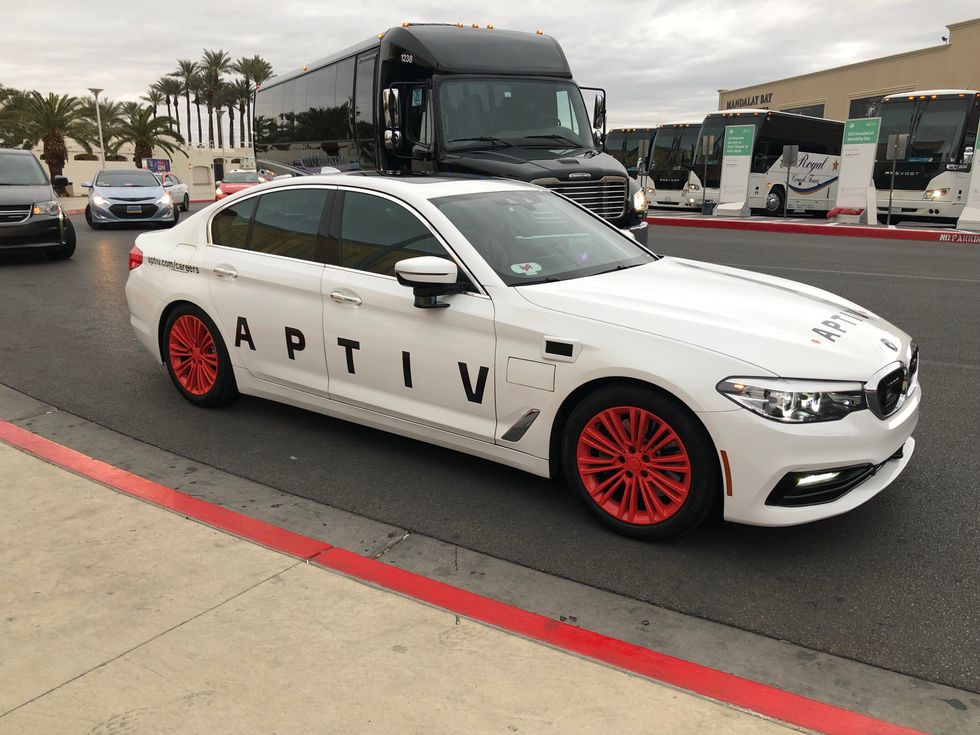 GearBrain
Uber rival Lyft and autonomous tech company Aptiv have been operating a fleet of 30 autonomous BMW taxis in Las Vegas for several months now, but CES 2019 was our first chance to try one for ourselves.

You can read more about our autonomous journey along the Las Vegas strip here, but in short we found the ride to be uneventful — which is exactly the point. The car handled lane changes and intersections without trouble, and merged with Vegas traffic without causing a scene. The safety driver has to take over on private land, however, which includes the roads leading to Vegas' hotels.
Read More:
AutoX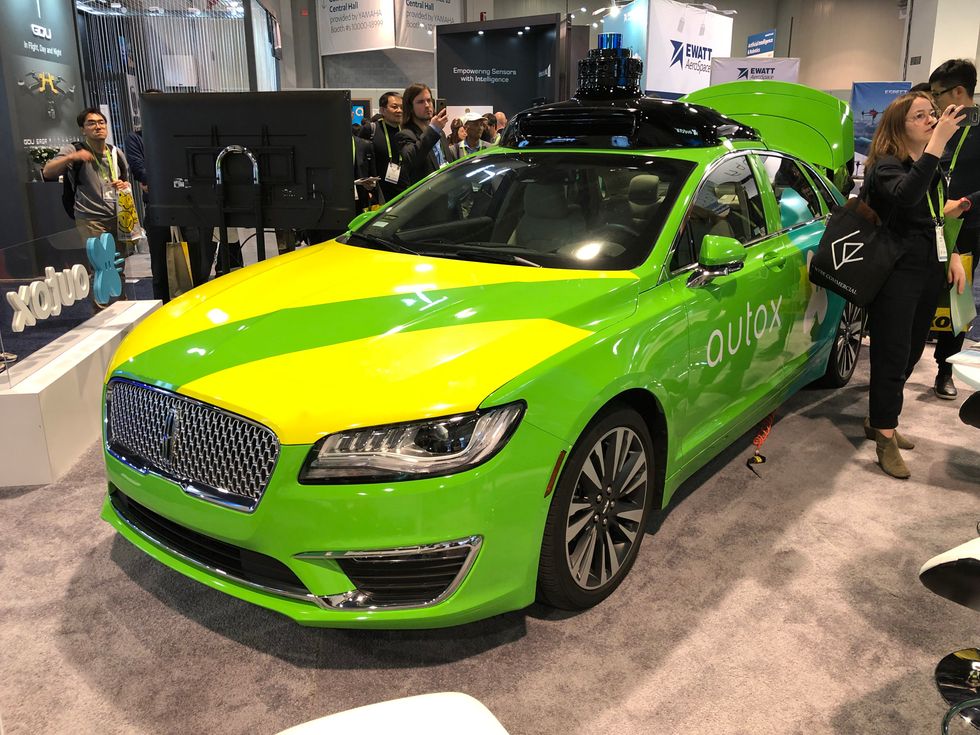 GearBrain
Autonomous vehicle startup AutoX also offered local demonstrations of its technology, in the form of driverless burger deliveries around Las Vegas. For two hours each day, the self-driving car (with a safety driver behind the wheel, just in case) picked up burgers from a local take-out and delivered them to journalists at the convention center.

The company had a second car at its booth to demonstrate what the vision system can see - in this case, masses of people stood in front of it and taking photos.
Despite being just two years old, AutoX says it has created its own in-house Level Four autonomy tech, and is ready to remove the safety driver once it has been given permission by the California Department of Motor Vehicles.
If CES 2019 is anything to go buy, 2020 will see the autonomous delivery of both food and people become a reality, and without a safety driver.
Read More:
Nuance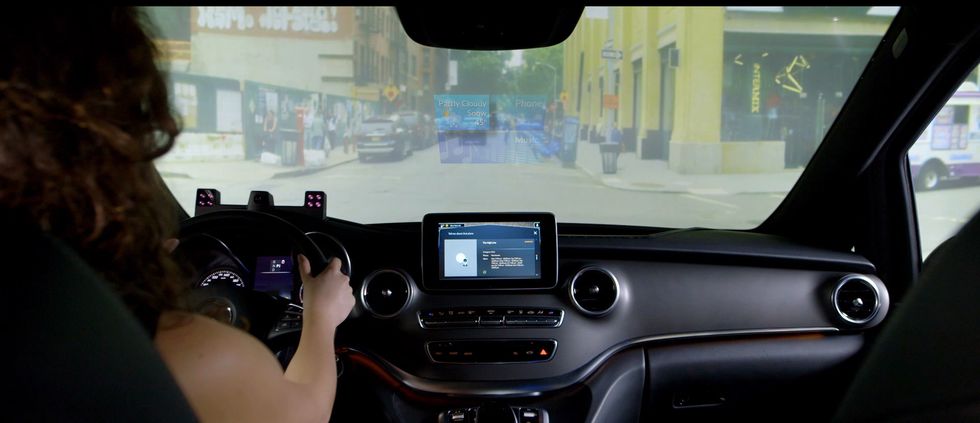 Nuance
Artificial intelligence company Nuance impressed us with two new pieces of in-car technology at CES 2019. First, it demonstrated a system which spots the mood of the driver and interacts with them accordingly. The headline feature here is how it can identify yawns and suggest the driver pulls over for a rest.

In other situations, the camera-powered system can recognize when you are happy or in a bad mood, then adjust the formality and humor of how the car's voice assistant responds. A stressed-out or general bad mood will see the assistant give shorter, simpler responses, while a good mood will encourage the AI to offer more information and in a more chatty way. As car makers increasingly turn to systems like Alexa — or their own, in the case of BMW — we can see technology like this becoming more useful.
The second Nuance demonstration showed off a next-generation head-up display system, which projects a user interface onto the windshield. The driver can then glance at the option they want — when the assistant presents them with two phone numbers of a contact they wish to call, for example. Eye-tracking technology ensures the assistant knows which option the driver looked at when they say "call that one."
This also works to offer information on buildings outside, with the driver able to glance and ask "What's that building?" They can also glance at a window or door and ask the car to close it. Nuance tells us the systems have proved popular with OEMs, and we suspect these technologies will appear in production vehicles in the coming few years.
Read More:
Nissan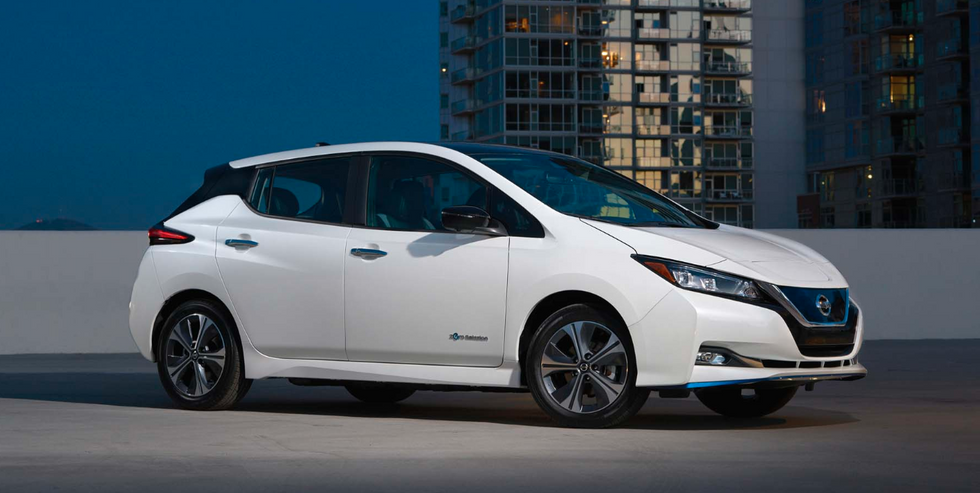 Nissan
Finally, Nissan held the low-key launch of its updated Leaf electric hatchback. Called the Leaf Plus, the new model extends range from 200 to 226 miles, offers a new 8-inch dashboard display with Apple CarPlay, and a refreshed overall design. Power is up considerably from 147 horsepower to 215, while the entry price is expected to increase from $30,000 to around $35,000.

However, this car is built on the same platform as the 2010 original, so is starting to show its age. To truly compete with the Tesla Model 3 and upcoming Volkswagen ID hatchback, we believe Nissan will need to launch an all-new Leaf in the next couple of years.
From Your Site Articles
Related Articles Around the Web
Like GearBrain on Facebook