With its lounge-like cabin and touch-sensitive fabrics, BMW's Vision iNext concept car is a look at what the German automaker's plans are for the future of driving.
On display at the CES technology show in Las Vegas this week, the Vision iNext is what BMW thinks the electric and semi-autonomous future of the car will look like. It features many of the company's design trademarks - most obviously the kidney-shaped front grille - but throws in a heady dose of futurism, like pillar-free doors, cameras for mirrors, and a longe-like interior with touch-sensitive fabrics.
Read More:
The cabin is where BMW began in its development of the Vision iNext. The company describes the interior as being "more precious for us right now" than the exterior, although was keen to add how the graded copper finish of the body panels is designed to make the car feel warm and approachable, not cold and technical.
Drawing design from the suites of a boutique hotel, the interior features a couple of seats up front and a sofa-type arrangement in the back, complete with two-tone fabrics which are touch-sensitive and illuminated.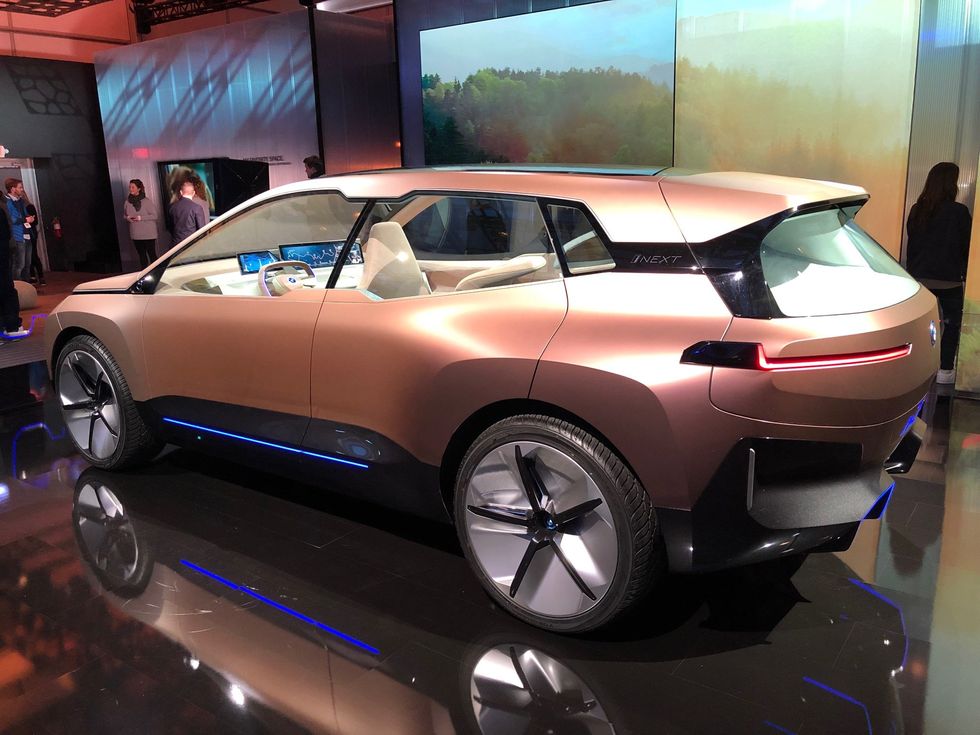 GearBrain
A demonstration of this fabric showed how, with a tap or a swipe, the material lights up and can be used as an impromptu user interface. That way, rear seat passengers can swipe at the seat to adjust the music volume or control other aspects of the car, like the brightness of the interior lighting.
It was only a brief demo at CES, but the technology appears to work well and is surprisingly responsive to touch inputs. BMW is undecided about exactly where this tech would be deployed within the car, and how it would work, but it's an impressive demo nonetheless.

Also eye-catching is how a a system called Intelligent Beam can project a user interface (or a book or magazine, or even media like video) anywhere inside the car. We were shown how, when sitting beneath the device with a blank multi-page leaflet in hand, the paper comes to life as the Intelligent Beam projects an interactive magazine onto it.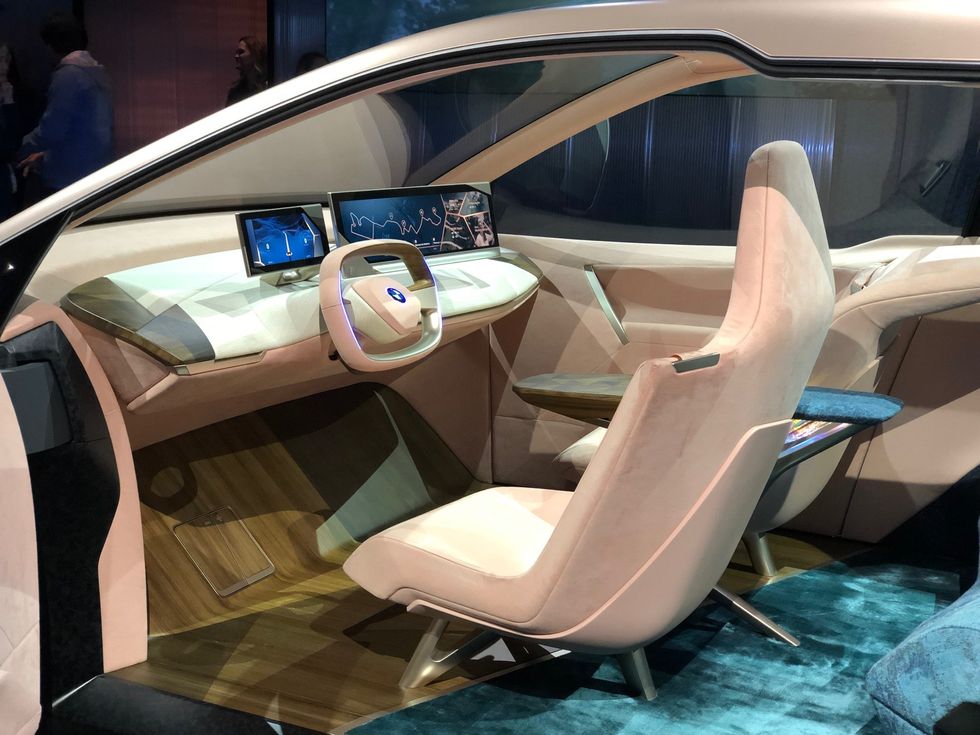 GearBrain
As with the smart fabric, BMW is yet to decide exactly how this technology will be used in cars of the future. But the demonstration showed how any blank surface - like a sheet of paper, or other surfaces within the cabin - can be turned into displays. This and the fabric produce an interior which is clean, simple and uncluttered, but which can be brought to life when required.

Further emphasizing BMW's plans for creating a lounge on wheels, the Vision iNext has a wooden floor, large windows, and very little in the way of traditional vehicle controls. There are two touch screens next to the steering wheel, but little else. Again, the technology is hidden; the central armrest looks like a simple wooden panel, but swiping at it controls the car's main infotainment display, reminding us of how the touch-sensitive iDrive controller works in today's BMWs.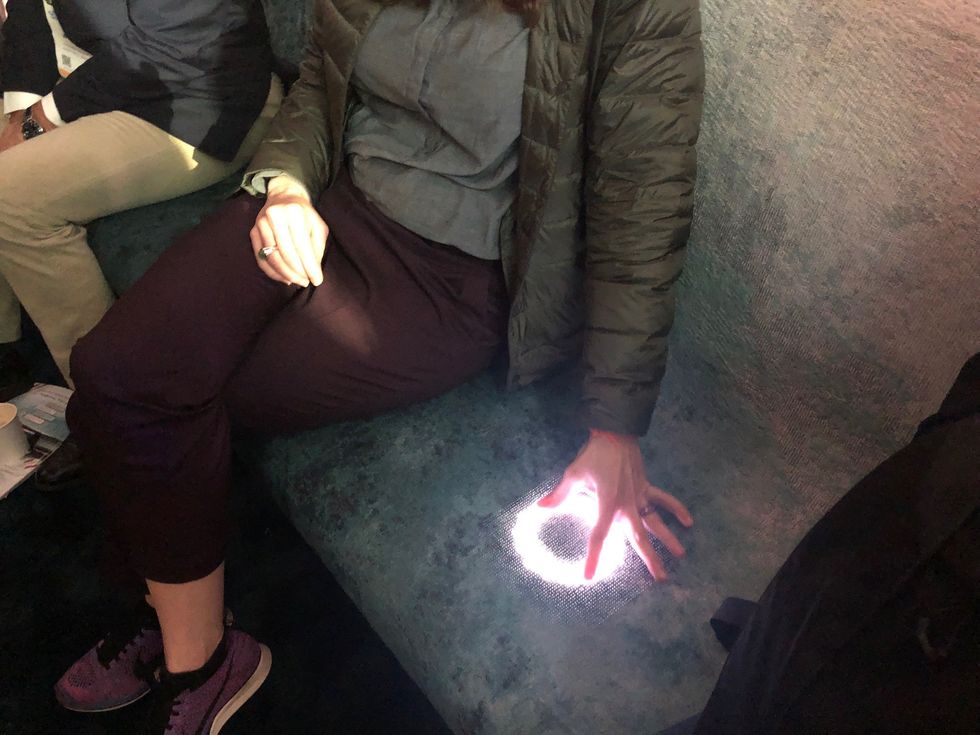 Touch-sensitive fabric illuminates on demand and can be used to control things like music volumeGearBrain
BMW also showed how the car's infotainment system could be used to control the driver's smart home devices. For example, the in-car system displays options for switching on smart lights at home, or powering down something you forgot to switch off on your way out.

This being a concept, it is hard to say exactly which features will eventually find themselves in your local dealership. But there is still plenty to be excited about. Byton showed us at CES this year how production vehicles can have futuristic interiors, so it stands to reason that BMW - a company with a century more experience than start-up Byton - can make much of the Vision iNext a reality. We'll find out in the next couple of years.