Like GearBrain on Facebook
BMW cars now have the technology to warn each other about slippery road conditions and other dangers, thanks to a new operating system and cloud connectivity.
To come as part of the company's new Operating System 7 software, which will debut on the 2021 5-Series due out this month and come to older models from the third quarter of 2020, the technology was announced during a live virtual reality press conference on July 1.
Read More:
Although BMW is vague on the specifics for now, Operating System 7 will be rolled out to current 3-Series, 5-Series and 7-Series vehicles, plus some members of the 1-Series family and the company's SUV range. Current Mini vehicles will not get the software.
BMW explained how, when one car senses a slippery road surface via its traction control system, this information is checked against the ambient temperature. If it is suitably cold outside, the incident is anonymously uploaded to BMW's cloud server, where it is analyzed and compared to information from vehicles nearby, and other data sources.
If it is determined that the traction control was likely triggered because of icy or snow-covered roads, then all nearby BMWs running Operating System 7 will be alerted, so their drivers know what to expect and can slow down or take a different route.
As an example of how widespread so-called Swarm Intelligence already is, BMW says its internet-connected vehicles cover 98.5 percent of the Germany highway network daily, giving the company a near-comprehensive view of road conditions. The collected data is then anonymized and analyzed by artificial intelligence.
Also announced by BMW during the virtual press conference was a new way for vehicle upgrades to be purchased by drivers for certain periods of time. For example, the owner of a new BMW could choose to have a selection of driver assistance systems activated from day one, but only for three months. After that time, they can pay to keep them or stop paying if they don't want them anymore.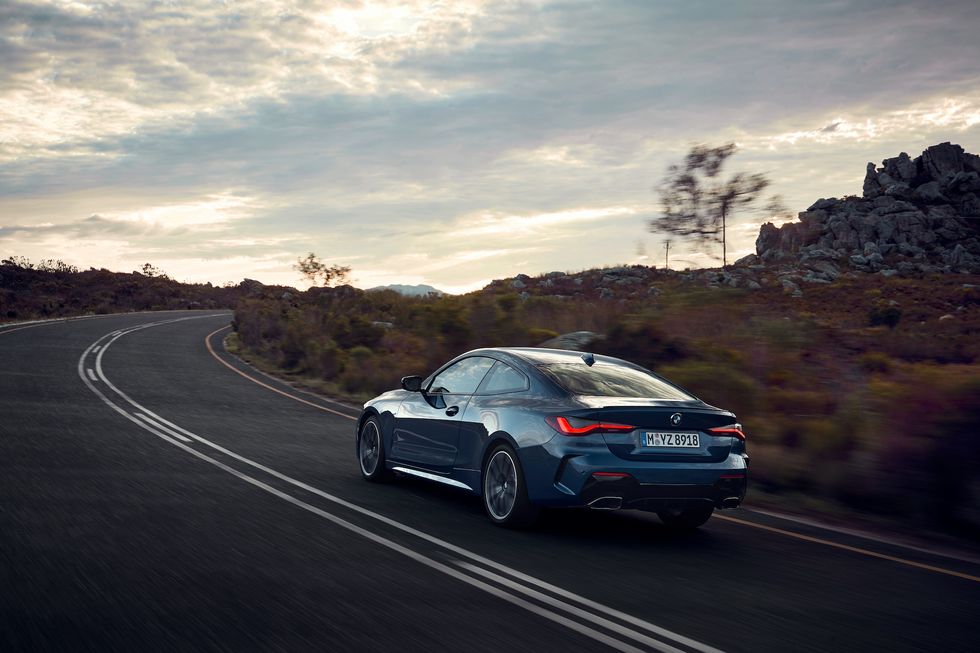 Connected vehicles will warn each other of hazards ahead BMW
This can also be applied to BMWs bought second-hand in the years to come. If a buyer picks up a car they like the color, engine and interior trim of, but wishes it had heated seats, they can pay to have this feature added via an over-the-air software update, as the necessary hardware is already included.

Such a system is similar to what Tesla does with its Autopilot driver assistance system, which is included on every new car but is only activated if the driver decides to pay for it, which they can do at the point of purchase, or later.
This is possible because BMW's new operating system is built in such a way that every single line of a vehicle's code can be updated remotely.
The new system will likely mean simpler production methods and potentially lower costs for BMW, as cars will increasingly be fitted with the same hardware (like those heated seats), instead of highly-customized, built-to-order vehicles slowing down the production line. The company will then of course earn revenue multiple times from the same piece of hardware, should the first, second and third owners of the vehicle all decide to pay for a feature for the duration of them owning the car.
When asked if any of these features could be paid for for the lifetime of the vehicle, BMW referred to Apple CarPlay, which is offered like this, but only after customers complained when the carmaker started charging a subscription for software already installed on the driver's iPhone.
Examples of features which will be offered as digital upgrades include:
High Beam Assistant
Active Cruise Control with Stop & Go
BMW Driver Recorder
BMW IconicSounds Sport
Adaptive M Suspension
The company says more options will be added in the near future, including comfort and driver assistance systems. Later, BMW says upgrades will be offered with a one-month free trial, after which they can be removed, or installed for one or three years.
NETGEAR Nighthawk M1 Mobile Hotspot 4G LTE Router MR1100 - Up to 1Gbps Download Speed | WiFi Connect Up to 20 Devices | Create A WLAN Anywhere | Unlocked to Use Any Sim Card
From Your Site Articles
Related Articles Around the Web
Like GearBrain on Facebook