Like GearBrain on Facebook
One of the first reviews we conducted at GearBrain was the Belkin smart plug, Wemo, at the time one of the first and best smart home devices on the market. It gave consumers the ability to turn any appliance or light into a smart device just by plugging the cord into the gadget. Recently, we got a chance to try Wemo's newest smart plug, the Wemo Mini, and we had some fun putting it through our tests.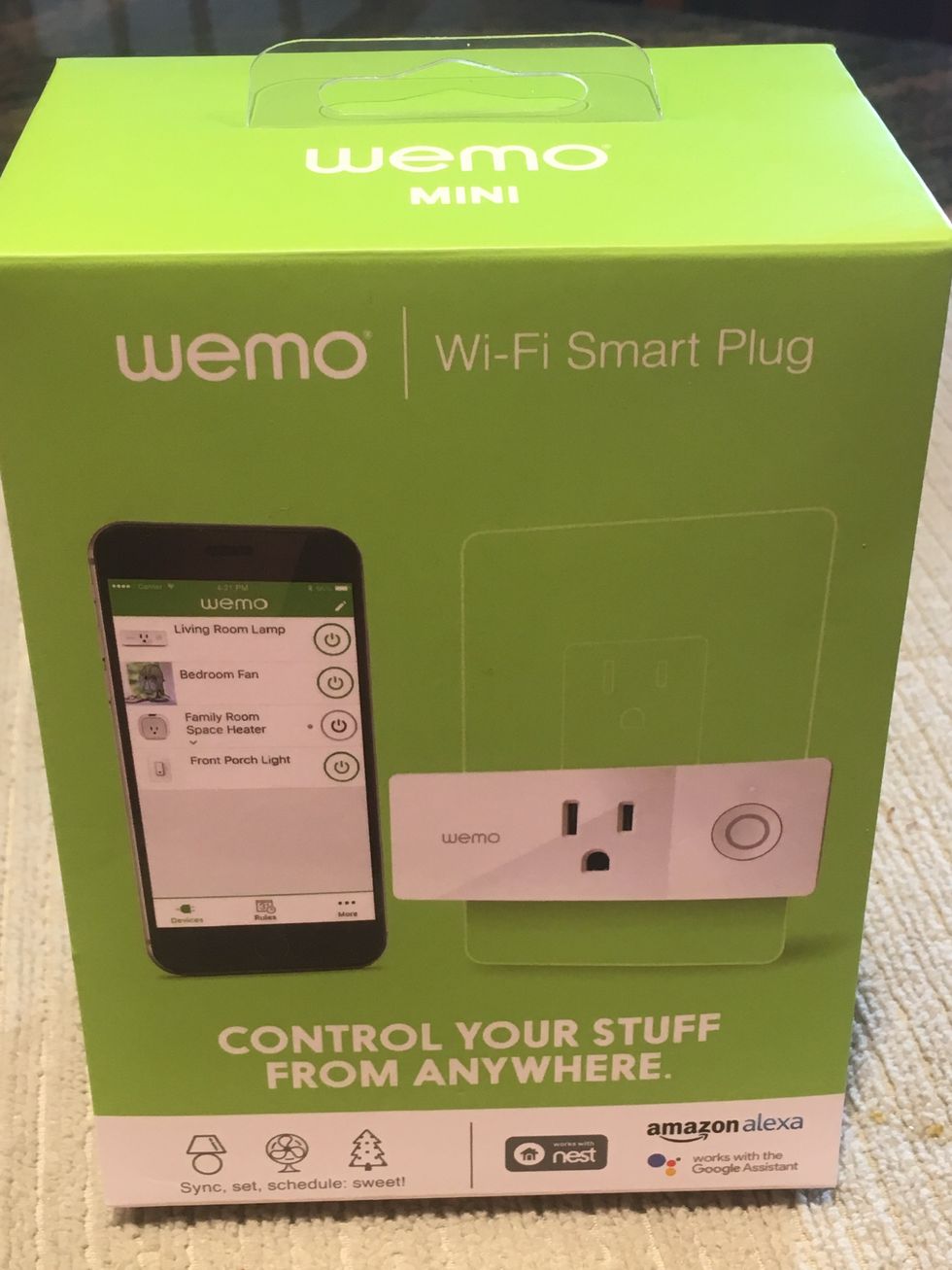 Wemo Mini Wi-Fi Smart Plug that works with Google Assistant, Amazon Alexa and Nest.GearBrain
What is Wemo Mini?

Belkin's Wemo Mini Wi-Fi Smart Plug lets you control any electronic device without needing a connected hub, like the Samsung SmartThings or Harmony Hub. You just plug your Wemo Mini into any wall socket, connect it to your home Wi-Fi network using the Wemo mobile app, and can then control electronic devices or appliances through your smartphone that are plugged into the Wemo Mini.
The Wemo Mini smart plug works on a 2.4 GHz wireless connection and can be run via voice control through an Amazon Alexa or Google Assistant enabled device. You can also use IFTTT applets to run special automations, like turning off your Wemo switch at sunset or sending yourself an email when Wemo smart plug publishes a new action.
How to set up your Wemo Mini?

Setting up you Wemo Mini smart plug is very easy. First, you need to download the Wemo app from either the App Store (iOS) or Google Play (Android). Then, just plug your Wemo Mini into a wall socket.
While the Wemo Mini does not require a hub, if you want to run certain actions or set up scenes, you'll need one — and there are a couple of good options. One is to connect your Wemo Mini to an Amazon Alexa or Google Assistant-enabled device.
How To Set Up Wemo Mini Smart Plug
First, download Wemo app from App Store or Google Play.
Need to Connect Wemo Mini to your Home Wi-Fi
Need to Connect Wemo Mini to your Home Wi-Fi . Using your smartphone, go to settings and look for Wemo under networks.
Select "Wemo" to connect to Your Home Wi-Fi Network
Select "Wemo" to connect to Your Home Wi-Fi Network

If using an Amazon Alexa product, like an Echo or Echo Dot, you first need to create routines in the Alexa app, which are a series of actions you ask Alexa to manage through a voice command. For example, you can say, "Alexa, I'm home" and Alexa will turn on the lights in the lamps that are plugged into your Wemo Mini, along with any other action you programmed into the routine.

You can also use Google Assistant products like Google Home or Google Home Mini, just by logging into the Google Home App and following the Wemo instructions. Once completed you can create "groups" to control multiple Wemo Mini device.
If you want to use Apple HomeKit to control a Wemo Mini, but will need a Wemo Bridge (F7C074), a device that retails for $39.99 and is designed to act as a connector between Wemo devices and the Apple HomeKit app. Once you set this connection up, you will be able to use Siri to control your Wemo devices and set up scenes, the same as you do with Amazon Alexa and Google Assistant.
Setting up HomeKit scenes isn't as easy, though, as setting up and creating Alexa routines or Google Home groups. For instance, you can enable the Wemo skill just by going into the Alexa app. Voice commands were easy to run as well, as long as you assign a name in the app to your plug: This will make it easier for the Alexa or Google Assistant to launch the skill or routine you want.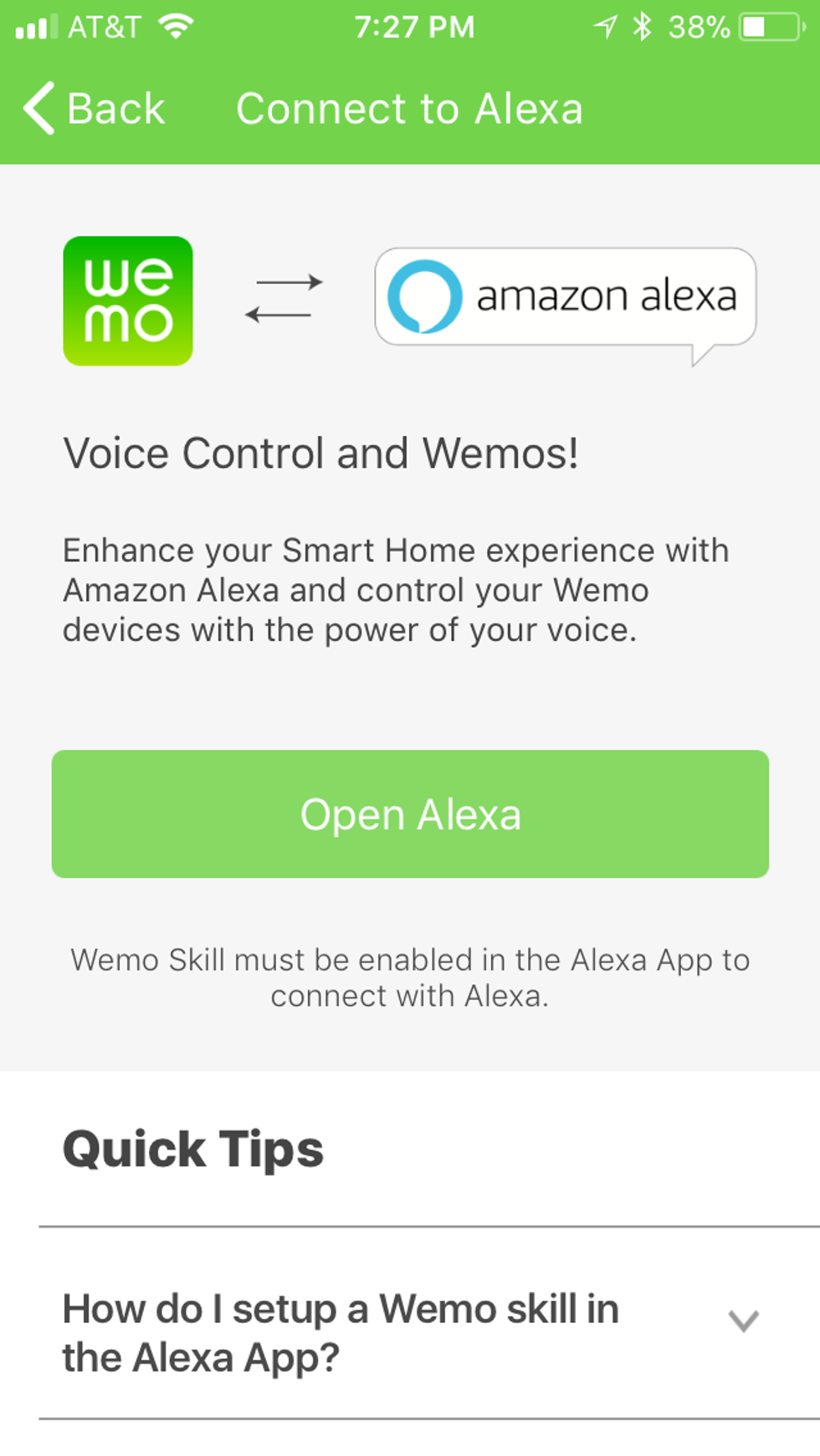 Wemo Mini Smart Plug works with Amazon Alexa. Need to download Alexa Skill from your Alexa app.GearBrain
Are Smart Plugs Just Timers?

Do you remember those bulky timers your parents used on living room lamps? Before smart plugs, timers let people set their lights to go on every night at the same time — whether they were home or not. Think of this as a 20th Century security system — letting people think someone was in the house, and helping to prevent break-ins. I know my parents had them and we used them mostly when we went on vacation. The one problem I had with timers was having to manually change the settings.
Smart plugs solve the same problem — but they're more streamlined, and far simpler with apps that also set scenes to make it seem someone is home no matter the time — and that changes so it's not always the same time of day. In Wemo Mini's app, for example, selecting the' Away' rule lets you set when you want the 'Protect' mode to run, which controls lights connected to the Wemo Mini Smart Plug — and turns them on and off at various times of the day for at least 30 minutes. You just pick the time and days you want the lights to go on and off. The app does the rest.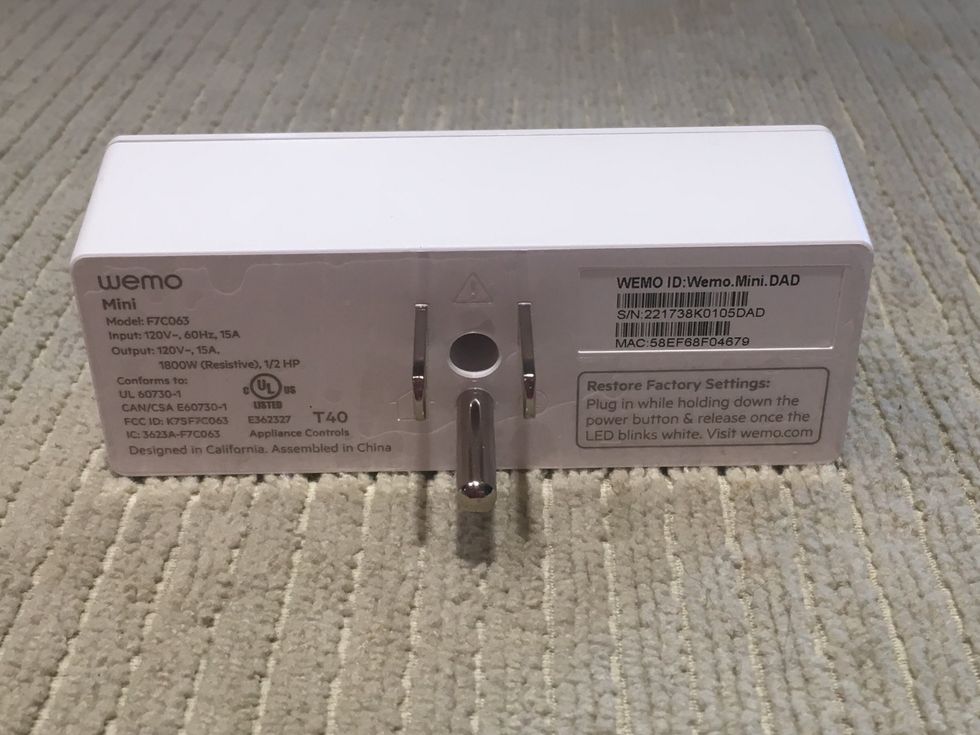 Wemo Mini Wi-Fi Smart Plug has a nice sleek design to allow you to stack multiple plugs in a wall outlet.GearBrain
Practical Design

Another problem with old timers was their size. Many were so big they covered both sockets on the wall outlet. Frankly, most of today's smart plugs are rather bulky too, taking a lot of space on your wall outlet. The Wemo Mini has a sleek and slim design, so you can stack the smart plugs on top of each other. You can have two smart plugs on the same wall outlet which is ideal for homeowners who have limited wall outlets and wants to connect more than one appliance or device to a smart plug.
Wemo Mini Smart Plug retails for $34.99 and is available on Amazon, Best Buy, Walmart and other retailers. It is compatible with other smart home devices like Nest Thermostats and Apple HomeKit.
Specifications

Here are the specs for Wemo Mini:
Electrical rating – 120V-15A-60Hz-1800W
Android (4.4 or later)
iOS (V9 or higher)
Operating temperature – 0-40 degrees
Wi-Fi: 2.4GHz 801.11n
Dimensions: 3.8" L x 1.4" H x 2.4" D
Overcurrent Protective Device External to the Control: 15A or 20A
One-year limited warranty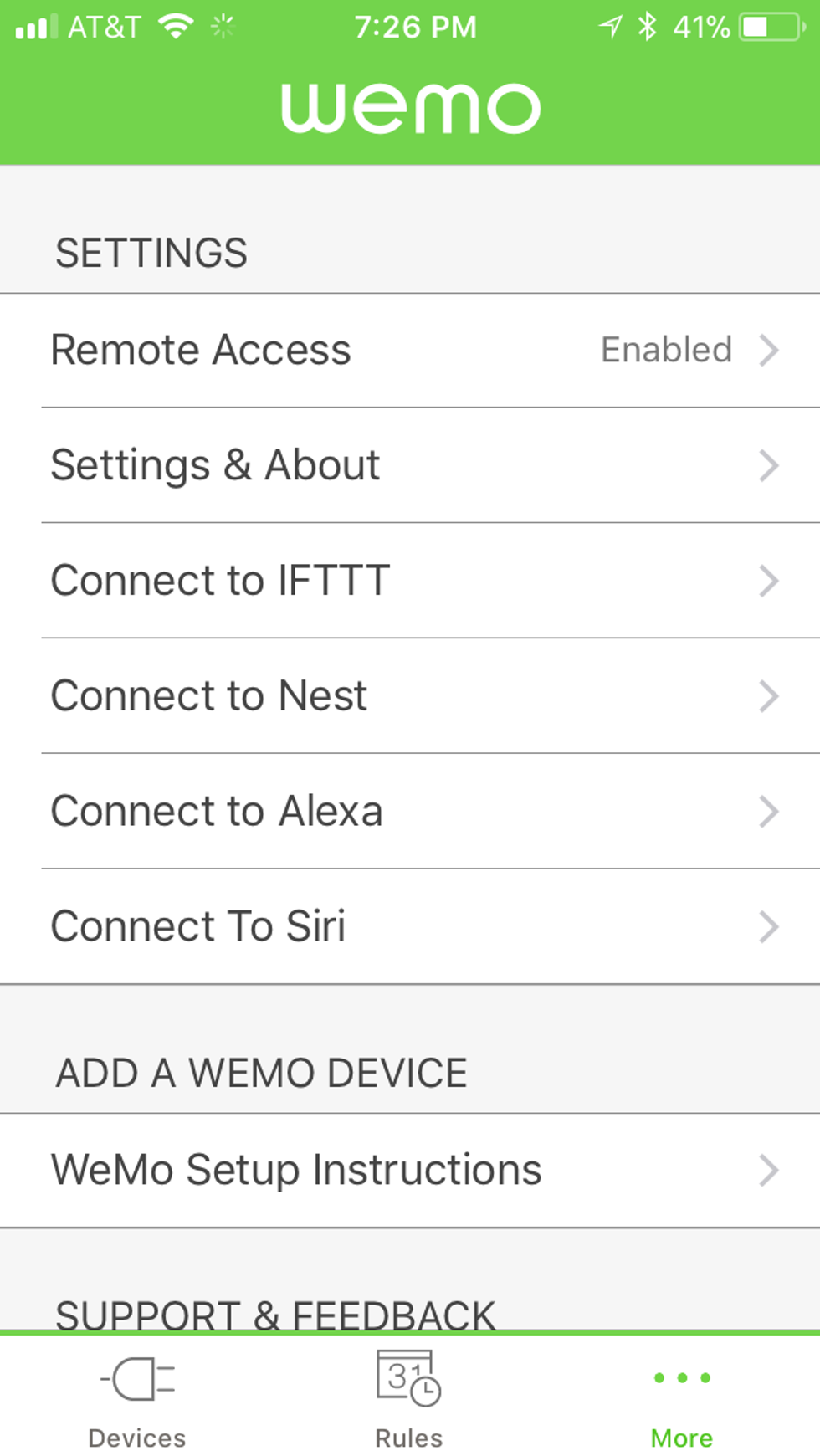 Wemo Mini Wi-Fi Smart Plug has several smart home integrations for you to choose from to control your smart plug.GearBrain
Summary

Building a smart home today is similar to building a stereo system years ago: do you buy an all-in-one system (like Iris by Lowes) or do you buy one device at a time? If you are looking to build a smart home one device at a time, we would recommend starting with a smart plug because it's easier, less expensive and can solve multiple purposes (like saving money on your energy bill as well as coming home to a lighted house.)
We think the Wemo Mini is a good, first, smart home device. It can connect to multiple devices, like Nest or IFTTT as well as works with all the smart speaker assistants, Alexa, Google Assistant and Siri, has a good design and is made by a company that has been in the home automation space since the beginning.
Pros:
• Works with Nest, IFTTT, Amazon Alexa, Google Assistant
• Nice design and easy to setup
•No hub required
Cons:
• Wi-Fi only
•Wemo app is a little clunky to use
•There is an Apple HomeKit integration for Siri voice control, but you need to buy a Wemo Bridge.
Check out The GearBrain to learn what smart home products and connected devices work with Google Home or Amazon Alexa.
Like GearBrain on Facebook