Like GearBrain on Facebook
A Los Angeles hospital has installed 100 Amazon Echo smart speakers in patient rooms, part of a trial in patient care.
Equipped with the Alexa virtual assistant, the speakers at Cedars-Sinai give more controls to patients, letting them run their television with voice commands, and ask for a nurse or clinical partner to assist them.
Read More:
The speakers use a bespoke skill provided by Aiva, a heathcare platform, that takes patient requests and sends them to the hospital staff that's can best handle the situation from a nurse to a manager.
A patient asking for pain medication, for example, would be sent to the mobile phone of an on-duty nurse, while a request to use the bathroom can be sent to someone else, such as a clinical partner working to support patients on the floor.

If requests are not answered in a certain amount of time, Aiva will then contact a supervisor. Alexa is configured so that patients can change the channel of their TV by speaking to the assistant. For example, they can say something like: "Alexa, change the channel to ESPN."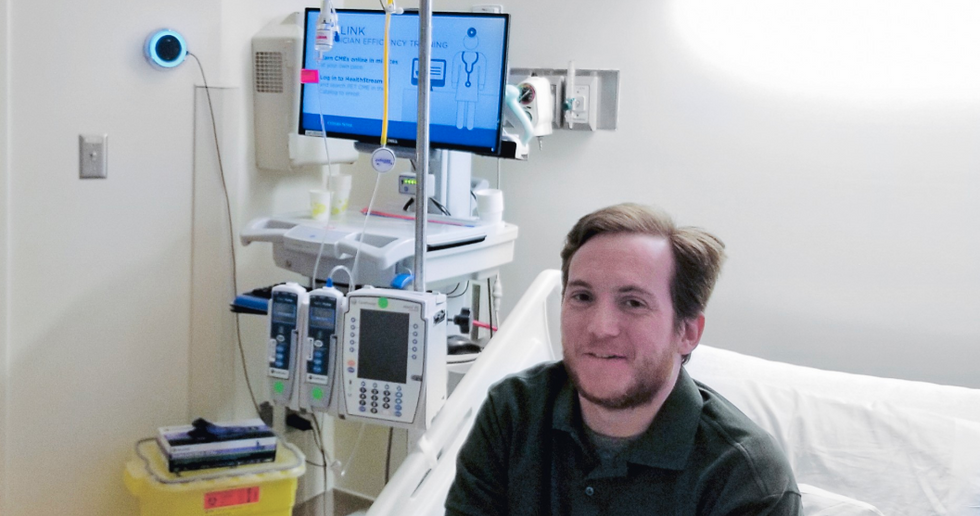 Patients can use the speaker to adjust their TV or call for assistanceCedars-Sinai
A request to use the bathroom would be along the lines of: "Alexa, tell my nurse I need to get up to use the restroom."

Golda Morales, assistant nurse manager of General Surgery at Cedars-Sinai, said: "Whereas previously nurses were frequently asked to help with the in-room television, Alexa does that job for us, allowing nurses to focus on providing the highest level of patient care."
As well as the Aiva skill, the Echo smart speakers also deliver normal access to Alexa. This means patients can ask the voice assistant about news headlines and weather forecasts, or play music and games.
The adoption of speakers like the Echo Dot is one of the first steps hospitals are taking to make patient rooms smarter. They help the patient feel more connected to both the hospital's staff and the outside world, and because Alexa works with voice commands, patients with physical disabilities can access all of the same features as everyone else.
"Smart rooms are all about improving satisfaction for both patients and nurses," said Sumeet Bhatia, founder and chief executive of Aiva. "Cedars-Sinai and Aiva are giving patients more entertainment options, more control over their environment and closer communication with their care team." Aiva also offers an iPad-based system for hospitals called MyChart, giving patients bedside access to their medical records, lab results, and the names and photos of their care team.
Check out The GearBrain, our smart home compatibility checker to see the other compatible products that work with Amazon Alexa enabled devices.
How to Use Amazon Alexa Enabled Devices www.youtube.com
Like GearBrain on Facebook