Like GearBrain on Facebook
A newly published Amazon patent reveals how the retail giant is working on a system where the Alexa assistant notices when you sound ill, then offers to buy medicine.
The patent, which was filed in March 2017 and published on October 9 this year, describes a new feature where the personal assistant notices when your voice sounds different to normal. This, Amazon says, could lead Alexa to understand the "physical and emotional characteristics of users."
Read More:
A drawing included in the patent shows a woman saying: "Alexa, I'm hungry" while coughing and sniffing. Alexa at first responds normally, suggesting a recipe for chicken soup. But when this is declined by the user with a "No, thanks", Alexa says: "Ok, I can find something else. By the way, would you like to order cough drops with one-hour delivery?"

The user says yes, which encourages Alexa to place the order using their Amazon account. "I'll email you an order confirmation. Feel better!" the assistant concludes. As well as illnesses, Amazon wants Alexa to be able to spot different emotions, like excitement.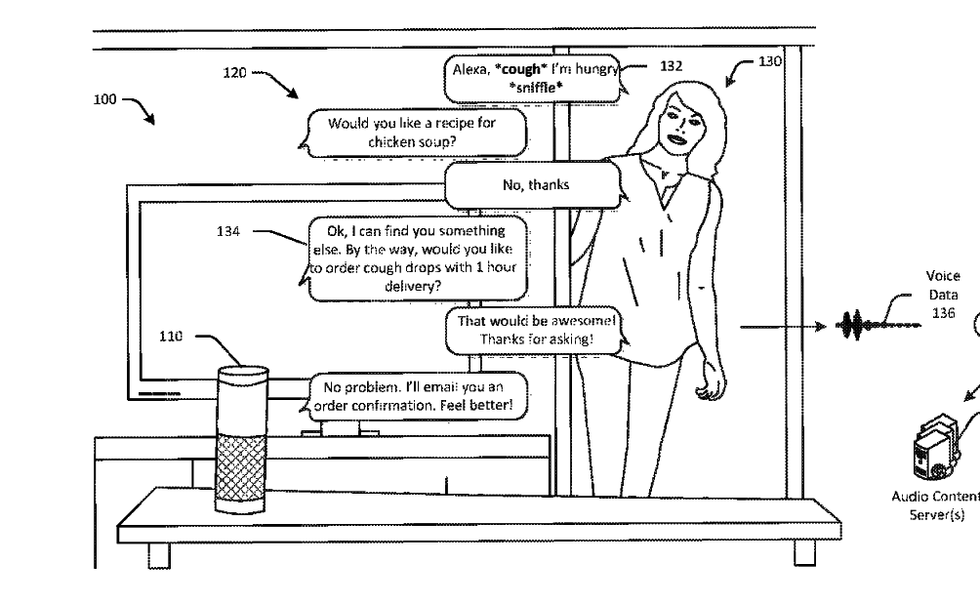 The patent shows how Alexa could order medicine after hearing a coughAmazon
Amazon wants to add an extra layer to Alexa's understanding of the things we say to the virtual assistant. So, along with determining what we say and what we mean by that, the assistant could - if this patent becomes a reality - "determine that [the] user has an abnormal physical or emotional condition", and then act upon this.

The patent, which was first discovered by the Telegraph and has since been viewed by GearBrain, also describes how Alexa could analyze voices "to determine other characteristics, such as the user's age or gender...the voice processing server...may determine an emotional state of the user".
Also described by the document is a process where Alexa attempts to determine the "language accent" of a user, then compare this to the device's geographical location.
As always, we must add the caveat that technology companies file patents all the time, for a wide range of future products and services, but many never become reality. However, it is interesting to see Amazon is experimenting with new ways for Alexa to understand more about its users, and help them - along with making Amazon money by selling cough medicine.
(Check out The GearBrain, our smart home compatibility checker to see the other compatible products that work with Amazon Alexa.)
From Your Site Articles
Related Articles Around the Web
Like GearBrain on Facebook