Like Tile, Chipolo made Bluetooth-based possession trackers for finding your lost keys and bags long before Apple launched its AirTag. But unlike anything from Tile, Chipolo's new One Spot tracker taps into Apple's own Find My system.
This means it works very much like an AirTag, and also means every device logged into Find My – every iPhone, iPad and Mac – can help find your One Spot, should it ever be lost. Just like an AirTag.
Read More:
We've spent a few days with the new Chipolo One Spot, and here is how we got along.
Chipolo One Spot review: Hardware and design

The One Spot is a small plastic disc that is very light, slim enough to fit into your pocket with a bunch of keys, and with IPX5 water resistance, so it'll survive a rain shower but not a fall into a pool. The One Spot has a hole for attaching to your keys, bag or other products without needing an accessory case (as the AirTag does), and its battery can be accessed and replaced by prising the two halves of the body apart.
The One Spot feels fairly cheap but resists scratches better than the stainless steel-backed AirTag. It won't win any beauty awards, but that really isn't the point; this is a device to attach to your keys or slip into a bag and forget it's there until you need to find it. Unlike other models of Chipolo tracker, the One Spot is only available in black and it only works with iPhones.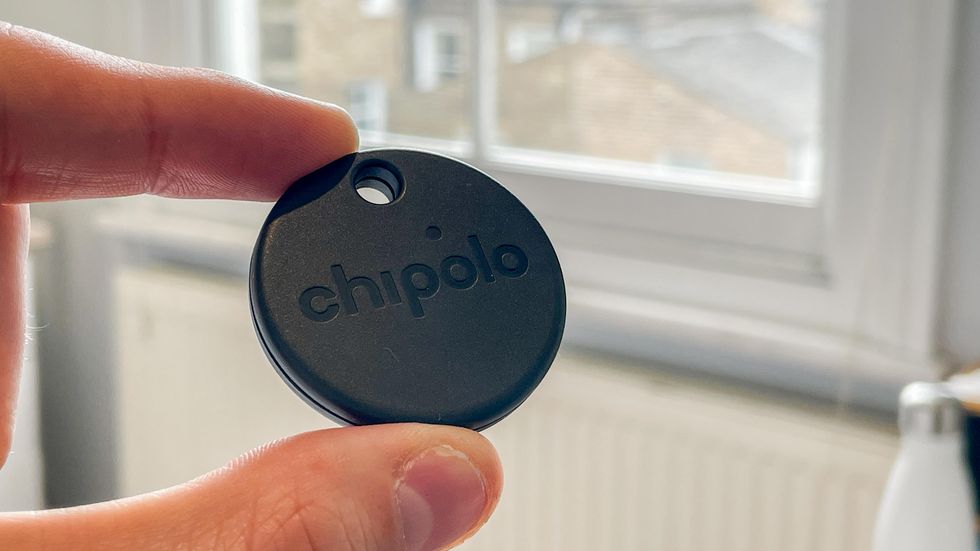 The Chipolo One Spot is priced at $28GearBrain
Chipolo One Spot review: Setup

Discovering that the One Spot works with Apple's Find My system instead of Chipolo's own application was a pleasant surprise. There is no time wasted creating a Chipolo user account, and no logging in either. Instead you simply squeeze the One Spot to press an integrated button, then open the Find My app on your iPhone, tap Items, then Add New Item, and the One Spot and iPhone find each other.
You are then asked to give the One Spot a name and an emoji to act as its icon, and the setup process is complete. This is all exactly the same as when setting up an AirTag, and it really couldn't be easier. I especially like how the Chipolo One Spot taps directly into Apple's Find My system, with no need to create a Chipolo user account, or give the company any details.
Chipolo One Spot review: How the tracker works
When lost, locating the One Spot is a two-step process. First, you can check the Find My app and if the One Spot appears to be at your current location, you can tap the Play Sound button to have the Chipolo's speaker play a tune to help you locate it. It's surprisingly loud and was easy to hear from the next room at home. I imagine I would have no trouble locating the Chipolo if I managed to lose it somewhere in my apartment.
If you lose the Chipolo One Spot out of Bluetooth range, you can call upon the Find My network for help. To do this, enable Lost Mode and the app will show the location where the One Spot last had a Bluetooth connection to your iPhone.
To test the One Spot, I left my iPhone at home and put the tracker in my car, which is parked a couple of streets away from where I live. I returned home and, of course, the Find My app could only say where the One Spot was when it lost sight of my iPhone, at home.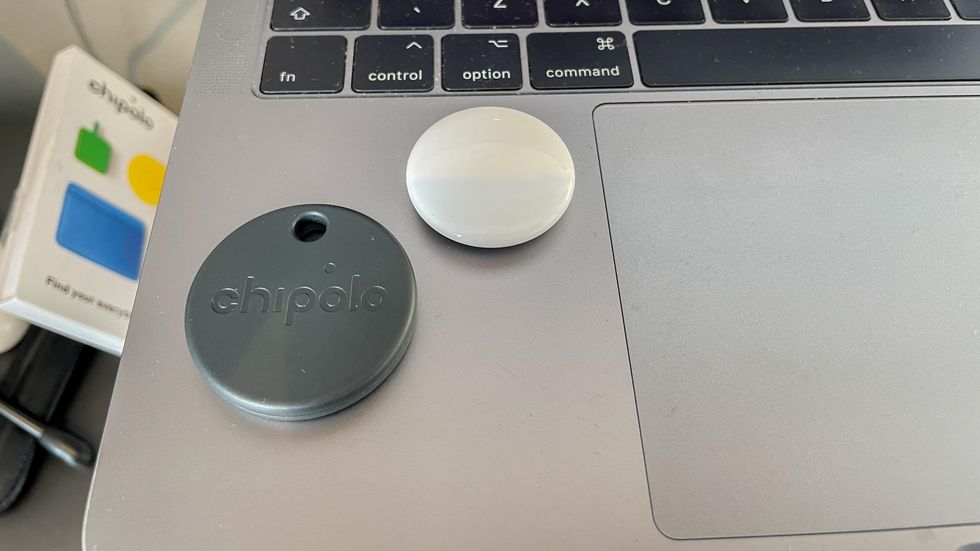 Chipolo One Spot and an Apple AirTagGearBrain
I then enabled Lost Mode and waited. Around half an hour later, my iPhone buzzed with a notification to say the One Spot had been located. This happened because a device connected to the Find My network (likely an iPhone in the pocket of someone walking past my car) came within Bluetooth range of the One Spot, and reported its location to me.

I then walked to my car and, sure enough, the location estimated by the Find My app, including a precise street address, was exactly where I had left the One Spot.
What's missing compared to the AirTag is ultra-wideband and that technology's ability to provide very accurate locational information. Where the Find My app will show you the precise direction and distance to track down a lost AirTag, it cannot do this with the Chipolo One Spot. But, while this makes for a nice demo, I don't see the One Spot being more difficult to locate as a result, especially given how loud its speaker is – an ear-splitting 120dB, Chipolo says.
Chipolo One Spot review: Verdict
Chipolo gets a lot right here with the One Spot. It works in a very similar way to the AirTag, harnessing the power of the Find My network to help find your lost items, while also having a louder speaker and integrated keyring hole.
The One Spot isn't as small as the AirTag, and nor does it share the Apple tracker's premium design. It also misses out on precise tracking with ultra-wideband technology. But it works in an almost identical way, is a dollar cheaper at $28 (but doesn't require an accessory to attach to keys and other items), and has the same user-replaceable battery promising 12 months of life. While its design isn't as attractive, the Chipolo holds up to scratches far more resiliently than the AirTag, which is literally covered in scratches just a couple of weeks after I bought it.
Buying the One Spot feels like a no-brainer, given the low price, simple setup, integrated keyring hole and a proven ability to be located when lost. To borrow Apple's old tag line, it just works.
Pros:
Simple setup
Uses the Find My network
Loud speaker
Cons:
Lacks ultra-wideband support
Does not support Android
Feels cheap (but resists scratches)
New Chipolo Classic 2.0 Smart Keyring Bluetooth Tracker, Phone Finder, Key Finder, Wallet Finder, Item Finder (Green)