Clixo is a toy that taps into the imagination, the same way plastic blocks offer children a way to play, allowing them to make any design they want. There are three kits, each filled with different shapes, with each piece made of a synthetic coated paper that have magnets embedded into each end. Think of these as reusable daisy chain pieces.
Unlike tech toys with motors, and apps, these pieces rely more on a child's creativity. While there is a small guide book that can suggest shapes and objects you can build (like a helicopter or a snake), Clixo can really be used to build really anything. With students likely to be attending school this fall through a hybrid of in-person and remote learning because of Covid-19, toys that are both affordable and can be used as an educational tool as well, may be useful for both parents and educators.
Clixo have a satisfying click sound, hence the name (which sounds like "clicks-o" when said aloud.) You can attach them through their magnets, and children can also just look at the colors on the magnets, with blue sides connecting to other blue pieces, and red to red. At least those were the colors in the set we received. Each piece also has additional ranges of movement. At each magnetic connection point you can rotate the ends, this means you can tighten and close the angles, or open them up as well.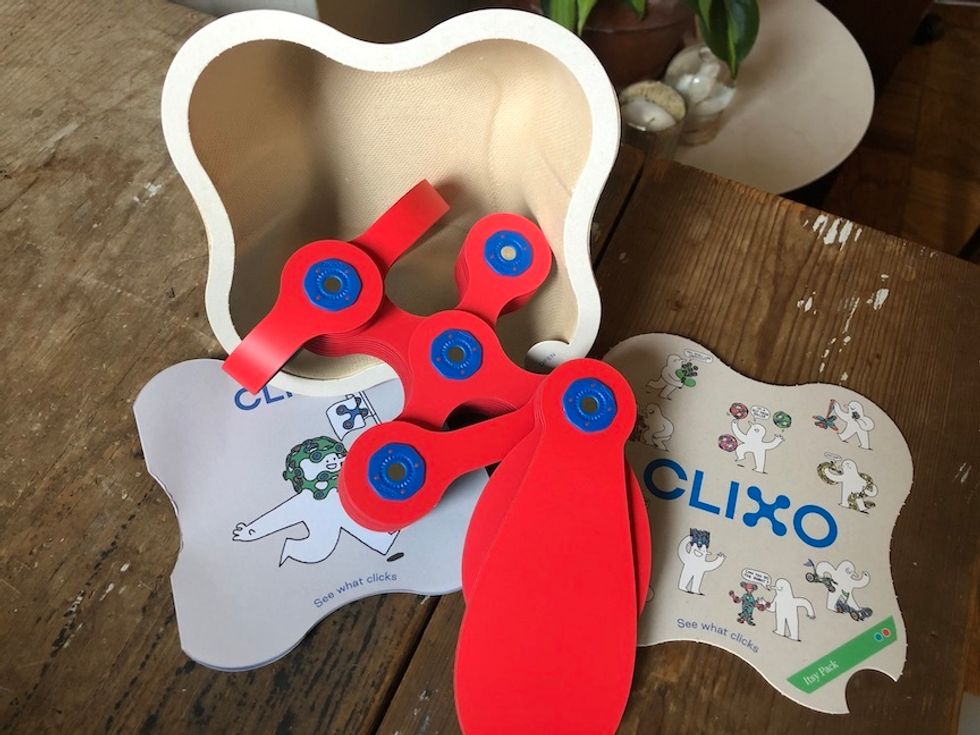 Clixo has magnets embedded in the shapes that allow them to click togetherClixo
We had a small kit to play with, which contained 18 pieces with each side a different color. They are lightweight, and they all fit back into their small bamboo box, which makes them easy to store to play with again. Because the pieces are also thin, they can be bent into 3D objects, or just snapped together to make 2D images that can lay flat. They're also durable, and this means you can pull them apart and not worry about them tearing or breaking. Plus, because they have magnets, the designs can be attached onto a refrigerator.

You can pick these up in three different pack sizes, the Itsy Pack, which we tried, priced at $29.99 for 18 pieces, the Crew Pack, with 28 pieces for $44.99, and the Rainbow Pack at $74.99 with 39 pieces.