Updated October 17, 2017 Did your college or university do something special to celebrate your acceptance? Maybe a cheeky graduation cap or some confetti in the mail? China's Northwestern Polytechnical University (NPU) recently congratulated its accepted students with letters using augmented reality (AR).

When accepted students scanned their letter's QR code into WeChat, a Chinese social media and messaging app, a separate app downloaded onto their smartphones, activating the AR note, according to People's Daily, a Chinese news outlet which posted a Twitter video.
AR is growing in use, appearing in mobile games like Pokémon Go, to letting customers test out products and material goods before they make a purchase. While virtual reality is far more immersive a technology, many believe AR has the bones to be the truly useful tool.
While in the app, students hold smartphone over their acceptance letter, with the camera open, revealing a virtual interactive tour of their new university along with guides and information about the school's history and fields of study.
While the AR experience may sound like a gimmick, NPU's decision to create the unusual acceptance letter was carefully thought out before launching the app.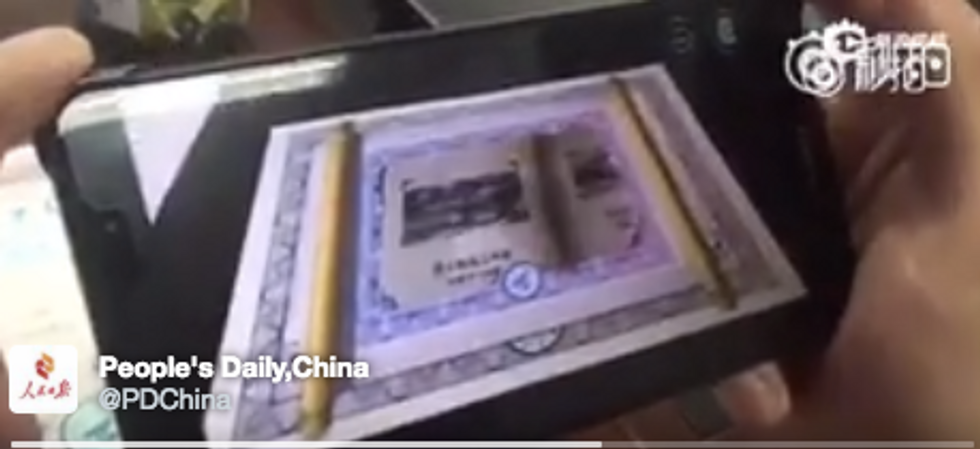 Holding a smartphone over their NPU acceptance letter launched a virtual tour of their new college.Photo Via People's Daily, China
"Although the admission notice is just a piece of paper, the carefully embedded AR technology serves to show a cutting-edge temperament and a sense of pride," Xie Dan, NPU's admissions office's deputy director told People's Daily.
Not only does NPU pride itself on innovative thought and advanced technology, the school comes in at No. 30 in the world, according to the Academic Ranking of World Universities.
The hope, believes NPU, is that exposing cutting edge tech, like AR, to its new students will seed them to develop their own digital tools at college — perhaps bringing some more tech cred to the school as well.
As for those applying this fall to be the graduating class of 2022 — well, let us know if you land any AR acceptance letters yourself.
-Amber Wang writes about AR and VR for GearBrain.