Like GearBrain on Facebook
This week, Google parent Alphabet announced plans to keep its 200,000 full-time and contract staff working from home until at least July 2021, due to the coronavirus pandemic.
Although likely relief to workers concerned about getting back on public transport and into offices shared with hundreds of colleagues, the announcement – likely to be replicated by others – means more of us should seriously consider further investment in our home workspace.
Read More:
Back in March, when much of the world realized lockdown was about to become reality, working from the sofa with a laptop sounded like a welcome break to the office grind. But now, almost five months on and with backache likely a regular office companion, it's time to buy a desk.
The options are almost limitless but smart, connected desks are few-and-far-between. You could invest in a desk that adjusts electronically from sitting to standing height, or throw almost $8,000 at the reclining, 'zero gravity' workstation by Altwork. But realistically, your best option is to buy a simple desk you like and can afford, then accessorize it to make it smarter.
Here are some options for bringing connectivity and smartness to your humble home office desk.
USB and charging outlets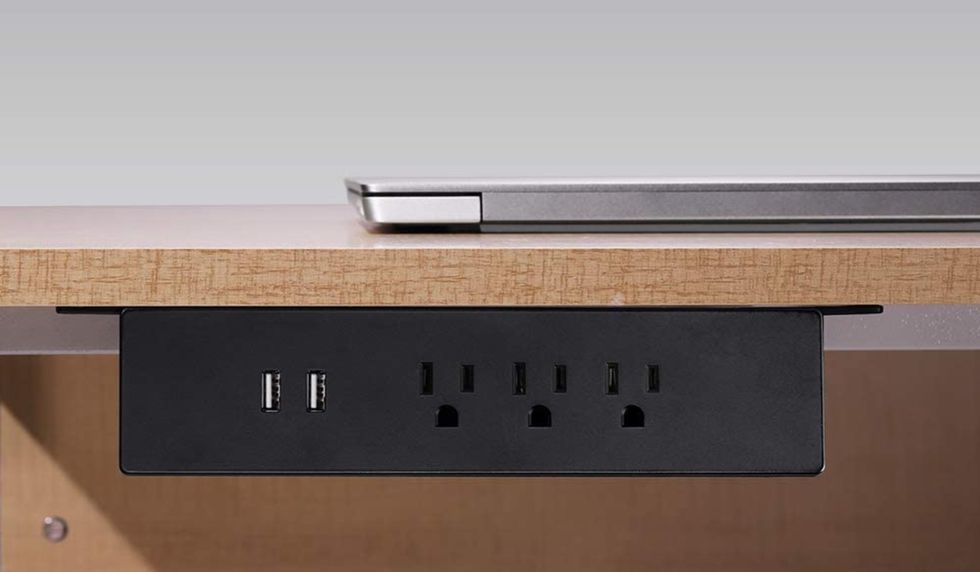 Power sockets are easy to add to your deskHaylink
Firstly, a few charging options. If you're anything like us, your desk and its inhabitants take up far more wall outlets than you ever thought possible. There are currently ten devices plugged into power sockets by my feet as I write this, tangled in a mess of wires and extension cables.

Much of this clutter could be fixed with some smartly arranged sockets. Haylink makes a range of these, including several that clamp above or below your desk, giving you a handy place to plug in your laptop and monitor, and USB devices too. Fit this to your desk, plug a single cable into a wall outlet, and you no longer have to crawl under the desk to plug and unplug anything.
Options by Haylink cost from around $35 for a unit with three power outlets and two USB ports.
Qi charging pads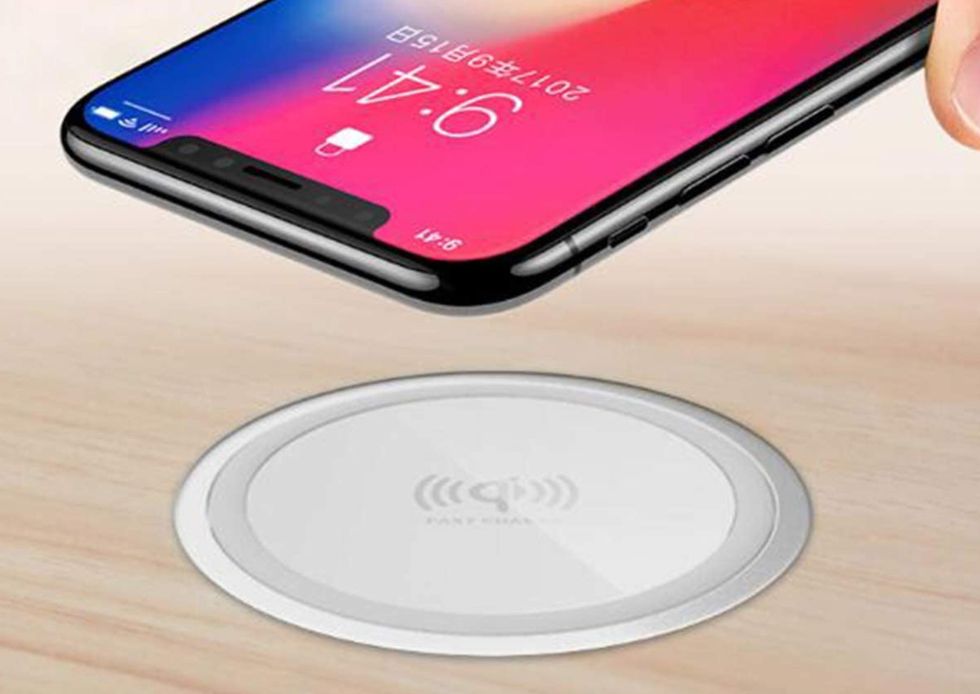 QI charging pads fit into the grommet holes of most desksVavCase
Wireless charging using the Qi standard has quickly become the norm for smartphones, earphone charging cases, and some smartwatches. As such – and to free up another power socket – you should look at fitting a charging pad to your desk.

We don't mean simply plugging one in and leaving the cable dangling to the floor. No, with a bit of DIY you can fit a Qi pad seamlessly to the surface of your desk. There are generally two options here, with one being easier than the other. The first sees a wireless charging pad slot into the standard-size grommet hole already in some desks, normally used to funnel cables to the floor.
If your desk doesn't have a grommet hole, you can buy drill bits that neatly carve a hole of exactly the right diameter for a Qi charger. Ikea sells a set of drill bits for its own QI chargers, or your local hardware store will also be able to help.
Qi chargers designed to fit in desk grommet holes start at around $20, while the Nordmarke by Ikea, designed to be sunk into a desk or table after you have cut a hole, is $18.
Lamp with wired and wireless charging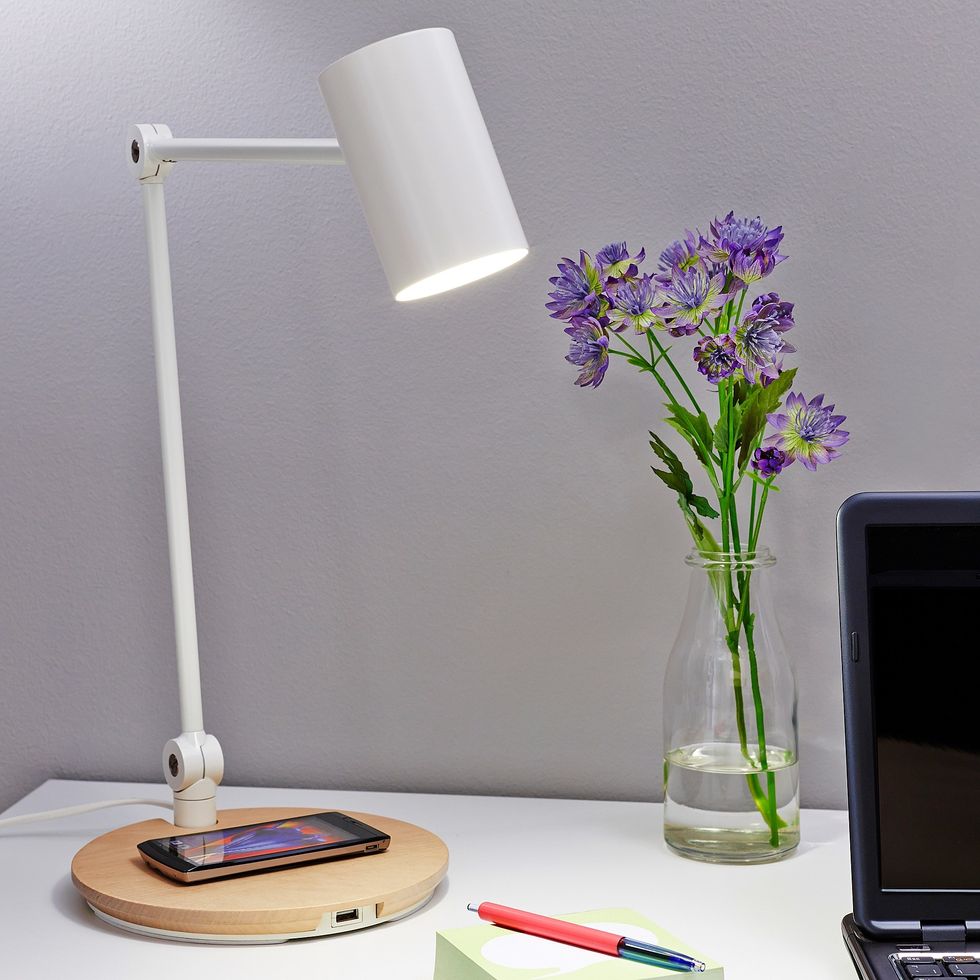 Ikea sells a range of desk lamps with integrated wireless chargingIkea
Another option is to buy a desk lamp with wireless charging built into its base. Ikea sells a range of these starting at $60, while options on Amazon start at around half that. Some also come with additional USB ports, so you can plug another device in while your phone is also charging wirelessly. Again, this all helps to reduce the amount of cable clutter on the floor and sprawled across your desk.

Computer desk tidies and power stations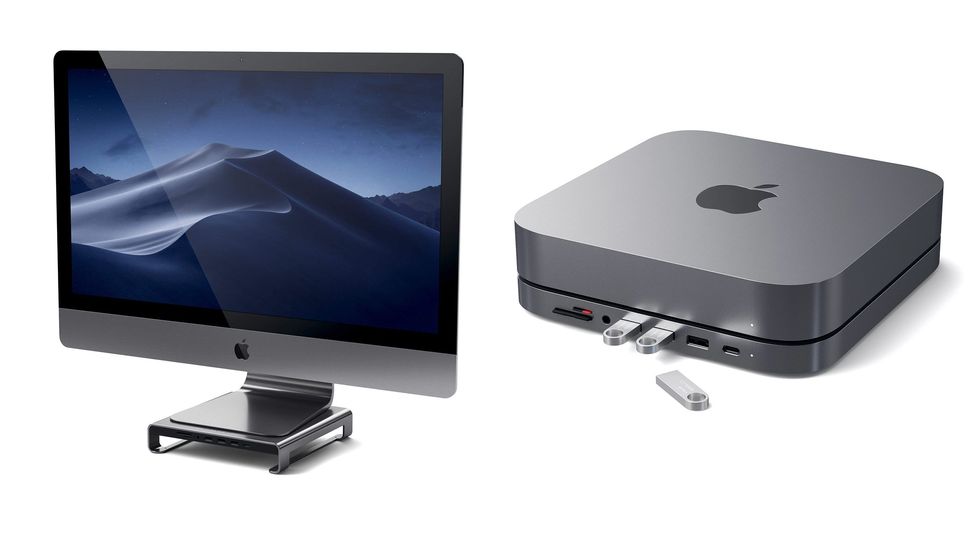 Desk tidies and charging docks for iMac and Mac MiniSatechi
Satechi sells a range of charging accessories to help tidy up your desk. Most of these are intended to complement any computer or laptop you might have, but a couple are specifically designed to fit beneath Apple's iMac and Mac Mini desktop computers.

The first, to sit beneath the foot of an iMac, has full-size and micro SD card slots, a 3.5mm audio jack for headphones, three USB-A ports and a single USB-C port – all of which are far easier to access there than by reaching behind the iMac to its own ports.
Similarly, the Mac Mini option has the same selection of ports but is designed to fit neatly under Apple's smallest desktop. The iMac model is $90 and the Mac Mini option is $80.
A generic alternative for any computer is this, which raises your screen a few inches off the desk (creating storage space beneath), and includes a Qi charging pad for your phone, plus a USB-C port, three USB-A ports, a microSD card slot and a full-size SD card slot. It is priced at $79.
Headphone stand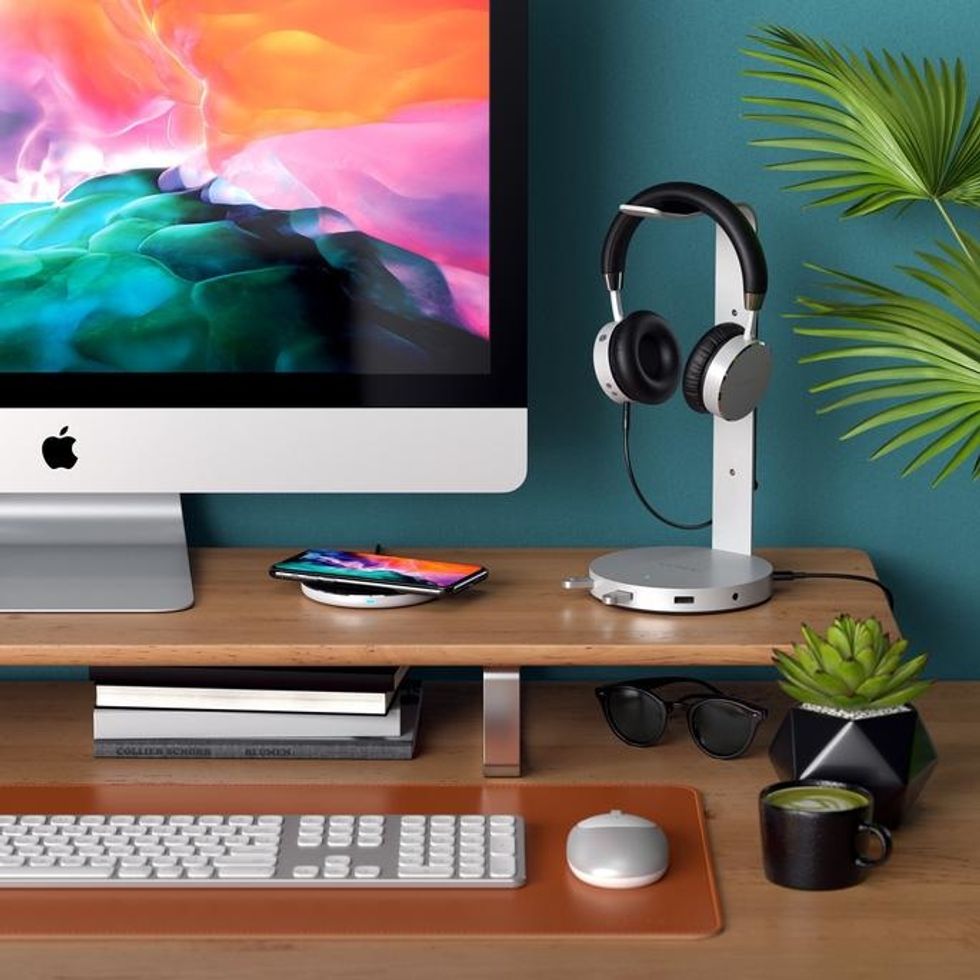 A desk accessory you likely never knew you needed, headphone stands help keep your bulky cans out of the way, but in easy reach at all times. Some options fit below your desk with integrated USB charging ports – and, somewhat bizarrely, somewhere to hang your watch.

Others are a simple stand to keep your headphones right where you need them, while this $50 stand from Satechi strikes a neat balance by offering a stand, plus two USB-A ports and a 3.5mm headphone jack. If your computer is out of reach, having those ports to hand could be really useful for some home workers.
Nest Hub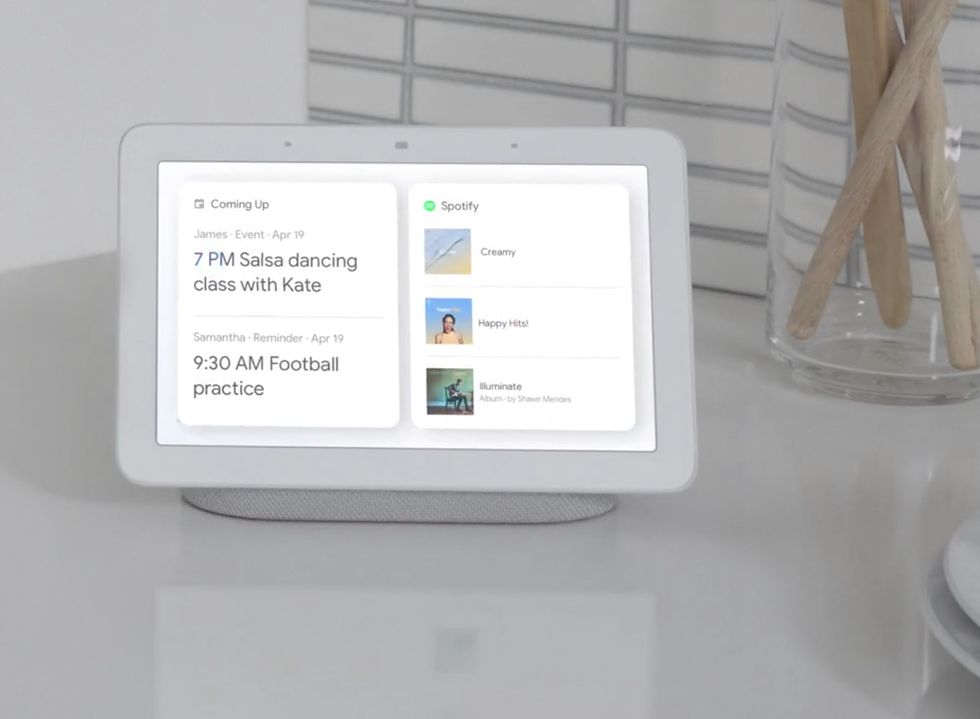 The Nest Hub can be a useful home office assistantGoogle
We think the Nest Hub smart display with Google Assistant is a great desk companion. It is small enough to fit on most work surfaces, while its display automatically adjusts during the day to match your ambient lighting. It can be set to scroll through your Google Photos library, or a random selection of imagery and artwork curated by Google.

The display also acts as a useful desk clock and weather station, and of course the integrated Google Assistant means you can ask it just about anything. It's an easy way to ask general knowledge questions, add events to your calendar, play a radio station, perform calculations, conversion and translations, and control your smart home. (Check out The GearBrain, our smart home compatibility checker to see the other compatible products that work with Google Assistant enabled devices.)
As well as speaking, you can tap at the display to adjust smart lighting throughout your home, and check up on live video feeds from your security cameras and video doorbell.
Smart lighting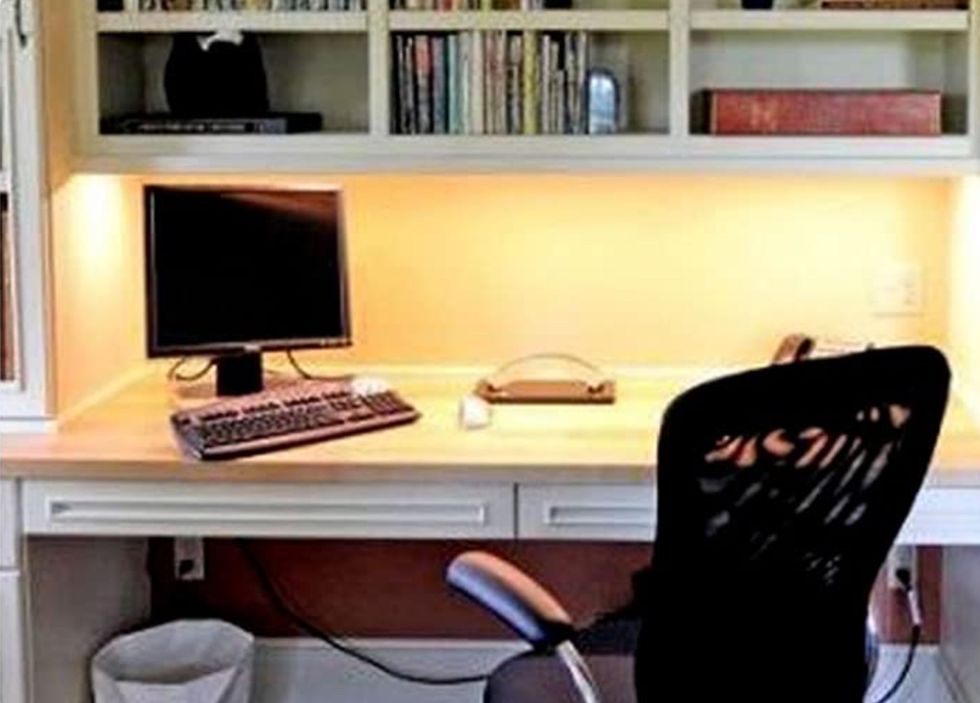 LED strip lighting can help to brighten a home office spaceWobane
Sticking to the smart home theme, your desk could benefit from some subtle smart lighting. This could mean a regular desk lamp with a smart bulb inside, or strips of LED lighting attached to the back of your desk and computer monitor, neatly illuminating the wall behind if your desk is tucked into an otherwise dim corner.

Most smart light systems include pre-sets to help you concentrate during the day, making bulbs bright and crisp, before shifting to a warmer, softer and more relaxing hue in the evening. It's easy to set an automated schedule, or control them by speaking to your voice assistant of choice, or tapping at the Nest Hub display mentioned above.
If your desk is tucked into a small corner of a room, well-placed lighting can really help brighten the space and help you work more productively.
Smart light systems from the likes of Philips Hue, C by GE, and LIFX can be expensive. If you are on a small budget, there are lots of non-smart LED strips that are powered by USB and controlled by a simple remote control. For example, the lighting pictured above costs $16 for 120 LEDs on a 6ft6 long strip.
Monitor desk mount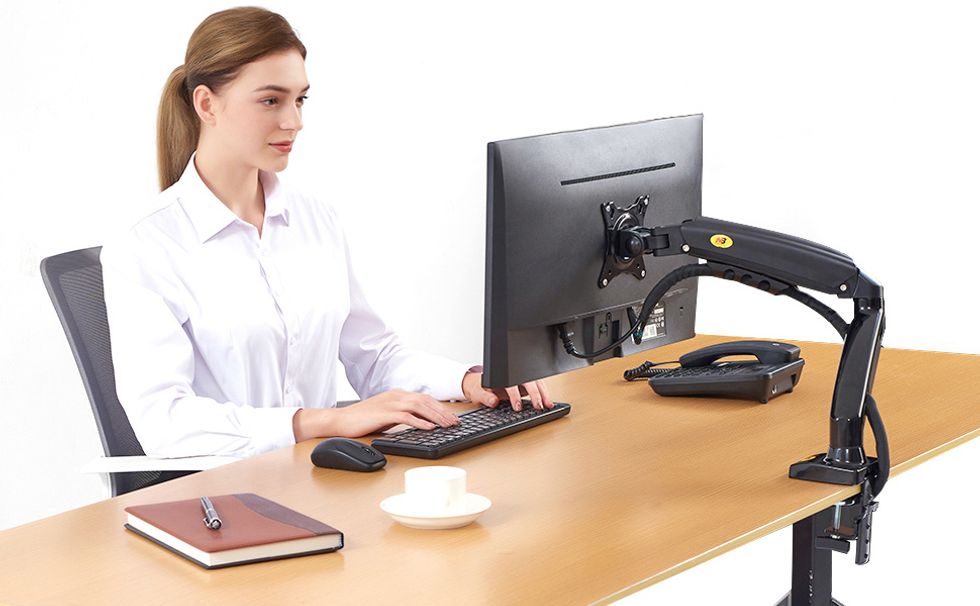 Monitor arms can help free up desk spaceNB North Bayou
Finally, you should consider lifting your computer monitor up off the desk. This can have several benefits, including freeing up desk space beneath the screen, and giving you more options for how the monitor is positioned, in a bid to reduce glare and increase comfort.

There are lots of options to consider, with many priced from around $30. Some let you mount two screens next to each other, and most articulate to help you find the perfect height and angle. Many clamp to your desk so take up very little space, but you'll likely need to move your desk away from a wall, if it backs onto one, to make room for the mount.
If your home office is more permanent, you could consider wall-mounting your monitor. That way, there's no arm to clamp to your desk and make room for, and the screen can be fixed at exactly the right height. Wall-mounting also makes lighting attached to the back of the screen look even better.
NB North Bayou Monitor Desk Mount Stand Full Motion Swivel Monitor Arm with Gas Spring for 17-27''Monitors(Within 4.4lbs to 19.8lbs) Computer Monitor Stand F80
Like GearBrain on Facebook