Like GearBrain on Facebook
Crestron is launching a new smart thermostat, a touchscreen device that can installed in newly constructed homes — and pre-existing spaces as well. Crucial to the new Horizon Thermostat is a two-wire design, meaning the device can be put in place without a common wire, and can stay running without the need of a battery.
Crestron is a home automation company that supports smart home technology through centralized control. The smart thermostat works within its ecosystem only. But once installed the new device will dovetail and play nicely with other products within Crestron's platform from dimmers to switches, smart lights to shades.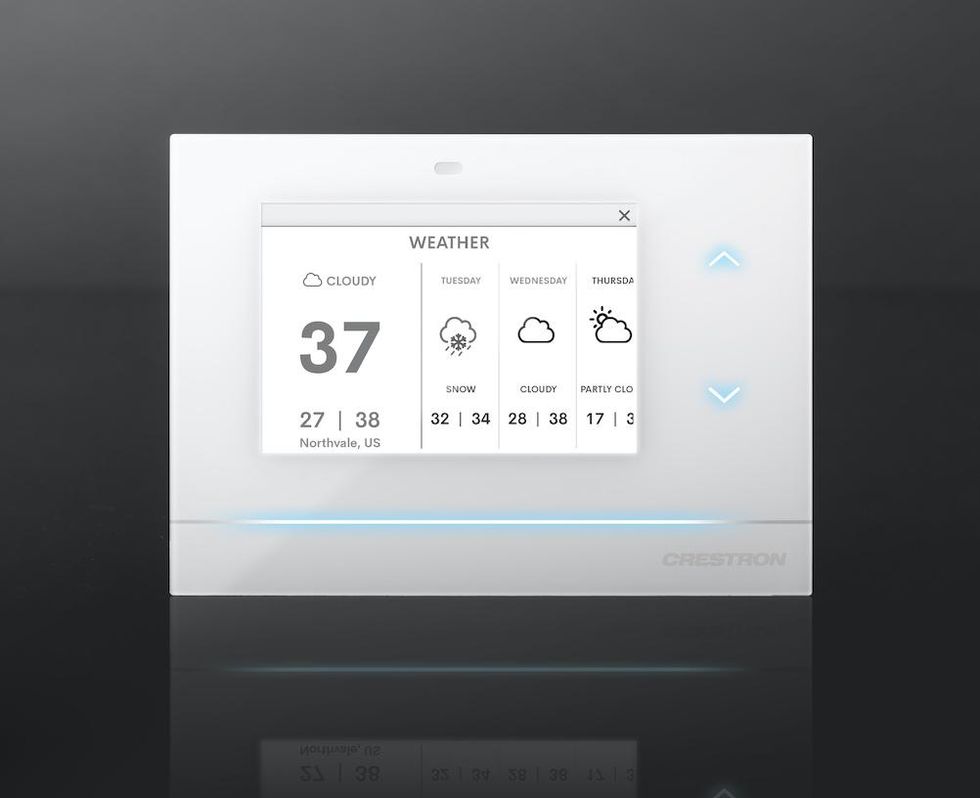 The Crestron Horizon Thermostat can display a home's temperature, the outside weather and moreCrestron
With a touchscreen facing outward, the thermostat's controls are easy to access, and the display can show not just the temperature in a home, but the weather outside as well. The 3.5-inch LCD display is also backlight and will adjust to night and day, but can also be managed by someone's own choices as well. The entire set up links into Crestron's platform over Wi-Fi and because of its depth of just 14 mm, it can sit neatly up against the wall.

The Horizon Thermostat also reacts to the environment, adjusting to the temperature, humidity and even proximity data from sensors in a home. In that way it can create a climate that's comfortable for those who live inside — but also help owners save money on energy as well.
"While traditional smart thermostats often force homeowners and installers to choose between aesthetics, control, and functionality, the Horizon Thermostat was designed to deliver all three as the first smart thermostat that can effortlessly meet the needs of designers, integrators, and consumers alike," said John Clancy, Crestron's executive vice president, Residential, in a statement.
The company has launched a number of new devices in the past year from an audio conferencing system to a video tool that works across a TV in the home. This newest device, the Horizon Thermostat, can be pre-ordered now for $599.
Check out The GearBrain, our
smart home compatibility find engine
to see the other compatible products that work with
Crestron home automation platform.
The GearBrain, First Compatibility Find Engine for Smart Devices www.youtube.com
Like GearBrain on Facebook