Like GearBrain on Facebook
Crestron's newest device is meant to bring professional-level audio conferencing into the home, but pull double duty to help control smart home products too.
With a 7-inch touchscreen, and a four-microphone array, the Crestron Home Audio Conferencing System can connect to both a PC and a Mac, but more keenly it can help to create a set-up in a home office to make it more conducive to calls. The system also works with most of the major conferencing tools including Zoom, Slack, Google Meet, and Microsoft Teams.
But the system can also connect to smart home devices including lights, TVs, thermostats, security cameras and other connected products as well. People will also be able to create and make use of customized scenes, appropriate for a work call, such as a 'On a call' scene which would brighten the lights in a space, stop music playing, and close shades to keep out glares. Even better, an indicator light outside the door of an office turns red on the panel that comes with the system — which can be helpful for anyone in the same living space so they know not to enter.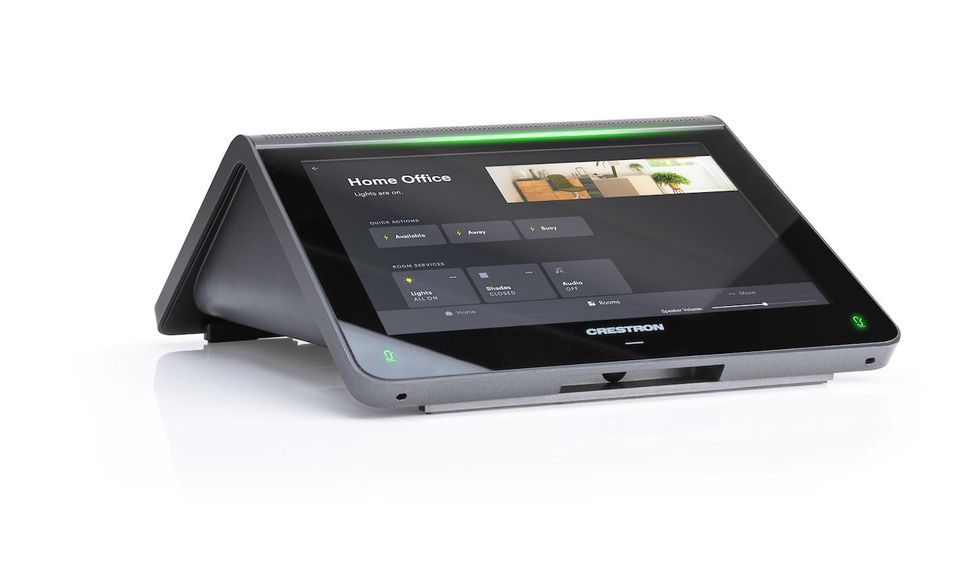 The Crestron Home Audio Conferencing System can be pre-ordered for $1,500Crestron
When someone's done with the call, they can click, 'Off a call,' and everything can be returned as they were — music restarting, shades opening and other details — and the indicator light goes off as well.
Crestron has launched other home conferencing tools during the past year, as people have shifted from working in offices to home because of Covid-19. This includes its HomeTime tool which works with a Logitech MetUp 4K camera, allowing people to create a custom video conferencing setup in their home.
The entire setup does not need to be custom programmed when added to an existing Crestron Home system, and is connected via Wi-Fi or Ethernet.
"Today's hybrid workforce has realized they need their home office spaces to provide flexibility, reduced complexity, and the organizational functionality that they have when they are in their workplace, but the current solutions on the market don't offer enterprise-grade robustness nor integration with high-performance home control solutions," said John Clancy, vice president, Residential at Crestron, in a statement. "The Crestron Home Audio Conferencing System uniquely provides today's executives the high-performance conferencing solutions they're used to at work, in their home."
Crestron AM-101 Video Conversion & Connectivity
Check out The GearBrain, our smart home compatibility checker to see the other compatible products that work with Crestron Home System.
Introduction of The GearBrain, The First Compatibility Find Engine for Smart Devices www.youtube.com
Like GearBrain on Facebook