Like GearBrain on Facebook
Amazon has just started to roll out a new feature to its Fire tablets called Device Dashboard.
Exclusive to its own Fire-branded tablets, Device Dashboard acts like a control center for your smart home, including buttons for controlling everything from lights and plugs, to switches and security cameras.
Read More:
The application is opened by tapping on the new Smart Home button on the left side of the tablet's navigation bar. The app is available on Fire HD tablets from 2018 onwards, Amazon says, adding how the system "provides a simple and convenient way to control smart home products that work with Alexa, such as smart lights, cameras, thermostats, switches, and plugs."
If this sounds familiar, then it looks similar to the Home apps offered by Google and Apple on their smartphones and tablets, so it's a case of Amazon playing catch-up. It is also worth noting how this comes soon after the launch of the new fourth-generation Amazon Echo smart speaker, which has support for Zigbee smart home devices, and control of these is now possible through the Device Dashboard.
While devices can be controlled using this app, management of them (such as creating rooms and zones, or renaming devices) still requires the Alexa app.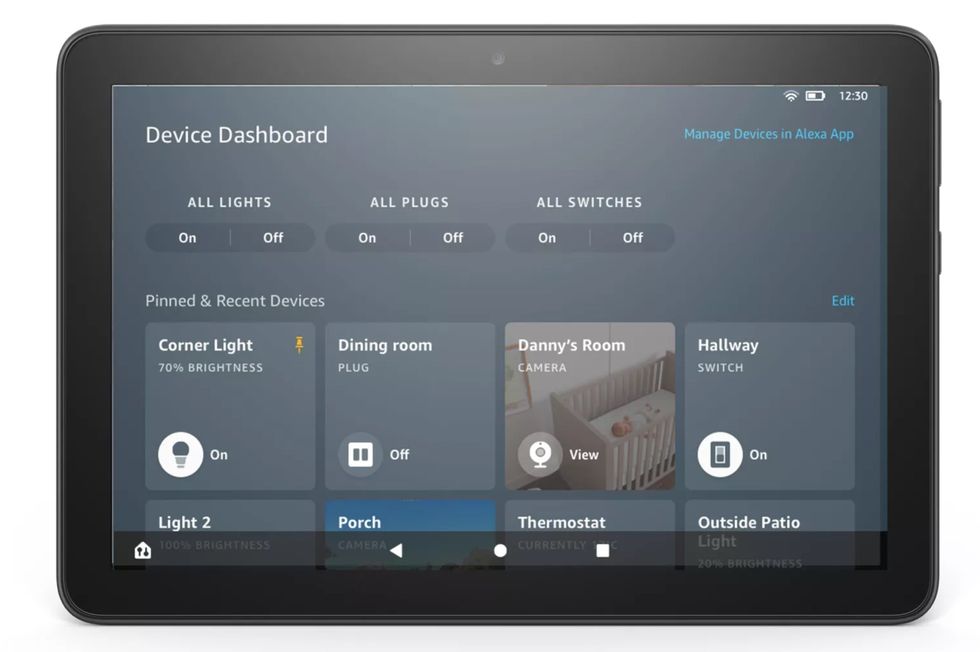 Device Dashboard on an Amazon Fire HD tabletAmazon
We think this is a great idea, as sometimes it isn't practical to ask Alexa to control a smart home device. You might be in a room without an Alexa device to hear your command, or you might want to make an adjustment to your smart home at night without waking someone up.

We can also imagine smart home builders installing a Fire HR tablet on a wall mount in the kitchen, giving them a smart home control center right where they need it, and neatly lifted up off the table or work surface.
It has also been possible to use the Alexa app for smartphones and tablets to adjust devices without speaking. But there is something quite satisfying about holding a larger tablet and seeing all of your smart home controls laid out in front of you. We think the new Device Dashboard could be a more pleasant experience than scrolling through the Alexa phone app.
Amazon Fire tablets that work with Device Dashboard:
2018 Amazon Fire HD 8
2019 Amazon Fire 7
2019 Amazon Fire HD 10
2020 Amazon Fire HD 8
Check out The GearBrain, our smart home compatibility checker to see the other compatible products that work with Amazon Alexa enabled devices.
Introduction of The GearBrain, The First Compatibility Find Engine for Smart Devices www.youtube.com
Like GearBrain on Facebook