The Fire 10 HD is one of the standby devices from Amazon, a tablet with Alexa inside that can handle a bevy of commands. Whether you're pulling up the weather via Alexa, watching news, sending an email or adding something to your Amazon shopping list, the Fire HD 10 can handle these without a hitch.
But one thing the tablet also handles well? Working as a smart home hub. That ability, through a feature called Device Dashboard, is one that was made possible back in late 2020 through an update to Fire tablets.
Amazon recently updated the Fire HD 10 with a brighter screen, longer battery life — up to 12 hours — and more storage. With one in hand, along with a cover, (which Amazon sent us to test) we walked through to find what stood out to us from the optimal side — and what we wish we could change.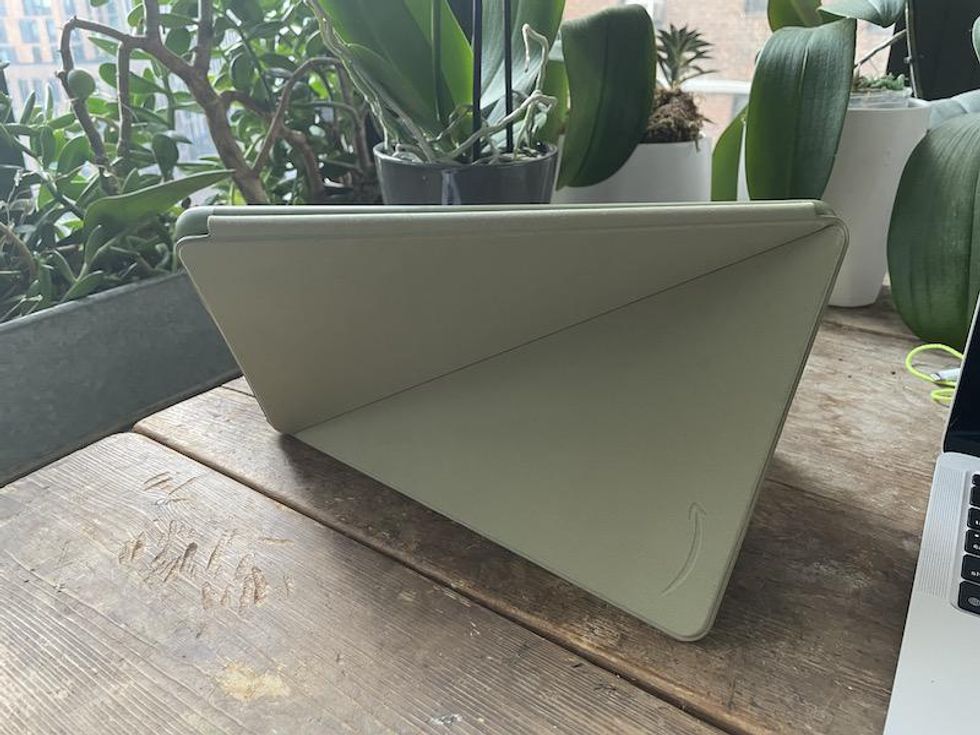 The cover — which is sold separately — act as a stand for the Fire HD 10Lauren Barack/GearBrain
Design

When paired with a Fire HD 10 cover, you can stand the tablet up horizontally or vertically. It's not the most stable of setups though, certainly not like the Amazon Show itself. But in some ways the flexible cover also made it more portable meaning this could be set up at a desk inside or even an outside patio when a change of venue was needed.
There's no getting around the fact that the screen is glossy and beautiful — that's the HD feature at play plus the updated brightness. And the device itself really does look like a standard tablet, with the 10-inch size here a nice screen.
We tested the 32GB model, which is a lot. As you download media, for example, like a movie or TV show the tablet will actually tell you which level you want to download based on how much storage it will take up.
You have a 2MP front facing camera which came in sharp and clear when testing on calls. The device has Dolby Atmos audio but I did find the playback on some media to be a bit flat and tinny. But the screen is gorgeous in all uses.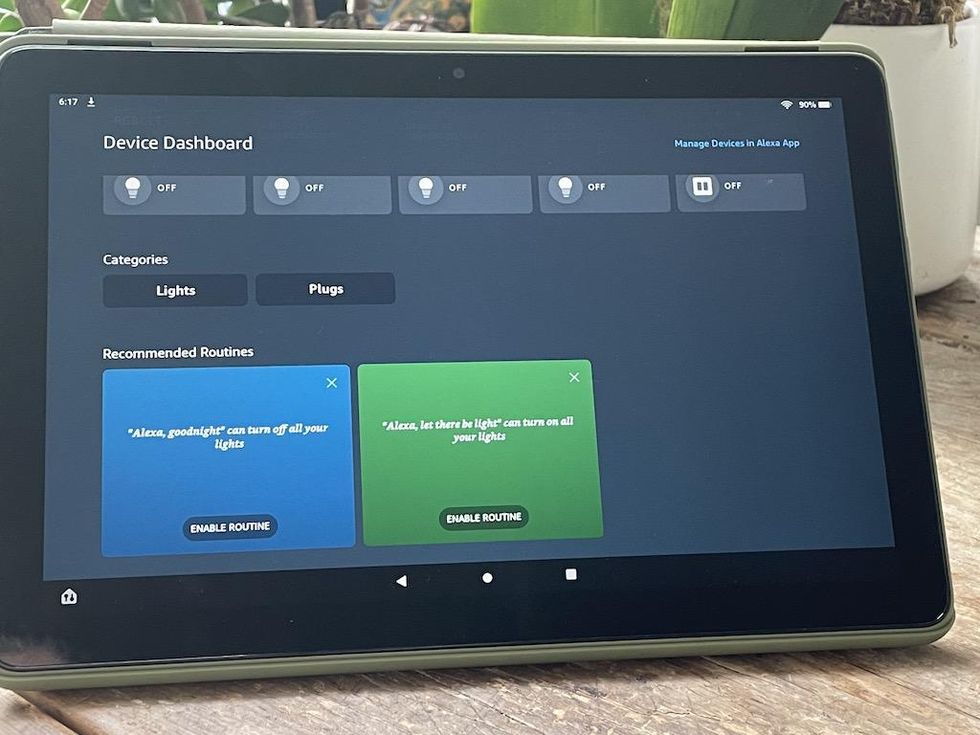 Device Dashboard lets you access some of your Alexa-enabled devices and RoutinesLauren Barack/GearBrain
Device Dashboard

Let's jump next into the Device Dashboard which is a relatively new feature — and one that does tie into Alexa's controls around using smart home devices.
You will, at setup, need to link the Fire HD 10 to an existing Alexa account to use Device Dashboard. Once that's enabled (which the tablet will walk you through at setup), clicking on the Device Dashboard icon will immediately link up all the devices in your Amazon Alexa app.
The icon is also easy to find, and very centrally located — placed at the lower left of the screen and also visible when most of the other apps are open as well. You can even access it from the lock screen by swiping from the bottom left up to the right on a diagonal (although Routines will be hidden until you unlock the device completely.)
You can also open this screen by just asking Alexa, although I found that I had to be very specific and ask, "Alexa, show my Smart Home Dashboard." If I swapped "show" with "open" this did not work. And it's also worth noting that the icon is not visible while in Show Mode.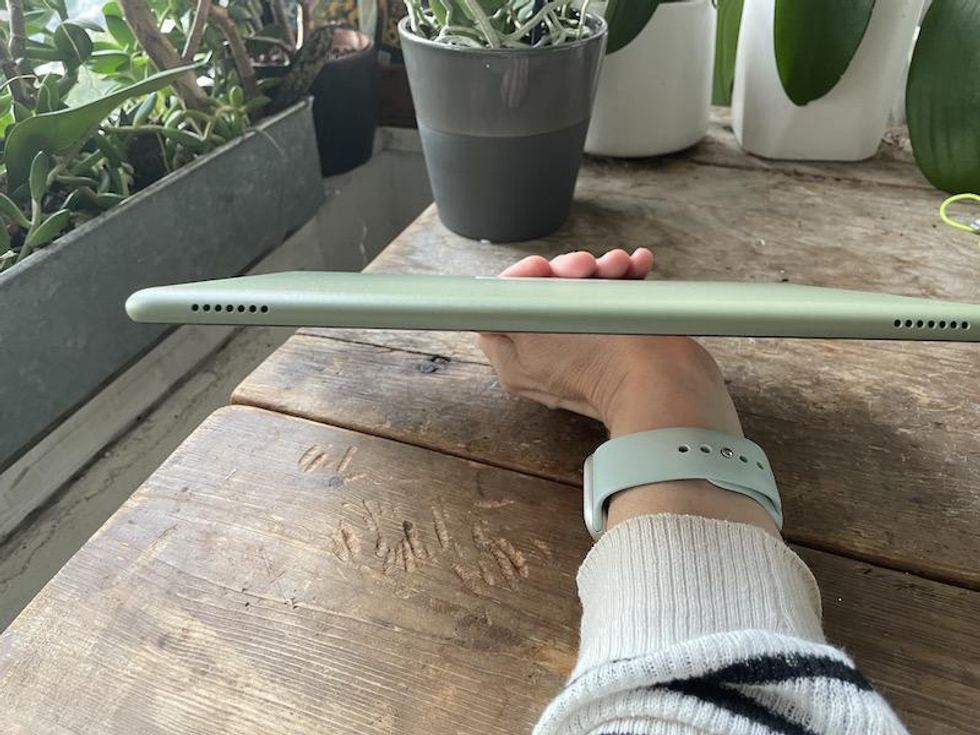 The Fire HD 10 tablet is extremely thin with speakers that sit on the left of the deviceLauren Barack/GearBrain
Device Dashboard is going to look very much like the Amazon Alexa app but stretched out horizontally. You'll see all the device you have connected to Alexa — and whether they're responsive or not. You can check through different categories of devices — but be aware you're limited here.

I could pull up lights and smart plugs, but other devices connected to my Alexa account from smart vacuums to even Echo speakers were not visible. Nor could I use certain Echo features like Drop In or Announcements which are specific to Echo speakers.
But I could grab some of my Routines stored in the Alexa app, and Device Dashboard also suggested others as well.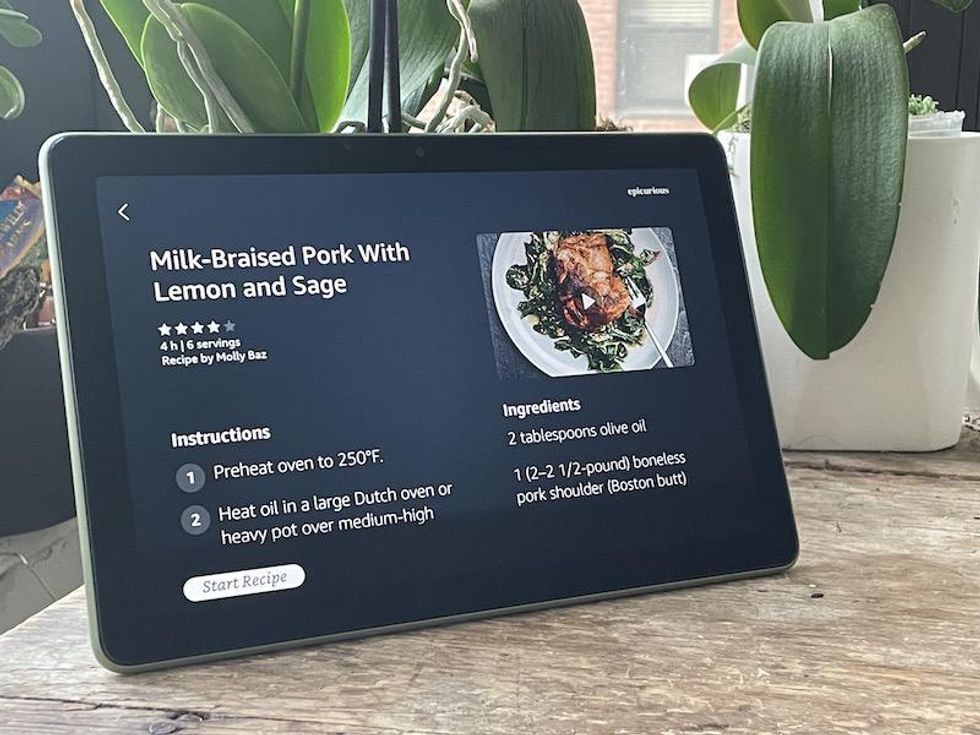 Show Mode is one of the features on the Alexa Fire HD 10Lauren Barack/GearBrain
Show Mode

What key though is you can actually go right to your Alexa app in the Fire HD 10 — and there I could see, and use, all of the devices connected to my Alexa app — and even take advantage of Drop In as well.
You can also of course take advantage of Drop In and other features by going into Show Mode, which is a way to turn the Fire 10 HD app into an Alexa Show. You can ask Alexa to open this (and also ask Alexa to close it to return back to the tablet mode.)
We've written quite a bit about Show Mode, including how it works on other devices like the Lenovo Smart Tab M10, an easy way to bring up music, recipes, games and more. It's a fun space to use, and again for someone committed to the Alexa ecosystem, it's great to use.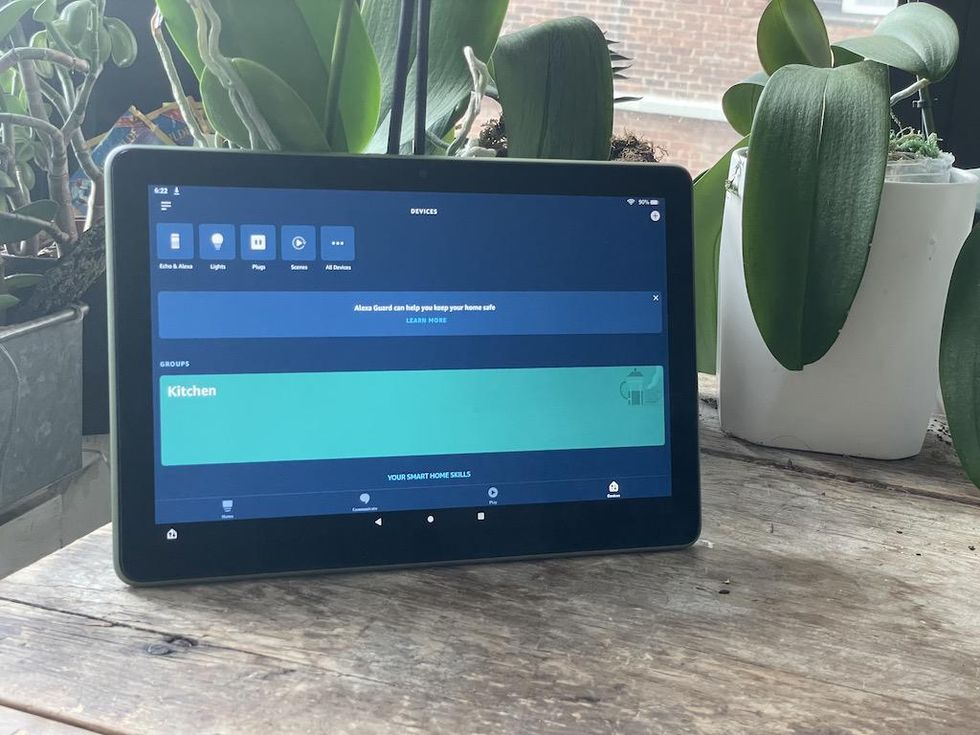 You can access more smart home devices by opening the Alexa app directly on the tabletLauren Barack/GearBrain
Extra features

In terms of some of the extra features. Not every interface is fantastic. The Newsstand section, for example, quickly pulled up my subscription to The Washington Post, and I found the design here less than friendly in terms of reading. It showed me stories as just headlines — no images — and I can't imagine reading my daily paper here rather than via the paper's own app.
This setup though is in stark contrast to the News app on the Fire tablet which is beautifully designed, easy to scroll through and launched automatically into live video feeds where applicable. I do wish I could have shifted this to a horizontal view — but vertical was fine.
You can of course set up a passcode or password to lock the device. And you can also tell the Fire HD 10 to trust the network you're on, such as your home Wi-Fi, which will stop it from asking for a passcode when it's on this network.
Price
You can pick up the Fire 10 HD tablet for $150.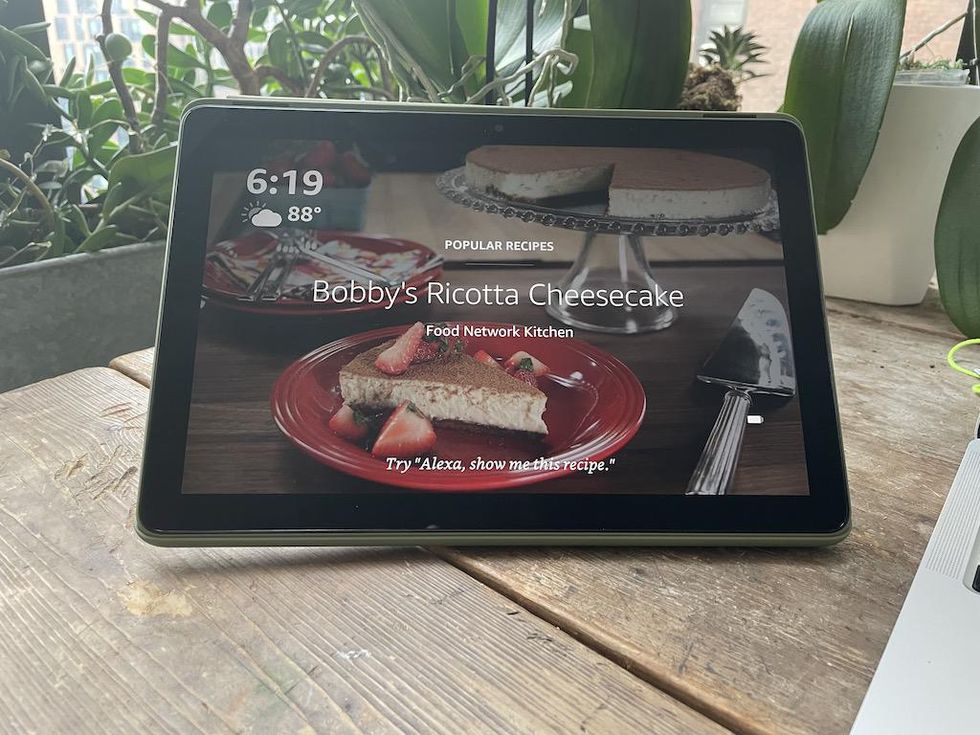 For someone baked into the Alexa and Amazon ecosystem, the Fire HD 10 is a solid tabletLauren Barack/GearBrain
Worth buying

The Fire HD 10 tablet is a solid device, a fully functioning tablet, one that can also work as a smart home controller.
If you're not an Alexa user at all, our even an occasional Amazon shopper or Prime member, this is likely not the right tablet for you. Yes, it works as a tablet. But to really use the Fire 10 HD for what it's best as, you should be at the least casually using Alexa as a smart home platform or be someone invested into Amazon's ecosystem.
For someone baked into the Amazon system, or someone who has committed to Alexa as their smart home platform, the Fire HD 10 is a solid option to consider.
Be aware, though — Device Dashboard doesn't turn your Fire 10 HD into a dedicated Echo device as there are still quite a few tools it doesn't include. You can though, access some of these features through Show Mode and also by opening the Alexa app on the tablet.
You might even consider the Fire 10 HD in lieu of an Echo Show for the tablet features you can get as well. Yes, it may not offer the same stability — literally — as an Echo Show, it also brings some portability into the mix. Which for many may be a plus.
Pros:
Great display
Works with Device Dashboard to link up some smart home devices
Dovetails perfectly with Alexa ecosystem
Cons:
Not as physically stable as an Echo Show if Show Mode is your primary mode
Device Dashboard doesn't support all Alexa enabled devices
Not ideal for those who don't use Amazon or Alexa, its voice assistant.
Check out The GearBrain, our smart home compatibility find engine to see the other compatible products that work with Amazon Alexa enabled devices.
All-new Fire HD 10 tablet, 10.1", 1080p Full HD, 32 GB, latest model (2021 release), Black
7 Tips Everyone Needs to Know About How to Use Amazon Alexa and Google Assistant Enabled Devices www.youtube.com