Like GearBrain on Facebook
When looking for a good outdoor security camera , you need to look for a few basics, from weatherproof and weather resistance, to good night vision and motion detection. Good video resolution is also important so you can clearly see what has been detected by your outdoor camera — no matter the time of day. One camera we recently tested with solid video resolution is D-Link's new Full HD Outdoor Wi-Fi camera. Here are out thoughts after testing it in a real home.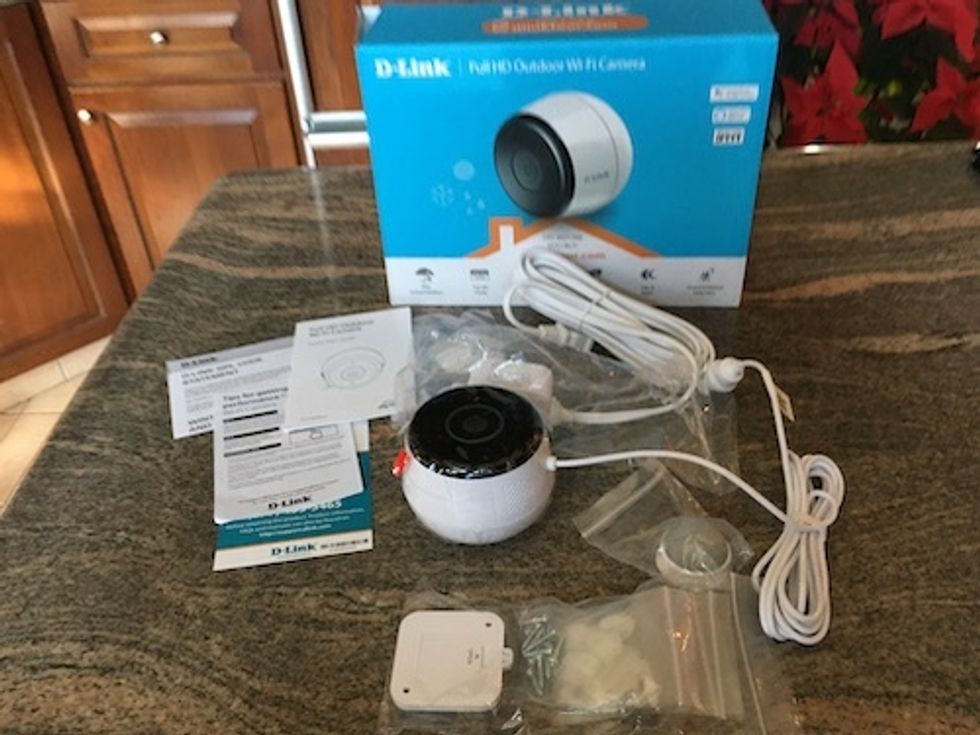 D-Link Outdoor Wi-Fi Camera unboxed GearBrain
What is D-Link HD Outdoor WIFI Camera?
The D-Link HD Outdoor Wi-Fi Camera is an outdoor Wi-Fi security camera with full HD clarity, two-way communication, day and night vision, cloud and local video storage plus sound and motion detection. It's also certified weather resistant (IP65) and very easy to setup and install.
This outdoor camera features pinch to zoom capabilities, and can record in full HD 1080p quality video or 720p. You can access the camera remotely from anywhere for free using the mydlink mobile app. At night, because the camera has night vision, you can see objects up to 23 feet away. The camera also comes with 135-degree field of view (FOV) and a 2MPO CMOS sensor.
D-Link also offers a nice ecosystem for users to tap in for smart home compatibility through the same mydlink app. Plus, the camera works with both Amazon Alexa and Google Assistant devices which is great, giving you more flexibility. You can also setup automations using If This Then That (IFTTT) applets if adventurous.
Installation is simple. The camera comes with instructions but we recommend using the mydlink app. Just unbox the camera and attach the mounting bracket. Then follow the instructions. The entire process should take you about 30 minutes depending on where you plan to install the camera outside your home. But remember — you will need an outlet nearby. The camera is not battery powered but it does have a long power cable.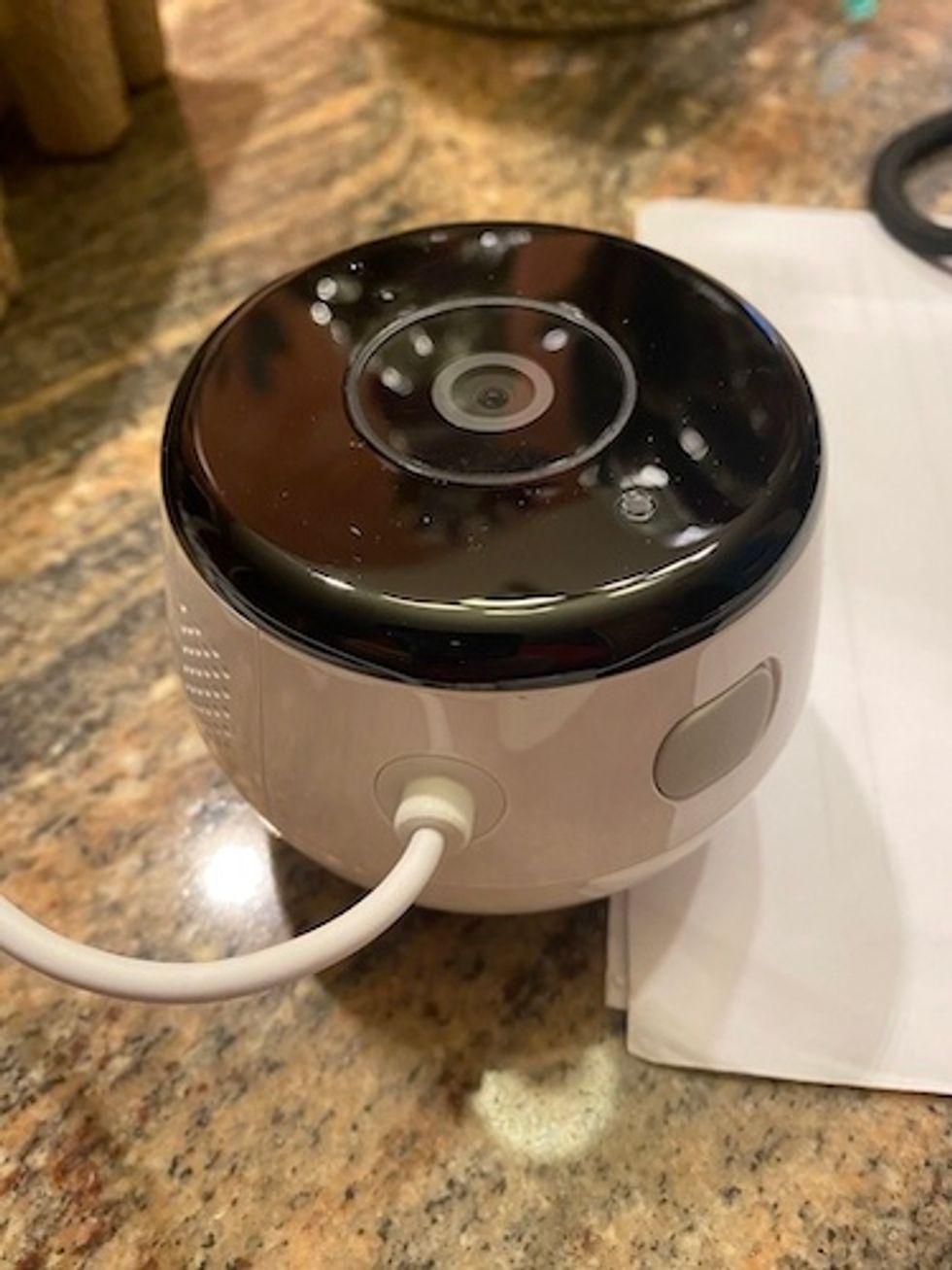 New D-Link Outdoor camera comes with a long power cord GearBrain
During the setup process you will need to scan the code on the plug to pair the camera with the mydlink app. Then, connect your camera to your home Wi-Fi network and select your destination. The camera connects via an 802.111gn wireless connection and Bluetooth 4.0.

Once you're done with that step, you have an option to subscribe to D-Link Cloud recording service. Although the camera does have local storage capabilities (microSD card slot), you can pick a plan if you want to store videos longer than 24 hours. D-Link offers free one-day storage for up to three cameras.
Here are details on the other plans offered:
Basic – up to three cameras for seven days for video storage at $2.49 per month or $24.99 per year.

Premium – up to five cameras for 14 days of video storage -at $4.99 per month or $49.99 per year.
Pro – up to 10 cameras for 30 days of video storage at $9.99 per month or $99.99 per year.
Unboxing in less than 10 Seconds - D-Link Full HD Outdoor Wi-Fi Camera www.youtube.com
Cost
The D-Link Full HD Outdoor Wi-Fi Camera is $149.99, and is available on Amazon.
D-Link Outdoor Security Camera Wireless Wi-Fi Home Surveillance in Full HD, Phone App Notifications, Local & Cloud Recording Available, Works with Alexa (DCS-8600LH-US)
Features

In the mydlink app you can setup alerts based on motion and sound detection. But we also like how you can select up to 25 different activity zones and customize the sensitivity levels in those specific spaces too. I can't tell you how many times we test a security camera that doesn't have this functionality and the number of false alerts we receive.
To get activity zones working, go to Device settings, activate the camera microphone and select motion settings to setup your zones and sensitivity levels. Please note that the camera's motion detector is very sensitive. Depending on the area your camera will be monitoring, you might have to play around with the settings for a few days until you find the right level for your camera.
Another good feature in the mydlink app is the ability to view multiple camera feeds from the home screen with just one click. You also setup a one tap option from the app's home screen for any smart home automations , very helpful if you have multiple smart home devices that work with D-Link.
You can also control the night vision in the app, setting it to auto, on or off. Plus, there is a privacy mode which allows you to turn off Live View, motion and sound detections and any recordings.
Morning - 1080p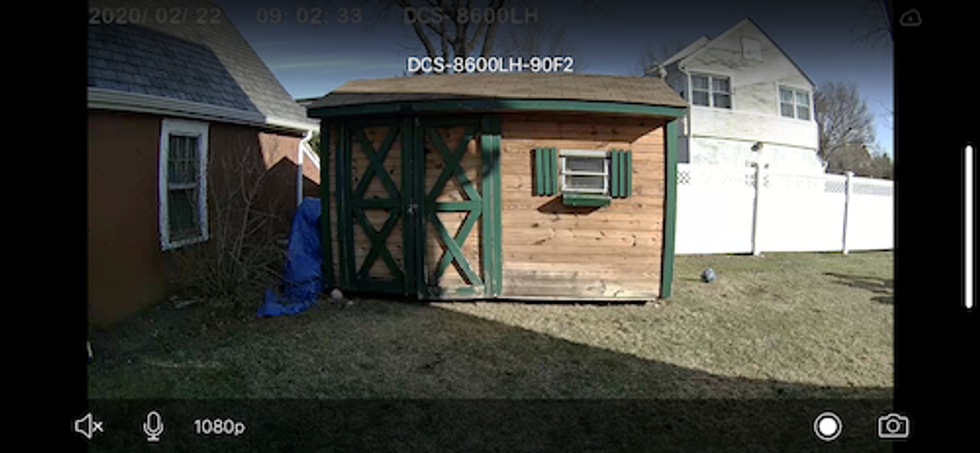 morning view in 1080p fron D-Link camera
GearBrain
Nice crisp video in the morning.
Afternoon - 1080p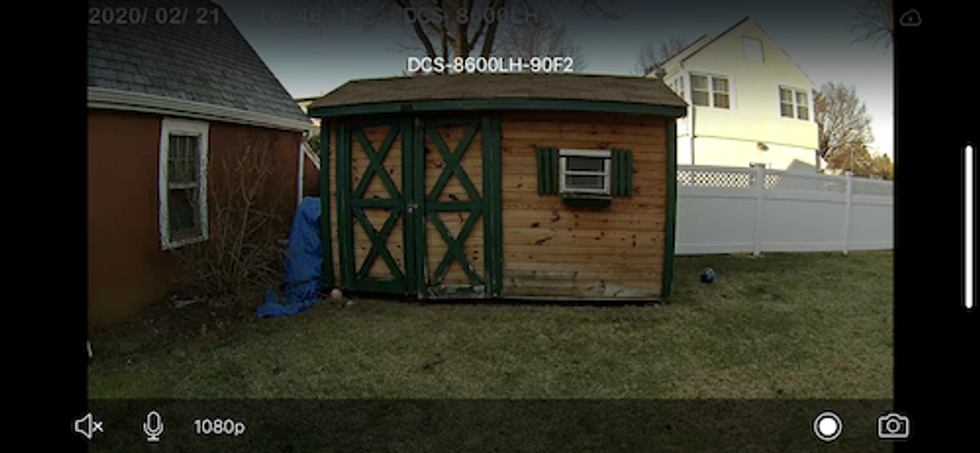 afternoon view from D-link in 1080p
GearBrain
Clear view in the late afternoon with good zoom capabilities.
Night Vision - 1080p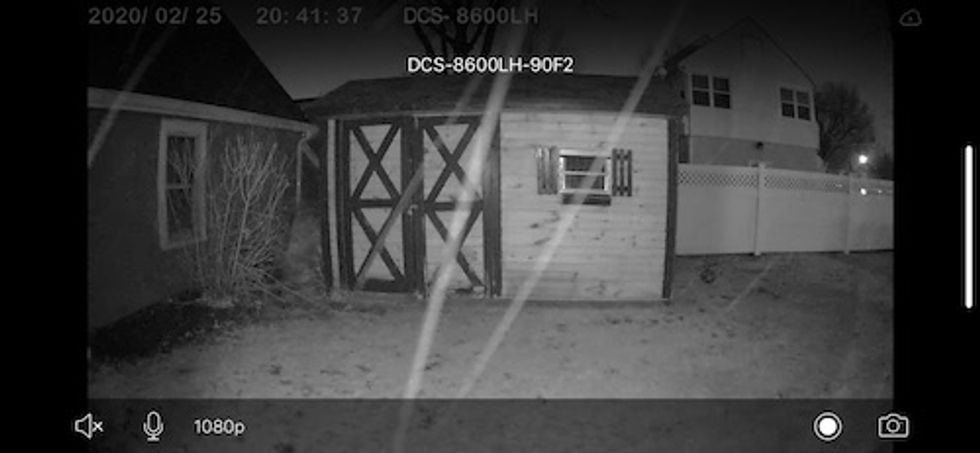 night vision in 1080p pickes up rain drops
GearBrain
Night vision is in Black and White and is clear. You can even see the rain drops.
Smart Home Integrations
There are a lot of D-Link smart home devices you can integrate into the mydlink app. Both Google Assistant and Amazon Alexa-enabled devices work with D-Link products. You can also find If This Than That (IFTTT) applets with several decent automations to implement in your home.
We tested the integration of our D-Link Outdoor Camera with a Lenovo Smart Display with Google Assistant and we had some issues initially with the setup. Using the Google Home app, we found two mydlink devices, mydlink home and mydlink smart. Use mydlink smart to pair your D-Link camera with Google Assistant. Once paired with the app, we continued to have issues with getting Google to show us what our 'Backyard Camera,' on the smart display. We are going to continue to test this integration and will report back when we can see the view from our D-Link camera on the Google Assistant smart display .
When browsing through the IFTTT applets, we found some interesting automations using D-Link cameras. For instance, there was one applet that triggered an automation when motion was detected by your D-Link camera. The automation triggered a smart plug to turn on a lamp if no one was home.
Performance
The overall performance of the D-Link Outdoor Camera was good. The picture and video quality of the camera was sound, especially compared to other D-Link cameras we have tested. The sound from the camera's speaker is clear. We liked how you can switch back and forth between 1080 to 720 video resolution, and how easily we could snap a photo or grab a video clip using the app.
We found the motion sensitivity definitely worked, but we did need to play around with these settings to find the right level. At first, we were getting notifications when a raindrop hit our camera, but after adjusting the sensitivity setting, the feature worked well.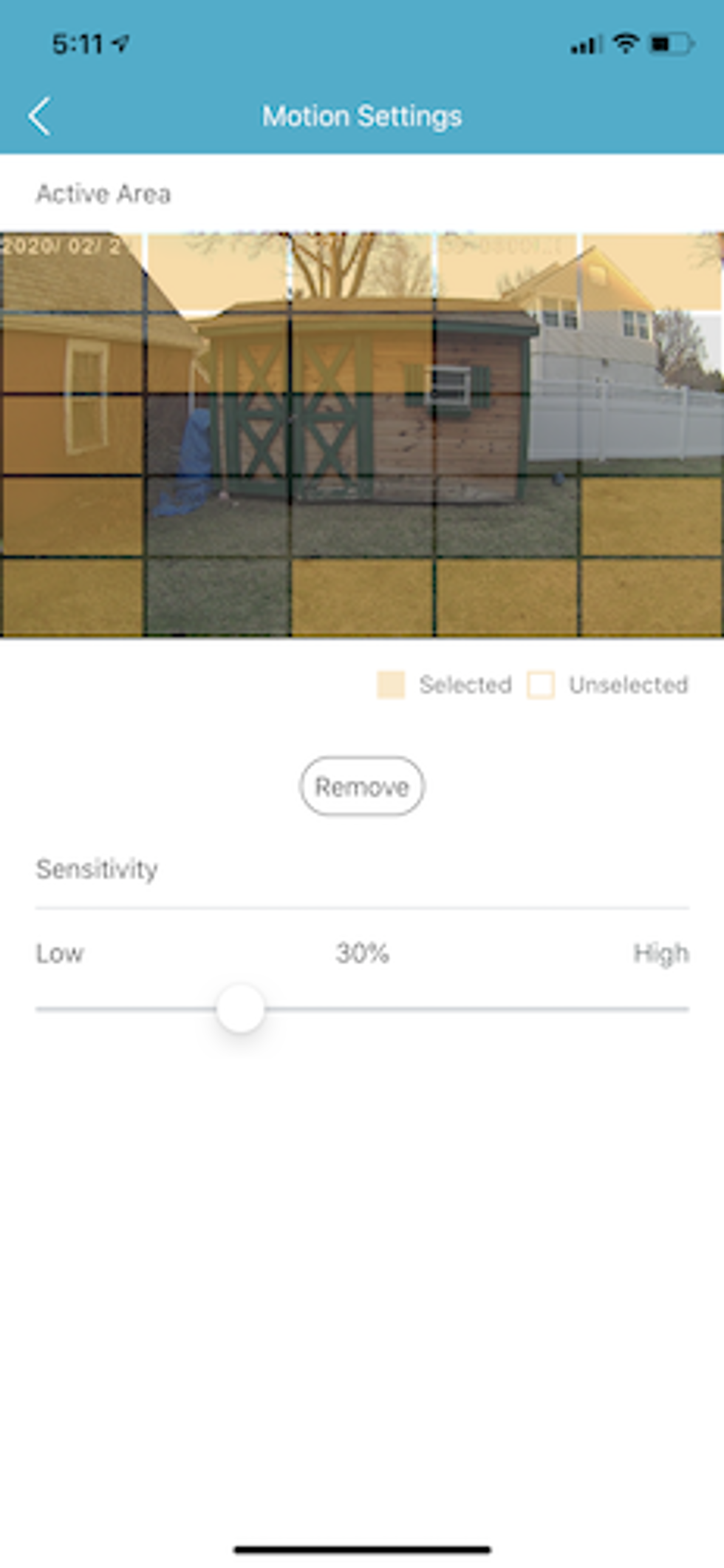 you can set motion detection areas in the D-Link app. GearBrain
We did, however, have some issues with the size of the camera, as the device is rather big and requires an outlet. Depending on where you want to position it, you may hit some limitations on where you can mount the camera. Luckily, though, the camera comes with a very long power cord.
The mydlink app is really the brains of the camera, and we appreciate how D-Link has upgraded this to focus more on the smart home, and less just on the camera. You can now control other smart home devices in the app, and also create automations and alerts. There are several good video tutorials as well. However, the performance of the app is spotty, and while we are not sure if this had to do with our home Wi-Fi network , we found the app didn't respond quickly to requests. We had problems with the one-tap setups, and also trying to access video from the home screen. Many times, it took more than 30 seconds for the video feed to appear in the app, even though out camera was within 20 feet of our home router, which the company says is the desired distance for it to work.
Summary

The D-Link HD WIFI Outdoor Camera has solid video quality, is easy to setup and works with Google Assistant and Amazon Alexa smart speaker displays. There are also many good IFTTT applets that let you integrate the D-Link camera with other best of breed smart home devices. However, the cost of this camera is rather high, especially for a cloud-based security camera. Many good cloud-based security cameras are less than $100. This D-Link camera costs $150. Also, the motion detection is extremely sensitive. You will need to play around with it to find the correct setting that doesn't set up false alerts, especially when it's raining.
In addition, even though the mydlink app has been upgraded and is designed now to be more of a controller for smart home devices, we can see it's still evolving. The performance was not consistent, especially compared to other security camera apps with good smart home ecosystems . But we do like the video tutorials and the "privacy mode" feature in app.
Who should buy this camera? If you currently own a D-Link camera, this is a good camera to add to your system. You know it will work with your other cameras and you can use the mydlink app to see all your cameras in one simple and clear view. If you're looking for a cloud-based wireless HD outdoor camera, this is a good camera to consider. You just need to make sure you have a power outlet nearby and a very good strong wireless signal.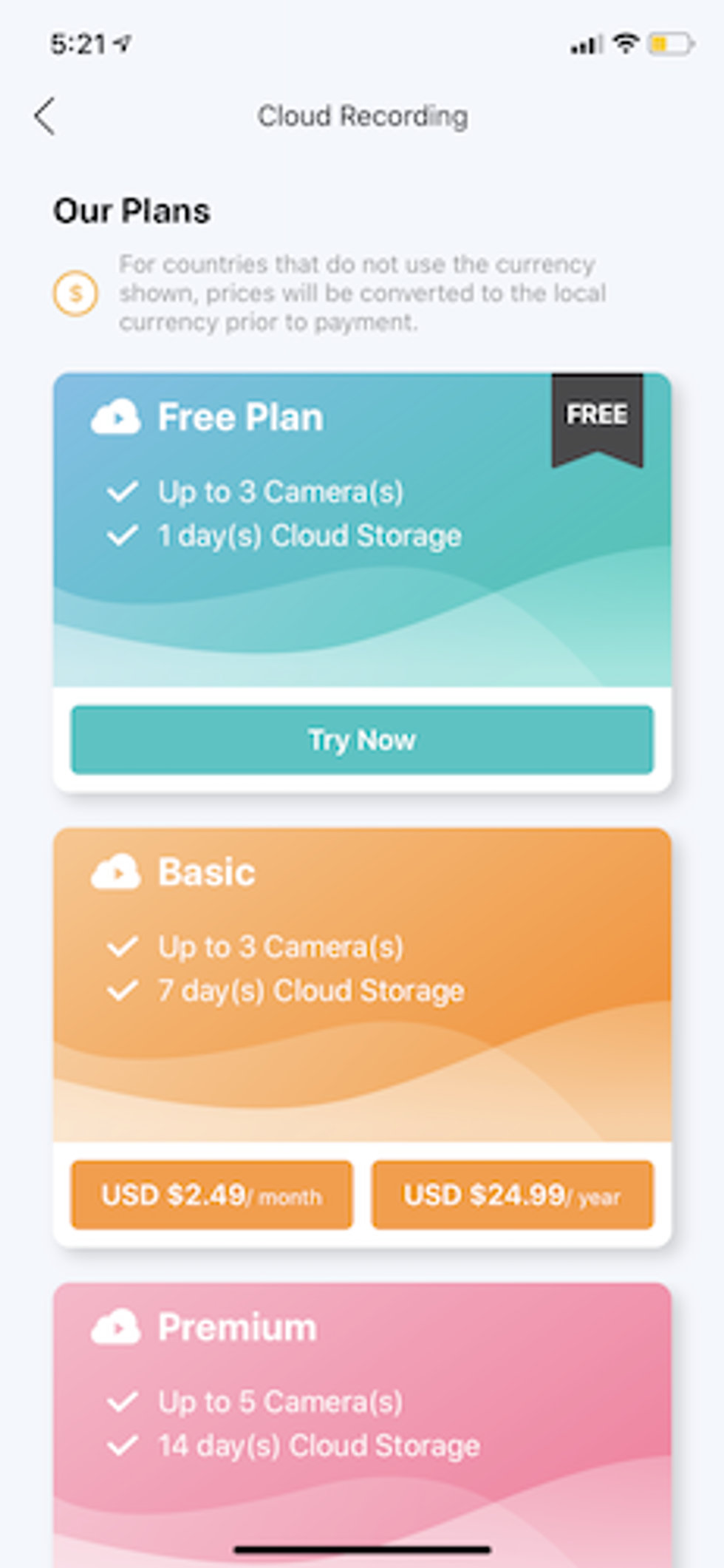 D-Link offers three cloud video storage plans GearBrain
Pros:

HD 1080p video quality and clear night vision
Good video tutorials
Integrations with Google and Alexa smart displays and easy to setup
Cons:
Requires power outlet and r equires strong wireless signal outside of the home
Spotty mobile app
Bulky design
D-Link Outdoor Security Camera Wireless Wi-Fi Home Surveillance in Full HD, Phone App Notifications, Local & Cloud Recording Available, Works with Alexa (DCS-8600LH-US)
Like GearBrain on Facebook