Like GearBrain on Facebook
There are two distinct reasons why you'd consider buying a Wi-Fi security camera for your home: either to alert you if someone enters your space while you're away, or to act as sort of a nanny cam to let you watch (or spy) over those still at home when you're not. Because of the lack of GPS geofencing technology — or a way to automatically switch on sensors to alert you about what's happening at home when you're not— lower-priced models such as the D-Link DCS-936L Wi-Fi security cameras ($69.99, discounted from $89.99) are more appropriate for the latter usage case scenario.
As a camera that can give you a look at what's happening inside a room, the 936L isn't a bad lower-price Wi-Fi camera choice. But there are limitations and also some drawbacks to the camera, even in this price range for using in a smart home.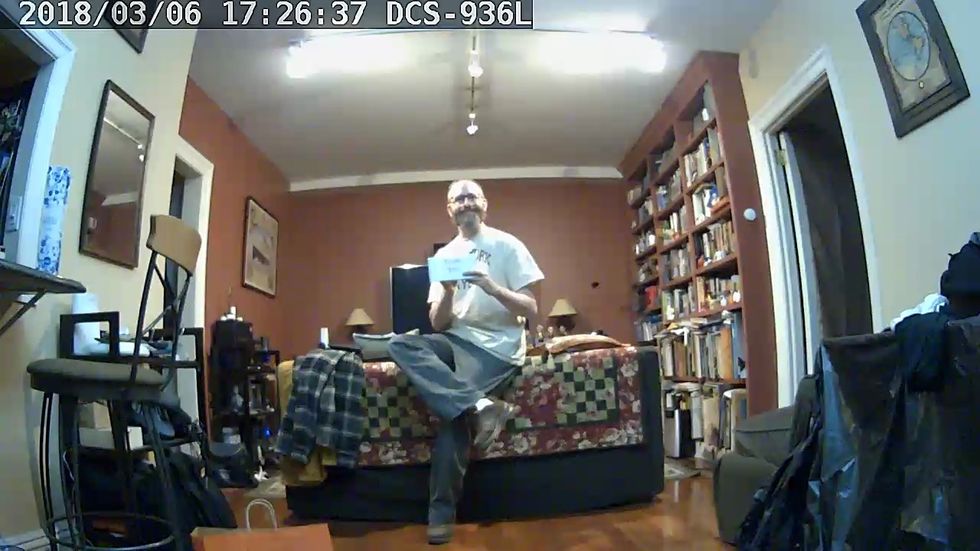 Faces are a bit fuzzy and details are hard to make out on screen.Stewart Wolpin for GearBrain
Setup
The 936L is a 2.5-inch wide black circular camera that hinges-up and out from its base, which can sit on a tabletop or shelf, and can also be wall-mounted. The camera can be turned 360 degrees to accommodate varying mounting angles.
It constantly surprises me why some models, like this one, continue to employ such labyrinthine connection set-ups, especially since its own DCS-8000LH sets-up with less folderol. Like the 8000LH, the 936L includes a QR code to speed its pairing to your smartphone. But you are still instructed to switch from the dlink Lite app to your smartphone's Wi-Fi settings to directly connect the camera to its own network. Once this camera-to-app pairing is accomplished – and it took a couple of attempts for the 936L's network to pop-up in the available Wi-Fi list – you then return to the mydlink Lite app, where you are instructed to choose your home network, including 5GHz networks, to connect to pair the camera.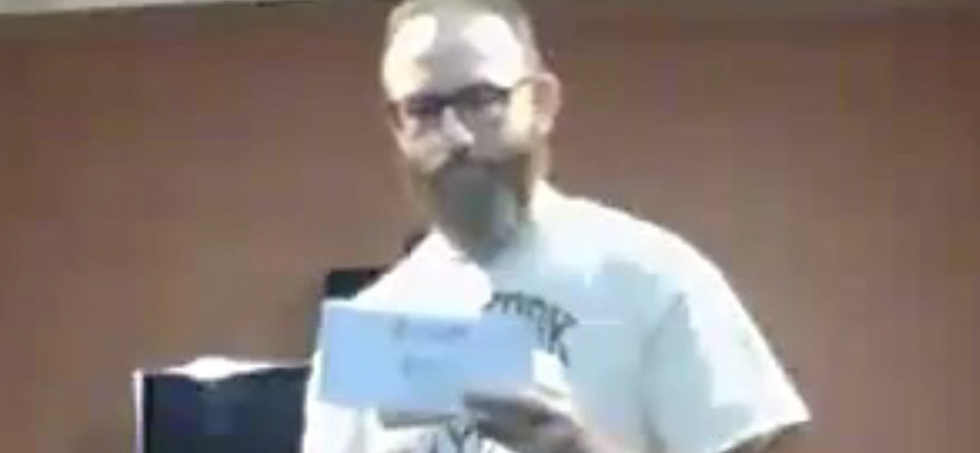 Although you can zoom in on video, details are blurred.Stewart Wolpin for GearBrain
Usage
Spec-wise, the 936L streams 720p video, which you can pinch-zoom 4x. However, footage isn't as detailed as you'd expect. Faces are fine, if a bit fuzzy, but details are lost — the pad I'm holding has "D-Link 936L" on it, but this notation is completely washed out. You can manually record live streams to your smartphone's memory or set it to automatically record to a microSD card up to 128GB (which is not supplied) when the camera detects either motion or sound – not both, which we'll get to in a second. The camera displays an only slightly warped 120-degree view, and will auto-switch to night mode when the room is dark, up to 16 feet. You also can capture still photos of the live stream.
For control, D-Link confusingly provides two different apps. In the manual for the camera you are instructed to download the mydlink Lite app. But, while I was having trouble setting up the 936L's little sibling, the 8000LH, I was told by tech support to download the newer and more complete "universal" mydlink (no "Lite") app, which would have remained unknown to me otherwise. Plus I found the two-app approach unnecessarily confusing.
How functional the 936L will be is dictated by which of these two apps you use. For instance, if you want to receive motion or sound alerts when you're not home, you'll have to use the universal mydlink app, which also enables a host of other Alexa-enabled, Google Assistant and IFTTT-compatible smart home control functions.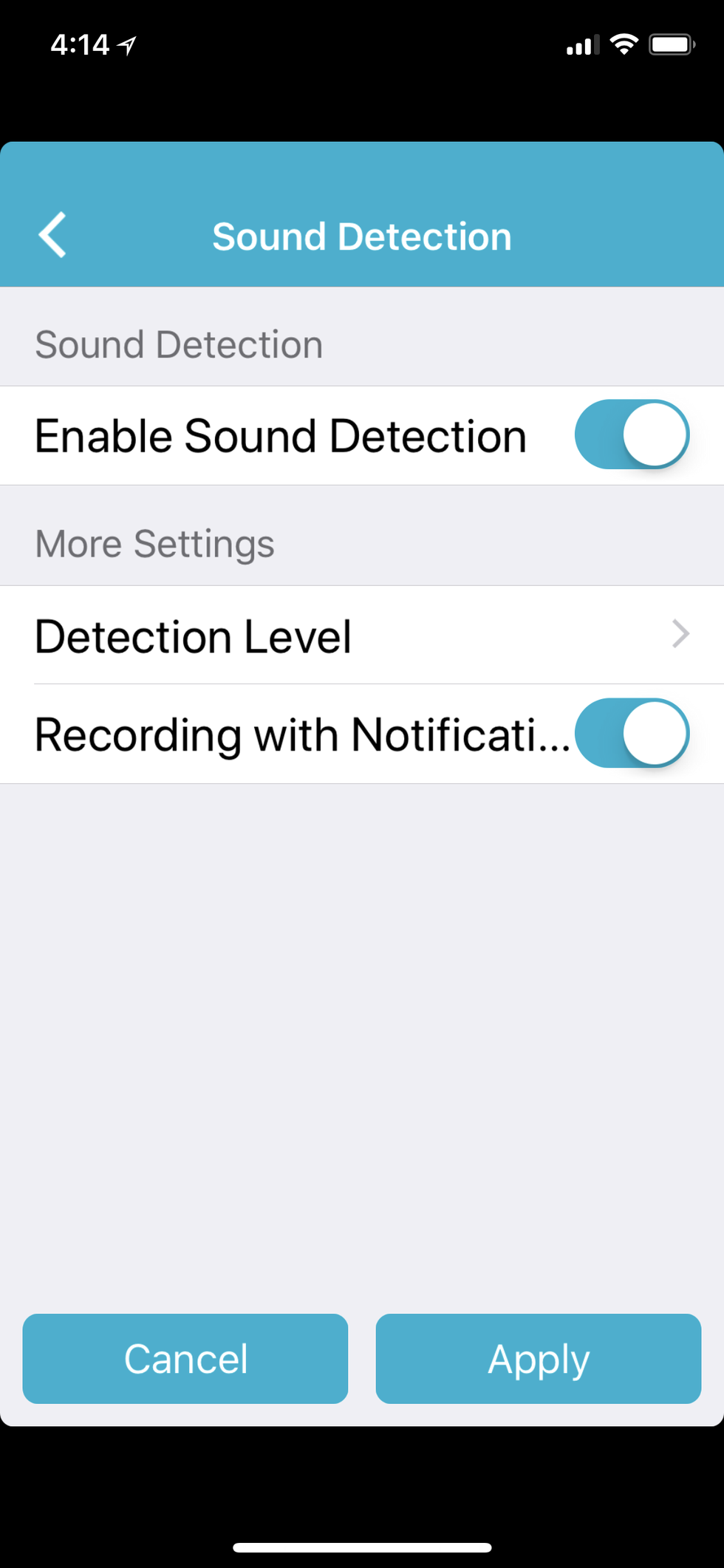 You can enable sound detection in the app, to record footage if something is heard inside your home.Stewart Wolpin for GearBrain
As noted, within the mydlink Lite app, recording can be triggered either by motion OR sound – not both, which I found a serious limitation. If set to motion and someone breaks a window to get in, the 936L won't start recording until the intruder moves within the camera's motion sensor range. If you set the 936L to sound, a silent intruder won't get recorded at all. Oddly, the motion detection settings ("Recording by Motion Detection") doesn't indicate you'll get notifications, while the sound settings ("Recording with Notification") does.
But while the 936L dutifully recorded all detected motion and sound events via the mydlink Lite app, I was not once alerted to any of them. Within the mydlink Lite app settings you theoretically can choose motion sensor zones, but I was found the 936L not able to do so — and apparently this is true for other D-Link camera models as well.
I also couldn't hear anything on the 936L live stream, even when I toggled the microphone on/off. I did get sound on footage recorded to my smartphone and to the microSD card, but the microSD card sensor-triggered footage was dark and grainy. All videos are time stamped, but with a 24-hour clock.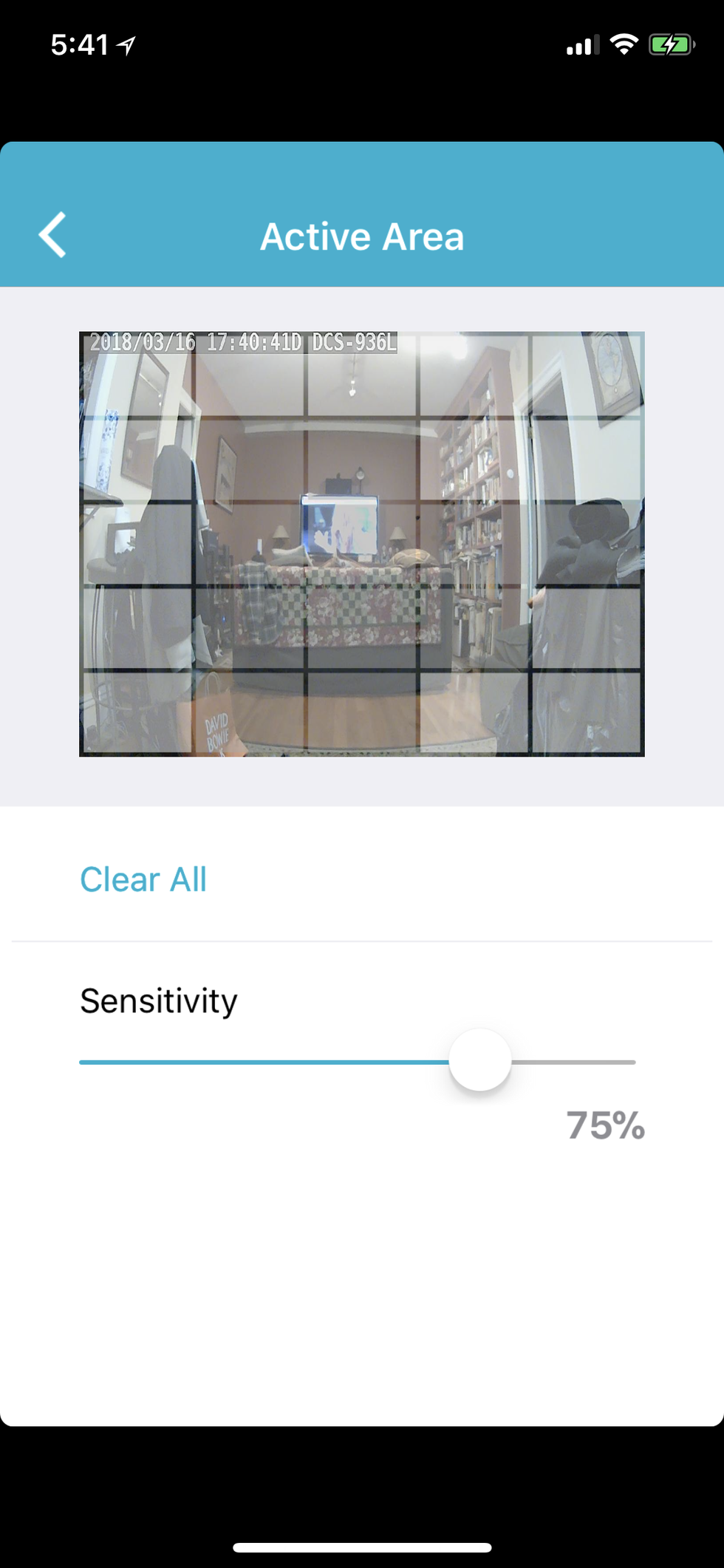 You can adjust the sensitivity of the motion detector in the app.Stewart Wolpin for GearBrain
As I used the full mydlink app, notification results were hit-and-miss. I got notifications with sound, but not motion – and when I switched back and forth, I stopped getting sound notifications altogether. I also couldn't get the 936L to record me with the motion detector set at 100 percent sensitivity and me moving in front of the camera, even after I deleted the new universal app and tried again.
If you use the full dlink app to receive motion or sound alerts, we still think the 936L for our first usage case – watching your home if you're away — is not ideal. For one thing, with no GPS geo-fencing, you need to remember to turn on the alerts each time you leave the house. With Wi-Fi cameras that offer that option, this is certainly a drawback. And with the sound and motion problems I encountered, I could imagine a thief taking the 936L, leaving no record of a sensor-triggered event.
Conclusion
While well-priced, D-Link's lack of features that are already on the market today on other cameras, make the device not ideal. The two apps don't really make sense, and we would have preferred that D-Link bring the less complex set-up on the company's own 8000LH to the DCS-936L — and we hope D-Link will consider making that change.
Pros
• Inexpensive
• Flexible tabletop/wall mounting
• Local SC card recording
Cons
• Awkward set-up
• No cloud recording
• Two potentially conflicting apps
Like GearBrain on Facebook