Like GearBrain on Facebook
General Motors believes the era of hands-free driving should start as soon as next year.
Its fully autonomous cars, set to go into mass production in 2019, lacks conventional controls — there is no mirror, steering wheel nor pedals. There are, however, screens for every passenger and what appear to be two large, red emergency stop buttons in the roof and within reach of all passengers.
Revealed by GM today, January 12, the new vehicle is still, however, recognizably a car from this era, and not the kind of far-flung concept automakers tend to default to when discussing full autonomy. And this glimpse at the near-future comes a month after GM made the bold announcement to have a fully driverless taxi fleet up and running in 2019. The all-electric car will be based on GM's fourth-generation Chevrolet Bolt, currently being tested on the public roads of San Francisco and Phoenix.
The self-driving cars will be used for autonomous ride-hailing services in a number of US cities, and produced at GM's factory in Orion, Michigan. But ultimately where the cars hit the road is subject to local laws — and which cities actually allow fully autonomous cars, with no safety driver, on the public streets in the first place. Still, GM is fully behind the future of autonomous cars.
The potential revenue from a single autonomous car working as a taxi is far greater than that of comparable cars sold by GM today, Dan Ammann, GM's president, told investors December 30. The robo-taxi could earn revenue in the "several hundred thousands of dollars" region, Ammann said, compared to the $30,000 average revenue earned from GM cars sold today.
Where other companies like Lyft, Ford, Uber and Google sibling Waymo are forming partnerships to make the autonomous car a reality, GM is taking the Tesla approach and going it alone. Unlike Tesla, however, GM has a century of car-building experience under its belt and the deep cash reserves necessary to buy itself a head start.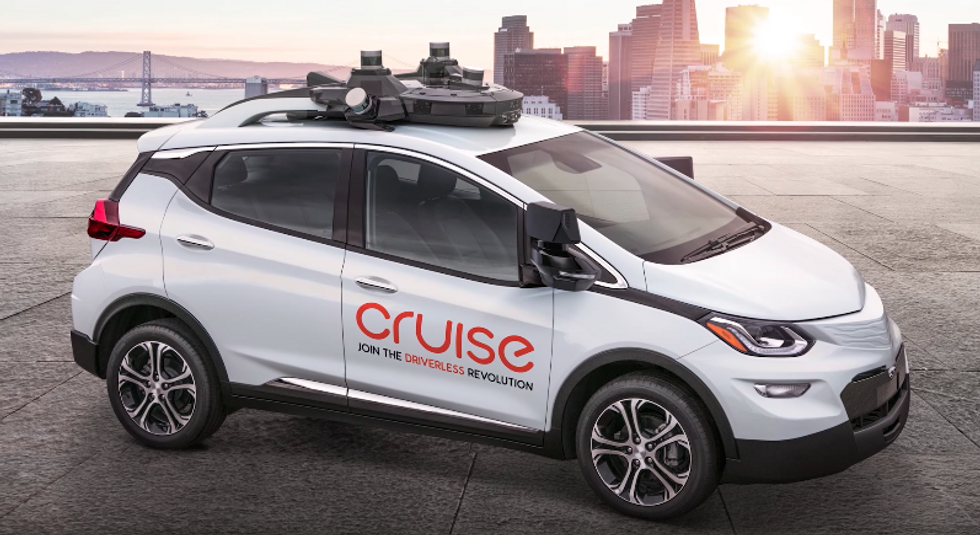 The driverless car will be GM's fourth-generation Chevrolet BoltGM
GM purchased driverless tech startup Cruise Automation for a reported $600 million in 2016, and a year later acquired Strobe, a company which GM thinks can help it cut the cost of manufacturing autonomous car sensors by 99 percent.
To get its cars on the public road there are many hurdles for GM to clear. First, some of the current rules simply don't apply to a car without conventional controls. For example, new cars must have an airbag in the steering wheel — but in this vehicle there will be no steering wheel. GM is seeking permission to adhere to the rules in slightly different ways by fitting a passenger airbag on both sides of the dashboard, for example.
The 2019 target is a lofty ambition, even for GM. Fellow established car company Ford, who recently partnered with Uber rival Lyft, has set itself the target of producing a car without a steering wheel in 2021.
Like GearBrain on Facebook