Barely a day went by in 2017 without autonomous car technology making headlines. We saw self-driving buses in Las Vegas, Ford employees dressed as car seats in Virginia and Google's Waymo unit going fully driverless for the first time — even as Uber likely felt it was a year to forget.
GearBrain's gathered the biggest autonomous car stories of 2017 — to reminisce on a year in which driverless tech took us for a bumpy ride in the fast lane to the future.

January 20 — Self driving bus trial arrives in Las Vegas
On public roads, just a few minutes from McCarran International Airport and the famous Las Vegas strip, a 12-seat electric bus produced by French company Navya whisked passengers along a short route at 12mph, navigating its way around real human-driven traffic. "We are living in the day of The Jetsons," said Las Vegas Councilman Ricki Barlow. The bus would open to the general public later in the year.
February 2 — Uber accused of testing driverless trucks without a license
2017 proved a disastrous year for Uber, largely through its own making. Just two months after Uber's autonomous cars were banished from San Francisco for not having the correct license, Otto — the self-driving truck startup Uber had bought for $680M in 2016 — suffered the same fate.
While testing its trucks on public roads in California, Otto was accused of operating the vehicles in a driverless mode, despite telling state authorities that this was not the case. John Simpson, privacy director at Consumer Watchdog, a nonprofit which closely follows autonomous testing in California, was outraged by the discrepancies between what Otto said it was doing — and what its trucks were actually doing.
"It seems obvious Otto is following the renegade and illegal practices of its parent company...This is the same thing as driving without a license, and the enforcement folks should be pursuing this with vigor. I think someone should be in jail," he said.
February 27 — Driverless race car revealed
With a top speed of 200mph, Roborace revealed its first car at Mobile World Congress in Barcelona. Weighing 2,149 pounds, the car was designed by Daniel Simon, whose CV includes work on Tron: Legacy and Star Wars.
Equipped with four electric motors, the car uses five Lidar, two radar, 18 ultrasonic and two optical speed sensors — plus two cameras — to race around circuits and battle with its driverless competitors.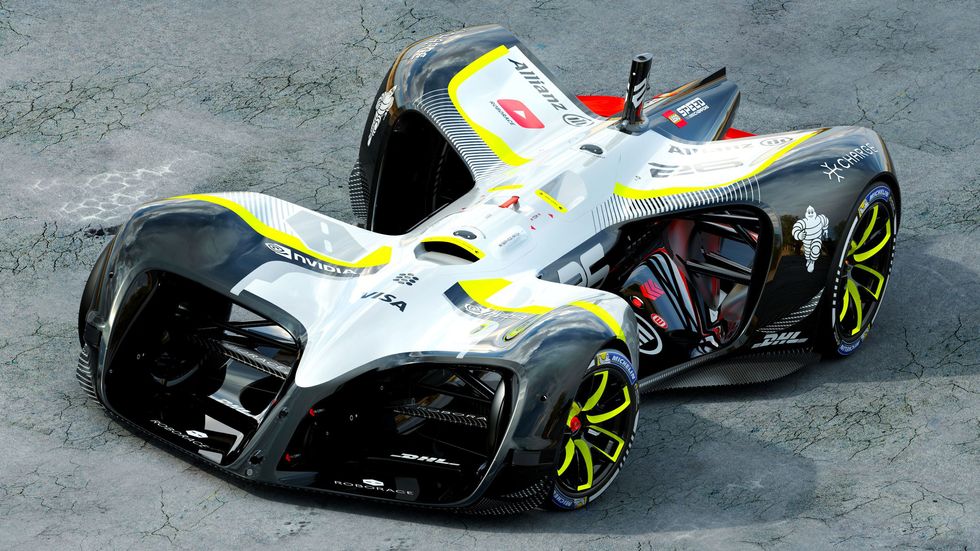 The Roborace car is the world's first fully autonomous racerRoborace
March 6 — Volkswagen Sedric shows us what Level Five autonomy could look like
An abbreviation of 'self-driving car', the Sedric is what the VW minibus of the 2020s — with no driver, naturally, and a bright and spacious interior where passengers can relax and work. VW says, once made real, the Sedric will have Level Five autonomy, the highest level of driverless technology involving no driver at all. There aren't any conventional controls to wrestle with if the computer makes a mistake. Which it won't, VW says…
April 24 — Waymo announces autonomous taxi service
Four months after Uber is ushered out of San Francisco due to its autonomous taxis running red lights and falling over, Waymo announces plans to launch a driverless service of its own.
Waymo, owned by Google parent Alphabet and spun off from the search giant, looks for potential riders in Phoenix, Az to sign up for a free trial service. The test would operate across an area twice the size of San Francisco, using a fleet of modified Chrysler Pacifica minivans, each with a safety driver ready to take over in an emergency.
June 20 — First Tesla Autopilot death was not car's fault, authorities rule
A year after Joshua Brown lost his life after his Tesla Model S crashed into a truck, authorities ruled the car — and its Autopilot system — not at fault. Brown, 40, had been driving for 37 minutes before the crash. But he'd held the steering wheel for just 25 seconds of that time. The car issued six audible warnings telling him to retake control, but these were ignored. When a truck pulled across the road ahead, neither the Tesla's Autopilot system nor Brown saw it, due to its white color being indistinguishable against the bright sky.
Tesla boss Elon Musk said after the crash that improvements to the Autopilot system meant such an accident would not happen again.
July 11 — Audi says new A8 can drive itself while the owner watches TV
The German auto company says its new A8 is the first car that can drive itself to such an extent that a driver can hand over control — and watch TV — at speeds of up to 37mph. With a press of a button marked AI (artificial intelligence), the car will start, accelerate, steer, brake and stop itself without human input.
Audi even said drivers can "take their hands off the steering wheel permanently and, depending on the national laws, focus on a different activity that is supported by the car, such as watching the on-board TV."
With a further software update due soon, the car will also be able to remotely park itself in a garage with no one inside.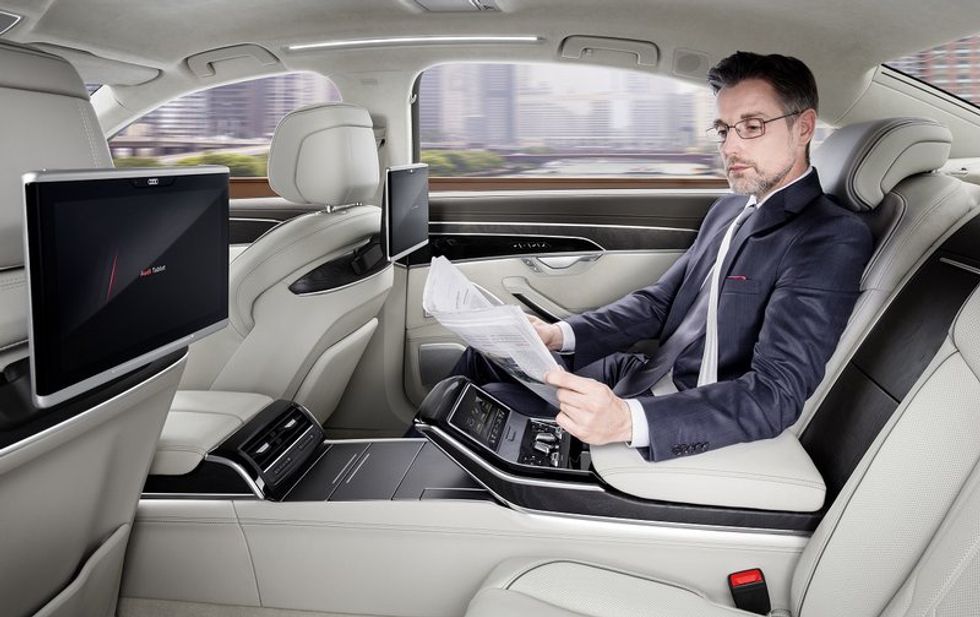 Audi claims even the driver can read a paper or watch TV in the new A8Audi
August 31 — Samsung gets approval to test autonomous cars
In late August it was revealed that Samsung had received approval from the California Department of Motor Vehicles to test self-driving vehicles on public roads. Other holders of such a license include Apple, Nvidia, Waymo, BMW, General Motors and Volkswagen.
There is no speculation about Samsung building its own car — as there was with Apple — but it is entirely likely that the technology company wants in on Silicon Valley's latest trend, and is working on self-driving systems of its own.
September 10 — Waymo seeks $2.6bn from Uber in driverless tech lawsuit
Google sibling Waymo has spent much of 2017 locking horns with Uber, which it claims stole 14,000 pages of intellectual property relating to its autonomous driving technology. The pair are expected to meet in court in February 2018.
September 13 — Ford reveals why it had someone dress up as a car seat
A month after footage emerged of a mysterious van driving around Arlington, Va —with no one apparently behind the wheel — Ford came clean. It admitted to modifying the seat of a Transit Van so the driver could hide in the upholstery. This made the van appear driverless, helping Ford record the reactions of pedestrians and other drivers.
Later in September, Ford announced it had partnered with ride-sharing company Lyft to work on an autonomous taxi service.
October 6 — Elon Musk is 'full of crap' said General Motors director
Scott Miller, director of GM's autonomous vehicle division, claimed Musk would not be able to deliver a Tesla with Level Five autonomy — one which requires no human onboard — with the electric car's current hardware.
Musk had previously claimed every new Tesla leaves the factory with the hardware for full autonomy — just needing the software updated. However, Miller said he was "full of crap" explaining that he doesn't believe this is possible without Lidar sensors — which Tesla does not use.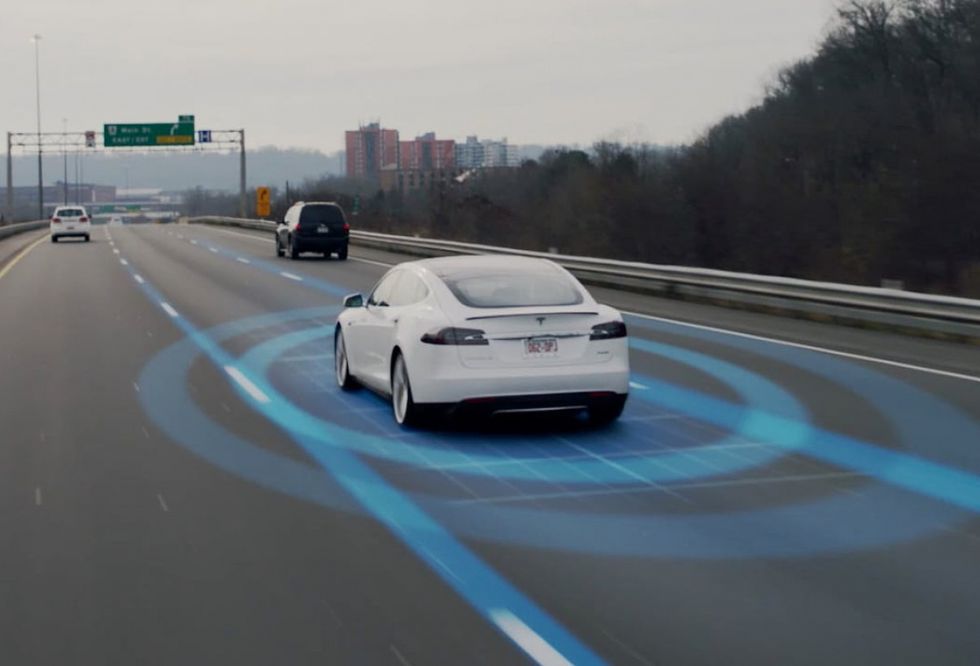 GM director says full autonomy is impossible with current Tesla hardwareTesla
November 7 — Waymo removes the driver entirely

Putting its money and reputation where its mouth is, Waymo published a video on YouTube showing off its autonomous Chrysler minivans driving without no one behind the wheel. The video shows how customers in its taxi trial can step aboard, pick where they want to go, and be chauffeured by a fully automated car.
November 9 — Autonomous Las Vegas bus has its first crash
Remember that self-driving bus from January? When service started in November the bus had a fender-bender on its very first day of duty. No one was hurt in the incident, where a truck hit the bus while driving at a walking pace. The bus was back on duty before the end of the week.
December 6 — Lyft launches autonomous taxi service in Boston
Uber rival Lyft began an autonomous taxi trial with a fleet of electric Renault Zoes in the Seaport district of Boston, using technology from startup NuTonomy, spun out of the Massachusetts Institute of Technology (MIT).
December 11 — Apple is no longer keeping its autonomous car project a secret
After years of secrecy and speculation surrounding Apple's mysterious Project Titan, the company has — over the course of 2017 — drawn a clearer picture of what is going on. There is no car, and instead Apple is working solely on creating a self-driving system. Its achievements are revealed by Apple's head of AI at an industry event in California in early December, where Apple shows off vehicles, road and pedestrian detection features.