Ecovacs is launching a new robot vacuum, one that uses 3D light technology to help it navigate around a home. The system can help the smart cleaner move past cords, around shoes and avoid small toys — like those for your dog.
Two new accessories are also launching, one, called the Ozmo Pro, that turns the T8 into a mop with a high-frequency vibration that moves 480 times a minute and can remove, says Ecovacs, 99.26 percent of bacteria on floors. The system can also detect when it's on carpets, and thereby not spray water, and the 240 milliliter water tank can clean over 2,000 square feet, just like the Deebot Ozmo T8 AIVI.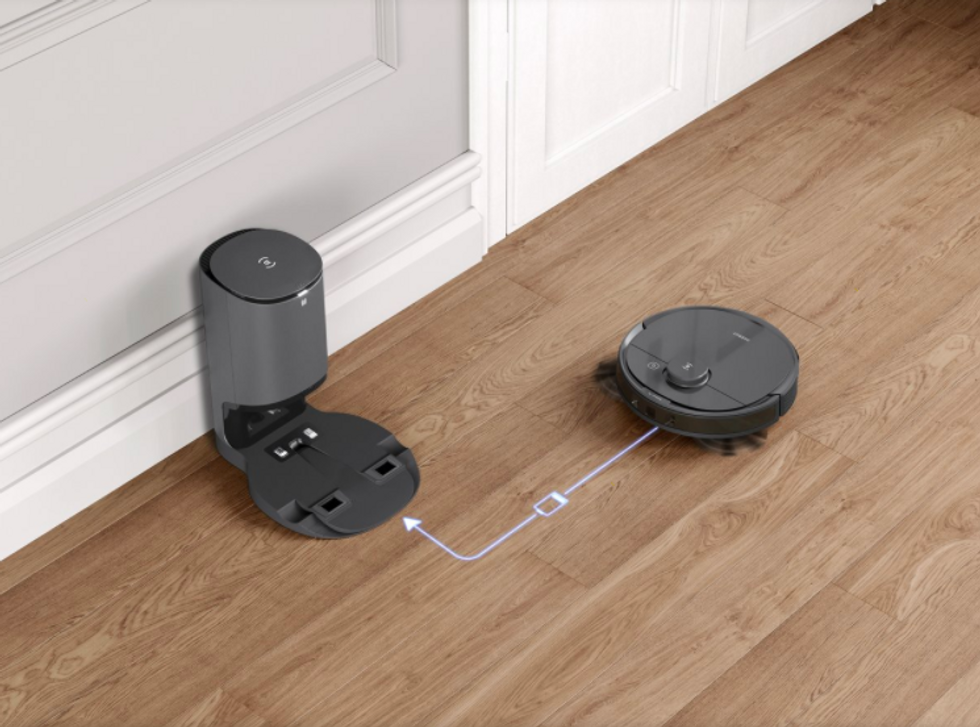 The Ecovacs Deebot T8 can send itself to the Auto-Empty Station to drop off dirt and debris and then continue to cleanEcovacs
The second new accessory is an Auto-Empty Station, which Ecovacs says will hold up to 30 days of dirt, debris and pet hair. The station works similarly as the Roomba i7+, where the vacuum will take itself to empty its cleaning bin. The station will even alert you — aloud —when it's time for a new bag.

New features for the T8 also include a system Ecovacs calls TrueDetect, which uses light technology to map objects around it, capturing not only the shape, but the depth and distance away from the vacuum. The company says the technology is ten times more accurate than infrared, can pick up on objects as small as 2 mm, and helps the robot vacuum at not missing areas to clean. The T8 also has a 5200mAh battery, a bit smaller than the T8 AIVI, and can run for up to 3 hours, cleaning up to 3200 square feet.
The new Deebot T8 goes on sale today for $649, and can be found on the Ecovacs' web site, as well as Amazon, Wal-Mart and Target. This makes it on the higher end of the Ecovacs line of robot vacuums, certainly more expensive than the Ecovacs Deebot 500 at $199.99. The Ozmo Pro, the new mopping accessory can also be picked up for $99.99 on Ecovac's web site, and the new Auto-Empty Station is also on the company's web site, for $249.99.
Ecovacs DEEBOT 500 Robot Vacuum Cleaner with Max Power Suction, Up to 110 min Runtime, Hard Floors and Carpets, Pet Hair, App Controls, Self-Charging, Quiet, Large, Black