Like GearBrain on Facebook
The Ecovacs Deebot 500 is a smart vacuum in the classic sense — classic in that it won't empty its own bin and won't talk to you. But it does what a vacuum is designed to do: clean to the floors of your space quickly and efficiently. We put the Deebot 500 through one of the roughest tests, seeing how it handled a home full of pet fur and Christmas tree needles.

Read More: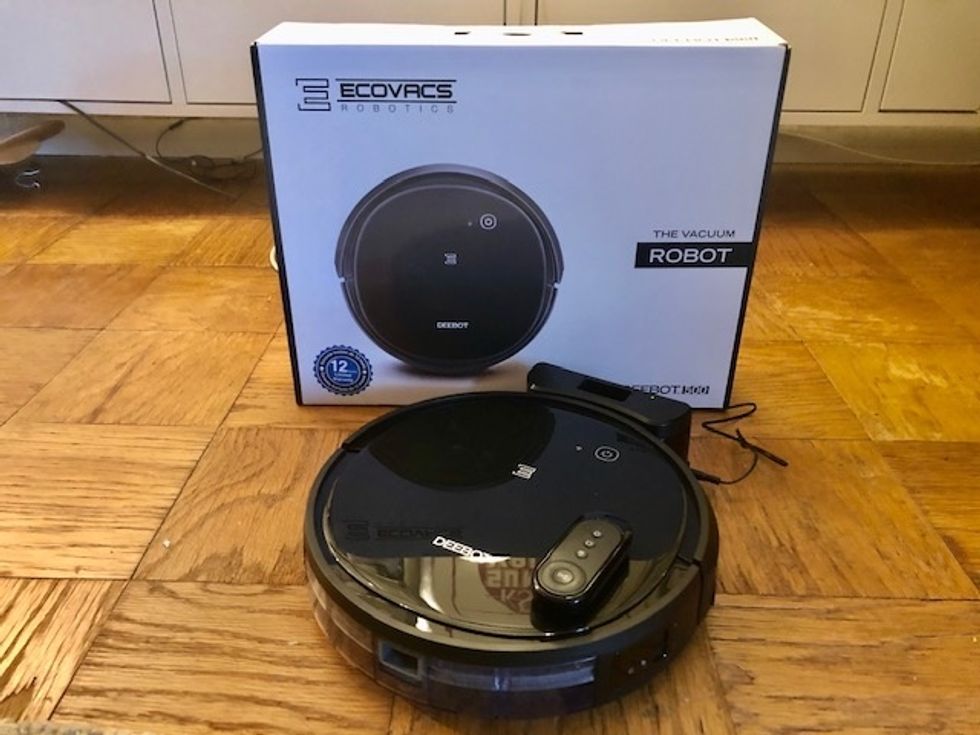 The Ecovacs Deebot 500 can be operated with a remote, an app, and also smart assistants Amazon Alexa and Google AssistantGearBrain
What is the Deebot 500

Ecovacs is known for its line of smart vacuums. We recently reviewed its cousin, the Deebot Ozmo 920 which promises to both mop and vacuum — and costs $669.99 — almost $400 more. The Deebot 500 is less flashy than its cousin, but it still has powerful cleaning modes that can push through heavy areas.
In the box you get the robot vacuum, the charging station, an extra set of brushes, the remote, a cleaning tool and some dust filters.
ECOVACS DEEBOT 500 Robotic Vacuum Cleaner with Max Power Suction, Up to 110 min Runtime, Hard Floors & Carpets, App Controls, Self-Charging, Quiet
The Deebot 500 comes with a remote to control the vacuum, but you can also use the Ecovacs Home App, as well as voice assistants Alexa and Google Assistant. The Ecovacs app is where you'll set up the connection to the vacuum, and also an easy place to create schedules if you want to vacuum to clean, or not clean, at certain times.

In the app, you can choose different levels of cleaning, including Auto, Spot and Edge, which focuses on corners and baseboards. In Auto mode you can select something called Max Mode which basically makes this two times as powerful. That's a level designed for a home like mine: pet fur, pine tree needles and dust that collects almost hourly from the city streets and its varying degrees of pollution that wafts into my apartment daily. And it worked perfectly on rugs and hard wood floors, able to transition from one to the other without any issue.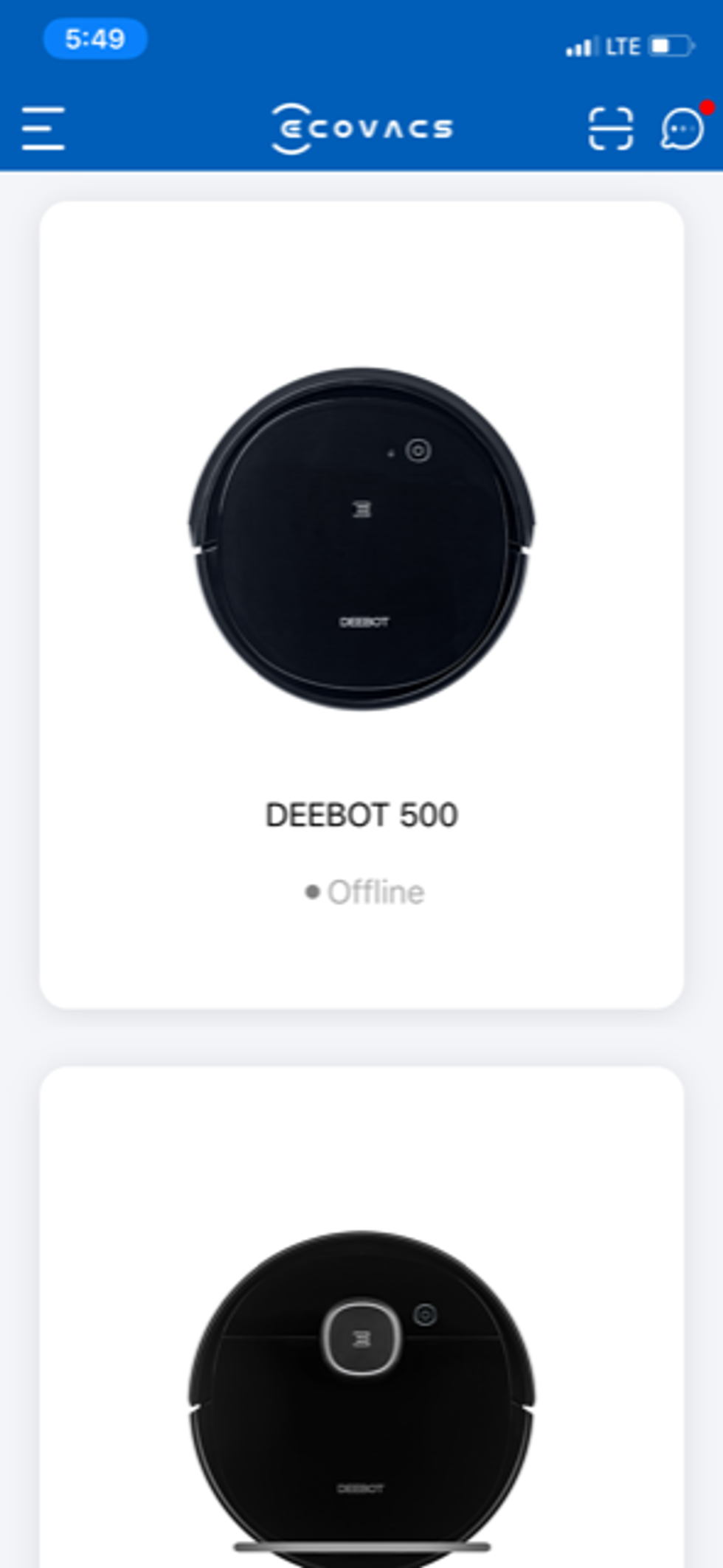 You can see and control the Ecovacs Deebot robot vacuums in the Ecovacs appGearBrain
How it performed

We were impressed with how well this robot vacuum picked up pet fur and the mother of all clean ups: pine needles. During the holidays, anyone who puts up a tree, understands deeply the need to stay on top of dropped needles. They pile up quickly. The Deebot 500 tore right through a ton of these.
Connecting to the Ecovacs Home app was simple. The app found the smart vacuum, and we were able to link to the app within minutes.
We also found that the robot vacuum was a bit more sensitive in terms of bumping into other items like the couch, or our piano — a plus. It seemed to sense them better, and when it did run into something, that connection was more like a tap than a big bounce as we've seen with other robot vacuums. That made me feel more comfortable with this model in my space.
It did, however, have issues going over doorway lips, those raised baseboards that designate the changing of one room to another. We saw it get stuck twice: once in between a hallway and bedroom, and the second time as it tried to go into a closet. That was concerning as we didn't get an alert that it was stuck, and just stumbled upon it, found the vacuum wasn't able to move forward or back, and placed it somewhere else in the room.
The vacuum is said to hold a battery to run for 110 minutes, but I found it would stop soon than that, maybe 90 minutes.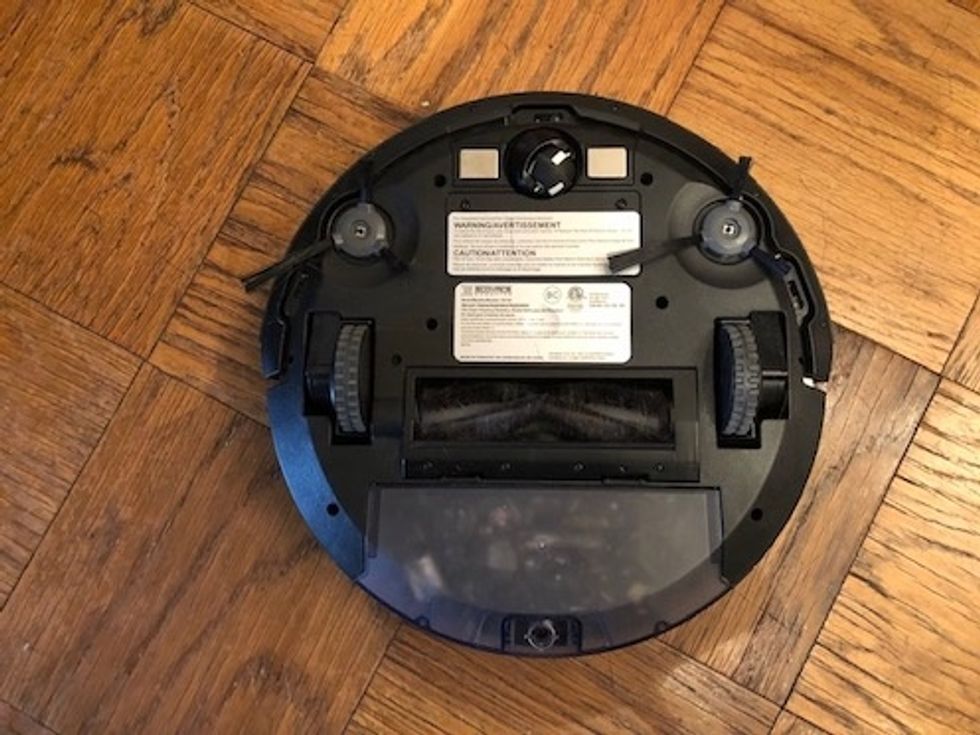 The Ecovacs Deebot 500 robot vacuum has three brushes on the bottom of the deviceGearBrain
Smart home connections

In addition to have a remote, and an app to control the vacuum, you can connect the Deebot 500 to two of the bigger smart assistants — Amazon Alexa and Google Assistant. Both of those paired easily, by connecting the Ecovacs to Alexa and Google Home in the app.
One thing the Deebot 500 doesn't do is talk to you, unlike its cousin the Deebot Ozmo 920. It won't say when it's cleaning, or when it's running out of battery, and we didn't miss that chatter. While having devices be able to speak to you can be helpful, we kind of understood that when the vacuum's light turned red, and it slowly made its way back to the charger, we knew it had run low on the battery and was returning to get juiced.
You can get messages, and notifications, about what's happening to the robot through the Ecovacs Home app, such as if the vacuum is offline, if the battery is low or if it's off the floor.
Cost
The Ecovacs Deebot 500 is priced at $279.99, but we've seen it currently down to $169.99, with major retailers.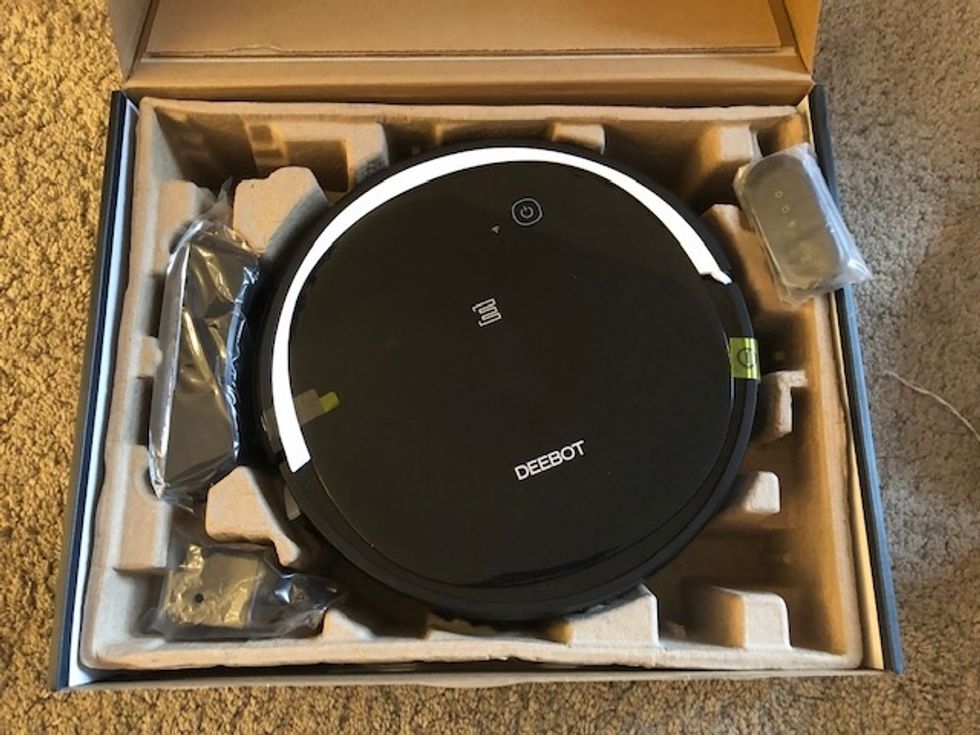 The Ecovacs Deebot 500 robot vacuum comes with a remote, a charger and extra brushes.GearBrain
Should you buy it?

We've reviewed a lot of robot vacuums at GearBrain, at prices that ranges in the low hundreds of dollars to some closer to $1,000. Some speak, some can mop, some can empty their own bins. It's often true that you get what you pay for when it comes to technology, but we found the Ecovacs Deebot 500 to be a solid robot vacuum particularly for the price.
Yes, the battery didn't last as long as it claimed, and it didn't empty the bin on its own nor speak and let us know what it was doing. But the Deebot 500, did return on its own to the battery charger when it needed to, did a solid job cleaning up some hard messes, like pine needles, and we could integrate it with our Amazon Alexa and Google Assistant voice assistants and smart home devices. (Check out The GearBrain, our smart home compatibility checker to see the other compatible products that work with Google Assistant and Amazon Alexa enabled devices.)
ECOVACS DEEBOT 500 Robotic Vacuum Cleaner with Max Power Suction, Up to 110 min Runtime, Hard Floors & Carpets, App Controls, Self-Charging, Quiet

We think, especially given how discounted the vacuum is now, this is certainly a good robot vacuum and worth the price if you haven't bought one of these devices yet. We recommend the Deebot 500 handily, as it's a solid work horse, and if you want to upgrade later to one that can let you know how it's doing, mop or empty itself, you can. We don't think you'll need to.
Pros:
Price
Gentle when bumping into obstacles
Powerful modes to clean even pine needles
Cons:
Sometimes got stuck on doorway lips
Battery didn't last as long as robot claimed
Doesn't speak aloud
The GearBrain, First Compatibility Find Engine for Smart Devices www.youtube.com
Like GearBrain on Facebook