Like GearBrain on Facebook
Tesla CEO Elon Musk suggests his company's cars will one day use artificial intelligence to know where you want to go, without you even touching the satellite navigation.
With the company's Autopilot system, Tesla cars already drive themselves to some extent, taking control of steering, accelerator and brakes. Musk hopes Teslas will soon drive themselves in any circumstances — even without anyone behind the wheel.
Given Tesla car's preexisting intelligence, it isn't a stretch to imagine a form of AI capable of accurately guessing where you want to go. Get into your car at the same time every morning and drive to the same place (work), and the car's computer would pick that up fairly quickly.
A Twitter user said to Musk on October 21: "Surely I am not the first to suggest this but it would be cool to get in my car and ask it to take me somewhere."
Musk replied: "It won't even need to ask you most of the time," suggesting Tesla cars will soon know where to go without being told, then take you there using Autopilot.
A second user joined in the conversation, saying: "It probably knows that if you get in the car at 7am, you are probably going to work." to which Musk replied: "Yeah, don't exactly need to be Sherlock Holmes."
It won't even need to ask you most of the time
— Elon Musk (@elonmusk) October 21, 2017
Yeah, don't exactly need to be Sherlock Holmes.
— Elon Musk (@elonmusk) October 21, 2017
Predicting when such features will come to Autopilot is difficult, but Tesla certainly isn't shy of updating its vehicles and software regularly. Automatic emergency braking was upped from the 50 mph cap to 90 mph on October 22. If the car decides the driver is not going to react in time, Teslas can perform emergency braking at freeway speeds, while most manufacturers limit this feature to slow city traffic.

Musk's tweets come after it was revealed that Tesla will construct a so-called 'Gigafactory' vehicle production facility in Shanghai. The Wall Street Journal claims a deal between Tesla and the Shanghai government will allow the car maker to "build a wholly owned factory in the city's free-trade zone...This arrangement, the first of its kind for a foreign auto maker, could enable Tesla to slash production costs."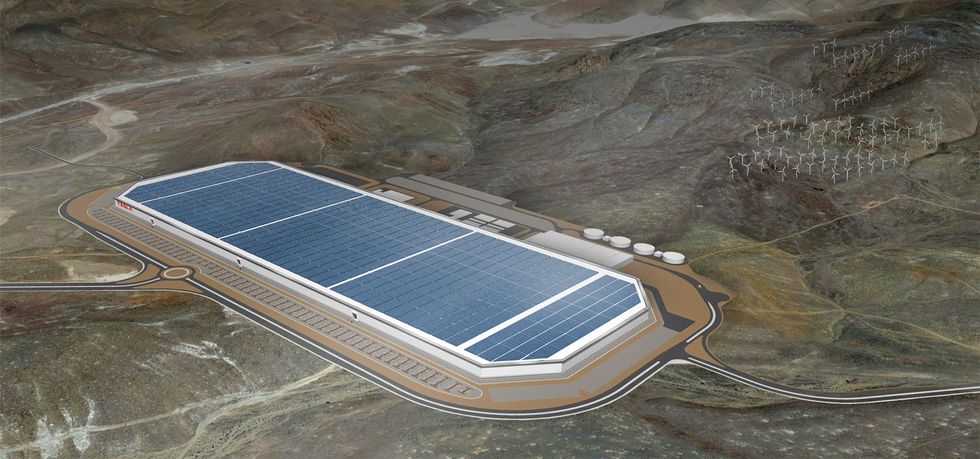 Computer render of Tesla's first Gigafactory, in Nevada, USTesla
GearBrain has contacted Tesla for comment and will update this story when we get a reply.
Also in Shanghai this week, Tesla opened the world's largest Supercharger station, boasting some 50 charging stalls; it is the company's 17th charging station in Shanghai. Most Supercharger stations offer between two and eight stalls, but Tesla is quickly upping its game, as two 40-stall stations are also opening soon in California.
Like GearBrain on Facebook