Like GearBrain on Facebook
Smart speakers and smart speaker displays are familiar to GearBrain — we've been testing smart speakers since the first Amazon Echo arrived back in 2016, soon followed by Amazon's smart display the Echo Show. These speakers go into real houses and apartments and living spaces — not labs or offices — to see how they'll perform under the conditions you experience every day at home. We have a good understanding on how they work, the benefits they offer and challenges they create for consumers looking to live a new connected life. Recently, Facebook sent us its new displays, Portal and Portal+ to test, which we put through the ringer to uncover how they work, which included some finds.
What is Facebook Portal and Portal Plus?

Facebook has two different versions of its smart speaker displays: Portal and Portal+. Both let you make video calls, and both have Amazon Alexa built in. Portal lets you play music and videos — much like smart speaker displays including Google Home Hub, Lenovo Smart Display and the Amazon Echo Show. You can also control smart home devices through both, if they are linked to your Amazon Alexa account. That's where the similarity ends.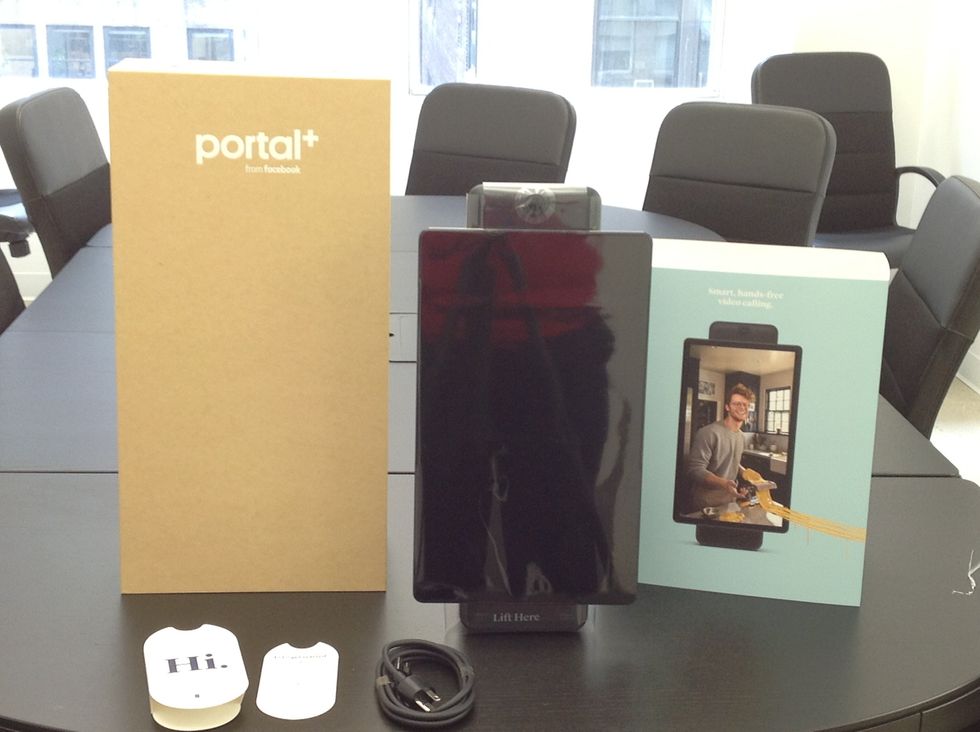 Picture of Portal Plus GearBrain
Portal is the smaller smart speaker, with a 10.1-inch 720p HD display, a 12MP smart camera which also has 8X zoom and a field of view (FOV) of 140 degrees. The camera uses artificial intelligence (AI) to help it recognize the difference between people and objects when you're on a call. That's key because one of the selling points to Portal is its ability to track a person and keep them constantly in frame. This works extremely well on both displays — but worth noting that you can't really duck out of vision unless you leave a frame.
Portal comes with two full range drivers with 10W sound and four microphones and delivers pretty crystal audio by forming a 360-degree beam-forming input.
Unboxing Facebook Portal Plus in less than 10 seconds www.youtube.com
Portal+ is the bigger of the two smart speaker displays from Facebook. It has the same camera and microphone setup as the Portal, but the screen and sound are much bigger, with a 15.6" 1080p HD video screen that can rotate 90 degrees, high fidelity sound from two tweeters and a 4-inch bass speaker.
Portal sells for $199.99, while its juiced up sibling, Portal+, costs $349.99. Both come with a one-year limited consumer warranty and are available on the company website as well as major retailers like Amazon, Best Buy, Walmart, eBay and others.
Setup is extremely easy, much like other smart speaker displays. You take the speaker out of the box, plug it into the wall and follow the prompts on the screen. You will need to connect them to your home Wi-Fi so have your password handy. Also — and here is the most crucial point of these displays — you must have a Facebook account to setup video calling. If you do, you can also add your Facebook contacts — friends — when prompted.

How does video calling work?
One of the main features of this smart speaker display is its ability to make hands-free video calling — but only if you use Facebook. If you are on the social network, you can video chat with anyone on your Messenger contact list. The feature works like Apple's FaceTime tool on an iPhone. After setting up Facebook Portal, just go to your Friends list on the display, and make a call. Your recipient sees a call coming from you through the Facebook Messenger app, or on their own Portal screen if they own one, and when they answer, you can see each other unless someone turns off their camera.
Once connected, that's when Facebook's AI kicks into action, teaching itself what is visible, and picking out the person to stay on the frame. For our tests, this featured got better as we did more video calls.

Portal also has a video feature called Home and Away, which you need to activate during the setup process to work. The display tracks you if your, as the name suggests, home or away. This lets friends know if you're available for a video chat or not.
Privacy – How it Works with Portal

Facebook mentions all video calls are encrypted to protect the user's privacy. You can even mute the microphone and put a screen cover over the camera when not in use to help protect your privacy. The company also states it doesn't listen to your calls or keep the contents of your calls. But it does keep interactions you have with Portal's voice assistant.
To see those, you go to your personal page in the Facebook site, and then on Activity Log, a rectangular button on the right. Under that, you need to scroll down (and down) and look for Voice Interactions. I couldn't see the details, the video or the words spoke during multiple Portal calls. But I could see questions and hear the words I said directly to the voice assistant and the dates they were said. There's an audio track, if you click on the text of the words, and you can hear your voice — or the voice of the person who spoke to the display.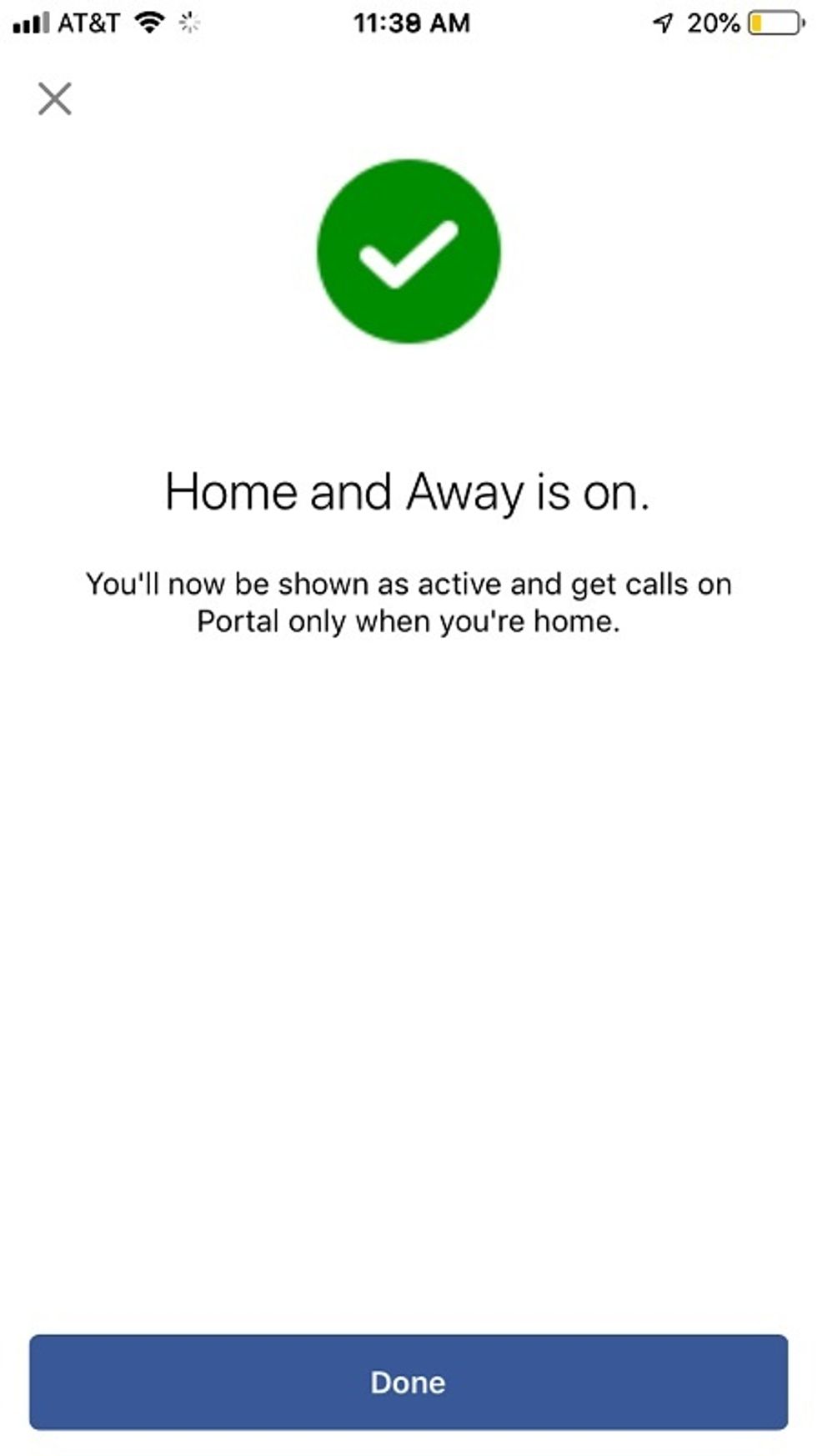 Facebook offers Home and Away feature for video calling.GearBrain
In one recording, I could hear someone else in the room in the background. In another I was clearly irritated. In any event, those records can be downloaded to your desktop, and also deleted right there.

Portal also adds another layer of tracking — even more than Facebook already does online through its app. Home and Away is a good example. The video display, when plugged in and has Home and Away activated, keeps track if you're home or you're not. The aim is to send video calls to the Portal display when you're home, to your smartphone when you're away. To do so, it actually knows if you're home or not. That may not be a layer of your life you want Facebook to know.
Given Facebook's privacy issues in the past couple of years, handing Facebook more access to your personal life is something that needs to be seriously considered. Facebook itself is a free service — which you pay for giving the social media site access to an amazing level of your personal data. Portal comes with an actual price tag. Yet, the device is also collecting data on you, which is folded into the dossier they already have. It's just something to think about.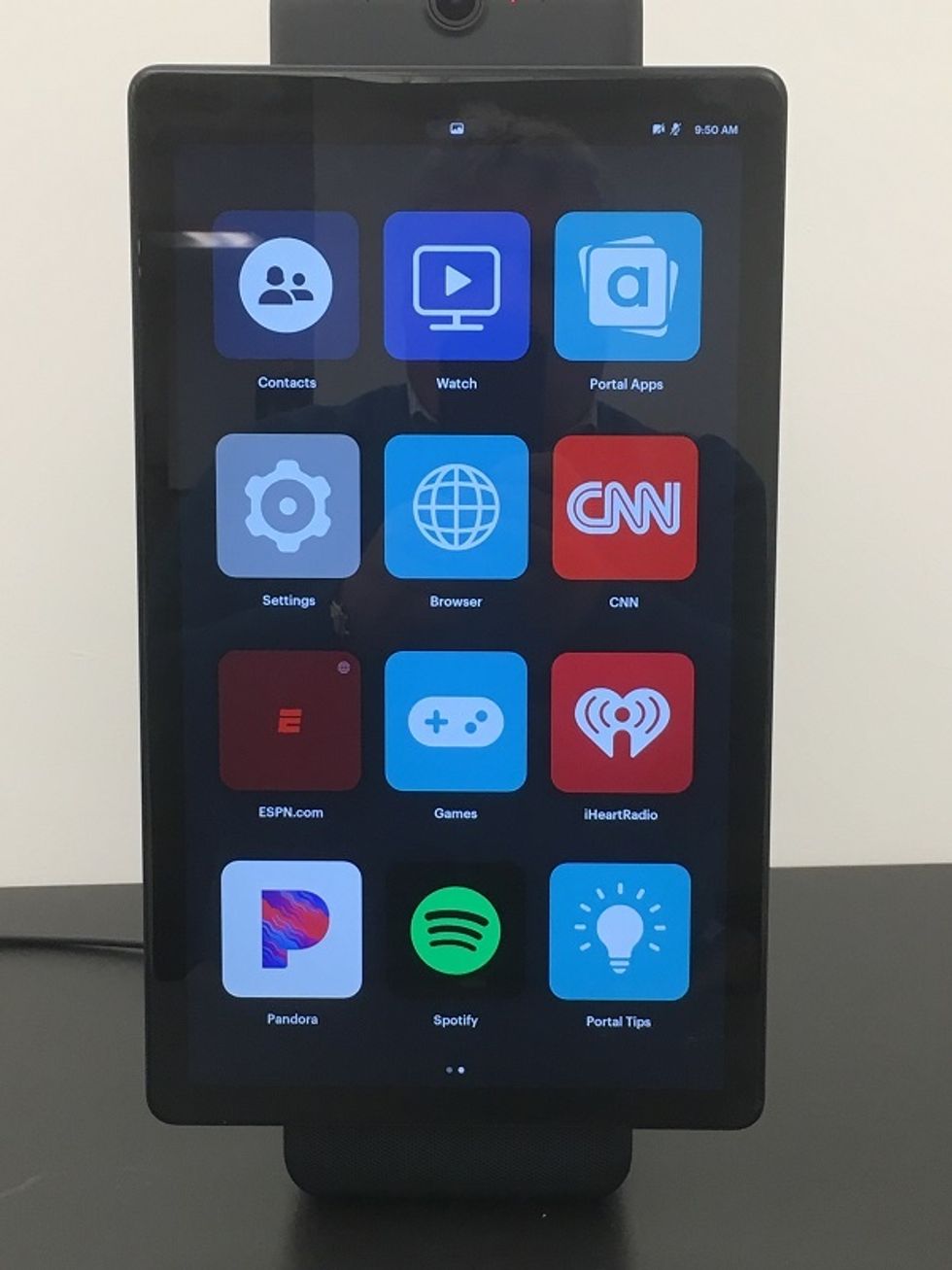 Facebook Portal Plus home screen verticalGearBrain
Smart Home Integrations

More consumers are looking to run connected devices at home, just by talking to them. Portal and Portal+ certainly help with that with their Amazon Alexa integration — instead of saying "Hey Portal," you say "Hey Alexa" or just "Alexa" and she pops up instead. Don't have an Amazon Alexa-enabled device or the Alexa app? You can still use Alexa on Portal. Just download the Alexa app onto your smartphone (iOS or Android) and link it to Portal.
The list of compatible devices which Amazon Alexa controls is very extensive. (See here.) Also, having Alexa control your smart home devices is an easy way to get them work together.
Facebook Portal Plus home screen horizontalGearBrain
Testing Results

After testing the two Portals, we can say the quality of the video calling is excellent. Sound from both speakers are very good. We played music from iHeartRadio and Spotify, and the music was clean, full and had nice tones. Keep in mind Portal is also a Bluetooth device and you can play your own music through the smart speaker display. A suggestion though — disconnect your phone from Portal when you're done. We didn't one time, and the sound from our alerts kept coming through the Portal speaker. It was a little annoying.
Video resolution on the Portal+ and Portal was excellent. You can see everything in the room on the screen — which might be good or bad for some people. (Those of us who aren't extremely tidy felt compelled to keep the kitchen neater while we were testing Portal.)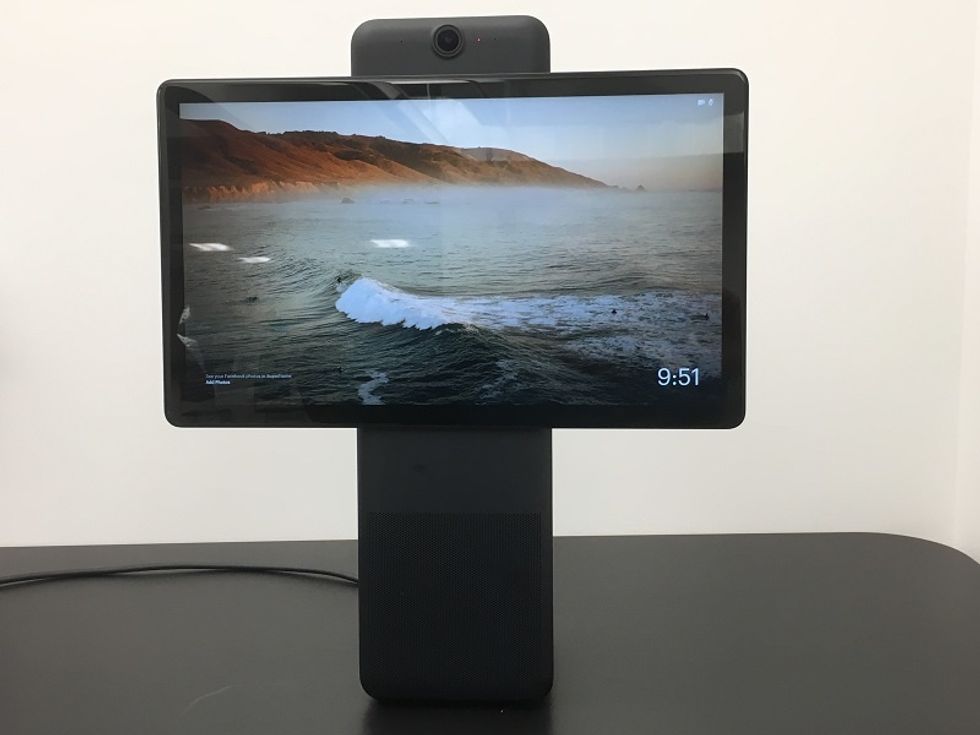 Facebook Portal Horizontal screen saver modeGearBrain
One feature we liked on both Portal and Portal+ was the screensaver, which can show pictures on its screen when not in use. You can choose from your own pictures from your Facebook account, or stock images. We also liked how the screen on Portal+ can rotate 90 degrees allowing you to do calls in portrait or landscape modes. (The screen on the regular Portal doesn't rotate.) Lenovo Smart Display with Google Assistant can rotate 90 degrees, but you must pick up the device to rotate it. Also, you can only do video calls with Lenovo in Portrait mode and nothing else. Portal+ can operate fully in either mode which is good.

Functionally, Portal and Portal+ are good video calling displays that support Alexa. But at $349, Portal+ is a very expense smart speaker display, as compared to Amazon's Echo Show, which costs only $230. The Echo Show can also do more than Portal, and can make calls to anyone on your contact list — not just those in your Facebook world.
Difference Between Amazon Echo Show and Portal+

There are some differences between both Portals and the Echo Show. While both have 10" displays with 720p HD video resolution and 2x speakers, both Portals have a much better camera (12MP versus 5MP for Show). The Portal devices also have more microphones (two for the Echo Show and four for Portal) and a wider FOV (140 degrees for Portal). The lower end Portal is also less expensive at $199 versus the $230 Echo Show, the $180 Lenovo Smart Display and the $99 Google Home Hub (which does, though, have a smaller screen.) Portal+, however, is far bigger in every way to the Amazon Show, including size and price.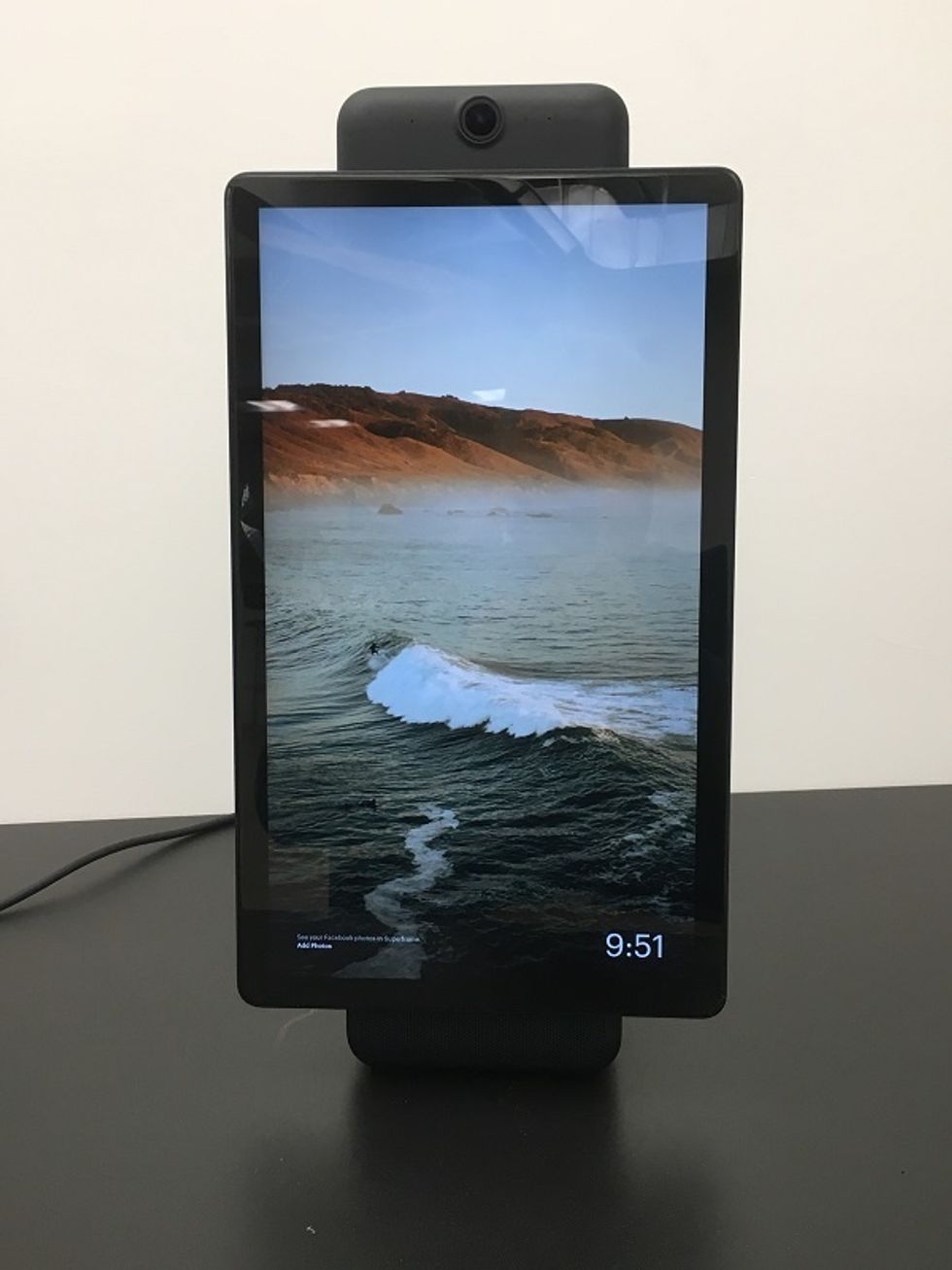 Facebook Portal Plus Screen Saver mode vertialGearBrain
Summary

If you are a big user of Facebook, and looking for a high-quality smart speaker display that can run Amazon Alexa, then it's worth considering Portal. If you have a lot of counter space Portal+ could fit in nicely in your home. However, if you are concerned about privacy and how your data is used and collected — and you're not in the Facebook environment — this is not a smart speaker for you.
Like GearBrain on Facebook