Like GearBrain on Facebook
Faraday Future's new chief executive Carsten Breitfeld is acutely aware of the potential poison chalice he took hold of in the fall of 2019. But, as a founding member and former CEO of fellow electric car startup Byton, and the man who spearheaded BMW's electric and hybrid i division, Breitfeld is an industry veteran who surely has more faith than most in Faraday Future, even as he knows what the company is battling.
"I'm looking forward and not backward," Breitfeld tells GearBrain from the reclined rear seat of an FF91 he personally drove from Los Angeles to Las Vegas the previous day, claiming a real-world range of over 350 miles in the process. "The company invested a lot of money and created a lot of technology. Now someone has to put it all together, bring a product to the market as fast as possible — this is the key — and bring the company on track, then scale the business."
Read More:
One of the first EV startups out of the blocks, Faraday Future was founded in 2014. A year later, while still operating largely in stealth mode, it was rumored to be a front for Apple's mysterious car experiment, Project Titan. (That did not turn out to be true.) The company finally made its public debt at the CES tech show in January 2016, but did so with a wild prototype that looked like the Batmobile, did not function, and was built in a last-minute rush because the company's actual car wasn't ready.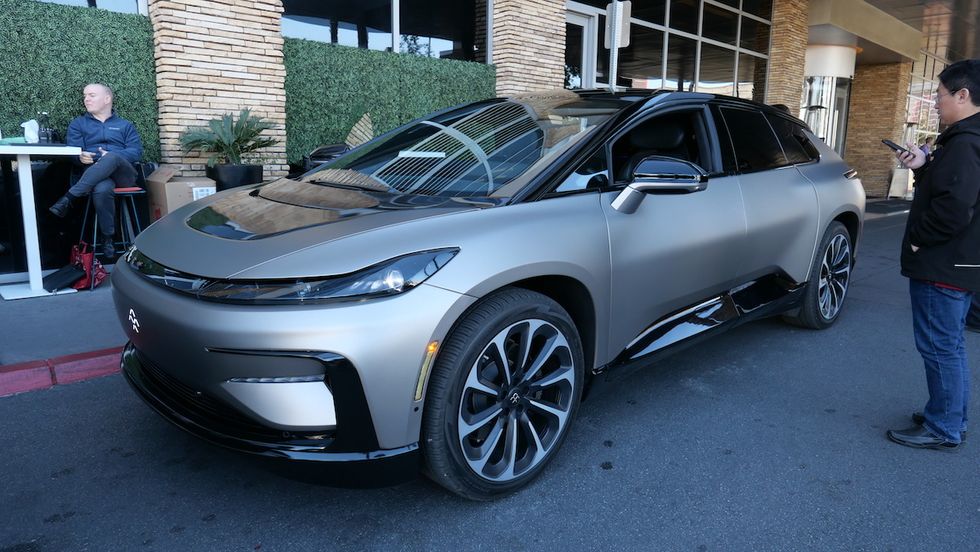 Faraday Future FF91GearBrain
From 2017 to today
A working version of that vehicle, called the FF91, arrived at CES a year later in 2017, claiming to be a bona fide Tesla rival. Instead, Faraday Future became mired in controversy. Lawsuits from suppliers demanding late payments racked up, disputes with investors rumbled on, layoffs took place, and boss Jia Yueting filed for bankruptcy, having owed billions of dollars to dozens of creditors.

Throughout this, however, Faraday Future somehow survived and now, with Breitfeld at the helm since September 2019, the company says it is finally close to putting its first car into mass production.
"The sad thing is, if you look back over the past few years you will find only negative messages about us and our company," he says. "There are a lot of startups around talking about things they don't have or plan to have. But this one is not a show car; this is a production car."
Despite Faraday's track record for creating headlines with a functionless show car, Breitfeld says the car we are sat in is a real working model of the FF91 people saw in 2017, with 92 percent of the parts ready for mass production. Customers, he says, will take delivery later this year.
"The technology, the powertrain, the ecosystem and the connectivity, it's all working," he adds. "There's just a little step left now to bring it into production.
Faraday's emphasis on what makes the car maker stand out has shifted since 2015. Back then, offering an electric car with stunning performance and a design that didn't look like a Tesla was broadly enough to succeed. But that was before legacy car makers got involved, and before fellow startups like Byton and Rivian had broken cover.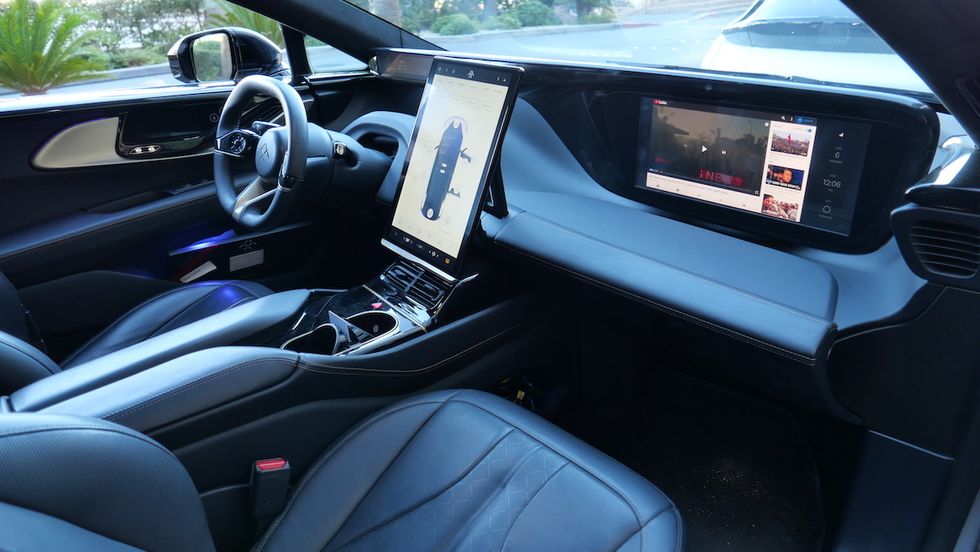 Faraday Future FF91 interiorGearBrain
Faraday Future could have become the number one Tesla rival, but it repeatedly dropped the ball and now finds itself trying to launch into a busy market with a car costing between $120,000 and $200,000. Now, instead of performance (although the car still has a claimed 1,050 horsepower and a 2.2-second 0-60 time), the focus is on space, luxury and technology.

"The key factor is what we call the 'third internet living space,'" says Breitfeld. "You can lay down the rear seat like an airline first class experience; there are 11 screens in the car, high-speed connectivity, and all the digital ecosystem around you."
Pioneer AVH-210EX Double DIN Bluetooth In-Dash DVD/CD AM/FM Front USB Digital Media Car Stereo Receiver 6.2" WVGA Touchscreen Display, Apple iPhone and Android Music Support/FREE ALPHASONIK EARBUDS
The third space
This all reminds us of Byton, which shouldn't be a surprise, given Breitfeld founded that company and it is about to puts its own new electric car into production. The third space Faraday talks of — clearly your car — comes after the home and the office; it's the third space you spend the most time in, and where you want to stay connected.
One tool for achieving that is a three-modem system with three SIM cards that make sure there's a constant web connection, unlike most cars which make do with a single SIM attached to one network.
The rear seat area is also where Faraday Future wants to emphasize. And rightly so, because there is a huge amount of room in the back of the FF91, where a pair of seats that recline almost flat.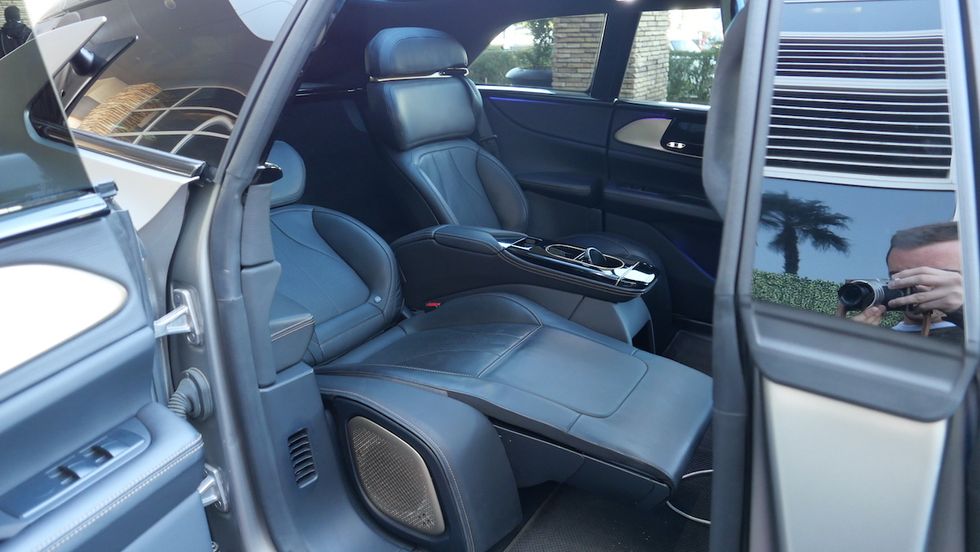 Rear seat luxury is a major selling point of the FF91GearBrain
Breitfeld says his company is taking inspiration from how Apple produces the iPhone 11 and 11 Pro. They are broadly the same phone built on the same platform, yet the Pro has a better display and camera, and costs hundreds of dollars more. The ex-BMW man says Faraday can implement this structure with cars, by offering different versions of the same FF91 across a broad price range spanning $120,000 to $200,000.

Rear seat space and the ecosystem — the technology and all those touch screens — will be a key element of Faraday's DNA, Breitfeld says, across a range of cars of various sizes, and with the FF91 as the flagship. Next will be the FF81, a slightly smaller electric car with a lower price, with a plan on how to launch this already in place, says Breitfeld.
"We have a design, we have a technical concept ready, so we would be ready to execute," he says.
Modular approach

Helping keep costs down here is Faraday's scalable platform, which splits the FF91's 130kWh battery into 'strings,' with each one 22kWh in size. These can be removed one by one to create batteries for smaller vehicles, while the chassis is easily adjusted around it. This modular approach to reducing a car's wheelbase by 20 to 40 centimeters is unique to Faraday, the chief executive says; he also says Faraday is ahead of the competition (including Porsche, Audi and Tesla) when it comes to power density, battery size, range and efficiency.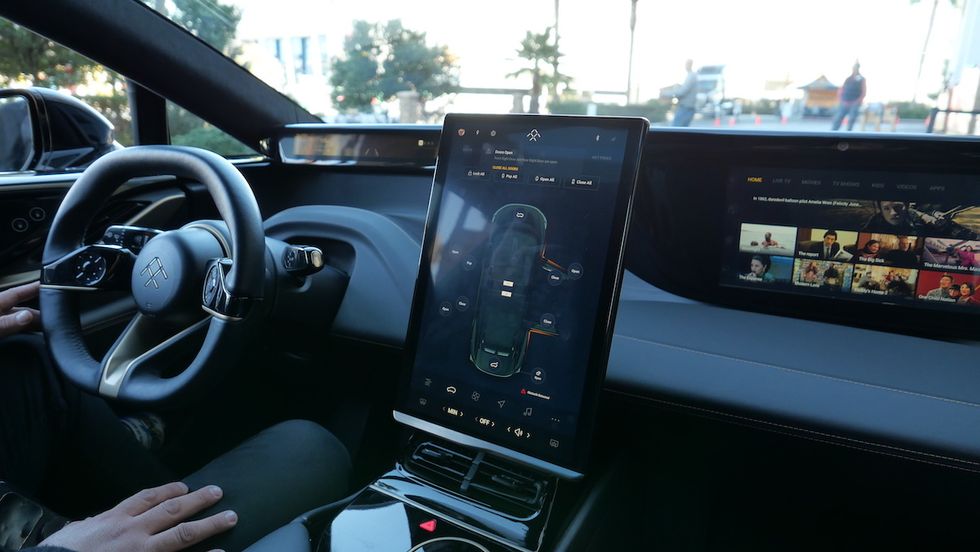 Faraday promises a digital experience unlike any otherGearBrain
Also on Faraday's horizon is an approach to continuous improvement that will see the car's software updated almost weekly (if required), while intermediate technologies like computer displays and touch screens will get revamped every two to three years, and the platform of the car will change only every seven or eight years, as is closer to the automotive norm.

This, Breitfeld says, would see a new model called the FF92 arrive in a couple of years with updated touch screens, then perhaps an FF93 after that with other changes to take advantage of new technology. Because battery and motor technology only evolve slowly, this is a sensible and cost-effective approach to take, upgrading and facelifting only what's necessary.
Production of the FF91 will begin later this year at Faraday's production facility in Hanford, California at a former Pirelli tire factory between Los Angeles and San Francisco. Breitfeld says total capacity there will eventually be 30,000 vehicles per year, which is 75 percent of total production Porsche expects to manage with its Taycan.
"We will start with very small volumes this year, I have to say, because I want to get it to the customer then ramp up slowly, Breitfeld admits. "In 2021 we are going to ramp up to full capacity at this plant."
After this, Faraday hopes to find a production facility in China via a form of joint venture.
Most of this sounds reasonable enough, but Faraday's stumbling few years will no doubt have put a serious dent in the order book. In the years it has failed to deliver, Tesla has achieved mass production with the Model 3, legacy companies like Audi, Volkswagen and Ford have come to the fore, and fellow startups like Byton are now almost ready to deliver, only without any of Faraday's baggage.
Even if the FF91 is ready to go, Faraday and Breitfeld still have an enormous uphill struggle ahead of them. A handful of FF91's will certainly be sold, but the company won't be deemed a success until it can shift cheaper electric cars in serious numbers, or somehow turn itself into an electric Rolls-Royce rival.
Until either of those things can happen, Faraday Future needs to distance itself from the troubles of its past, then build and sell in serious numbers, and without mistake or delay.
From Your Site Articles
Related Articles Around the Web
Like GearBrain on Facebook