As easy as it is to add a second Amazon Echo smart speaker to your home network and Alexa app, it's as easy to add even more.
At its simplest, this means you can speak to the Alexa assistant from more places in the home, but there's much more you can do with multiple Echo speakers. Here is a look at what else you and your smart home can now do.
Read More:
Stereo Pairing
First up, we're going to assume you have two Echo speakers in the same room and want to increase the breadth of their soundstage by turning them into a stereo pair. This means one Echo handles the left channel of a music track, and the other looks after the right channel, creating a broader, more dynamic sound.
Stereo Pairing works with all Echo speakers from the second-generation Echo Plus and third-generation Echo Dot onwards, as well as the latest third-generation regular Echo, and new Echo Studio.
So long as you have a pair of the same Echo speakers (two Echo Dots, or two Echo Studios, for example) you can create a stereo pair. To do this, follow these instructions:
Open the Alexa smartphone app
Tap on the Devices icon in the lower-right corner
Select one of the Echo speakers you want to use in the stereo pair
Tap on the Stereo Pair / Subwoofer option, then tap Continue on the next screen
On the next screen you'll be asked to confirm which two Echo speakers you want to pair together. Remember, these need to be the same type of Echo speaker.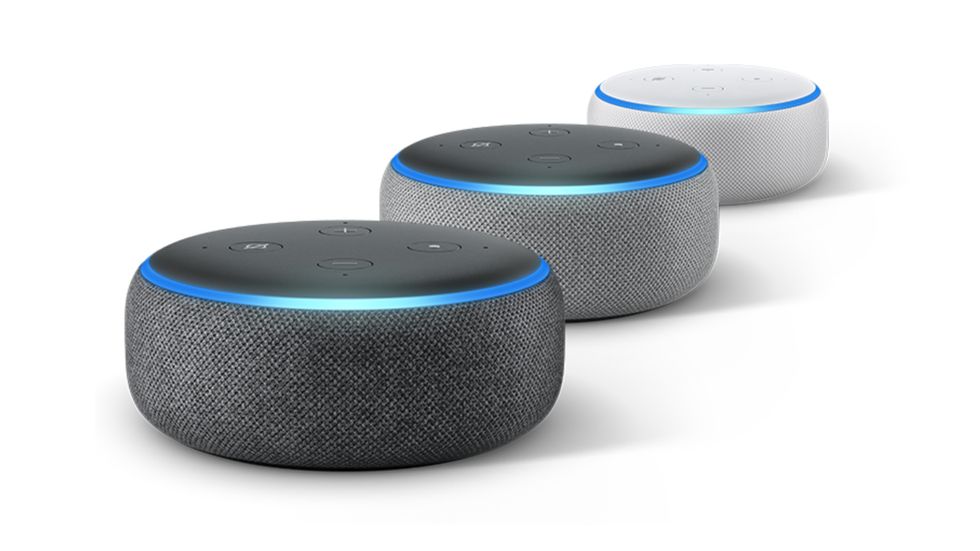 Three Echo Dots make a home-wide sound system for $150Amazon
You then need to tell the app which Echo speaker is left and which is right. The app doesn't let you play a sound to identify each speaker (which can be confusing if they both look the same and you've forgotten which is which), but you can easily swap them later if you get it wrong.

Tap Next after you have picked the two speakers, and the setup is complete. Now you will see this newly created stereo pair under your list of Speaker Groups in the Alexa app. When speaking to these Echos, Alexa will only reply out of whichever is closest to you.
Home Theatre and Surround Sound
Expanding on this concept, multiple Echo speakers can also be used to create a surround sound system for your Amazon Fire TV device.
We've explained this in greater detail here, but in short the feature lets you pair up to four Echo speakers and the Echo Sub to create a home cinema system.
You can add two or four Echos (as long as they are all the same) and the Sub is optional. Using the new Echo Studio also opens the door to Dolby Atmos, with the speakers firing sound upwards and bouncing it off the ceiling to add depth to whatever you are watching.
Music in multiple rooms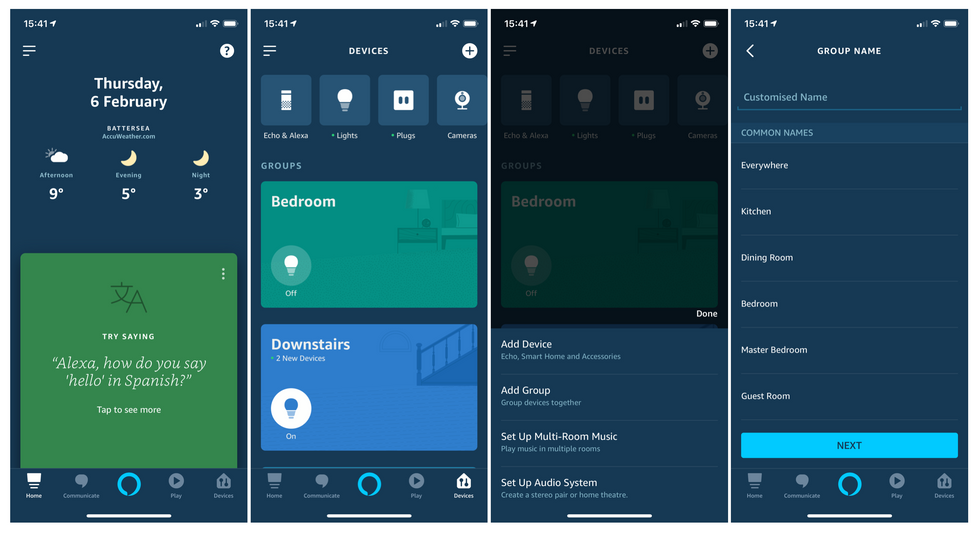 Setting up a multi-room speaker group with AlexaGearBrain
The Alexa app makes it easy to name each Echo then assign them to a room or floor in your home. This means you can ask the assistant to play music "in the kitchen" or "upstairs", no matter which Echo you ask.

You can also ask Alexa to play music everywhere, so the same track will play, perfectly synchronized, through all the Echo speakers on your network. This is great way to create a Sonos-like sound system on a budget (since a set of two Echo Dots currently costs $60.)
What's more, you can ask Alexa to play from different sound sources on each Echo. That way, one person can play a radio station from TuneIn in the kitchen, while someone else has their favorite Spotify playlist on in the living room.
There are a couple of down sides here though, as third-party Alexa speakers like those from Sonos cannot be added to an Alexa multi-room setup, as the feature is exclusive to Echo products.
By default, you cannot play different music from the same source in different rooms. But, this is possible if you pay $14.99 a month for an Amazon Music Unlimited family plan. This gives you access to 50 million songs and the ability to create up to six user accounts.
Once set up, you can play different tracks through up to six different Echo speakers in the same home.
To set up a multi-room music group of Echo speakers, follow these instructions:
Open the Alexa smartphone app
Tap on the Devices icon in the lower-right corner
Tap on the plus icon in the top-right
Tap on Set Up Multi-Room Music, then Continue
Here, you will be asked to name the new group (such as Living Room, Downstairs or Everywhere). Then tap on the speakers you want to include in the group, and tap Save.
Now, you can say to any Echo speaker in the home: "Alexa, play [artist name] everywhere" and every Echo will be brought to life.
Create a home intercom system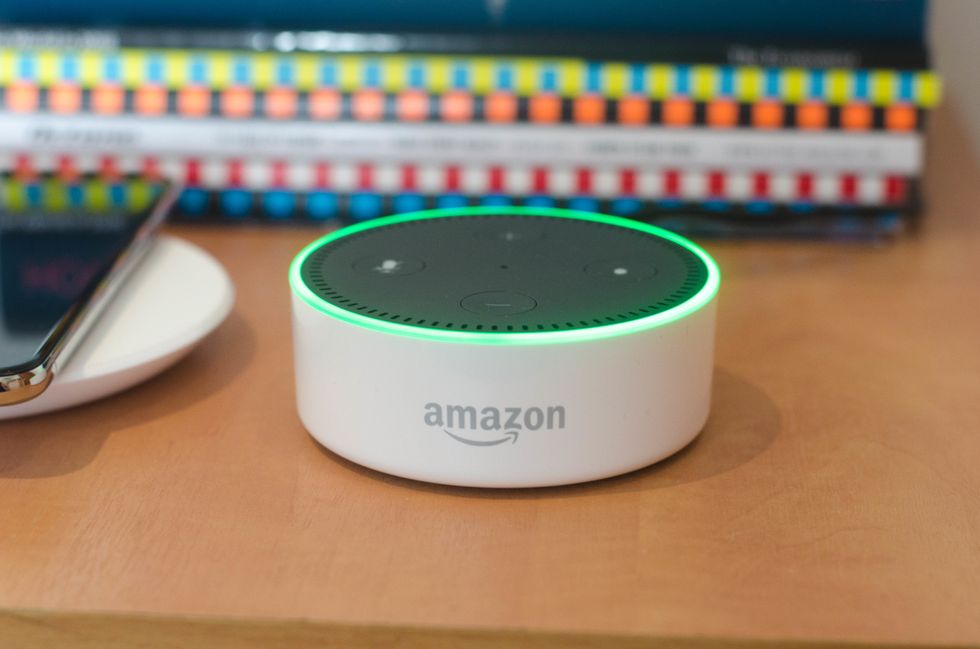 Echo speakers show a green light when being dropped in onGearBrain
With two or more Echo speakers in your home, you can create an intercom system. Once set up, you can say to one Echo: "Alexa, drop in on the living room," and a two-way audio connection is established between the two Echos, meaning people in the two rooms can talk to each other.

We have previously written about how to get started with Alexa Drop In here.
This feature may only have limited uses for some, but it's a handy way to drop in on the kitchen to see if dinner is ready, or for getting the kids to come downstairs.
When an Echo is being dropped in on, its light pulses green to let you know someone elsewhere in the house is listening.
Broadcast messages across the home
Similar to drop-in, this feature lets you broadcast recorded messages to every Echo in the home, but without listening in through their microphones. All you have to do is say: "Alexa, broadcast [message]," and Alexa will play your message to every other Echo. Instead of "broadcast," you can also say "announce".