If you are a music lover and miss playing your vinyl records, we found an interesting product for you. It's vintage looking record player that can play and record your albums or 45s onto a USB drive (MP3s). But that is not all. It's also a Bluetooth speaker, CD player, AM/FM radio and has Aux in for you to connect your device to your TV or stereo system. And to help you with your sound, the device has a built in Equalizer for you to adjust the sound to your desire. All of this is in one product called Electrohome 7-in-1 Vinyl Record Player and we got to test it recently. Being a musician with a sizable vinyl record collection (including 2 albums of my own), I put it to the test to see how it performed. Check out how it did in this former rocker's smart home.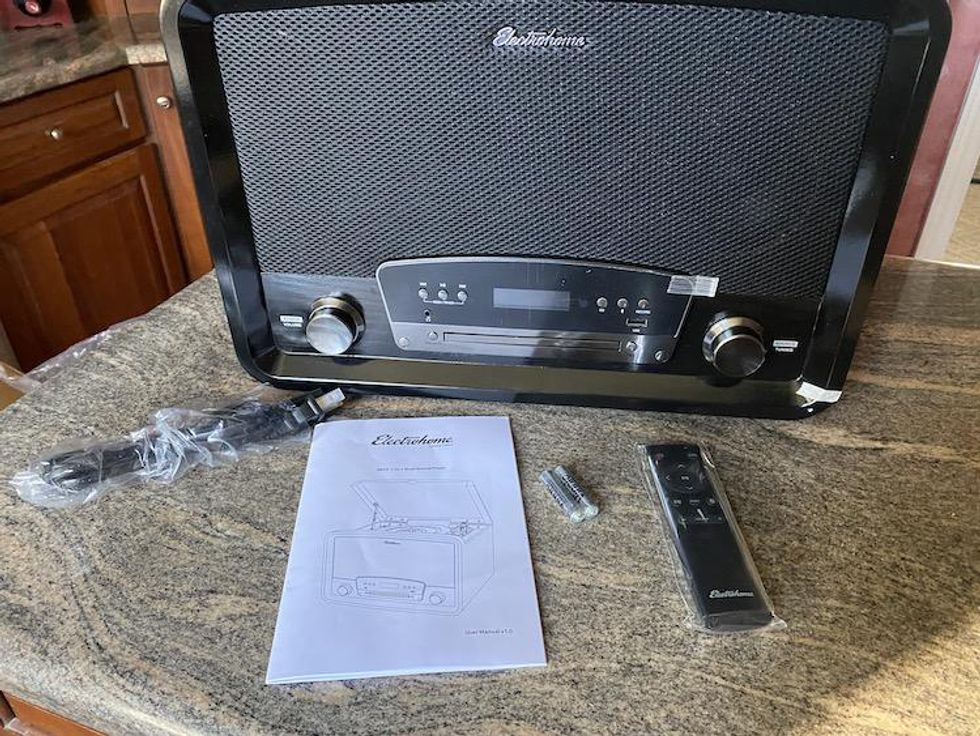 Electrohome Kingston 7-in-1 Vinyl Record Player unboxedGearBrain
What is Electrohome Kingston 7-in -1 Vinyl Record Player?
Electrohome Kingston 7-in-1 Vinyl Record Player is a stereo system with a turntable, Bluetooth speakers, Radio, CD Player, Aux. in, USB, Vinyl to MP3 recording (RR75) system. If you have an any vinyl records, whether they are 45s (7"), EPs (10") or LPs (12"), the Electrohome can play them. It has three speeds: 33 1/3, 45 and 78 RPM. You can also record them onto a USB drive as you play them. And for those small 45s, Electrohome comes with 45 record adapter which are hard to find these days.
Recording your old records is one of the key features of Electrohome Vinyl Record Player. Digitizing vinyl records or CDs to MP3 files is something many record collectors would like to do, but many of the devices today don't make it easy. Electrohome makes it easy. Just plug in the USB drive and hit the record button. Electrohome will start recording your records or CDs as it plays. When done, you can easily playback the recordings with the switch of a button. It's that simple.
When you get tired of playing those old records or recording, you can use Electrohome as a Bluetooth speaker and play music from Spotify, Apple Music or your MP3 collection. Or you can turn on Electrohome's Radio and get AM or FM stations. Lastly, you can easily insert a CD to play on your Electrohome record player. All easy operations to do with your 7-in-1 stereo system.
Vinyl Record Player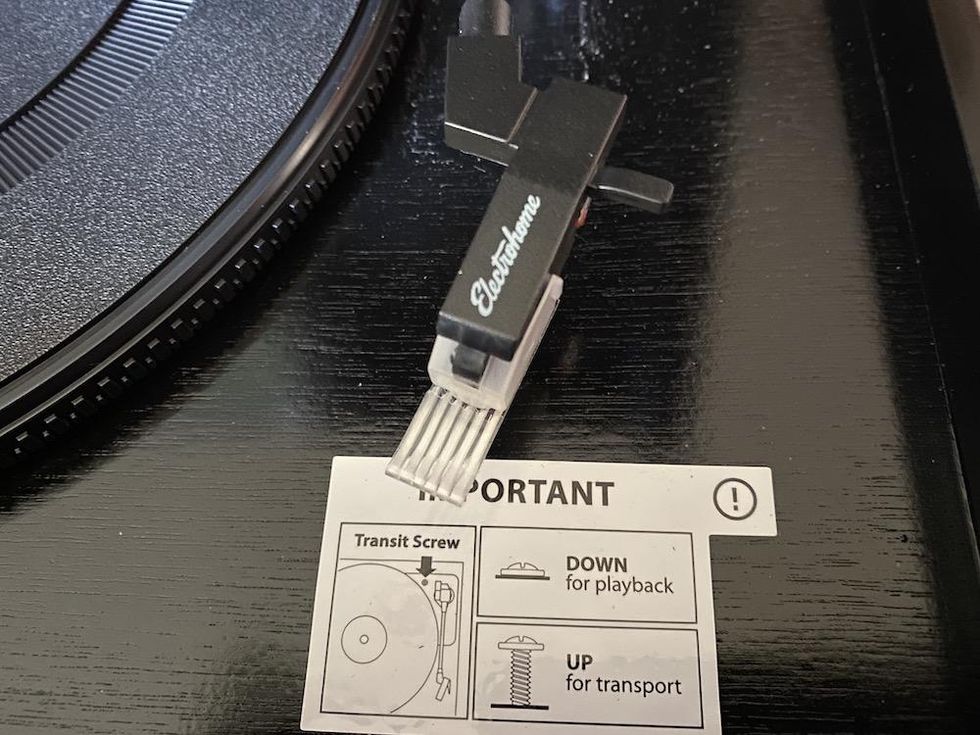 Stylist on record Player
GearBrain
Play vinyl records of all sizes: 45s, EPs and LPs.
Records MP3s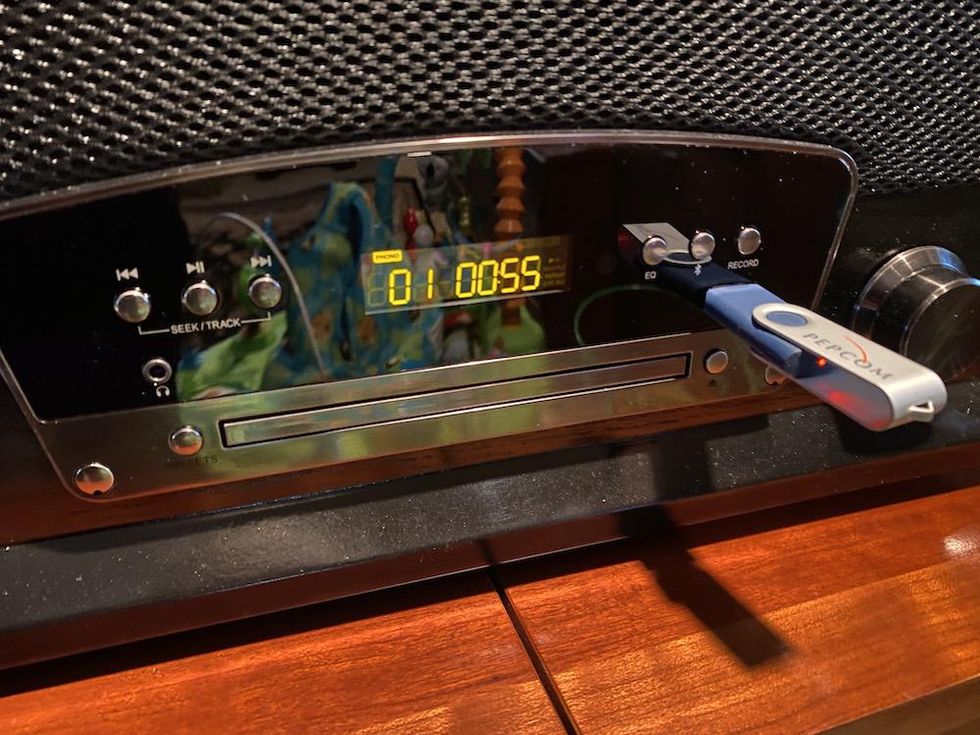 Record albums onto USB drive
GearBrain
Electrohome can record your records and CDs onto a USB (MP3 files)
How good is the sound on Electrohome?
The sound on the Electrohome 7-in-1 Vinyl Record Player is not bad. It can get loud but not overly blaring. The record player comes with two 2-way speakers with two 2", 10-Watt speakers and two 3.5", 30-Watt speakers. It also has a 40W amplifier built-in with an Equalizer for you to adjust the bass and treble. There is also a headphone jack for you to connect your wired headphones.
Electrohome Comes with Retro Design
One of the unique features of Electrohome is its retro inspired hand-crafted wood cabinet. This vintage design does set it apart from other record players. There are three styles for you to choose from: Natural Walnut, Mahogany and Black. But the record player is not small. It's 12.25" high, 17.3" wide and 13.5" deep and weighs 23.75 pounds (10.75 kg).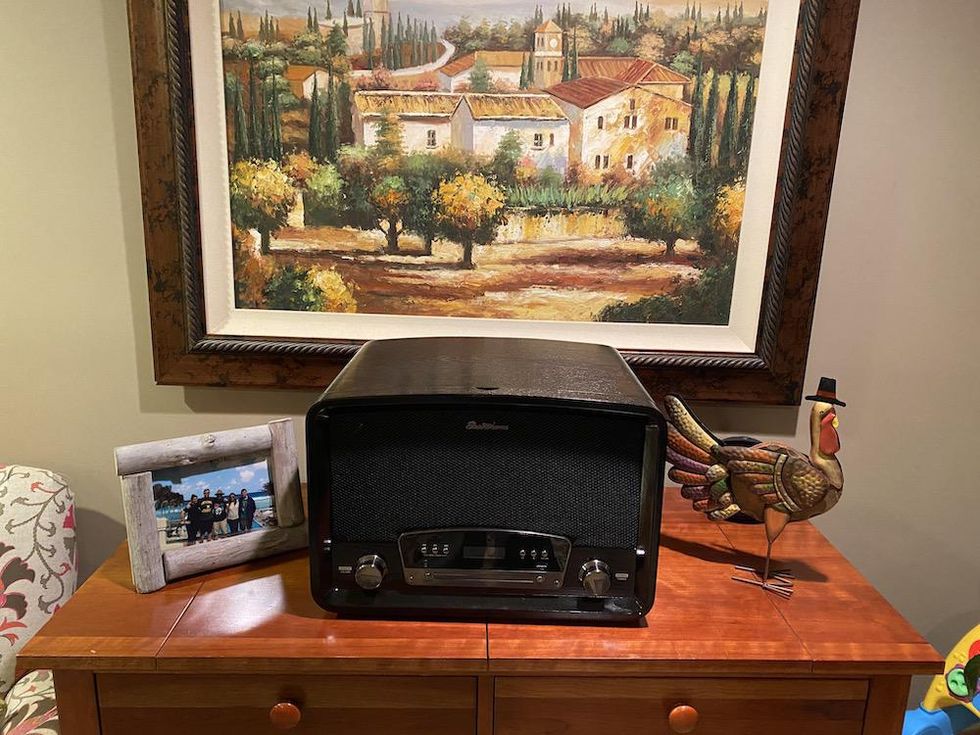 The Electrohome Kingston is not small but does come with a nice retro-looking design.GearBrain
Cost
Electrohome Kingston 7-in -1 Vinyl Record Player costs $199.99 and is available on Amazon and the company's site. How does this stack up to other record players? This price is slightly higher, but you must remember, Electrohome is more than just a record player and speaker. It's a CD Player, Bluetooth Speaker and MP3 recorder and player. If you add the cost of all these devices together, Electrohome's prices is very attractive.
Performance of Electrohome
As I mentioned before, being a former musician and vinyl record collector, including my band's albums, I put this 7-in-1 system to the test. I found the sound to be slightly above average when playing vinyl records or CDs. Depending on the room you will be using Electrohome, the volume at the highest level was loud and clean. It was nice to see a built-in Equalizer, but it can only adjust the bass and treble levels. There is no app for controlling the sound levels, but there is a remote control you can use to adjust the volume, EQ and source.
The size of the record player could be an issue for some. It's not small and compact. Electrohome is big and some told me it looked like a microwave. However, we understand the company was going for a retro-vinyl record player look and they nailed it. The wood crafted design is stunning and if this is your taste, it will look great in your home.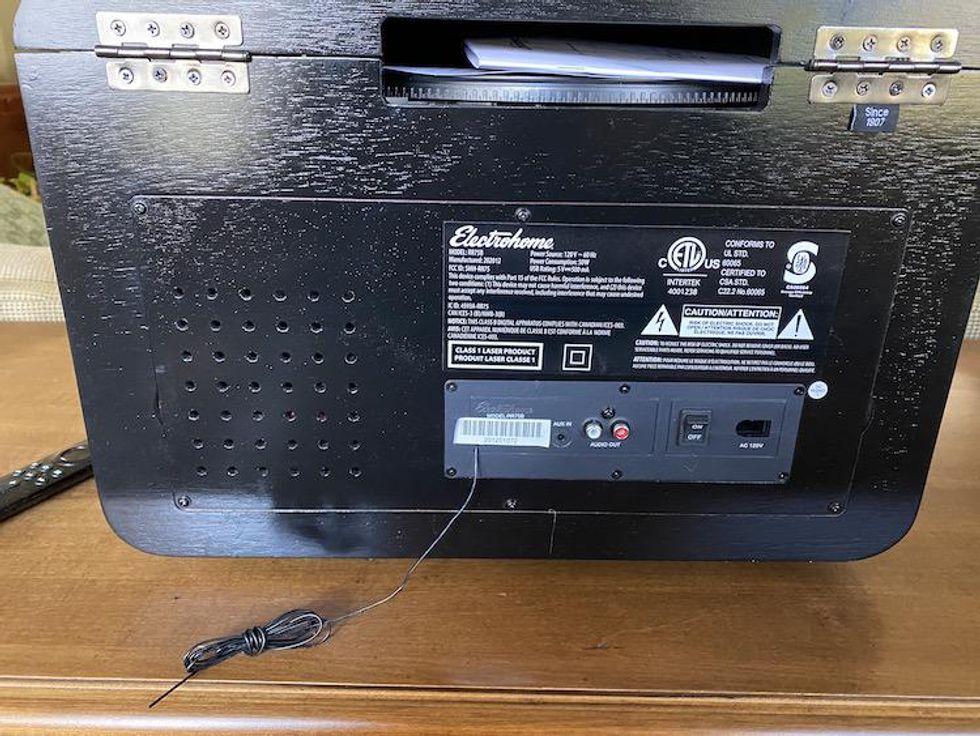 Backside of Electrohome Kingston Vinyl Record Player has speaker inputs and antenna for your AM/FM radio.GearBrain
Who should buy this 7-in-1 stereo system? If you want a nostalgic looking record player that can play and record albums, 45s, EPs, CDs, MP3s or let you listen to the radio, this is the device for you. If you are an audiophile looking for a great sounding record player for you to record your vinyl albums onto MP3 players, this is not the system for you. Yes, Electrohome can easily play and record albums onto a USB drive. The actual process of recording is simple; however, playback of these recordings is not overly great. And the recordings of all the songs will show up on your USB drive as one very long song. If you want to breakout the songs, you must make sure you record each song individually. Many record players that record albums can breakout each individual song while recording. If this is something you want to do, Electrohome might not be for you unless you want to record each song individually. Something to be aware of with this device.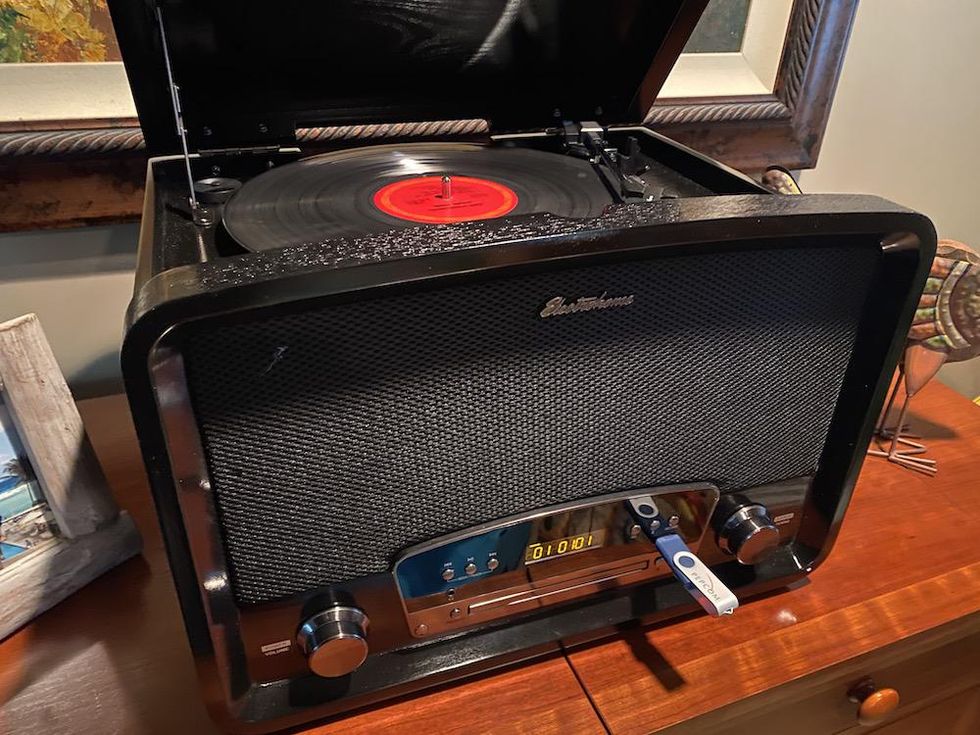 Recording from an album or CD is easy using Electrohome Kingston Vinyl Record Player. Just plug in USB drive and push record button.GearBrain
Summary
Electrohome Kingston 7-in-1 Vinyl Record Player is a decent vintage vinyl record player with a stunning retro-modern design. Most audiophiles might not like Electrohome because you really can't adjust the sound quality of the music coming out of the device. However, being a former musician and understanding quality sounding speakers, Electrohome has decent 2-way speakers that the average person will find to be more than adequate. And if you want a retro looking device in your den or living room, Electrohome sure delivers the vintage style for you.
The size of the record player can be a problem for users who have limited space. It is the size of a small microwave and you need to make sure you have room to lift the top to play your records. If you live in a big home and have space for your retro record player, size will not be an issue for you , but the loudness might be a problem. However, the tradeoffs will outweigh the space issue, especially when you add in the multi-tasking this stereo system offers.
In sum, Electrohome provides you with more than a vinyl playing record player. It combines a CD Player, AM/FM radio, Bluetooth speaker, streaming music device, MP3 player and recorder all in one system. If you add up the cost of all these devices, you are going to see what we see - Electrohome's price looks extremely attractive just like its design.
Pros
Retro Design and Well Built
Price Point for 7-in-1 stereo system
Easy to record MP3s
Cons
Sound quality of MP3s
Size
No app for adjusting sound quality (EQ)
Electrohome Kingston 7-in-1 Vintage Vinyl Record Player Stereo System with 3-Speed Turntable, Bluetooth, AM/FM Radio, CD, Aux in, RCA/Headphone Out, Vinyl/CD to MP3 Recording & USB Playback (RR75)
Check out The GearBrain, our smart home compatibility find engine to see the other smart home theatre systems that are compatible with your existing smart devices.
How to Find Products in The GearBrain, Our Compatibility Find Engine for Smart Devices www.youtube.com