Like GearBrain on Facebook
Amazon has rolled out a new feature where its Echo smart speakers can connect wirelessly to an Amazon Fire TV streaming device, and create a surround sound system.
While this might not offer the floor-trembling, room-filling punch of a dedicated cinema system with speakers scattered all over the walls and ceiling, it can bring better sound quality than your TV — and on a fairly modest budget.
Read More:
The new feature works with the Fire TV Stick 4K, third-generation Fire TV, and second-generation Fire TV Cube. As for which speakers you can use, Amazon has opened the door to all recent Echo models. Here is a list of which speakers can be turned into a cinema sound system:
Echo Dot (third generation)
Echo (second and third generation)
Echo Plus (1st and 2nd generation)
Echo Dot with Clock
Echo Studio
Of course, the sound quality of your system will vary based on which speakers you use, and readers shouldn't expect a cinema-like experience from two Echo Dots on either side of their TV. However, the two will, at least, produce stereo separation, and Amazon says a pair of regular Echos or Echo Pluses can handle a Dolby signal.
Introducing Echo Studio - High-fidelity smart speaker with 3D audio and Alexa
Increase your budget, and Amazon says a pair of the new Echo Studios will work with the Dolby Digital, Dolby Digital Plus and Dolby Atmos formats. The latter uses the additional upwards-facing speaker of the Echo Studio to bounce sound against the ceiling, adding height to the soundtrack of the movie you are watching.

Of course, you will only get access to these Dolby formats if the content you are watching includes them. While support for the formats is there, using just a pair of speakers is arguably not a true surround sound system.
Digging a little deeper into this, Amazon explains how this is not the usual 5.1 or 7.1 surround configurations (meaning five or seven surround speakers and one subwoofer). Instead, you can have a 1.0 setup using a Fire TV device with a single Echo speaker, or a 1.1 system using a single Echo and the Echo Sub. Add a second Echo and you can have a 2.0 system or upgrade to 2.1 with two Echos and the Echo Sub.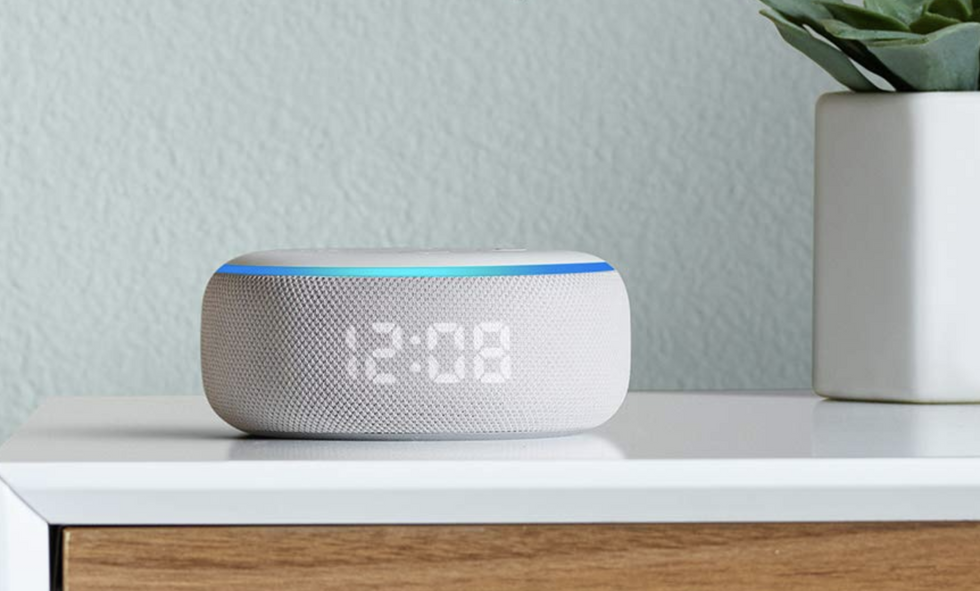 Even the small Echo Dot can be turned into a 2.1 sound systemAmazon
How to create home cinema sound with Amazon Fire TV and Echo speakers

Follow these instructions to set everything up:
Connect your Fire TV device and Echo speaker or speakers to the same WiFi network and Amazon account
Open the Alexa smartphone app
Tap on the Devices icon in the lower-right then tap on the + icon in the upper-right
Tap on 'Set Up Audio System', then tap 'Home Cinema' on the next screen
Select your Fire TV device and tap 'Next' to create a name for your home theater sound system
Select the Echo speakers you want to use (you can pick a maximum of two, plus one Echo Sub)
Follow the on-screen instructions to complete setup
All-new Echo Dot (3rd Gen) - Smart speaker with clock and Alexa - Sandstone
The settings of this system can then be adjusted on your Fire TV by going to Settings -> Display & Sounds -> Home Theater System. Here, you can enable a gaming audio mode, adjust the volume, and tune for lip sync issues.
Remember, this sound system will only work when watching content through your Amazon Fire TV device, so you can't use Echo speakers as a surround sound for other devices connected to your TV, like an Apple TV, Chromecast or Xbox.
But, if the Fire TV is your primary streaming device and you have a couple of Echo Speakers, this setup could work well for you— and will undoubtedly produce far superior sound than what your television is capable of on its own.
Fire TV Stick 4K with Alexa Voice Remote, streaming media player
Like GearBrain on Facebook