Like GearBrain on Facebook
As the crown jewel of annual auto shows, Geneva is the place for a first look at the future of motor cars.
The show's star attractions often included slivers of Italian, carbon-clad exotica, waging war with ever-greater performance stats and flamboyant, look-at-me designs. Gasoline-derived horsepower reigned supreme, with not a second thought spent on environmental responsibility, or 'mobility solutions.'
Read More:
But the writing is on the wall. Internal combustion will be outlawed in many of our lifetimes, city streets are packed, fewer teenagers bother learning how to drive — and for those who do, cars have become consumables, paid monthly like a phone bill or Spotify subscription.
So, while the usual candidates like Ferrari, Lamborghini, Bugatti and McLaren still descended on Geneva, the story of the future car is being written by others. Here's a look at what we found, and what it means for the cars of tomorrow.
Google is getting serious about putting Android in the car - Polestar 2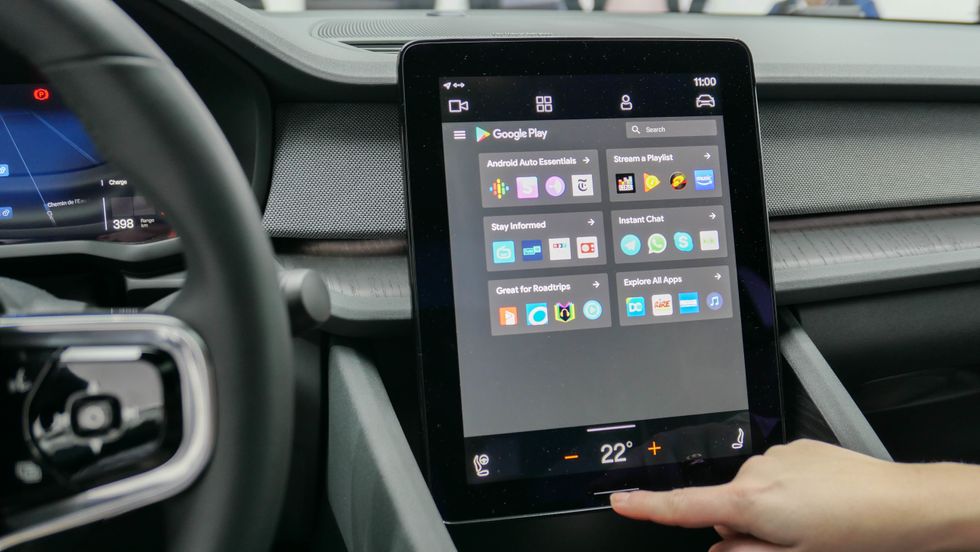 Google Assistant is used to control everything inside the carGearBrain
Google is making a very serious play for the interiors of our cars. Already part-way there with Android Auto, a system for putting your smartphone's maps, music and podcasts on the dashboard display, Google's next step is to take over the entire system.

The first car to partner with Google on this journey is Polestar, the Volvo sibling which used Geneva to show-off its second car, the Polestar 2.
Dull name aside, this is an important car. It's electric, looks great, and is priced to take on the Tesla Model 3, but more importantly is its Android software, which controls everything. This includes the music system, but also Google apps like Maps, Music and the Play Store which run natively, and are controlled by buttons, touch screen, and Google Assistant.
This is the same Google Assistant you use at home, so you can ask about the news, fire up a Spotify playlist, add something to your calendar, look up almost anything online, and control your smart home devices — all with the usual 'hey/okay Google' call sign. By the time the car goes on sale in 2020, Android and the Google Assistant will also take care of the climate, heated seats, and more.
Make no mistake, we are on the cusp of Google Assistant (and Amazon Alexa) finally taking over from years of poorly-performing car voice systems. This is a very good thing.
Cooler batteries will mean faster charging - Piech Mark Zero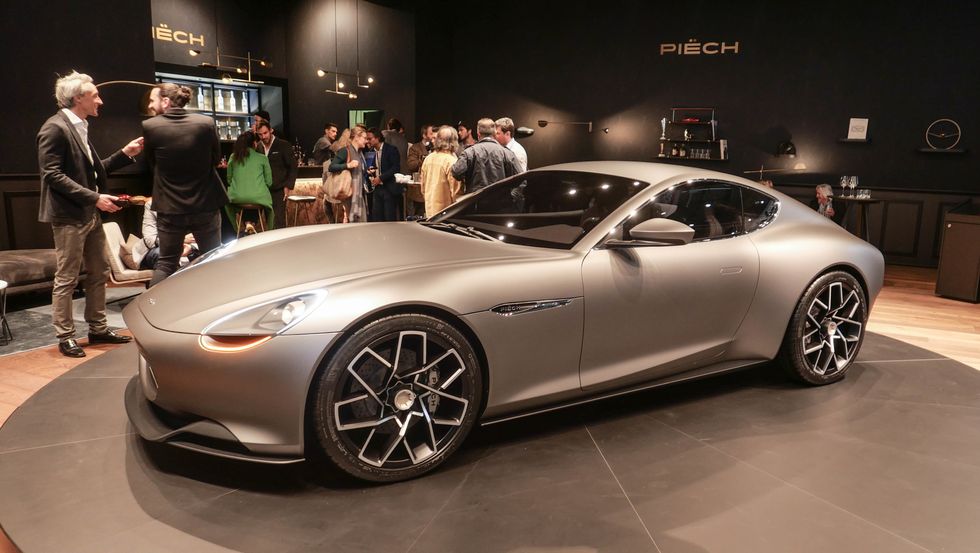 The Mark Zero is claiming it will bring a revolution in car charging timesGearBrain
New carmaker Piech Automotive arrived in Geneva with its first vehicle, called the Mark Zero. An all-electric sports car with classic good looks and a claimed range of 311 miles, the Mark Zero already ticks a lot of boxes. But what makes it stand out — at least on paper — is the battery charging times it claims; Piech says going from zero to 85 percent takes just four minutes and 40 seconds.

If true, this is far quicker than anything on sale today. Generally speaking, a Tesla takes between 40 and 60 minutes to charge its battery by that amount. Piech is vague about its technology, but says it can achieve this by cooling the battery in a way no one else is doing. By keeping the battery temperature down, it can be charged (and drained) more quickly without overheating.
Where cars are going, you don't need a driving license - Citroen Ami One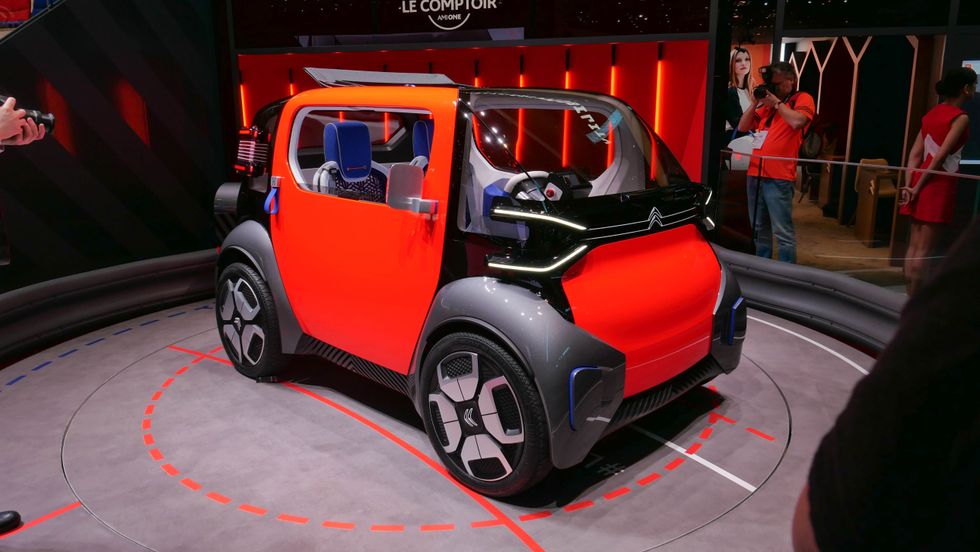 Citroen says the Ami One might not require a driving licenseGearBrain
Millennials, and the generations after them, have stopped taking driving lessons in favor of Uber, Lyft and e-scooters.Citroen, however, thinks it has found a way to win them back — with a car so small and slow, it doesn't require a driving license.

This is something of a generalization for now, and Citroen itself admits the Ami One's need for a license will vary by country, but it's interesting nonetheless. Built to celebrate the company's 100th birthday and hark back to the iconic 2 CV, the Ami One is a tiny cube of a car with a top speed of just 30 mph.
All being well, Uber riders uninterested in owning a car will be able to hire an Ami One the same way they book an e-scooter today, drive it a couple of miles, then leave it for someone else to use.
Cameras are the new wing mirrors - Aston Martin Valkyrie, Alfa Romeo Tonale, Honda e Prototype, and many more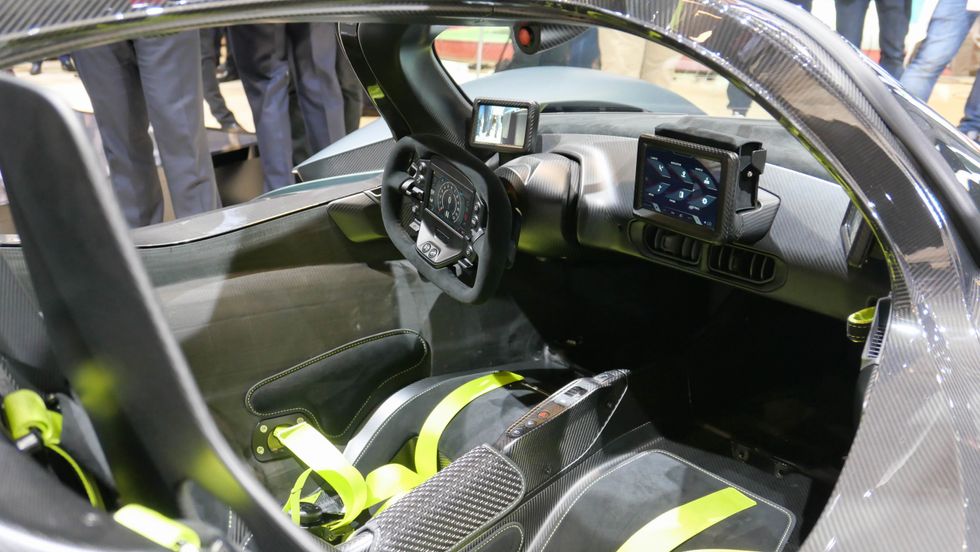 This Aston Martin uses screens instead of mirrorsGearBrain
A stalwart of car show prototypes since the turn of the millennium, using cameras and interior displays instead of wing mirrors was for years a running joke — and a sure-fire tell that a car was a futuristic concept, not ready for production.

But times change, technology improves, and — most importantly — legislation evolves. Now (in Europe at least, with the U.S. likely to follow soon) cameras and screens are legal. The first car to offer this option was the Audi e-tron SUV in 2018, and in Geneva this year they were everywhere.
From the compact Honda e Prototype (with is 98 percent ready for mass production), to the sold-out Aston Martin Valkyrie hypercar, cameras are the new mirrors. They were also used on the Alfa Romeo Tonale, the Peugeot e-Legend, the Kangaroo concept by GFG Style, and others.
The main benefit here is reduced aerodynamic drag, which in turn lowers the amount of energy needed to push the car through the air, which — especially with electric cars — increases range.
Electric cars have real character - Honda e Prototype, Fiat Centroventi, Volkswagen ID Buggy, Peugeot e-Legend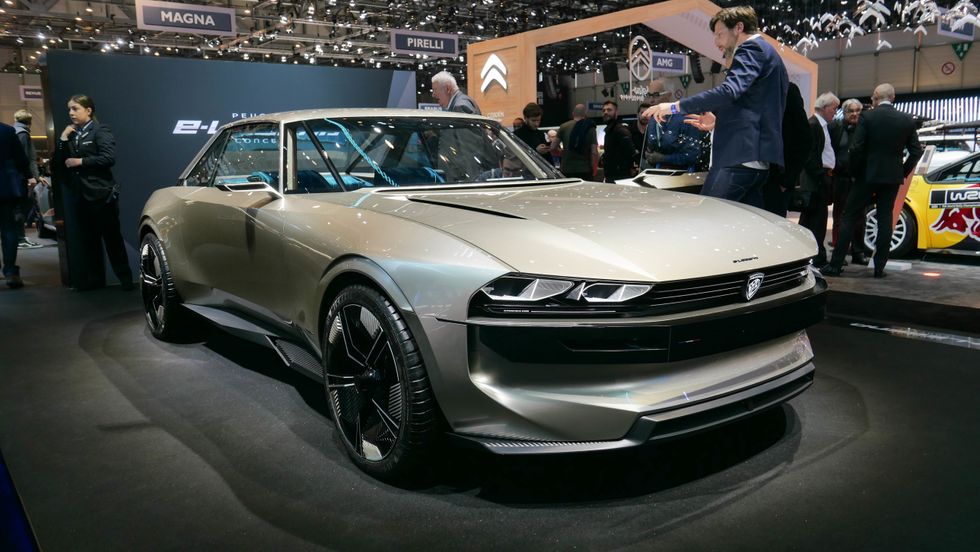 The e-Legend by Peugeot has retro good looksGearBrain
It seems there are three approaches to designing a new electric car from scratch. You can go for extreme power, as with the 1,900-horsepower Pininfarina Battista; you can go for a car which looks futuristic, like the Tesla Model X and (admittedly hybrid) BMW i8; or you can inject a healthy dose of retro cool.

This produces cars like the Honda e Prototype, which goes on sale later this year, the Fiat Centoventi, the beautifully retro Peugeot e-Legend, pictures above, and the Volkswagen ID Buggy, below, which is an electric revival of the 1970s beach buggy.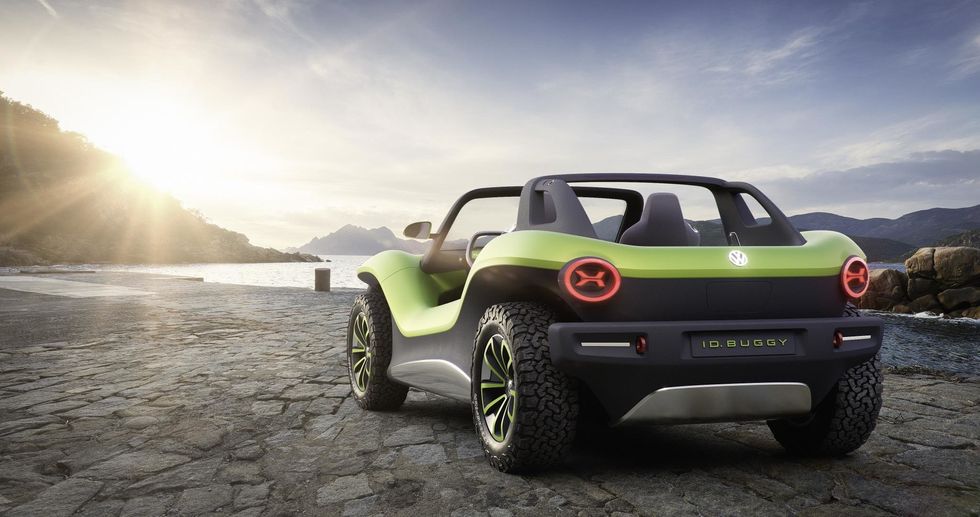 The ID Buggy is a modern electric take on the classic 70s beach buggyVolkswagen
These cars are all fun-looking attention-grabbers which attract smiles and nods of approval from everyone who sees them. They aren't shouty supercars; they're sensibly yet beautifully resolved reminders of how the simplicity of an electric platform lets designers do whatever they want.

We particularly like the retro, compact styling of the e-Legend, and enjoy the playfulness of the Fiat, complete with digital messaging system on its tailgate to interact with following drivers.
Electric cars are becoming VIP lounges on wheels - Lagonda All-Terrain Concept, Skoda Vision iV, Kia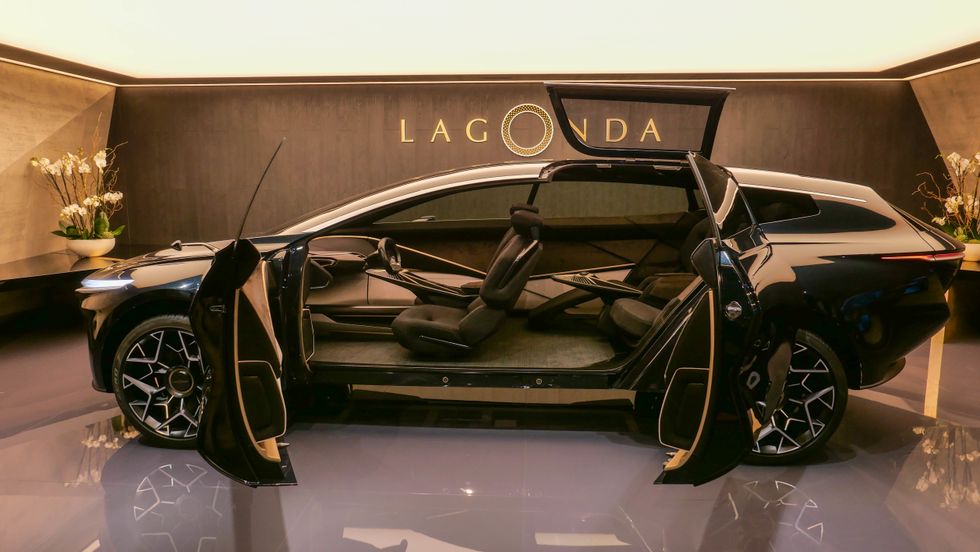 Lagonda says its first new car will go on sale in 2022GearBrain
This theme, of the car becoming a high-end ride, has been present at the Geneva show for a couple of years now, but that likely means it is the right direction to take — that the smooth, comfortable silence of electric cars is best used for ultimate luxury.

Lagonda, the dormant brand relaunched by Aston Martin in 2018, this week revealed the All-Terrain Concept, a luxury high-riding vehicle which the company claims is inspired by super yachts. Like the Lagonda Vision Concept from 2018, the new model offers a lounge-like interior with ample space for passengers to spread out, as if in a first class airplane seat.
Skoda took a similar approach in Geneva with the Vision iV concept, and so too did Kia and its 'Imagine by Kia' concept, with its backwards-opened rear doors inviting passengers into a spacious, minimalist cabin.
Mercedes too placed an emphasis on quiet, electric luxury with the EQV, a battery-powered minivan with seating for seven or eight which it hopes will appeal to luxury transport companies, whisking execs from meeting to meeting in peaceful comfort.
Electric platforms make perfect sense for this category of vehicle, where the driver and passengers seek silence and a detachment from the road surface, not a barking exhaust and hard racing seat.
Digital instruments are now the norm - even for Morgan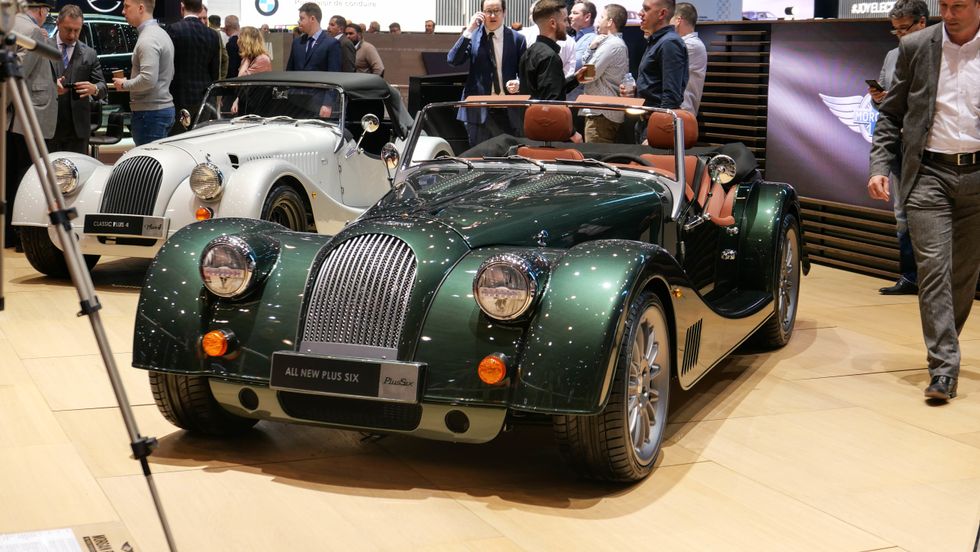 Even Morgan is modernizing - the new Plus Six has a digital speedometerGearBrain
We admit this isn't the most serious of entries, given most new cars now feature some sort of digital instrument cluster. But for Morgan — a British sports car maker who literally builds its cars from wood in a shed — to embrace the technology, we think it is time to say a final goodbye to analogue dials.

The Plus Six is all-new (yes, really) with Morgan claiming just one percent of its 4,000 components are shared with its predecessor. Power comes from a turbocharged BMW engine and, although the design is still willfully old fashioned, there's talk of the car being designed with the potential to be electrified later in its life. Perhaps that digital display is the start of something much bigger for the 109-year-old company.
From Your Site Articles
Related Articles Around the Web
Like GearBrain on Facebook