Like GearBrain on Facebook
Tile has updated its range of Bluetooth trackers, adding two new form factors and improving the performance of its other models.
For those who aren't familiar with Tile, the company produces trackers which attach to your possessions and help you find them using a Bluetooth connection to your phone.
Read More:
These trackers connect to your smartphone to help you locate them, but also use the Bluetooth signals of passing Tile users to help locate your lost possessions, too. If all this sounds familiar, it's because Apple is rumored to be working on a similar product, which could launch before the end of 2019.
But Tile got there first (by several years) and already has millions of users all over the world.
For fall 2019, the company has announced a range of new products. Some of these offer performance improvements over their predecessors, like an increase in Bluetooth range from 300 to 400 feet for the $34.99 Tile Pro, and from 150 to 200 feet for the $24.99 Tile Mate.
But the biggest news here is two all-new products from Tile, called the Sticker and the Slim.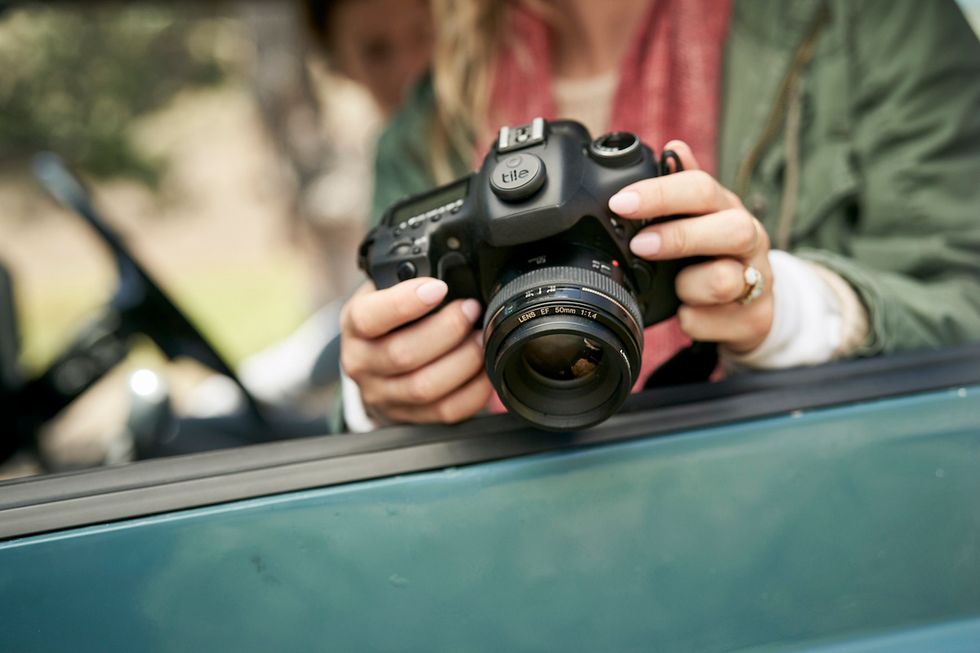 The Sticker is sold in a two pack for $39.99Tile
The Sticker is available in a pack of two for $39.99 or four for $59.99. These are around the size of a coin or coat button and have a strong adhesive on the back for sticking to just about anything. Tile suggests these can be stuck to cameras, headphones and laptops, or even to skateboards or the underside of your bike saddle.

The Sticker offers a battery life of three years and a range of 150 feet - meaning that's the maximum distance from which you can see it on the Tile smartphone app, via its Bluetooth connection. Unlike the Mate and Pro, the battery of the Sticker is non-replaceable, although Tile says its products are entirely recyclable if disposed of correctly. The company also says that, after three years, Sticker owners will be eligible to buy new Stickers at a discounted rate.
Tile claims the rubberized Sticker is "spill, splash and dunk proof", and can be used outdoors without concern. Setting up the Sticker is just like any other Tile, where you press its button and use the Tile app to pair it to your smartphone. From there you can name it and assign it to an optional photograph (of what it is attached to, for example).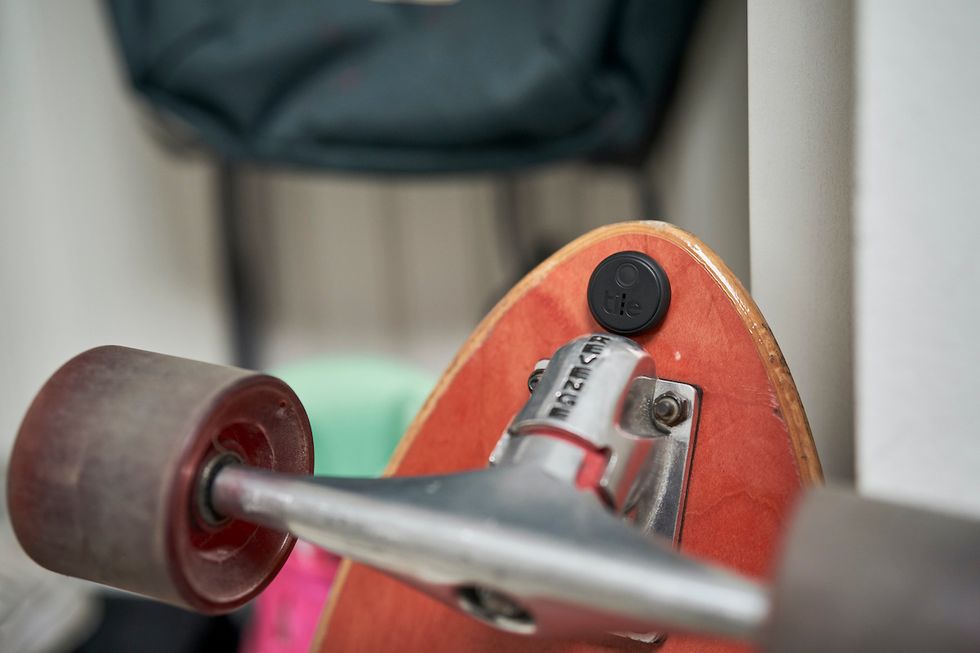 The Sticker is water resistantTile
I stuck a Sticker to the portable battery I always carry with me for powering my laptop, phone and other devices. The adhesive sticks immediately but Tile says it takes 24 hours to fully cure. After this, it really is attached securely - providing you give whatever you are sticking it to a quick clean first, and ensure it's a flat surface.

The second Sticker in the pack could be stuck to my camera, but for now I have a regular Tile Mate tied to the wrist strap instead. You could also stick the tracker to the TV remote if it's forever falling into the sofa or being misplaced. Then all you've to do is open the app and tap on the relevant Tile to make it beep loudly until you find it.
Next up is the $29.99 Tile Slim, which is designed to slip into your wallet, purse, bag or passport holder. It is the exact same size as a credit card (and from being slightly thicker) and as such fitted very neatly into my wallet. I'd previously wedged a Tile Mate in there, which was far too thick and not designed for the job.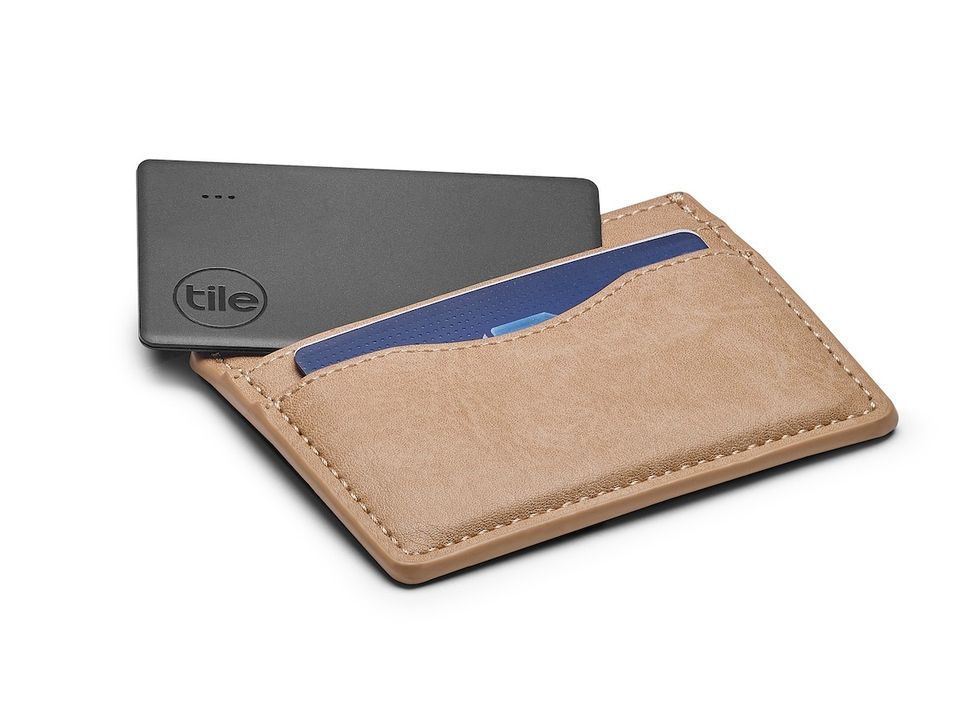 The Slim costs $30 and its battery lasts for three yearsTile
By contrast, the Slim feels built for wallet and purse tracking. Tile has also had the foresight to locate the Slim's speaker close to the top, where its sound will emit clearly out of wherever you slot it. There is also a new feature coming to the Tile app where you can disable the button of the Slim - handy, as I kept setting off the Tile app alarm on my phone when sitting down with my wallet in my back pocket.

The Tile Slim really is the definition of a 'set-it-and-forget-it' device, where it takes less than a minute to set up, then slots into your wallet and never needs to be seen again. It'll sit there for three years, silently letting the Tile phone app know where your wallet is.
All of Tile's new products work with the company's Tile Premium subscription service, which costs $2.99 a month or $29.99 a year. This covers an unlimited number of Tiles and gives you annual free battery replacements for compatible Tiles (like the Mate and Pro), access to 30 days of location history for each Tile, a three-year warrant, a way for several people (IE, family members) to view the same Tile, and Smart Alerts.
The regular Tile Mate costs $25 and has had its range increased from 150 to 200 feet
Smart Alerts works by pinging your smartphone if the app thinks you have left a Tile behind by accident. You set this up by giving the app an address you are regularly at (your home, for example), and tell it to alert you if you leave that location without certain Tiles (like the ones in your wallet and on your keys).

Once set up, the phone app will alert you if you leave home without your wallet and keys. It's a useful system, but can't stop you from locking yourself out - as I recently discovered.

Tile is selling the new Slim and Sticker individually, but also as a new set of bundles. These include the Tiles Essentials bundle, which includes two Stickers, one Slim and one Mate for $69.99. There's also a $74.99 pack that includes two Mates and two Slims.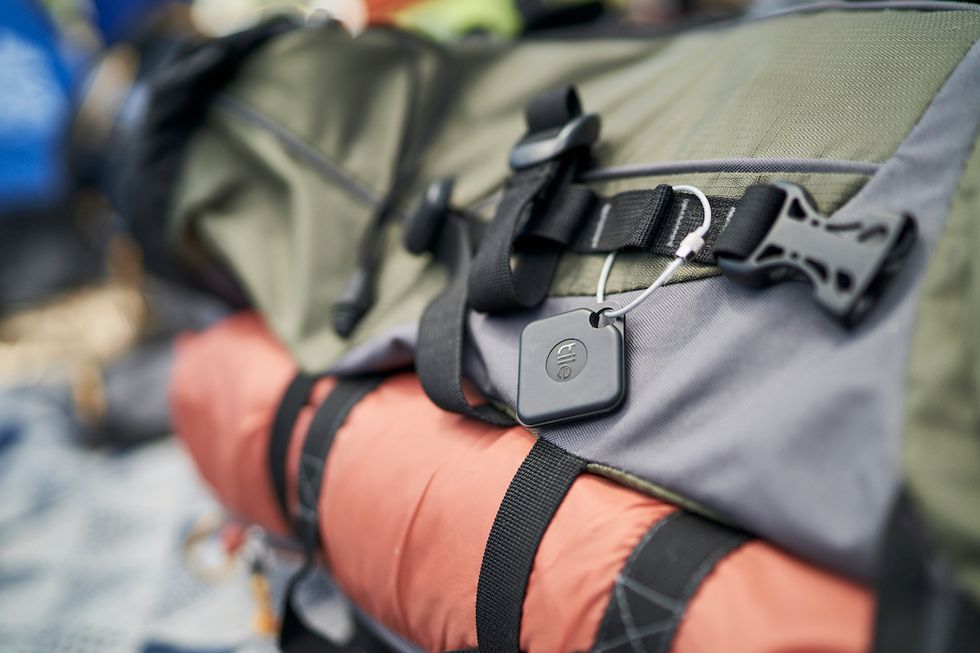 The Tile Pro costs $35 and has had its range increased from 300 to 400 feetTile
All of this adds up to a strong product catalogue for Tile going into 2020, and a year where it expects Apple's tanks to roll onto its lawn. Tile has had the market pretty much to itself for over three years now, but this will soon end.

That isn't necessarily a bad thing, as the company has a strong range of products to cover the many needs of its users - along with integrating Tile tracking tech into headphones by Bose, Skullcandy and Sennheiser. The company says it is also looking at the same Ultra-wideband technology (UWB) Apple has in the iPhone 11 and is believed to be using in its own trackers.
We don't know yet what Apple's entry into the market will mean for Tile, but right now we don't see a reason to ignore the market leader in favor of what might be. On sale today, October 8, Tile's new products are, just like their predecessors, vital additions to your digital life.
Pros:
Compact and thoughtful design
Improved battery life
Easy-to-use app
Cons:
Non-replaceable batteries
Sticker can only really be stuck once
Like GearBrain on Facebook