Like GearBrain on Facebook
As the 2019 holiday season approaches, we reckon fitness fanatics are among the easier people to buy for.
This is largely thanks to just how many good products are out there for them to love, from smartwatches and fitness trackers, to connected gym equipment, wireless earphones, and even a Bluetooth water bottle.
Read More:
We've rounded up some of our favorites for 2019, and here they are:
Apple Watch Series 5 - From $399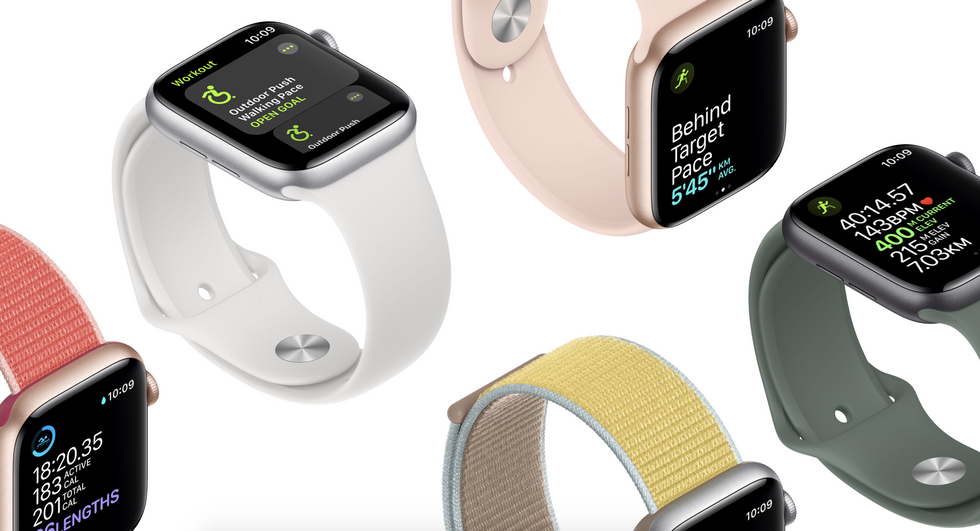 The Watch Series 56 is a complete fitness trackerApple
This may seem predictable, but we really couldn't do a roundup of fitness gadgets without including the latest Apple Watch, the Series 5. Apple is still streets ahead of the competition, and the Series 5 offers a couple of useful new features over last year's Series 4.

The main new feature is an always-on display, and there's also a new compass for more accurate navigation - handy on those long cross-country runs. Fitness fans will love the heart rate monitor, ECG app, and the Apple Health app used for tracking walking, running, cycling, swimming and much more besides.
Withings Steel HR Sport - $195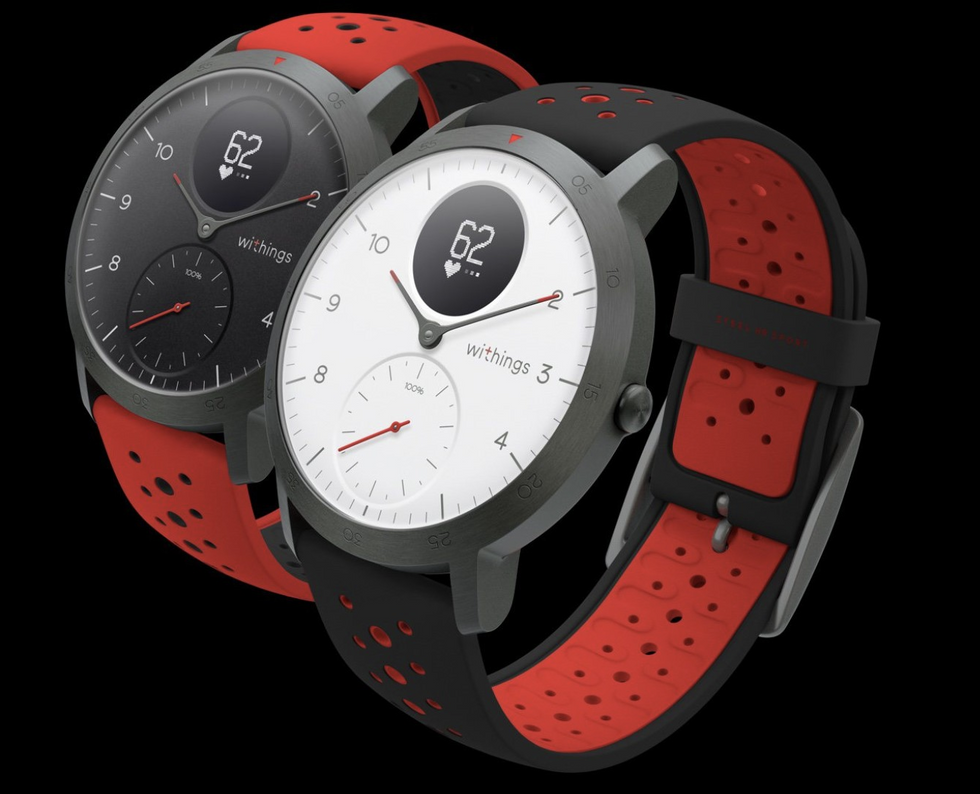 The Steel HR Sport is a feature-packed hybrid watchWithings
More affordable than the Apple Watch, and with a traditional watch design, this hybrid by Withings is a top-class fitness tracker with a health app for iOS and Android to match.

The Steel HR Sport includes a heart rate monitor and can track walking, running, swimming and many other forms of exercise. There's also a silent alarm and notification function for alerting you to calls and texts on your phone.
All that's missing is its own GPS chip, so you'll have to connect it to your phone over Bluetooth to track outdoor runs accurately. That aside, we love how all Withings tie together in the company's Health Mate app.
Withings / Nokia Steel HR Sport Smartwatch (40mm) - Activity Tracker, Heart Rate Monitor, Sleep Monitor, GPS, Water Resistant Smart Watch, Black
JaxJox KettlebellConnect - $299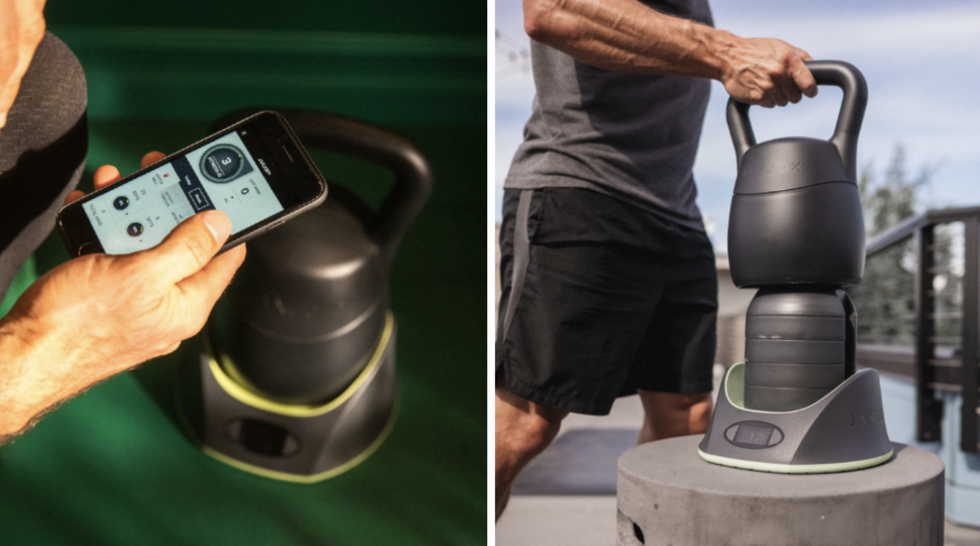 The kettlebell weight can be adjusted from 12 to 42 poundsJaxJox
Any gym-goers will be familiar with kettlebell weights, but this set by JaxJox are connected, sending exercise data to your smartphone to keep track of your reps, sets and overall progress.

The weight can be adjusted between 12 and 42 pounds, be used by up to nine users, and syncs everything to your phone over Bluetooth while you work out. That data can also be added to the iPhone's Apple Health app, and the battery life of the weights is a claimed 14 hours.
Fitbit Aria 2 - $130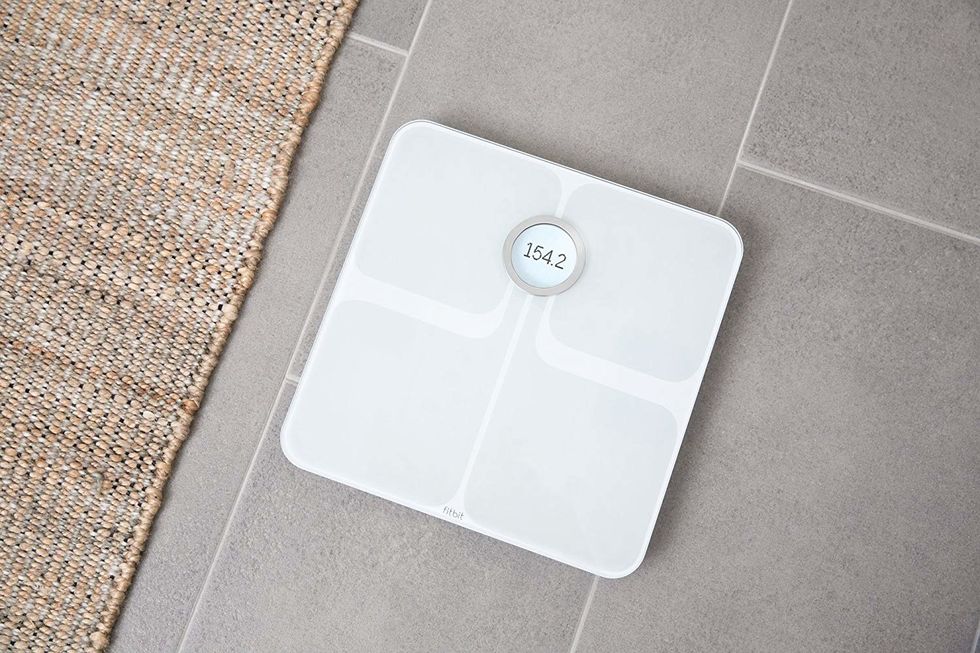 the Aria 2 is a Wifi connected smart scaleFitbit
The Aria 2 is a new smart scale from Fitbit. Available in black or white, the scale tracks your weight, BMI, body fat index and muscle mass, then sends all of this data to the Fitbit smartphone app via Wifi for analysis.

The app, which also works with the rest of Fitbit's health products and fitness trackers, logs your weight and other metrics over time, laying out the data on simple charts and graphs to see your progress. The scale automatically recognizes up to eight users, so a whole family can use it and have their own data sent to their phone each time they stand on it.
Fitbit Aria 2 Wi-Fi Smart Scale, Black
Ozmo smart water bottle - $70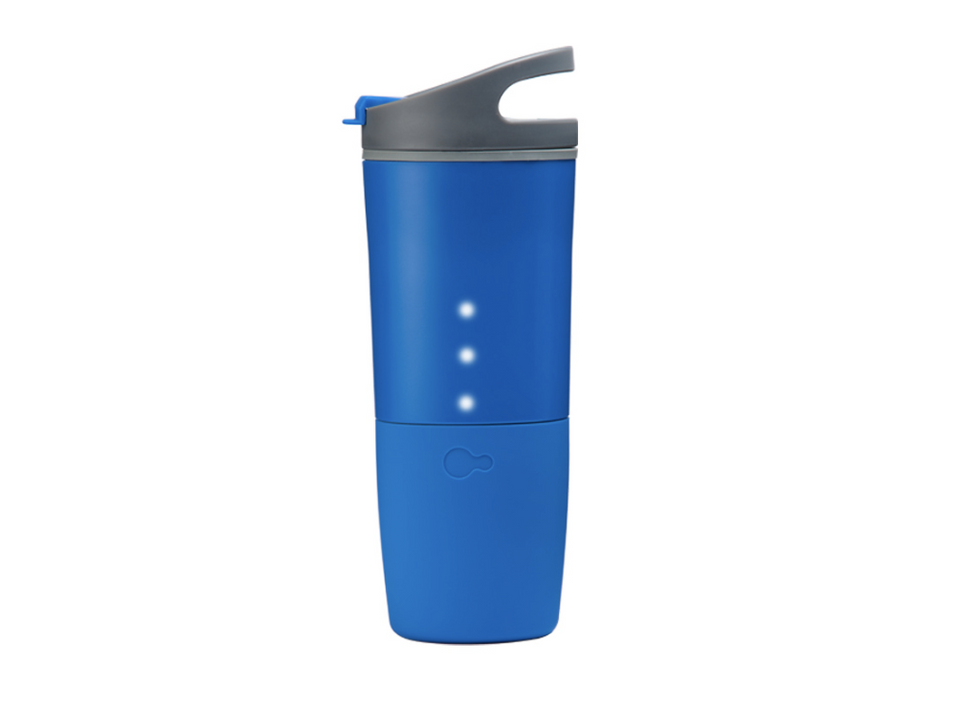 This smart water bottle tracks every sip you takeOzmo
Yes, even the humble water bottle can be given a Bluetooth chip and made smart. But this bottle by Ozmo is less of a gimmick that it sounds. The 16oz bottle connects to a phone app which logs exactly how much water you are drinking through each day.

The data can be synced with Ozmo's own app, or exported to your preferred fitness app, like Fitbit or Apple Health. There's also an LED light on the bottle so you can easily see how much liquid is left. This bottle is iOS-only for now, and is available in six different colors.
ozmo Active Smart Bottle (S) - Green
Powerbeats Pro - $249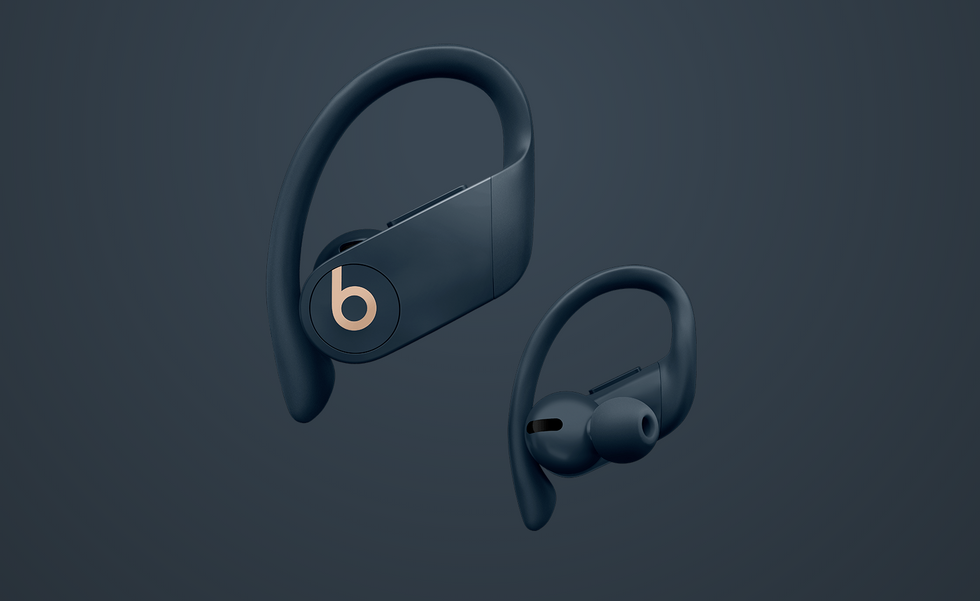 The PowerBeats Pro offer nine hours of battery lifeBeats
Finally, we offer a pair of exercise-friendly wireless earphones. These Powerbeats Pro are the latest offering from Apple-owned Beats, and pack a nine-hour battery life, sweat and water resistance, and an adjustable, secure fit.

Specifically designed for use while exercising, the earphones comes in four different colors and include the new Apple H1 chip, which makes for instant pairing with an iPhone. Like other wireless earphones, these come with a charging case which provides an extra 24 hours of use.
Although they are made by an Apple company and include the company's H1 chip, the Powerbeats Pro also work with Android phones and other Bluetooth devices.
Powerbeats Pro - Totally Wireless Earphones - Navy
8fit - $60 a year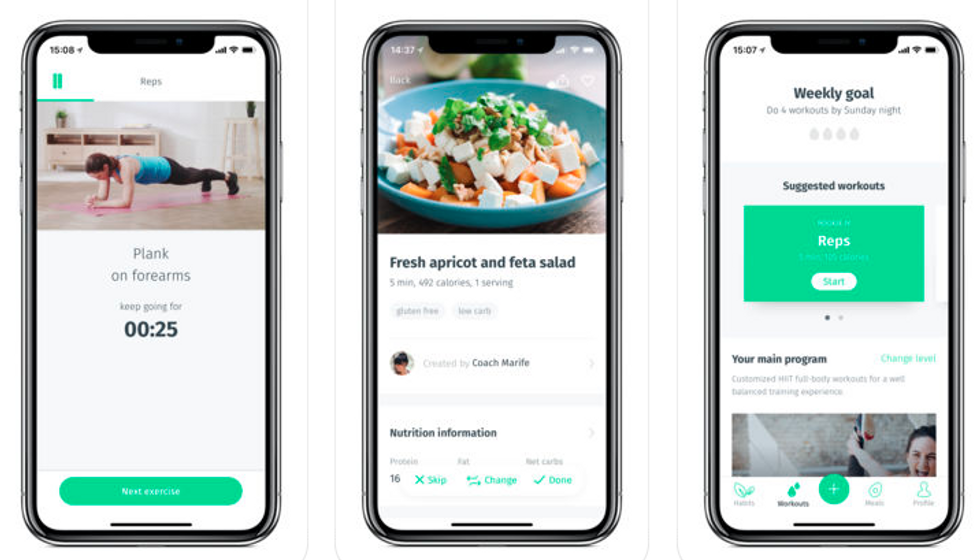 8fit fitness apps 8fit
The market is saturated with fitness apps, but having tried a few we can say 8fit is one of our favorites. The free app offers plenty of content to get you started, but give the gift of a year's membership to your fitness friend and they'll have full access to 8fit's specialized exercise routines, plus a meal-by-meal diet plan which even includes shopping lists and recipes.

In short, 8fit is one of the most complete packages we have found.
Tangram smart skipping rope - $40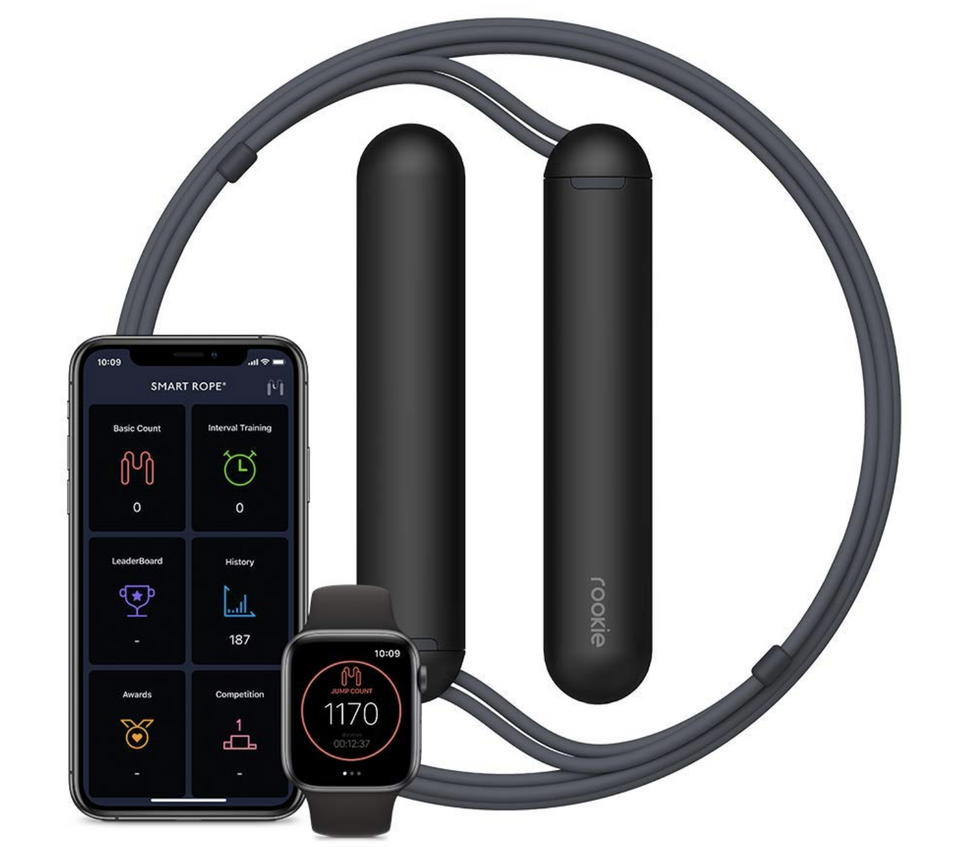 This smart skipping rope by Tangram connects to iPhone and Androids (as well as smartwatches), then keeps track of every jump and calorie burned. The app also works as a fitness trainer, with several different skipping modes to pick from, like basic jump counting and internal training.

Four color options are available, and the rope is powered by a coin battery (not included) which is claimed to last for nine months, depending on use.
TANGRAM Smart Jump Rope Rookie (Black)
the fitness tracker buying guide video - GearBrain www.youtube.com
Like GearBrain on Facebook